2011-02-15 Saudi Arabia warned of revolution as protests continue and King Abdullah rumoured dead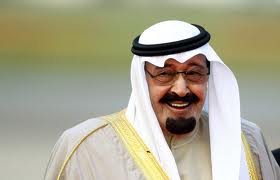 Saudi Arabian Mufti Sheikh Yusof al-Ahmad warned that Saudi Arabia could also face a revolution unless steps are taken to fight widespread unemployment and poverty. He criticized government spending as wasteful and called for supervision over public spending. In particular, he criticized a recent USD 29.8 billion spent on King Abdullah University. The unemployment rate in Saudi Arabia is 10.5% (official) or as much as 20% (unofficial) and parliament recently announced that 22% of the population live below the poverty line.
WL Central has already reported one Saudi Arabian protest in an article on February 2 and another reported on February 13 along with a protest scheduled for February 18.
Islam Times has been reporting since February 10 that Saudi Arabia's King Abdullah is dead, a report vociferously denied by government officials who say he is in good spirits. Islam Times reports that the king suffered a heart attack after a heated argument with US president Obama over the future of Egypt's ousted president Mubarak who the king supports. Oil prices jumped as much as US$1 per barrel at the rumour of the death of the 86 year old king who was recovering from two back operations he underwent in New York in December. Now others are claiming inside sources who confirm the king's death, while some report a "major setback" and "signs of mental deterioration".
It was reported today that Saudi Arabia was sending troops to Bahrain to help King Hamad bin Isa Al Khalifa. King Abdullah, who has provided a home for exiled Tunisian president Ben Ali, has expressed strong disapproval of the protests.
Research credit: @_x40