2010-12-09 Brisbane rally reports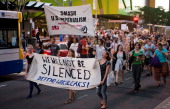 As we announced yesterday, a rally in support of Julian Assange and WikiLeaks was held today in Brisbane, the first of numerous events organized by WikiLeaks supporters worldwide.
Hundreds rally for WikiLeaks founder, reported the Sydney Morning Herald today. "We're here to defend WikiLeaks, to defend our right to freedom of information, to defend our right to know what our elected representatives are up to," Jessica Payne, the event organizer, said. "We are all Assange, and if they want to take down Assange, they have to take down all of us."
Speakers at the event included former Australian Democrats senator and now Greens member Andrew Bartlett, and Queensland Council for Civil Liberties president Michael Cope. "It's entirely inappropriate that people be extradited simply to be questioned as appears to be happening in this case," Mr Cope said. He added that government attempted to restrict freedom of speech "to protect themselves from being exposed to their dishonesty, their corruption and their mistakes," reported the Herald.
A statement from prominent investigative journalist John Pilger was also read at the rally. "The defence of Julian Assange is one of the most important issues of my lifetime," Mr Pilger's letter said. "There are now two superpowers in the world — the military power of Washington and the power of public opinion and justice, which Wikileaks represents."
The Brisbane Times quotes one of the rally participants, John Jiggens, a veteran of independent media in Brisbane:
"We identify with what's happening to Julian Assange. Independent media in Queensland played a very valuable part during the Bjelke-Petersen regime while most of the mainstream media just went along with the corruption," he said. "So we see the value of independent media and its importance to society and Julian Assange sort of demonstrates that. I identify with him and I think a lot of other people also identify with him."
The rally was followed by a march through the Brisbane CBD.
A larger rally will be held tomorrow, Friday, in Brisbane at noon. You can find information about the rally here and further details at Rally 4 WikiLeaks.
Getty Images has a photo gallery from today's event.
Photo credit: Marc Grimwale, Getty Images News