2010-12-05 Sweden case updates [Update 1]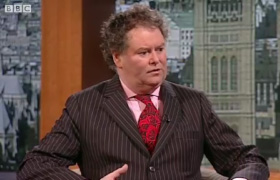 In an interview with the BBC's Andrew Marr, lawyer Mark Stephens said:
"In Sweden it's quite bizarre though, because the chief prosecutor, the director of public prosecution in Sweden dropped the entire case against him, saying there was absolutely nothing for him to face, back in September. And then, a few weeks ago, after the intervention of a Swedish politician, a new prosecutor, not in Stockholm, where Julian and these women had been, but in Gothenburg, began a new case, which of course has resulted in these warrants and of course the Interpol red notice being put out across this week.
It does seem to be a political stunt, I mean, I have, and his Swedish lawyer, have been trying to get in touch with the prosecutors since August. Now, usually, it's the prosecutor who does the pursuing, not the pursued. And in this particular case, Julian Assange has tried to vindicate himself, has tried to meet with the prosecutors, to have his good name restored."
He remarked that "A warrant was issued on Thursday by reports. We've asked for it. We've been ignored at this point," adding that "He's only wanted for interview, why not have that interview by consent, rather than this show trial?"
He also talked about the calls for assassination coming from "credible sources around the world," and particularly the United States, including people as high up as Sarah Palin. He said that Julian Assange would certainly fight deportation to Sweden on the grounds that it could lead to him being handed over to the US, where senior politicians have called for him to be executed.
Stephens added: "I'm really rather worried by the political motivations that appear to be behind this (the Sweden case). It doesn't escape my attention that Sweden was one of those lickspittle states which used its resources and its facilities for rendition flights."
(You can watch part of the BBC interview here. The full interview is available on BBC's iPlayer for UK audiences only.)
Swedish attorney Björn Hurtig echoed the same concerns: Reuters: "I have seen the documents, and I can't say that I think it is a set-up by the CIA or something. But I suspect that there is someone else who is pushing Sweden to (take) these most unproportional measures that they are doing right now, and is pushing Sweden to push Interpol to make this arrest warrant public. I think somebody has an interest in getting Julian to Sweden and maybe asking for him to be extradited to another country (from there)."
In an earlier statement to the press, Mark Stephens wrote:
"Mr. Assange has repeatedly sought meetings with the Prosecutrix - both in Sweden and subsequently - in order to answer her questions and clear his name. It is relevant that Mr. Assange sought permission from the Prosecutrix to leave Sweden and she gave him her permission. Since leaving Sweden Mr. Assange has continued to seek meetings with the Prosecutrix, but his requests have either been ignored or met with a refusal."
"Bizarrely, the Prosecutrix - having ignored or rejected those offers of voluntary cooperation - instead sought an arrest warrant to have Mr. Assange held incommunicado without giving his Swedish lawyer sufficient notice, access to evidence or information to take proper instructions from Mr. Assange. This action is all the more peculiar as she has not even issued a formal summons for his interrogation or brought charges against Mr. Assange," the statement added.
"Since the rape charge has been dropped, the current allegation he faces does not - as a matter of Swedish law - justify an arrest warrant for Mr. Assange. The sole ground for the warrant is the Prosecutor's blatantly false allegation that he is on the run from justice: he left Sweden lawfully and has offered himself for questioning," Stephens said.
"At this point in time we have no evidence pointing to a link between these allegations from August and the issue of the Interpol alert just two days after the WikiLeaks first release of US diplomatic cables. However, it is highly unusual for a red notice warrant to be issued in relation to the allegations reported as having been made, since Swedish law does not require custodial orders in relation to the allegation - indeed to our knowledge this is a unique action by the Swedish prosecuting authorities in applying for a red notice on the basis of these allegations," Stephens' statement concluded.
"We are also investigating whether the Prosecutor's application to have Mr. Assange held incommunicado without access to lawyers, visitors or other prisoners - again a unique request - is in any way linked to this matter and the recent, rather bellicose US statements of an intention to prosecute Mr. Assange."
In an interview with Sweden's TV4, prosecutor Marianne Ny has categorically refused to meet with Julian Assange in the UK, despite repeated offers from Assange's lawyers, reports Expressen.
Update 1: Jennifer Robinson and Mark Stephens told The Guardian that they had been watched by people parked outside their houses for the past week.
"I've noticed people consistently sitting outside my house in the same cars with newspapers," said Robinson. "I probably noticed certain things a week ago, but mostly it's been the last three or four days."
Stephens said he, too, had had his home watched. Asked who he thought was monitoring him, he said: "The security services."
Robinson said the legal team was also experiencing "other forms of pressure" from Washington," including an inappropriate attempt by the State Department to "elide client and lawyer" in correspondence: "It's quite a serious situation," she said, adding that, according to the UN's Basic Principles on the Role of Lawyers, governments should ensure that lawyers "are able to perform all of their professional functions without intimidation, hindrance, harassment or improper interference" and that "lawyers shall not be identified with their clients or their clients' causes as a result of discharging their functions."
Read more
For our full Sweden case coverage, please click here.