Julian Assange launches case over continued gagging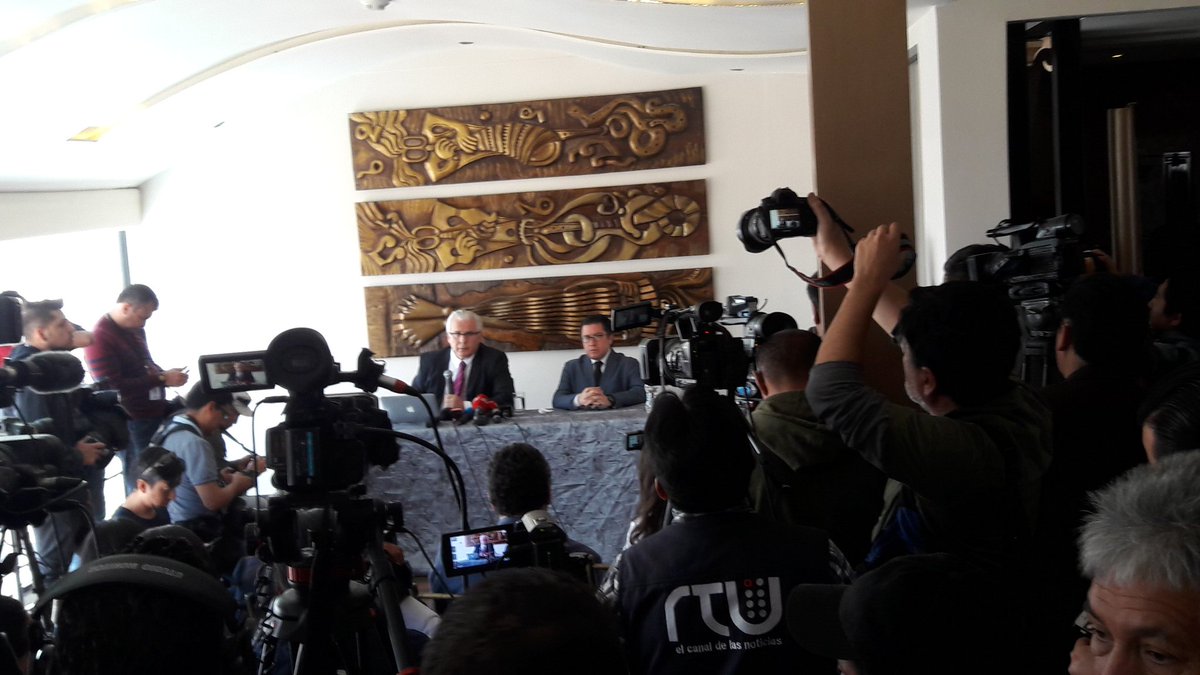 Julian Assange today launched a case accusing the government of Ecuador of violating his fundamental rights and freedoms. WikiLeaks general counsel Baltasar Garzón arrived in Ecuador yesterday to launch the case against the government. The move comes almost seven months after Ecuador threatened to remove his protection and summarily cut off his access to the outside world, including by refusing to allow journalists and human rights organisations to see him, and installing three signal jammers in the embassy to prevent his phone calls and internet access.
Ecuador refused to let Human Rights Watch General Counsel Dinah PoKempner, who likened Ecuador's isolation to "solitary confinement" [ https://twitter.com/RockinTrump/status/981286495934803968 ] see him as well several meetings with his lawyers. Ecuador's measures against Julian Assange have been widely condemned by the human rights community.
Assange's lawyers are also challenging the legality of the government's "Special Protocol" reported in the news this week. The protocol makes Assange's political asylum contingent on censoring his freedom of opinion, speech and association. The protocol also requires journalists, his lawyers and anyone else seeking to see Julian Assange to disclose private or political details such as their social media usernames, the serial numbers and IMEI codes of their phones and tablets with Ecuador--which the Protocol says the government may "share with other agencies". The Protocol claims the Embassy may seize the property of Mr. Assange or his visitors, and, without a warrant, hand it over to UK authorities.
The United States says that under President Moreno, Ecuador has become a "strategic ally" and the country has re-established security and intelligence cooperation. Earlier this week, US congressmen wrote an open letter to President Moreno stated that in order to advance "crucial matters ... from economic cooperation to counternarcotics assistance to the possible return of a USAID mission to Ecuador, we must first resolve a significant challenge created by your predecessor, Rafael Correa - the status of Julian Assange". [ https://democrats-foreignaffairs.house.gov/_cache/files/a/8/a8a63343-fba... ]
Pressure has mounted on Ecuador to hand Assange over to the UK, especially since Mike Pence's visit in June in which Moreno and Pence "agreed to remain in close coordination" in relation to Mr. Assange, according to the White House [ https://twitter.com/TimJohnson4/status/1012405586254852096 ]. The US case against Julian Assange dates back to the Obama administration 2010, but has been expanded under Trump to include the biggest leak in CIA history, Vault 7.
In July 2018, the Inter-American Court on Human Rights issued a ruling imposing obligations on Ecuador to protect Julian Assange from US extradition. The UN in 2016 found Assange was arbitrarily detained at the embassy by the UK, describing his situation as "inhuman and degrading treatment". Assange's legal action comes one week after the UN chiefs for Freedom of Expression and Refugees met with President Lenin Moreno in Ecuador.
Last week, Ecuador's former President Rafael Correa, under whose administration Assange obtained political asylum, said that the current administration is "trying to break him psychologically" and that a deal had been struck during Pence's visit to Ecuador earlier this year.
https://ecupunto.com/2018/10/03/rafael-correa-a-julian-assange-estan-tra...
Jonathan Cook
Jonathan Cook wrote about the situation back in February of this year.
https://www.jonathan-cook.net/blog/2018-02-12/the-uks-hidden-role-in-ass...
In other words, for more than four years Assange has been holed up in a tiny room, policed at great cost to British taxpayers, not because of any allegations in Sweden but because the British authorities wanted him to remain there.
This has also been covered by Sky News, amongst others.
https://news.sky.com/story/wikileaks-founder-julian-assange-sues-ecuador...