2014-08-11 Assange in Sweden: This Day Four Years Ago
Sunday 15 August 2010
What happens today is another of the official reasons Julian came back to Sweden. Today he's to meet Rick Falkvinge and sign an agreement for WikiLeaks hosting with Pirate Party rack space in the Bahnhof bunker.
Anna comes along as the official WikiLeaks press secretary.
Pirate Party system administrator Richie Olsson also tags along to photograph the event. One of his photographs was long suppressed; it's found below. It shows Anna beaming on the far left.
Saturday 14 August 2010 - Part Three
The crayfish at Anna's is to begin at 19:00; at least Johannes arrives late. The others at the party include fellow journalist Donald and:
Kajsa Borgnäs, an officer of the Social Democrats and a friend of Anna's;
Rick Falkvinge and another member of the Pirate Party, perhaps Anna Troberg;
Alexandra Franzén, Kajsa's escort for the evening, formerly of the Swedish embassy in Ankara.
Anna takes Kajsa aside when the latter arrives and tells her it's 'fair game' to hit on Julian. And according to Donald, Anna plays up to the fact she has Julian under her roof.
'And she jokes about Julian, she says he's a special bloke. Suddenly he's just gone in the middle of the night and there he is sitting in the bathroom with his computer and... Uh, she's joking rather wildly in a fun way about that. And, and we, sometimes so, tell similar stories. But at the crayfish party uh, so she's sitting next to Julian and then she says, and so she brings it up, where did you go off to last night she says... And then she adds that, right on this theme as I say, uh, I was fucking proud, got the world's coolest guy in my bed and living in my flat.'
- Testimony of Donald Boström

Donald is really into crayfish and so doesn't pay much more attention to what's going on around.
'Well, the only possibly relevant... I can say I don't participate very much, I eat mostly, I love crayfish. (Laughs.) So I devote a lot of time to eating. But, uh, I know that they're talking about where Julian is going to sleep. Should he go back with this couple as planned. There's another one of Anna's friends, uh, and there's Anna. Uh, but I manage to understand it's already decided at the table Julian's going to stay with Anna again that night. Uh, without being a part of the discussion I understand that's how it's going to be, so that... Again so I'm one of the ones who left the earliest. And the others are still sitting there and...
- Testimony of Donald Boström
Johannes is more observant.
Uh, and so the evening wears on. Uh, and so I note a, a curious uh, exchange, one can say. It's a very hearty evening, I can say that like already at once.
- Testimony of Johannes Wahlström
It's Alexandra Franzén.
There's absolutely nothing, uh, hateful like or something like that, save for one thing. And it was then a friend of Anna Ardin's who sat quite a ways from me, uh, who made it very clear that partly she's a lesbian and partly had a, a very strong grudge towards men in general. Uh, and she says something like, she screams over the table to Anna that, uh, next time we'll have a crayfish party without men or something like that. So I just put that, that phrase in my memory. Then I asked a little half-joking like this, I spinned the issue further with, with Anna. Like this why would they want to do that. She said something like, yeah yeah but it's good when women can, can get together like only for themselves, be strong together or something like that.
- Testimony of Johannes Wahlström
Johannes also hears of Julian's new plans for the remainder of his stay in Sweden.
'Uh, and later on in the evening so, uh, I think I asked, uh, I asked Anna, um... No I first asked Julian, uh, where, where he would, would spend the night. Uh and, and then he says, yeah I have a few offers. OK, OK, but everything seemed like fixed. And, and so he says, well I've been invited by one of those young ladies who, who, we, who we met before, Sofia. But there was a technical detail or something like that to be arranged before they could meet. I don't know what that technical detail was, I wasn't very interested in that, I just wanted to know if he had somewhere to sleep. Because if, if I was going to let him use my flat or something like that. Uh, and then I asked Anna if it was OK if he stayed at her place instead or if she wanted me to take him to my place. Uh she said, no no problem, he can, sure he can stay with me.'
- Testimony of Johannes Wahlström
It's in the wee hours that Anna tweets out to the world.
'Sitting outdoors at 02:00 and hardly freezing with the world's coolest smartest people, it's amazing!'
- Tweet by Anna Ardin
Johannes is one of the last to leave the party. He stays and helps with the cleanup.
'Uh and then the hour was very late, perhaps three or something like that and so everyone left except Julian and, and Anna. I helped carry up the last, last glasses and stuff. And, and then I said farewell to them in the flat. And then it was apparent that, that they both would be sleeping in the flat.'
- Testimony of Johannes Wahlström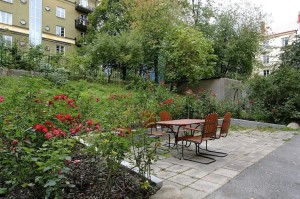 Saturday 14 August 2010 - Part Two
Julian's talk ends about noon; Peter's group will have to go out onto the grass outside to hold the Q&A as they hadn't paid for more time indoors. People assemble outside, with Sofia and Peter standing to one side and Johannes and Donald off to another, as Julian answers questions from the media. Both Johannes and Donald are concerned about the 'outsider' having close access to their select 'group', perhaps Johannes more than Donald.
'Uh, and, and so I ask who, something about yeah who, who is that. Uh, because she was standing too close, too close to the gang who'd organised the event. And so he says, no but she had, she's been helping here as, as a volunteer or an apprentice, something like that he said. Uh, OK I say, but you can see to it that she, that they leave. Because I mean I don't want any outsiders at our lunch. Uh, now it's been like everything from uh, politicians to journalists to like groupies who've been standing there for almost four hours. We can like go ourselves.'
- Testimony of Johannes Wahlström
It's decided the 'group' will go to lunch in the vicinity - to Bistro Boheme. In the 'group' are Julian, Anna, Peter, Johannes, Donald, and Sofia. They sit at the end of a table; clockwise it's Peter, Julian, Sofia at the end, Johannes, Anna, Donald. The only remarkable thing at the lunch, which Johannes picks up but Donald does not pick up, is Sofia's sole contribution to the conversation.
'Uh I noticed a really strange scene. Because she sat quiet through, through the entire lunch. She sat next to Julian. I think it was Peter, Julian, her, me, Anna, Donald. Uh, and she sat quiet during the entire lunch and nothing to chime in under, with the uh, in the topics we discussed. And sure enough, she broke into the conversation. And so she asked, she stared intently at Julian and so she asked, did you like, did you like your cheese sandwich or something like that. And I reacted, I don't remember if it was a cheese sandwich but it was something like that, something, something extraordinarily trivial. Uh and, and he reacted too. And he noticed she was sitting next to him. And so he looked at her, uh... And so he said, uh, yeah do you want to taste it? And so she took a bite of his cheese sandwich. Uh, and (laughs)... Yeah if you think if you're like sitting with a bunch of policemen like and then so there's someone there you don't really know who it is who takes a bite of your friend's cheese sandwich uh, you're a bit perplexed.'
- Testimony of Johannes Wahlström
It was suggested that Julian might enjoy a crayfish party. Johannes believes he suggested it, but Donald recalls Peter suggesting it. Anna makes a few calls and in a short while it's all arranged: party at 19:00 at Anna's.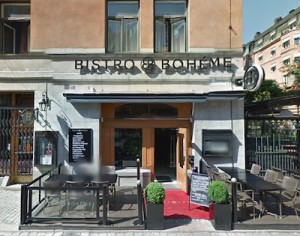 Johannes, Julian, and Sofia leave together for Hötorget to find additional computer gear, but the shop they want is closed. Caught between an offer from Johannes to help him help his parents move furniture and an offer from Sofia to visit her place of work and perhaps take in a movie, Julian chooses the latter. They agree to meet later at Anna's for the party.
Saturday 14 August 2010 - Part One
Saturday is a long and eventful day. What happens today is one of the two official reasons Julian came back to Sweden. He'll first hold a speech on truth being the first casualty of war; and then, as things turn out, he'll attend a crayfish party for his benefit that goes on and into the 'wee hours'.
The morning starts with a knock on the door at Anna's flat in Tjurbergsgatan. It's Johannes Wahlström coming to call. An unofficial liaison between WikiLeaks and the Swedish media, Johannes is there, as he himself tells it, to make sure Julian finds the venue and gets there on time.
The door opens - and it's Anna standing there, not Julian, something that mildly shocks Johannes. As he himself tells it: 'My own flat's tiny, only 35 square metres, but this flat is even smaller, so how could two people...?'
But there they are, Anna and Julian, and Johannes whisks Julian off.
Anna will also be at the venue, as previously scheduled, together with Brotherhood boss Peter Weiderud. The venue has limited capacity, and all the seats have already been spoken for, with priority being given to accredited members of the media.
There's one exception to the above rule: a part-time museum curator and hopeful photographer will somehow get a ticket as late as the day before, without the requested accreditation. Her name? Sofia Wilén. Sofia's from the city of Enköping, northwest of Stockholm, beyond the capital's city limits.
Sofia comes dressed in a shocking pink jumper, something that puts both Johannes and Donald (Boström) off. Not that they dislike the jumper or the colour, but more that they think such attire is not suitable for the event or for their profession.
Sofia has the opportunity for an interchange with Julian before the talk, volunteering to go off on the town to fetch a computer cable.
Sofia takes a seat to the right (stage left) in the front row; her motorised camera can be heard clicking throughout the talk.
The complete talk is still online.
Friday 13 August 2010
Julian starts using Anna's flat on Thursday 12 August. The flat is at his disposal through the talk ('seminar') on Saturday morning, when Anna is to return. Rick Falkvinge is to arrange for Julian's accommodations at that point.
But something happens today: in late afternoon or early evening, Anna returns unexpectedly.
Anna's flat isn't spacious. Most flats on the island of Södermalm are small; Anna's flat measures 25 square metres (approximately five paces by five paces). Including cooking area and water closet, the flat doesn't have room for much more furniture than a minimal bed.
This Friday afternoon is also in the middle of Sweden's white collar holiday month. Many of the city's residents are away, many businesses are closed, and those who can't leave town are on their way by now to their summer cottages for the weekend. A Friday afternoon in August is hardly the time for a stranger to go looking for emergency accommodations.
Anna suggests she and Julian go out to dinner to discuss his sudden predicament. Over dinner, Anna persuades Julian to stay in the flat with her. According to both Anna and Julian, they make love when they return from the restaurant.
Wednesday 11 August 2010
Julian Assange arrives in Stockholm. He's to have dinner later that evening at the Beirut Café in Engelbrektsgatan in the north of inner city Stockholm.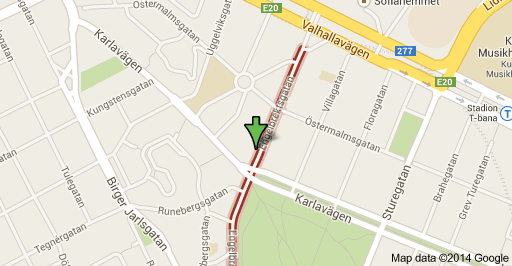 Swedish freelance photojournalist Donald Boström and his girlfriend are at the dinner, along with a writer from the US and his companion for a European trip.
Donald has the keys to a flat on Tjurbergsgatan on Södermalm in Stockholm that belongs to Anna Ardin. Anna's the organiser of Julian's talk ('seminar') that coming Saturday, but she left town for the island of Gotland and left her keys with Donald.
Anna and Donald had reportedly not known each other before. Donald's the one who in 2009 unwittingly created the Swedish diplomatic crisis with Israel.
The original idea was to put Julian up in one of Stockholm's expensive hotels, but Anna's group, the social democratic Brotherhood, had a limited budget, and they'd heard that Julian preferred to not live in hotels anyway.
Anna was scheduled to return to Stockholm on the morning of Saturday 14 August; Julian was also scheduled to meet that same day with Rick Falkvinge, founder of Sweden's famous Pirate Party, to seal a deal for use of Pirate Party rack space by WikiLeaks in ISP Bahnhof's famous bunker under the White Mountains. Starting after the talk on Saturday, Julian's accommodations are to be taken care of by Rick Falkvinge and his fellow pirates.
The companion of the writer talks with Julian about her dissatisfaction with her trip; when she goes outside to smoke, Julian accompanies her. The writer follows out after a while, objecting to their leaving the dinner. The girl grabs Julian's hand and the two walk off into the night.
(© and reprinted with permission from Assange in Sweden, where reprint requests should be directed. For further documents in the new case filing, including the initial petition to the Stockholm court and a facsimile of Marianne Ny's response to the court, see Justice4Assange.)