2014-04-17 The raid that almost was
Late on Wednesday evening 15 August 2012, the Metropolitan police surrounded the Ecuadorean Embassy in London. This followed the publication by the Ecuadorean government of the aide memoir from William Hague, the British Foreign Secretary, on how the diplomatic status of their London embassy could be revoked.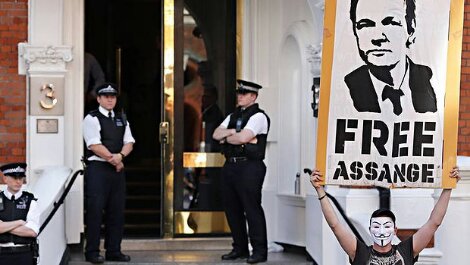 Observers assumed that the arrival of the police must be the presage to a raid. For those watching the unfolding events, in the end it all turned out to be an anticlimax. Though the outcome could have turned out very differently had it had not been for the interventions of certain cyber warriors - in the UK, Australia and elsewhere - whose quick-wittedness may have ensured that a major international incident was averted.
From Darker Net, this is the inside story of the raid that almost was.
All times quoted in BST.
| | |
| --- | --- |
| 22:34 | A group of WikiLeaks supporters gather outside the embassy |
| 22:44 | Jennifer Robinson, Julian Assange's Australian lawyer, is tweeted |
| 23:01 | Jennifer Robinson tweets the URL of the Diplomatic and Consular Premises Act |
| 23:02 | Tweet sent out by Occupy that police now surround embassy |
| 23:15 | Tweet sent with URL of Diplomatic and Consular Premises Act to supporters and WikiLeaks orgs |
| 23:18 | Tweet sent for someone to contact Gareth Peirce, Assange's UK lawyer |
| 23:24 | Livestream video from supporter outside embassy shows police, accompanied by man in suit with briefcase, entering building via front entrance |
| 23:25 | Tweet sent to Julian Burnside, Assange's Australian lawyer, advising that police look like entering premises |
| 23:38 | Police attempt to enter premises via the fire escape at the side of the building |
| 23:39 | Tweet sent to Jennifer Robinson advising her of latest developments |
| 23:58 | Jennifer Robinson tweets URL of CPS document covering diplomatic immunity and diplomatic premises |
| 00:00 | Police seen entering building via fire escape at side of building |
| 00:15 | Police outside and inside building |
| 00:24 | Burnside, Robinson and others updated |
| 00:30 | Police abandon attempt to enter embassy and regroup outside of premises |
| 01:18 | Jennifer Robinson tweets that to her knowledge the status of the embassy has not been withdrawn |
| 01:33 | AntiLeaks claim DDoS on Livestream (no longer active) |
| 01:45 | WikiLeaks announces via Facebook the release of new batch of Global Intelligence Files |
| 01:52 | Jennifer Robinson tweets Ecuador has called emergency summit of OAS |
| 00:54 | Police return to vans |
| 00:57 | Australian WikiLeaks Citizens Alliance tweets that Christine Assange's Twitter account blocked |
| 01:02 | Police leave area in vans, leaving only a handful of police outside embassy |
| 01:25 | Livestream back in action |
When 20 or so police, backed by others in vans nearby, attempt to enter a building from two directions, they are clearly not there to protect that building or perform street theatre. It began as a raid, but then aborted. No doubt behind the scenes officials from the embassy and lawyers acting for Assange were making it clear to the police and government officials that the premises were inviolate. But had the police succeeded in penetrating the embassy, the ramifications would have been huge, affecting the status of every embassy of every country around the world.

As for the part played by the citizen journalists that evening, while this was no Tahir Square, the tactics were not that dissimilar, and in shining a cyber spotlight on what the police were attempting to do they made certain the rest of the world were directly involved at every move.
Later that day, an embarrassed British government released a statement denying it had attempted to raid the embassy or that it ever intended to. Also, it became obvious that Hague's memo to the Ecuadorean government had not been supported by his own civil servants or, apparently, sanctioned by the prime minister. The following day the Organisation of American States carried a motion supporting Ecuador in its stance against the British Government. On Sunday, prior to a statement by Julian Assange from the balcony of the Ecuadorean Embassy, Snr Baltasar Garzón, the former Spanish judge who is leading Assange's legal team, stated that he will be taking steps to prosecute the British government. (No further details were added.)
More evidence
There is mounting evidence (see below) that the siege of the Ecuador Embassy on the evening of Wednesday 15 August was indeed a raid in progress but that the raid was called off literally at the last moment while the police were inside the building and only minutes away from entering the embassy to arrest Mr Julian Assange. Moreover this evidence (from an insider) supports the assertion that the raid had been organised largely as a result of pressure from the US. As previously stated, that the raid was called off in the way it was may be partly due to the vigilance of a few cyber warriors who were conveying to the world via Livestream video link and tweets exactly what was happening at the embassy, second by second.
Firstly, the aftermath... An extraordinary meeting of the Organisation of American States was called and that meeting condemned the threat made by the British government to raid the premises of the Embassy... Commentators around the world agreed that the threat was a huge mistake and had the raid proceeded then this would have set a precedent with embassies everywhere being subject to similar raids... In the end the British government was forced into a total climbdown and issued a statement to the Government of Ecuador making it clear it would not seek to forcibly enter its premises... The British and Ecuadorian governments have now agreed to resume dialogue on finding a solution to the current impasse... There has been a call for the US to impose economic and other sanctions against Ecuador.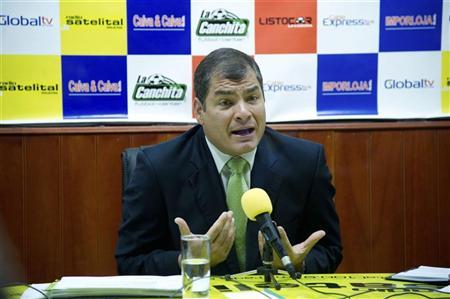 Also, it has since been shown that specialist police units SO10 (Covert Operations, specialising in undercover work) and SO20 (Counterterrorism) are or were involved in the policing of the embassy. SO10 have a history of working closely with the Special Reconnaissance Regiment and it's not inconceivable that some of their operatives are involved in the policing of the Ecuador Embassy too.
New evidence
The new evidence that supports the assertion that a raid had been ordered comes from Craig Murray, the whistleblower who formerly spent 20 years in the British diplomatic service. Mr Murray reports via his blog and via WikiLeaks that on August 15th he had heard from a contact in the Foreign and Commonwealth Office that a raid on the embassy was imminent. Mr Murray immediately blogged this.
I arrived in the UK from a trip abroad on 15 August 2012 and was immediately contacted by a very senior official within the Foreign and Commonwealth Office who was very concerned. He had knowledge that an attempt by the British authorities to force entry to the Embassy of Ecuador was possibly imminent. I suggested that this must be impossible, and he said that unfortunately it was not. He said that he had been party to formal discussions over a three week period between different British government departments on the legality of such a move. It had concluded that the provisions of the Diplomatic Premises Act of 1987 gave the authorities the domestic power to do this, in spite of the Vienna Convention of 1961. My ex-colleague went on to say that he understood the government intended to act quickly to pre-empt any grant of political asylum to Mr Assange by the government of Ecuador. If there were any formal international recognition of Mr Assange as a political refugee, it might complicate matters. He also said there was tremendous discomfort at this development within the British diplomatic service because of the potential exposure of British embassies and diplomats abroad to similar action. I asked how on earth such an illegal decision could have been reached. My ex-colleague said that political pressure exerted by the administration of the United States of America on Mr William Hague and Mr David Cameron had outweighed the views of British diplomats.
1:49 eynonimo: viewing from Spain, there will be any protest?
2:24 hughe: no anons there yet ?
2:26 eynonimo: ok ;)
2:32 trixie79: thank you for streaming
2:34 tomb: UK police present? assange at risk of arrest do you think?
2:38 soup: thanks for taking the time to be our eyes
2:38 L: Keep up the good job! Very very well done
2:39 Protracker: This is an act of war
2:46 barb_dwyer: this is your chance to put the call out - do it now - you're being streamed on LSX Livestrem
2:56 Joe: hey
3:03 barb_dwyer: you're being re-streamed on Occupy World News Now
3:03 NewsBlogged: Thanks for streaming just Tweeted link!
3:04 paulajoyce: good work!
3:09 barb_dwyer: make the call for bodies
3:14 seriounsly: tweeted
3:15 Protracker: Thank you for taking your time to steam this for us all
3:19 seriounsly: good work my friend
3:24 pintordelvelo: HI
3:29 Gothic_artisan: thank you for livestreaming!!!
3:44 Franjo: put chains on doors
3:50 Spartan: When Iranian protesters stormed the British embassy in 2011, it was considered by the British as an act of war according to Anonymous
3:51 pintordelvelo: hanks for streaming just Tweeted link!
3:53 5ct34m: thx live
3:54 freidapeeps: thanks for streaming.
3:55 ela: thank you so much for getting there so fast and streaming. You are amazing : )
3:57 anon: Build the wall, people!
3:58 Tetley Tony Walsh: hi and thanks for been our eyes
4:17 rysiek: thanks. doing a smashing job.
4:18 brazil: lol
4:21 Spartan: I'm in America, I'd get down here if I could!
4:23 brazil: because invasion
4:24 Gonzo: I don't get why its such a big deal
4:36 Gonzo: there are weapons hidden all over
4:40 Protracker: its a big deal becasue the usa are pissed
4:41 Lee Deathcare Nelson: tweeting to 744 members on twitter and 724 n facebook : )
4:42 Franjo: im picturing jason bourne type fights in embassy
4:44 the_amazon: Yes thank you so much for being there.
4:57 Brazilian Guy: fuck the police
4:58 freidapeeps: watching from nyc.
5:01 paulajoyce: wait....
5:09 Commander X: Thank you from the PLF and Commander X.
5:09 theUKtoday: Mainstream media there yet?
5:15 Gonzo: there are weapons hidden all over almost every nuclearly ready country
5:20 me0w: High
5:21 Spartan: You go alburyj!
5:21 Gonzo: this is ridiculous
5:22 FUUUUUUUUUUUCK: fart in y outh
5:22 Brazilian Guy: what the olympic spirit?

WikiLeaks issued a statement at 04:00 (03:00 UTC). Read it here.
The country that has refused to do the bidding of the empire, Ecuador, is playing a very interesting role here. Their foreign minister was saying this morning that 'we are not a British colony and the days of colonialism, Taormina, are over'. So what we see here is a playing out of the fact that there is complete disrespect for international law. The embassy premises of all countries have been heretofore considered sacrosanct, sacred. And here's the British Foreign Office saying - 'well, we may just forcibly enter'. Unheard of! During the worse days of the Cold War, if someone sought refuge in the US embassy in Moscow or the Soviet embassy in the United States, despite the friction, despite the enmity between those two countries, international law in this case was always honoured. This is unprecedented.
- Ray McGovern