2014-04-15 Snowden reports win Pulitzer Prize
The Pulitzer Board have awarded their Public Service Award to the Guardian (US) and the Washington Post for their coverage of the NSA revelations by Edward Snowden. The decision, reportedly the subject of some controversy amongst the 19-member Prize Board, echoes their 1972 prize given to the New York Times for Daniel Ellsberg's 'Pentagon Papers'.
The journalists doing the actual NSA reporting have already won a number of prestigious prizes. Laura Poitras and Glenn Greenwald received a Polk Award in Brooklyn only last Friday, coincidentally their first trip to the US since the NSA stories first broke nearly a year ago. They shared the award with Ewen MacAskill of the Guardian and Barton Gellman of the Washington Post.
Both Poitras and Greenwald said that their award was really for Edward Snowden.
But one of many
Those working with NSA stories have previously won a number of awards from the Gannett Foundation, the European Press Prize, the McGill Medal, the Society of Editors, El País, and IRE.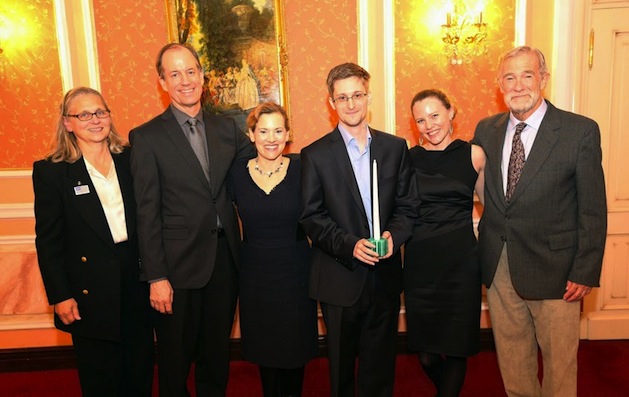 Edward Snowden has himself won the Sam Adams Award, the International Human Rights Award from the Brazilian Press Association, and the Whistleblower Prize from Transparency International.
Snowden has also been nominated for the Sakharov Prize for Freedom of Thought and several times nominated for the Nobel Peace Prize.