News Archive - 2014-04 (April 2014)
2014-04-02 Eva Joly interviewed on Assange on Sweden's TV4 (English subs)
2014-04-03 Barrett Brown Plea: Now Max 5 Years
Barrett Brown has reportedly reached a plea agreement. Full details are not yet available.
The plea agreement marks a big step forward towards resolution of a case with significant first amendment implications. The case began back in 2012 when the FBI searched the homes of Barrett and his mother.
Brown has maintained his innocence since his arrest and has plead not guilty on all counts.
Director of the Barrett Brown defence fund Kevin Gallagher:
The Barrett Brown I know and call my friend has never been one to compromise with the government. But in this instance, I think he recognises that taking this case before a jury in Texas is a massive roll of the dice.

I think this whole thing would have been settled long ago, if not for the fact that the government had filed excessive and meritless charges which they later dropped.

I'm pleased that the parties were able to reach this agreement. Although in principle he shouldn't have to plea to anything, this spares everyone the spectacle of a costly trial, and the bottom line is that Barrett will be coming home, as he's already served 19 months unnecessarily.
2014-04-15 Snowden reports win Pulitzer Prize
The Pulitzer Board have awarded their Public Service Award to the Guardian (US) and the Washington Post for their coverage of the NSA revelations by Edward Snowden. The decision, reportedly the subject of some controversy amongst the 19-member Prize Board, echoes their 1972 prize given to the New York Times for Daniel Ellsberg's 'Pentagon Papers'.
The journalists doing the actual NSA reporting have already won a number of prestigious prizes. Laura Poitras and Glenn Greenwald received a Polk Award in Brooklyn only last Friday, coincidentally their first trip to the US since the NSA stories first broke nearly a year ago. They shared the award with Ewen MacAskill of the Guardian and Barton Gellman of the Washington Post.
Both Poitras and Greenwald said that their award was really for Edward Snowden.
But one of many
Those working with NSA stories have previously won a number of awards from the Gannett Foundation, the European Press Prize, the McGill Medal, the Society of Editors, El País, and IRE.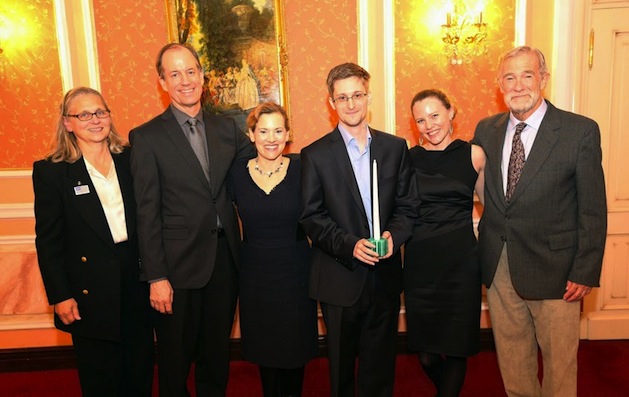 Edward Snowden has himself won the Sam Adams Award, the International Human Rights Award from the Brazilian Press Association, and the Whistleblower Prize from Transparency International.
Snowden has also been nominated for the Sakharov Prize for Freedom of Thought and several times nominated for the Nobel Peace Prize.
2014-04-17 Putin to Snowden: 'We don't have mass surveillance in Russia'
Russian president Vladimir Putin's annual live Q&A marathon today had a surprise guest: Edward Snowden.

Snowden, piped in via videolink, asked Putin point blank if Russia had any mass surveillance system comparable to that of the NSA.

See the clip below to hear Putin's answer.
The annual 'direct line' Q&A sessions for the Russian president are transmitted live by Russian television and radio. They can run nonstop five hours or more.
2014-04-17 The raid that almost was
Late on Wednesday evening 15 August 2012, the Metropolitan police surrounded the Ecuadorean Embassy in London. This followed the publication by the Ecuadorean government of the aide memoir from William Hague, the British Foreign Secretary, on how the diplomatic status of their London embassy could be revoked.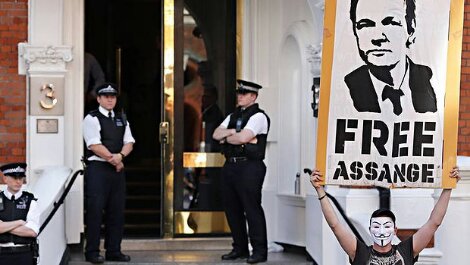 Observers assumed that the arrival of the police must be the presage to a raid. For those watching the unfolding events, in the end it all turned out to be an anticlimax. Though the outcome could have turned out very differently had it had not been for the interventions of certain cyber warriors - in the UK, Australia and elsewhere - whose quick-wittedness may have ensured that a major international incident was averted.
From Darker Net, this is the inside story of the raid that almost was.
All times quoted in BST.
| | |
| --- | --- |
| 22:34 | A group of WikiLeaks supporters gather outside the embassy |
| 22:44 | Jennifer Robinson, Julian Assange's Australian lawyer, is tweeted |
| 23:01 | Jennifer Robinson tweets the URL of the Diplomatic and Consular Premises Act |
| 23:02 | Tweet sent out by Occupy that police now surround embassy |
| 23:15 | Tweet sent with URL of Diplomatic and Consular Premises Act to supporters and WikiLeaks orgs |
| 23:18 | Tweet sent for someone to contact Gareth Peirce, Assange's UK lawyer |
| 23:24 | Livestream video from supporter outside embassy shows police, accompanied by man in suit with briefcase, entering building via front entrance |
| 23:25 | Tweet sent to Julian Burnside, Assange's Australian lawyer, advising that police look like entering premises |
| 23:38 | Police attempt to enter premises via the fire escape at the side of the building |
| 23:39 | Tweet sent to Jennifer Robinson advising her of latest developments |
| 23:58 | Jennifer Robinson tweets URL of CPS document covering diplomatic immunity and diplomatic premises |
| 00:00 | Police seen entering building via fire escape at side of building |
| 00:15 | Police outside and inside building |
| 00:24 | Burnside, Robinson and others updated |
| 00:30 | Police abandon attempt to enter embassy and regroup outside of premises |
| 01:18 | Jennifer Robinson tweets that to her knowledge the status of the embassy has not been withdrawn |
| 01:33 | AntiLeaks claim DDoS on Livestream (no longer active) |
| 01:45 | WikiLeaks announces via Facebook the release of new batch of Global Intelligence Files |
| 01:52 | Jennifer Robinson tweets Ecuador has called emergency summit of OAS |
| 00:54 | Police return to vans |
| 00:57 | Australian WikiLeaks Citizens Alliance tweets that Christine Assange's Twitter account blocked |
| 01:02 | Police leave area in vans, leaving only a handful of police outside embassy |
| 01:25 | Livestream back in action |
When 20 or so police, backed by others in vans nearby, attempt to enter a building from two directions, they are clearly not there to protect that building or perform street theatre. It began as a raid, but then aborted. No doubt behind the scenes officials from the embassy and lawyers acting for Assange were making it clear to the police and government officials that the premises were inviolate. But had the police succeeded in penetrating the embassy, the ramifications would have been huge, affecting the status of every embassy of every country around the world.

As for the part played by the citizen journalists that evening, while this was no Tahir Square, the tactics were not that dissimilar, and in shining a cyber spotlight on what the police were attempting to do they made certain the rest of the world were directly involved at every move.
Later that day, an embarrassed British government released a statement denying it had attempted to raid the embassy or that it ever intended to. Also, it became obvious that Hague's memo to the Ecuadorean government had not been supported by his own civil servants or, apparently, sanctioned by the prime minister. The following day the Organisation of American States carried a motion supporting Ecuador in its stance against the British Government. On Sunday, prior to a statement by Julian Assange from the balcony of the Ecuadorean Embassy, Snr Baltasar Garzón, the former Spanish judge who is leading Assange's legal team, stated that he will be taking steps to prosecute the British government. (No further details were added.)
More evidence
There is mounting evidence (see below) that the siege of the Ecuador Embassy on the evening of Wednesday 15 August was indeed a raid in progress but that the raid was called off literally at the last moment while the police were inside the building and only minutes away from entering the embassy to arrest Mr Julian Assange. Moreover this evidence (from an insider) supports the assertion that the raid had been organised largely as a result of pressure from the US. As previously stated, that the raid was called off in the way it was may be partly due to the vigilance of a few cyber warriors who were conveying to the world via Livestream video link and tweets exactly what was happening at the embassy, second by second.
Firstly, the aftermath... An extraordinary meeting of the Organisation of American States was called and that meeting condemned the threat made by the British government to raid the premises of the Embassy... Commentators around the world agreed that the threat was a huge mistake and had the raid proceeded then this would have set a precedent with embassies everywhere being subject to similar raids... In the end the British government was forced into a total climbdown and issued a statement to the Government of Ecuador making it clear it would not seek to forcibly enter its premises... The British and Ecuadorian governments have now agreed to resume dialogue on finding a solution to the current impasse... There has been a call for the US to impose economic and other sanctions against Ecuador.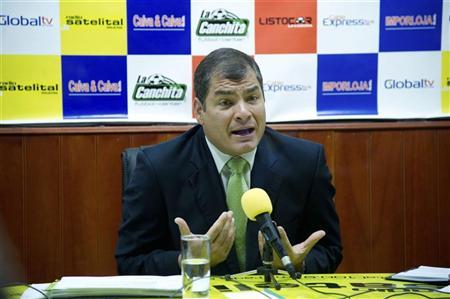 Also, it has since been shown that specialist police units SO10 (Covert Operations, specialising in undercover work) and SO20 (Counterterrorism) are or were involved in the policing of the embassy. SO10 have a history of working closely with the Special Reconnaissance Regiment and it's not inconceivable that some of their operatives are involved in the policing of the Ecuador Embassy too.
New evidence
The new evidence that supports the assertion that a raid had been ordered comes from Craig Murray, the whistleblower who formerly spent 20 years in the British diplomatic service. Mr Murray reports via his blog and via WikiLeaks that on August 15th he had heard from a contact in the Foreign and Commonwealth Office that a raid on the embassy was imminent. Mr Murray immediately blogged this.
I arrived in the UK from a trip abroad on 15 August 2012 and was immediately contacted by a very senior official within the Foreign and Commonwealth Office who was very concerned. He had knowledge that an attempt by the British authorities to force entry to the Embassy of Ecuador was possibly imminent. I suggested that this must be impossible, and he said that unfortunately it was not. He said that he had been party to formal discussions over a three week period between different British government departments on the legality of such a move. It had concluded that the provisions of the Diplomatic Premises Act of 1987 gave the authorities the domestic power to do this, in spite of the Vienna Convention of 1961. My ex-colleague went on to say that he understood the government intended to act quickly to pre-empt any grant of political asylum to Mr Assange by the government of Ecuador. If there were any formal international recognition of Mr Assange as a political refugee, it might complicate matters. He also said there was tremendous discomfort at this development within the British diplomatic service because of the potential exposure of British embassies and diplomats abroad to similar action. I asked how on earth such an illegal decision could have been reached. My ex-colleague said that political pressure exerted by the administration of the United States of America on Mr William Hague and Mr David Cameron had outweighed the views of British diplomats.
1:49 eynonimo: viewing from Spain, there will be any protest?
2:24 hughe: no anons there yet ?
2:26 eynonimo: ok ;)
2:32 trixie79: thank you for streaming
2:34 tomb: UK police present? assange at risk of arrest do you think?
2:38 soup: thanks for taking the time to be our eyes
2:38 L: Keep up the good job! Very very well done
2:39 Protracker: This is an act of war
2:46 barb_dwyer: this is your chance to put the call out - do it now - you're being streamed on LSX Livestrem
2:56 Joe: hey
3:03 barb_dwyer: you're being re-streamed on Occupy World News Now
3:03 NewsBlogged: Thanks for streaming just Tweeted link!
3:04 paulajoyce: good work!
3:09 barb_dwyer: make the call for bodies
3:14 seriounsly: tweeted
3:15 Protracker: Thank you for taking your time to steam this for us all
3:19 seriounsly: good work my friend
3:24 pintordelvelo: HI
3:29 Gothic_artisan: thank you for livestreaming!!!
3:44 Franjo: put chains on doors
3:50 Spartan: When Iranian protesters stormed the British embassy in 2011, it was considered by the British as an act of war according to Anonymous
3:51 pintordelvelo: hanks for streaming just Tweeted link!
3:53 5ct34m: thx live
3:54 freidapeeps: thanks for streaming.
3:55 ela: thank you so much for getting there so fast and streaming. You are amazing : )
3:57 anon: Build the wall, people!
3:58 Tetley Tony Walsh: hi and thanks for been our eyes
4:17 rysiek: thanks. doing a smashing job.
4:18 brazil: lol
4:21 Spartan: I'm in America, I'd get down here if I could!
4:23 brazil: because invasion
4:24 Gonzo: I don't get why its such a big deal
4:36 Gonzo: there are weapons hidden all over
4:40 Protracker: its a big deal becasue the usa are pissed
4:41 Lee Deathcare Nelson: tweeting to 744 members on twitter and 724 n facebook : )
4:42 Franjo: im picturing jason bourne type fights in embassy
4:44 the_amazon: Yes thank you so much for being there.
4:57 Brazilian Guy: fuck the police
4:58 freidapeeps: watching from nyc.
5:01 paulajoyce: wait....
5:09 Commander X: Thank you from the PLF and Commander X.
5:09 theUKtoday: Mainstream media there yet?
5:15 Gonzo: there are weapons hidden all over almost every nuclearly ready country
5:20 me0w: High
5:21 Spartan: You go alburyj!
5:21 Gonzo: this is ridiculous
5:22 FUUUUUUUUUUUCK: fart in y outh
5:22 Brazilian Guy: what the olympic spirit?

WikiLeaks issued a statement at 04:00 (03:00 UTC). Read it here.
The country that has refused to do the bidding of the empire, Ecuador, is playing a very interesting role here. Their foreign minister was saying this morning that 'we are not a British colony and the days of colonialism, Taormina, are over'. So what we see here is a playing out of the fact that there is complete disrespect for international law. The embassy premises of all countries have been heretofore considered sacrosanct, sacred. And here's the British Foreign Office saying - 'well, we may just forcibly enter'. Unheard of! During the worse days of the Cold War, if someone sought refuge in the US embassy in Moscow or the Soviet embassy in the United States, despite the friction, despite the enmity between those two countries, international law in this case was always honoured. This is unprecedented.
- Ray McGovern
2014-04-19 Paris Match: Rendezvous with the whistleblower and Eva Joly
Friday 28 March. The Ecuadorean Embassy in London. Behind him: a green screen, in front of which he films for Skype and the social networks. Threatened by the United States, the founder of WikiLeaks has been confined for two years to a room at the Ecuadorean Embassy in London. He was visited by Eva Joly who is working on breaking the deadlock.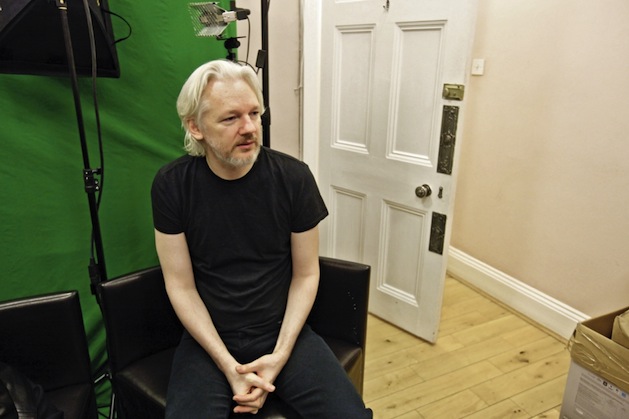 The 15 square metres where he's lived as a recluse since June 2012 are overrun by computers and other electronic equipment. At 3 Hans Crescent, Knightsbridge, London, in the tiny office put at his disposal by embassy staff, there's a corner fireplace, now blocked by a table on which today sit a Mac and three computer monitors used in video editing. Nearby: a Sony high definition professional camera, and a Canon 5D. On the other side of the room, hung against the wall: a green screen used for special effects. It's bordered by a battery of projectors that gives it the appearance of a film studio. Everywhere there are books, folders, storage boxes. Assisted by a young colleague from his company Sunshine Press Productions, it's here in this 'cool' environment that Julian Assange, founder of WikiLeaks, welcomes his guests and now, for the third time, prosecutor, presidential candidate, and former judge Eva Joly.
Smiling from under a short fashionable beard, wearing a T-shirt and black jeans, the Internet activist doesn't seem too worn for the six hundred fifty days he's been cloistered, unable to exit into sunlight. But his figure has thinned, his face has widened, and his complexion and hair look even paler than before. He speaks in a slow voice and with a solemn air, his eyes on his interviewer. (His family worry about his deteriorating health.)
BRITISH TAXPAYERS DON'T GET IT: THIS SURVEILLANCE COSTS THEM €5 MILLION
In this virtual prison, under the protection of the government of Ecuador, a small Latin American country that granted him asylum, Assange says he hasn't time to get bored. 'Imagine that you were, like me, the target of the world's superpowers, responsible for making an international organisation like WikiLeaks run... You don't have a lot of free time', he quips. 'I've got nothing I can do but work. To be able to withstand the attacks of which I'm the target, you have to be very concentrated, have to exercise a lot of self-discipline. In this small space of mine here, I'm very well organised.'
Thanks to his computer equipment, the veteran programmer can stay in touch with his many faithful via Skype, the social networks, or his WikiLeaks web channel. 'I remain above all else a journalist and editor fighting for freedom of expression', he says. Despite his imprisonment, despite the financial blockade by Visa, MasterCard, PayPal, and Bank of America, he's proud that he's been able to keep WikiLeaks afloat. 'Since we released the confidential US diplomatic dispatches in 2010, we've been targeted by the Pentagon and the White House', he explains. 'Around the world, newspapers or publishers who've published these revelations have been attacked. Some of them went bankrupt. But the actions of the CIA, the FBI, and the US State Department aren't enough to kill us. WikiLeaks survives. The organisation's even in good financial health.'
IN THE UNITED STATES: 35 YEARS IMPRISONMENT
With an obsession bordering on paranoia, another of Assange's concerns is his personal safety. When he welcomes us into the room, he asks us to please not take pictures of the room's furniture or his computers, so we don't inadvertently divulge information to his enemies. Then he leads us to the window overlooking Harrods. 'Look, there in the grand circular staircase glass... There's a policeman there on duty day and night to watch me.' Assange opens one of his favourite books, 1984, on the table next to his computer keyboard. 1984 is the novel by George Orwell who over thirty years earlier so presciently described the dangers of totalitarian society where citizens come under surveillance. On a nearby shelf is found 'The Whitehall Mandarin', a British spy novel by Edward Wilson that reveals the secret methods of the US intel services designed to preserve the dominance of the United States around the world.
As the fictional person he is, Julian Assange is probably right in being so cautious. Since the summer of 2010, right after the first WikiLeaks revelations about the US military presence in Afghanistan, he's faced an arrest warrant from a Swedish prosecutor who wants to investigate accusations of 'rape' and 'sexual assault' by two women. Assange has always denied the allegations, saying they were both 'consensual relationships'. He speaks of a 'conspiracy' by the US administration, a reaction to the disclosure of those 250,000 diplomatic cables provided by WikiLeaks soldier Bradley Manning. For him, this manoeuvre by Swedish authorities has but one goal: to secure his delivery to the United States where, like Manning who was sentenced last summer, he risks long imprisonment (or worse).
For now, even if the rape allegations aren't substantiated and no charges have been brought against him, Julian Assange has been placed under an order by a British system desperate to extradite him to Sweden. Since he took refuge in the small room in the embassy of Ecuador, nearly two years ago now, an impressive police force stay deployed outside to prevent his escape. Assange notes that this has already cost British taxpayers more than €5 million, a sum that starts to wax polemic. 'It's always the same thing', he laments. 'Citizens are more concerned about their pocketbooks than protecting human rights.'
IN STOCKHOLM: EVA JOLY CHALLENGES THE AUTHORITIES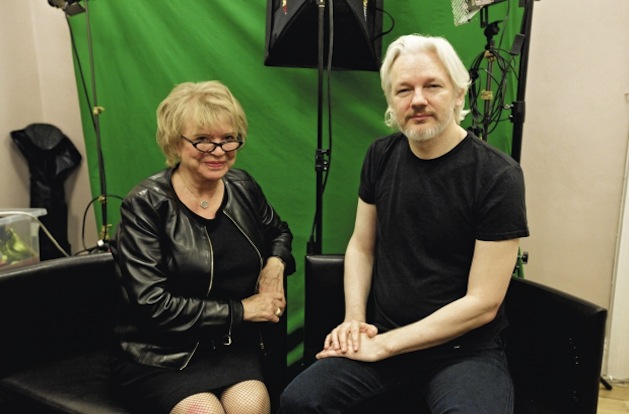 Trying to break the deadlock, Eva Joly meets with Assange for the third time on 28 March. She tells him of her efforts the day before in Stockholm with the Swedish authorities. The former anti-corruption judge, today a Minister of the European Parliament, first met Assange on Iceland in 2010, right before he came into the sights of the Swedish judiciary. 'I was leading the investigation into the causes of the Icelandic financial crisis', she remembers. 'And I was very impressed by the work of WikiLeaks. We wondered how the big bankers were able to lead the country to ruin with no one noticing anything. Then Julian Assange arrived on the scene with an idea of transforming Iceland into a haven where journalists can't be persecuted, an information paradise if you will. Assange's concept had a huge impact and led to the Icelandic Modern Media Initiative, a project to which I belong that continues to this day.'
In early 2013, when she learned he was staying at the Ecuadorean Embassy, Eva Joly came to visit Assange. And she returned again a year later. As the situation hadn't changed, she decided to travel to Stockholm to directly confront the Swedish judiciary. 'I proposed solutions where Assange would be questioned remotely', she said. 'Swedish judges can indeed travel to London the same way I traveled to Israel to interrogate a suspect in the Elf scandal. They can also question Julian Assange via video link, in the presence of his attorneys, as is already done in France. Finally, it's possible for them to use the Ecuadorean judicial system as a framework for the interrogation.' So far, Eva Joly, who's been unable to meet with the Swedish prosecutor, has received little response for her proposals, other than from the media. But the former judge hasn't given up. She plans to continue at the European level in her fight for justice for Assange, and to continue to denounce Sweden's disregard for the presumption of innocence and everyone's right to a speedy trial.
Before leaving, Eva Joly and Julian Assange pause for a long hug. Visibly moved, the head of WikiLeaks thanks the French MEP for being so supportive. 'You're a strong person', he tells her, then: 'I'd like to live in France someday.' But after four years of playing cat and mouse with Sweden and the US, including twenty-two months buried alive in that compartment at the Ecuadorean Embassy, hasn't the cost of WikiLeaks proven too high to bear?
'I pay a high price', Assange admits. 'But the challenge is worth it.'
The French weekly Paris Match is one of France's most successful and influential magazines, on occasion selling in excess of one million copies worldwide.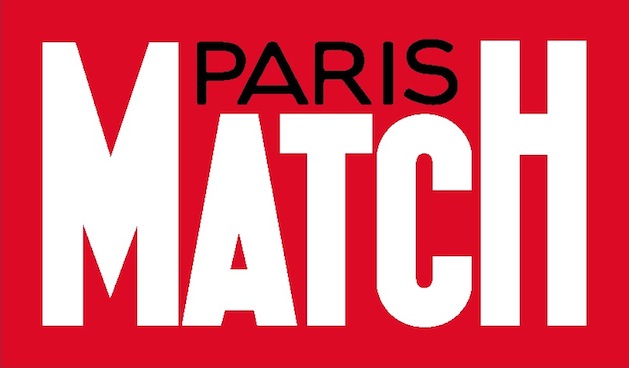 2014-04-23 Snowden statement on inauguration as rector at University of Glasgow
I'm disappointed and I must apologise for being unable to attend in person, but unfortunately I've discovered that I'm barred from entering the United Kingdom on the grounds that my presence is considered detrimental to the public good.
I do think it's fair to say that the election shows the students of this university have a different opinion.
Regardless of what the government says, today, now, nearly a year forward, what we are learning is that the public feels something different, the students feel something different.
It's my great honour to be given the opportunity by this university, by the students, to serve the public good not only in defence of our public rights, but as rector of this university.
In a democracy people have a right to know the policies of their government. We may not need to know the names and identities of every target of surveillance on every active operation, but we should know the general outlines and what the government is doing in our name, and particularly what the government is doing against us.
I would like to thank everyone at the University. To the student body, to the SRC, to everyone who participated in the elections. I would say it is a great honour to be part of this today.
We have to remember that human rights are not granted by governments but are inherent to our nature. We have to abide by the principles that we cannot merely believe in something, you have to speak out.
It is these principles that will guide me as rector.
Originally published by the Evening Times and BBC 23 April 2014. Follow the Courage Foundation's official Edward Snowden support account on Twitter.