2014-03-31 Transcript/translation: Eva Joly interviewed by Swedish television
Famed French-Norwegian prosecutor Eva Joly has come to Stockholm to try to resolve the standoff between Julian Assange and the Swedish prosecution service. She was interviewed by Malou von Sivers yesterday, after the day before holding a press conference about her visit. This is a translation and transcription of that interview. For background, see here.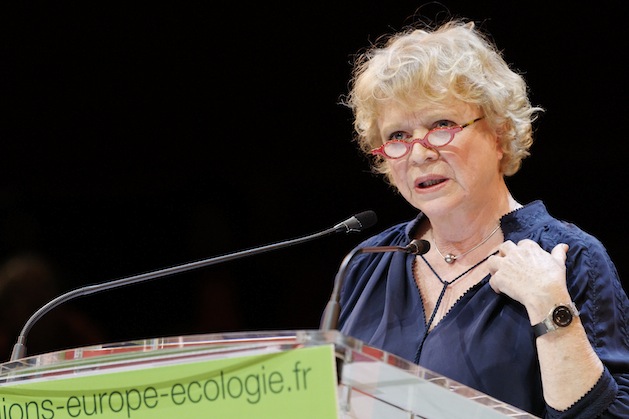 MS: 2011 I met WikiLeaks' Julian Assange in London and he talked about his situation. The following year he went to the embassy of Ecuador and he's been there ever since. He can't leave the building, out of fear he'll be extradited to the United States. And this is a stalemate position because the Swedish prosecutor refuses to travel to London to question him, something he says is necessary. Now he's got a woman, a very well known woman, not in the least in France. She's a jurist and she's been a corruption investigator in a huge scandal there where many were convicted. She's also a Member of the European Parliament. She's here in Sweden to try to find a solution to the judicial stalemate with Julian Assange. Welcome, Eva Joly!
EJ: Thank you.
MS: I think that first and foremost it's important for our viewers to learn who you are, because you have such a fantastic personal history! So - you're Norwegian?
EJ: Yes.
MS: And already at the age of 20 you traveled as many do, especially Scandinavian girls, to France as an au pair.
EJ: Yes.
MS: And then you stayed there!
EJ: Yes I did. I got married and had two children, took my law degree, and became a judge.
MS: You became a judge.
EJ: Yes.
MS: You also became known for a very difficult assignment, a corruption investigation that was enormous, one of the biggest in the world.
EJ: One of the world's biggest and so far the only real corruption investigation in Europe that ended with almost all the suspects being sentenced the harshest possible under the law.
MS: All of them convicted?
EJ: 33 of 36 were convicted.
MS: And this - what year was this?
EJ: The final verdict came in 2003.
MS: So it took eight years?
EJ: Yes. The investigation started in the early 1990s and continued until 2002.
Ecuador granted him asylum, this is a human right, and Sweden shall not violate it.
MS: Mmm-mm. And you also had bodyguards because you were...
EJ: Yes.
MS: Living under death threats, to put it simply.
EJ: My life was threatened and I had bodyguards for eight years.
MS: We're going to explain what company this was about. There were a lot of people involved in that affair. There was an oil company...
EJ: This was about ELF, which then was one of France's biggest companies. The matter concerned 3 billion francs, so 500 million euros, which had disappeared from the company and went to a number of private individuals. But what also was revealed was how Africa had been exploited to finance French interests.
MS: And almost everyone was convicted, and you became well known in France, and then you began another difficult assignment: you challenged the president, as you became a candidate for the Greens as their presidential candidate in France.
EJ: Yes I did!
When Marianne Ny says he won't be turned over to the US, she is talking about things where she has no competence. She knows nothing about this.
MS: And you're Norwegian! That's a challenge!
EJ: It was a big challenge, but of course a fantastic experience. So much that happened, I got to meet so many people. And I had the opportunity to get involved in issues I really care about.
MS: The Green environmental issues.
EJ: The environmental issues, but also issues about justice. A just justice system, justice for all: this is also a key issue for the Greens.
MS: But had it been possible for someone not from France, Norwegian as you are, to be president in France?
EJ: No I don't think so. My election results weren't that good either. I got 2.3% of the votes. But there were still a million people who voted for me. And those are the approximate figures the Greens usually have in presidential elections. France is not ready for a president who's a member of the Greens and also a foreigner.
MS: We're not ready either, we can say. We still haven't had a woman as prime minister. But this energy you have! Your passion for justice that seems behind a lot of what you do - where does that come from?
EJ: You know, I think it's because I've been in so many situations, at so many forks in the road, and I've understood, and which have upset me, things I can share with others. And maybe we can change things. It started with the greatest injustice of them all, namely the tax evaders, the tax havens, the big multinational corporations that don't pay any tax, as opposed to common workers. For 15 years I've fought against the tax havens, and today I can start to see the fruits of my labours. This system, which is so harmful to our society, is beginning to crumble. My efforts have not been in vain.
MS: Are you talking about Europe or... ?
EJ: I became a politician because I wanted to fight against the tax havens, and that's what I have done.
MS: Because now you're a candidate to the European Parliament...
EJ: Yes.
MS: For the Greens in France.
EJ: Yes.
MS: And this is an EU issue, not just a Greens issue, transparency and justice. And now you're here, on your own, in Sweden, you want to meet people, and you want to help to see if you can change things in Julian Assange's situation.
EJ: Yes. It's a stalemate situation. It doesn't consider the legitimate requirements of the investigation. The 'victims' have the right to a trial, but Julian Assange has rights too. He has the human right to seek asylum, which he has been granted by Ecuador.
MS: If we just briefly explain his situation...
EJ: OK.
MS: So it's like this: he's under suspicion of a crime in Sweden and wants to be questioned but he doesn't dare travel to Sweden for fear Sweden will turn him over to the United States, and then the prosecutor doesn't want travel to London to question him, or via video link, or some other way where he is now, namely in London.
EJ: That's what I want to help with. I myself have been an investigator, and I've been in precisely this situation: I have a suspect who is in another country and doesn't want to return to France to be questioned. So then I travel with the assistance of the country he's in and question him there. This is a very common situation. What I think is uncommon is that the prosecution authority in Sweden refuses to use this opportunity, especially after 2000 when we have very good judicial cooperation in Europe. So to travel and question Julian Assange at Ecuador's embassy in London is no big deal.
MS: Before we move to what you've achieved by coming here, we should point out that Julian Assange has been at Ecuador's embassy since June 2012. But about a year before that I was in London and met Julian Assange and he had the following to say about his situation.
[Clip begins]
JA: I stayed for five weeks in Sweden, even though I was meant to leave much earlier, even though the situation was very dangerous for me - to stay in one place for too long - and I tried, again and again and again, to speak to the prosecution. The prosecution was dropped, it was raised again when a Swedish politician involved himself in the process. And subsequent to that time, we have asked, through every single possible mechanism, for me to be interviewed again - every single possible mechanism under the standard EU mechanism which is the...
MS: Which means that the Swedish prosecutor would come here...
JA: Yes! She could come here, she could come to the Swedish embassy, she could go to Scotland Yard, we could do it over the telephone, we could do it over voice.
[Clip ends]
MS: I met him then at a secret location and now he's been at Ecuador's embassy since 2012. You met him there. We can say that you don't take a stand in the question of innocence or guilt - you just want him to be questioned.
EJ: I want the case to move along because it is a human right to be tried in a reasonable time. And we have to understand that Julian Assange has a real fear of being turned over to the United States. When Marianne Ny says he won't be turned over to the US, she is talking about things where she has no competence. She knows nothing about this. And what we actually know, if you read a lot of papers then you know that there are probably ongoing discussions between the US and the Swedish government to have him turned over to the US.
MS: Do you have any evidence of such discussions?
EJ: The Independent wrote about it... I don't remember the date offhand but the Independent claimed that, and we know that Attorney General Eric Holder has said that there is an ongoing secret investigation of Julian Assange. They're trying to make it look like he was engaged in espionage and get him convicted on those grounds. He's a publisher, he's a journalist who publishes things that others send to him. He is not a terrorist. But in the US they see him as a terrorist. And what I want to say is that Ecuador granted him asylum. This is a human right and Sweden shall not violate it, for there's another solution. It's important to know that if this interrogation... if it should be necessary to confront him with other witnesses, then they can do that via video link. And should he be convicted, he can serve his time in Ecuador. There are international conventions for this.
MS: You've visited him. What's his life like? He can't leave the embassy.
EJ: Yes, this is terrible. It's much worse to sit inside an embassy than to be in a prison. Then you'd get fresh air several hours each day, you can play football with the others, you have social services, you exist in a group. If you're inside an embassy, you have a small room you can use, and I have to say that Julian Assange's health worries me.
MS: We're going to hear what he himself says about his own fear of being turned over by Sweden to the United States. This is what he said when I met him, and this is the reason he today is in Ecuador's embassy.
[Clip begins]
JA: But we have looked in detail about what the situation is with handovers to the United States. Every single extradition request that has been sent to Sweden from the United States since the year 2000, Sweden has handed the person over. In 2002, Sweden cooperated with the CIA to hand over political refugees to Egypt. So we need - I need - Swedish people to come out and say 'no that is not acceptable, it is not acceptable to hand over publishers to the United States'.
[Clip ends]
MS: The Swedish government, both FM Carl Bildt and PM Fredrik Reinfeldt, have said there's no risk.
EJ: I think we should see reality like this. Do you remember how Snowden fled to Moscow? And Eva Morales was in Russia and he traveled back to Bolivia. There were rumours that Snowden was on board his airplane. And what happened then? All the countries of Europe closed their airspace. France closed her airspace, and Morales' airplane was forced down in Austria. The plane was searched to see if Snowden was on board. There you can see what resistance the countries of Europe have against the US. We were the victims of the surveillance Snowden revealed, we know that French politicians were being spied on, Angela Merkel was being spied on, and still and all France, a nuclear power, who can stand up to the US, they lay down flat for the US demand to get Snowden. Now what do you think would happen if that demand were about Assange? I don't think there'd be much resistance.
MS: What have you been able to accomplish on your visit to Sweden? You wanted to meet the prosecutor Marianne Ny, amongst others...
EJ: Yes, I asked to meet with the Minister for Justice, she didn't have time, I asked to meet with the Prosecutor-General, he referred me to Marianne Ny...
MS: Who is the prosecutor...
EJ: Yes, and she didn't want to meet with me. So I haven't had any luck with the justice system. But that's OK. Those are their decisions. Now I'm going to speak with the leader of the Parliamentary Judicial Committee, the leader of the Swedish Bar Association, because this is truly an issue of human rights, and I think this situation, which the Swedish judicial system is today responsible for, this hurts Sweden's reputation. For we have a lot of confidence in Sweden as a country of free speech and which has done so much for so many eastern countries for example. Sweden has the longest tradition of freedom of speech in the world, so it's strange that Sweden should be responsible for the Assange case not progressing.
MS: How do you think this will end?
EJ: [Sighs] I think we'll find a good way out. The Swedish prosecutor has to hurry up to achieve judicial cooperation with England, hurry up to arrange an interrogation at Ecuador's embassy. Then they can make their decision: either close the case or bring charges. What's important is that it gets done in one way or another. They can't just sit here and say 'according to Swedish law it is impossible if Julian Assange isn't present at the trial' for example, for criminal code tries to protect contradictory principles, to protect the presumption of innocence. If Julian Assange agrees that his lawyers can represent him, and that he is present in the courtroom via Skype, where's the problem? They can't just stop everything because they only see problems. I think we can see solutions, and I have confidence that the sturdy Swedish judicial system will find a solution.
MS: Thank you Eva Joly for coming, and we should point out that you have no position in the matter of innocence or guilt, you want the judicial process to move forward.
EJ: Yes.