News Archive - 2013-08 (August 2013)
2013-08-01 Snowden leaves airport
MOSCOW - Edward Snowden has left the airport in Moscow, according to the WikiLeaks Twitter feed.
2013-08-01 WikiLeaks Statement on Snowden's Successful Russian Asylum Bid
1 August 2013, 16:00 UTC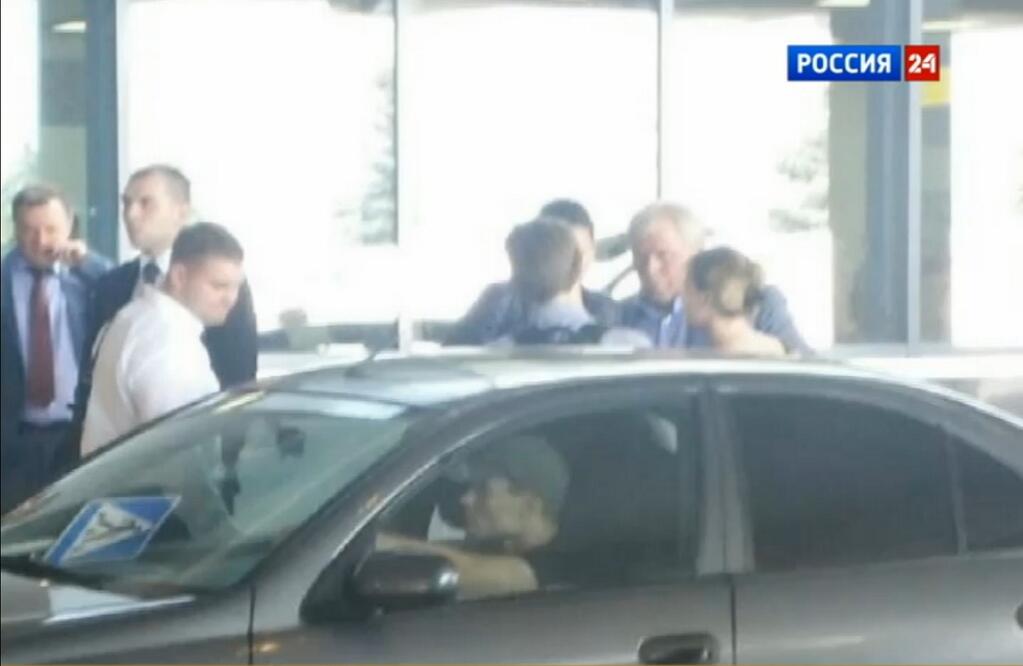 Today, Thursday 1st August at 15:50 MSK, Edward Snowden was granted temporary asylum in Russia. He left Sheremetyevo airport in Moscow with WikiLeaks staffer and legal advisor Sarah Harrison who has accompanied him during his 39 day stay in the transit zone and continues to do so. Ms Harrison has remained with Mr Snowden at all times to protect his safety and security, including during his exit from Hong Kong. They departed from the airport together in a taxi and are headed to a secure, confidential place.
On 16th July Mr Snowden made a request for temporary asylum to Russia. Despite the ongoing pressure from the United States, which has been trying to interfere with this sovereign process in violation of the UN Protocol on the Rights of Refugees, Russia has done the right thing and granted Mr Snowden temporary asylum. The certificate of temporary asylum by the Russian Federation lasts for one year and affords Mr Snowden the right to live in and travel around Russia, where he can now plan his next steps in safety. On receiving his asylum certificate Mr Snowden said: "Over the past eight weeks we have seen the Obama administration show no respect for international or domestic law, but in the end the law is winning. I thank the Russian Federation for granting me asylum in accordance with its laws and international obligations."
WikiLeaks, whilst being a publishing organisation, also fights for the rights and protections of journalistic sources, and so has taken a leading role in assisting Mr Snowden secure his safety. Mr Snowden, an American citizen, was forced to flee his country to enable him to safely reveal to the public the crimes of his government. President Barack Obama, while elected on a platform promising to protect whistleblowers, has now prosecuted more national security whistleblowers than all other presidents in United States history combined. This bellicose response from the US administration makes it clear that Snowden could not receive a fair trial. Assange said:
This is another victory in the fight against Obama's war on whistleblowers. This battle has been won, but the war continues. The United States can no longer continue the surveillance of world citizens and its digital colonization of sovereign nations. The public will no longer stand for it. Whistleblowers will continue to appear until the government abides by its own laws and rhetoric.
WikiLeaks commends Russia for accepting Snowden's request and supporting him when many countries felt so compromised by US threats that they could not. Throughout Snowden's stay in the airport it has been heartening to see citizens of the United States, of Russia and the world supporting Mr Snowden. WikiLeaks would also like to extend their gratitude to the airport staff who have assisted in making the extended stay of Mr Snowden and Ms Harrison as comfortable and secure as possible, despite the difficult conditions.
Mr Snowden and Ms Harrison have been staying in the airport for almost six weeks, having landed on an Aeroflot flight from Hong Kong on the 23rd June. They had been booked on a connecting flight the following day. Mr Snowden intended to request asylum in Latin America. However, after Mr Snowden's departure was made public, the United States government canceled his passport, which rendered onward travel impossible.
From within the transit zone of the airport, Mr Snowden and Ms Harrison spent a number of weeks prior to his Russian application assessing the options available to him to ensure his future safety. Without a passport and no immediate offers of the necessary safe passage, travel was impossible. Over twenty asylum requests to various countries were made to try to secure Mr Snowden's passage. Throughout this period the United States took irregular and disproportionate actions to block Mr Snowden's right to seek asylum: downing the plane of the President of Bolivia and making direct political and economic threats againt nations Mr Snowden requested assistance from. This is in violation of United Nations General Assembly Resolution 2312 (1967), which states that:
"the grant of asylum. . . is a peaceful and humanitarian act and... as such, it cannot be regarded as unfriendly by any other State."
Despite these actions, Venezuela, Bolivia, and Nicaragua stood strong and granted Mr Snowden asylum. At a meeting with lawyers and human rights organisations on the 12th of July, Mr Snowden announced that he accepted Venezuela's asylum offer, although ultimately US interference has, at least for the time being, prevented its practical acceptance.
The Obama administration has demonstrated in its treatment of Bradley Manning, Thomas Drake, James Risen, James Rosen, and others that the United States is no longer a safe place for whistleblowers and national security journalists. WikiLeaks urges that the US government amends its ways, reverse this trend, and re-establish its moral authority. We will continue to defend Mr Snowden and urge the United States government to respect its constitution and international law.
2013-08-02 Gena Mason 29 November 1972 - 28 June 2013
Gena Virginia Mason passed away 28 June 2013 in Basildon England. Gena was one of WL Central's most prolific writers and arguably one of the very best on the web. Her work has long since been acknowledged for its oftentimes sheer brilliance.
Staff at WLC share in the sorrow of her passing.
Gena's writing had an intentional cadence brought on by her musical background, always structuring rhythm and metre in her prose. Her due diligence in researching her subjects was unparalleled. Reading her writing was sheer joy, the way reading is supposed to be.
Gena was an impeccable team worker at WLC, always inspiring by good example.
Gena is survived by her parents; by her grandmother Franceda; by her brothers Harold and Eugene; by her nieces Tonica, Teena, and Liliana; by her nephew Harold; and by her myriad admirers and friends, not the least of which are at this site.
Services were held at Crown Hill Funeral Home in Indiana on 20 July.
It's impossible to praise Gena too highly. She was much loved by those who knew her personally and admired by those who partook of her talents.
Gena's masterpiece for WLC is here. Pay special attention to 'A Generation's Manifesto'.
Following is a complete list of Gena's work for WLC.
2011-09-03 New York City Police Department's secret CIA force targeted minorities
2011-09-09 Grifters of 'Al Saud, Inc.': How Saudi royals get their wealth
2011-09-11 Image concerns prompted Bush administration to let terrorists go free
2011-09-16 U.S. PSYOP programs expand on a global scale
2011-09-26 Alleged terrorist financier escaped U.S. sanction
2011-10-02 After high-profile killings, secret U.S. assassination squad emerges from the shadows
2011-10-07 The Occupied Wall Street Journal
2011-10-15 The Economics of Occupy Wall Street, Part I: The Glass-Steagall Act
2011-10-29 The Economics of Occupy Wall Street, Part II: Citizens United v. FEC
2011-11-12 Rendering Assange: Hillary Clinton's revenge?
2011-12-03 The CIA and Mossad: a murderous alliance
2012-01-01 Cultivating coercion: Occupy 2012
2012-02-01 The Assange Extradition Hearing: Day 1
2012-02-03 The Assange Extradition Hearing: Day 2
2012-02-11 Food vs. Fertility, Part I: Bisphenol A (BPA)
2012-03-18 The word as virus: Myth-making in the syndication age
2012-05-21 The U.S. military's post-Manning monitoring: Where does it end?
2012-05-23 "The World Tomorrow": "High quality" pirate programming to fight the rising propaganda wave?
2012-05-28 The fire this time: The martyring of Julian Assange
2012-06-01 The hidden, human cost of the EAW
2012-06-17 A Brief History of Swedish Sex: The rise and fall of "Swedish Sin"
2012-06-28 Correa in the catbird seat
2012-06-29 What #JA41 means to me (GMason)
2012-11-23 Rafael Correa's New South America
2012-11-26 "Cypherpunks", the new title by Julian Assange, published today by OR Books
2012-11-26 Assange to give keynote speech at Hanover Internet conference
2012-12-05 Assange to meet with French Left Party politician Jean-Luc Mélenchon
2012-12-05 WikiLeaks documentary to premiere at Sundance film festival
2012-12-07 Ecuador's President Correa wins freedom of expression award
2012-12-10 Now on DVD: "The WikiLeaks Tapes"
2012-12-10 President Correa of Ecuador says asylum possible for Syria's President Assad
2012-12-12 Assange confirms Senate run, announces formation of WikiLeaks Party
2012-12-14 Julian Assange to give Christmas speech from Ecuador's London embassy
2012-12-19 The people of the Freedom of the Press Foundation: Profiles
2012-12-22 Swedish military reportedly shuts down pro-WikiLeaks transparency websites
2012-12-24 Several WikiLeaks movies in production, more planned
2012-12-26 More pro-WikiLeaks Swedish organizations financially blockaded, shut down
2012-12-28 Assange leads in online vote for Pericles Prize
2012-12-28 Julian Assange essay wins "Russian Pioneer" Magazine's Grand Prix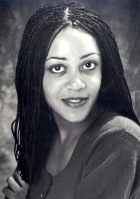 2013-08-03 Sunday in DC: Cornel West, Chris Hedges to answer questions on WikiLeaks whistleblower verdict
When: Sunday, August 4, 2013 from 3 to 5:30pm
Where: Friends Meeting House of DC, 2111 Florida Ave, NW, Washington DC (Enter via Phelps Street gate)
On Sunday, August 4, 2013, from 3 to 5:30 PM widely renowned scholar Dr. Cornel West and former New York Times war correspondent Chris Hedges will join members of the Bradley Manning Support Network for a special presentation on the legal, journalistic and ethical implications of this historic trial. Following the presentation, both Hedges and West will take questions from the public and press.
On Tuesday, Manning was acquitted of the 'aiding the enemy' charge, and found guilty of 20 other charges, including several counts of espionage. As a writer for the Washington Post recently noted, the broadly worded Espionage Act has been rarely used in the U.S., and has a controversial history. Military court dictates no minimum sentence for Manning's convictions, and the sentencing phase of Manning's trial is expected to conclude by the end of August, with multiple appeals processes and a campaign for presidential pardon to follow.
Cornel West is is a well-known American philosopher, academic, activist, author, and public intellectual on matters of race and social justice. He is a frequent media commentator on political and social issues on networks such as CNN, CSPAN, MSNBC, and PBS and programs such as Real Time With Bill Maher, The Colbert Report, and The Late Late Show With Craig Ferguson.
Chris Hedges is the author of War Is a Force that Gives Us Meaning. Having served as war correspondent for the New York Times for 15 years, his writing now appears on TruthDig. He recently sued the Obama Administration over the constitutionality of new detention powers in the National Defense Authorization Act.
Both guests have attended Bradley Manning's court martial proceedings at Ft. Meade, MD, and are prepared to answer questions from press and public on the importance of these proceedings, their implication for the future of our country, and why they support Manning as an Army whistleblower.
This event is free and open to the public as well as members of the press.
View the event facebook page.
https://www.facebook.com/events/466947536734593/
The Bradley Manning Support Network funds 100% of Bradley Manning's legal defense and educates the public about his case.
2013-08-03 Sunday in DC: Cornel West, Chris Hedges to speak out for Manning
When: Sunday, August 4, 2013 from 3 to 5:30pm
Where: Friends Meeting House of DC
2111 Florida Ave, NW, Washington DC
Join us Sunday, August 4, 2013, from 3 to 5:30 PM for a matinee discussion and trial update for Bradley Manning. Widely renowned scholar Dr. Cornel West and former New York Times war correspondent Chris Hedges will join members of the Bradley Manning Support Network for a special presentation on the legal, journalistic and ethical implications of this historic trial.
Cornel West is The Class of 1943 Professor of African American Studies at Princeton and Professor of Philosophy and Christian Practice at the Union Theological Seminary in New York City. He's an acclaimed author, academic, and polemicist, who speaks largely on matters of race, class, and injustice in America.
Chris Hedges is the author of War is a Force that Gives Us Meaning. Having served as war correspondent for the New York Times for 15 years, his writing now appears on TruthDig. He recently sued the Obama Administration over the constitutionality of new detention powers in the National Defense Authorization Act.
Both guests have attended Bradley Manning's court martial proceedings at Ft. Meade, MD, and have spoken in support of the young whistleblower.
This event is free and open to the public as well as members of the press.
RSVP on Facebook:
https://www.facebook.com/events/466947536734593/
Bradley Manning Support Network
www.bradleymanning.org
Contact: Mike McKee
mckee@bradleymanning.org
2013-08-10 Statement from Julian Assange in response to President Obama's plans to reform America's global surveillance program
On Friday 9 August 2013, US President Barack Obama addressed the world through a live feed at the White House website. Several topics were discussed, but the main topic - the obvious reason for the address - was of course the revelations about illegal NSA surveillance programmes. Today Julian Assange responds.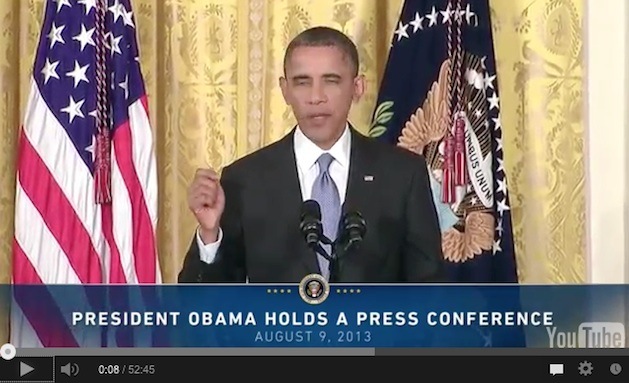 Obama's supposed review itself a secret
Obama insisted he'd already begun a review of these programmes before they became known to the general public. Dan Gillmor reminded everyone on Twitter that this supposed review process was itself a secret.
An archive of the address can be found at the White House website, but it is not featured on the first page of recent addresses.
Statement from Julian Assange
Today, 10 August 2013, Julian Assange responded at the website of the WikiLeaks Party of Australia.
Today the President of the United States validated Edward Snowden's role as a whistleblower by announcing plans to reform America's global surveillance program. But rather than thank Edward Snowden, the President laughably attempted to criticize him while claiming that there was a plan all along, "before Edward Snowden." The simple fact is that without Snowden's disclosures, no one would know about the programs and no reforms could take place. As Thomas Jefferson so eloquently once stated, "All tyranny needs to gain a foothold is for people of good conscience to remain silent." Luckily for the citizens of the world, Edward Snowden is one of those "people of good conscience" who did not "remain silent", just as Pfc Bradley Manning and Daniel Ellsberg refused to remain silent.

Ironically, the Department of Justice is betraying two key principles that President Obama championed when he ran for office ­ transparency and protection for whistleblowers. During his 2008 campaign, the President supported Whistleblowers, claiming their "acts of courage and patriotism, which can sometimes save lives and often save taxpayer dollars, should be encouraged rather than stifled." Yet his administration has prosecuted twice as many whistleblowers than all other administrations combined.

Moreover, the US government's hypocrisy over Snowden's right to seek asylum has been stunning. America offers asylum to dissidents, whistleblowers and political refugees without regard to other governments opposition all the time. For example, the US has accepted 3,103 of their own asylees, 1,222 from Russia and 1,762 from Venezuela - http://www.dhs.gov/sites/default/files/publications/immigration-statisti....

Today was a victory of sorts for Edward Snowden and his many supporters. As Snowden has stated, his biggest concern was if he blew the whistle and change did not occur. Well reforms are taking shape, and for that, the President and people of the United States and around the world owe Edward Snowden a debt of gratitude.
2013-08-12 Announcing the Snowden Defence Fund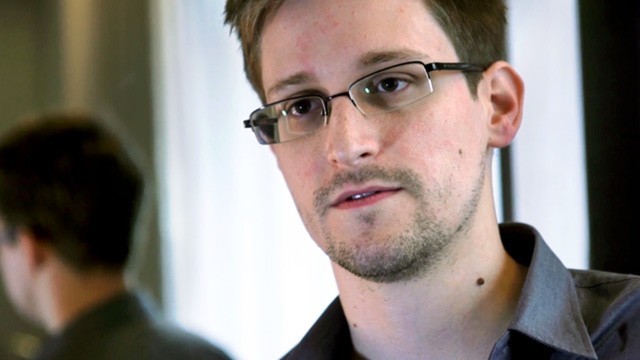 Edward Snowden has been selected as the first source to be aided by the new Journalistic Source Protection Defence Fund. The JSPDF is administered by Derek Rothera & Company Charted Accountants of the United Kingdom. Details of how you can donate follow.
The Journalistic Source Protection Defence Fund will periodically nominate sources to which you can direct legal and campaign aid. The first source so chosen is Edward Snowden. Edward Snowden is currently in Russia where he has been granted temporary asylum. Snowden's legal defence and its associated public campaign will be a long and expensive journey. He needs your support.
Support the right to know. Support Edward Snowden.
HOW TO DONATE
Go to the website of the Edward Snowden Defence Fund and follow the instructions there. Or continue by reading below.
Go to https://wikileaks.org/freesnowden. Click the big 'Give' button at the top right to open a panel where you can choose your amount. The Fund accepts payment through PayPal, MasterCard, Visa, American Express, and other processors.
Bank transfer or EFT from anywhere
Bank: Lloyds TSB Bank
Name of Account: DR & Co - Journalistic Source Protection Defence Fund
Account number: 30807160
Sort code: 30-94-57
BIC/Swift code: LOYDGB21158
IBAN: GB16 LOYD 309457 30807160
Subject/Reference: Journalistic Source Protection Defence Fund
Bank Address: Lloyds TSB, 19-20 Upper Street, London, N1 0PJ, United Kingdom
Recipient address: Derek Rothera & Company, Chartered Accountants, Units 15 & 16, 7 Wenlock Road, London N1 7SL
Cheques
Make payable to JSPDF DR&Co and send to:
Derek Rothera & Company
Chartered Accountants
Units 15 & 16
7 Wenlock Road
London N1 7SL
United Kingdom
Bitcoin
Send your donations to:

1snowqQP5VmZgU47i5AWwz9fsgHQg94Fa
2013-08-14 WikiLeaks Response to Manning Statement
Today Bradley Manning reportedly made a statement of remorse in a sentencing hearing at Fort Meade, Maryland. Manning's statement comes towards the end of a court martial trial pursued with unprecedented prosecutorial zeal.
Since his arrest, Mr. Manning has been an emblem of courage and endurance in the face of adversity. He has resisted extraordinary pressure. He has been held in solitary confinement, stripped naked and subjected to cruel, inhumane and degrading treatment by the United States government. His constitutional right to a speedy trial has been ignored. He has sat for three years in pretrial detention, while the government assembled 141 witnesses and withheld thousands of documents from his lawyers.
The government has denied him the right to conduct a basic whistleblower defense. It overcharged him until he faced over a century in prison and barred all but a handful of his witnesses. He was denied the right at trial to argue that no harm was caused by his alleged actions. His defence team was pre-emptively banned from describing his intent or showing that his actions harmed no one.
Despite these obstacles, Mr. Manning and his defense team have fought at every step. Last month, he was eventually convicted of charges carrying up to 90 years of prison time. The US government admitted that his actions did not physically harm a single person, and he was acquitted of "aiding the enemy." His convictions solely relate to his alleged decision to inform the public of war crimes and systematic injustice.
But Mr. Manning's options have run out. The only currency this military court will take is Bradley Manning's humiliation. In light of this, Mr. Manning's forced decision to apologise to the US government in the hope of shaving a decade or more off his sentence must be regarded with compassion and understanding.
Mr. Manning's apology is a statement extorted from him under the overbearing weight of the United States military justice system. It took three years and millions of dollars to extract two minutes of tactical remorse from this brave soldier.
Bradley Manning's apology was extracted by force, but in a just court the US government would be apologizing to Bradley Manning. As over 100,000 signatories of his Nobel Peace Prize nomination attest, Bradley Manning has changed the world for the better. He remains a symbol of courage and humanitarian resistance.
Mr. Manning's apology shows that as far as his sentencing is concerned there are still decades to play for. Public pressure on Bradley Manning's military court must intensify in these final days before the sentencing decision against him is made.
WikiLeaks continues to support Bradley Manning, and will continue to campaign for his unconditional release.
Free Bradley Manning.
2013-08-16 New WikiLeaks Insurance Files
The WikiLeaks Twitter feed is announcing three new insurance files for a total of 400 GB of storage space. No indication is given as to the files' contents.
2013-08-16 Statements by Snowden, Assange
Edward Snowden has issued a statement to the Huffington Post regarding confusion about his current situation, and Julian Assange has spoken with Australia's The Age in the same vein.
Snowden's statement follows.
It has come to my attention that news organizations seeking information regarding my current situation have, due to the difficulty in contacting me directly, been misled by individuals associated with my father into printing false claims about my situation.

I would like to correct the record: I've been fortunate to have legal advice from an international team of some of the finest lawyers in the world, and to work with journalists whose integrity and courage are beyond question. There is no conflict amongst myself and any of the individuals or organizations with whom I have been involved.

Neither my father, his lawyer Bruce Fein, nor his wife Mattie Fein represent me in any way. None of them have been or are involved in my current situation, and this will not change in the future. I ask journalists to understand that they do not possess any special knowledge regarding my situation or future plans, and not to exploit the tragic vacuum of my father's emotional compromise for the sake of tabloid news.

Thank you.
Washington's Own Goal
Julian Assange was at the same time interviewed by Philip Dorling to dispel other stories that have been circulating. "Since Hong Kong we have had someone physically by his side the entire time", Assange said of Snowden. "We have had someone with him for 54 days."
Assange specifically addressed the rumour that Snowden had been interrogated by Russia's FSB, and also said that "bellicose threats" from the US had scored a "diplomatic own goal" in US relations with Russia and other countries.
When asked directly if Snowden had been questioned by the FSB, Assange responded: "No, he has not". Assange also went on to explain the "moral obligation" of news organisations in such matters.
There is a moral obligation, and in order to maximise the amount of important information coming to the public you have to make the source feel comfortable with that. That's one of the reasons for our involvement.
Future WikiLeaks NSA Rollout?
Assange suggested there might someday be a WikiLeaks rollout of Snowden's materials. "Hopefully one day, not too far in the future, we will see a WikiLeaks file rollout to media organisations. That is the way I would do it. I would like to see the organisations involved learn from our successes and see a global rollout like Cablegate. Everything else being equal, material should be published as soon as possible, otherwise governments or agencies start to cover up, work out how to prepare their spin."
2013-08-17 Sam Adams statement on award to Snowden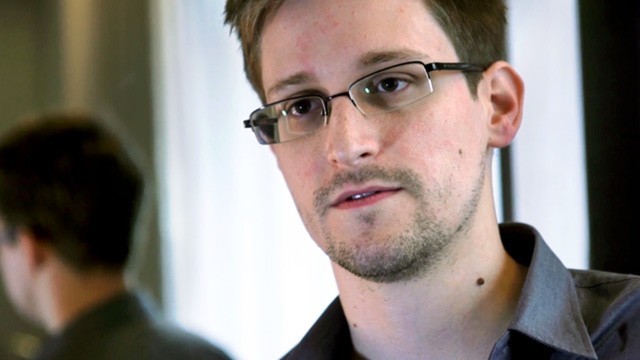 The Sam Adams Associates for Integrity in Intelligence gave the 2013 award for 'truth telling' to Edward Snowden. Following is their official statement.
Edward Snowden has been named recipient of this year's award for truth telling given by Sam Adams Associates for Integrity in Intelligence, the group announced today.

Most of the Sam Adams Associates are former senior national security officials who, with the other members, understand fully the need to keep legitimate secrets. Each of the U.S. members took a solemn oath "to support and defend the Constitution of the United States against all enemies, foreign and domestic."

When secrecy is misused to hide unconstitutional activities, fealty to that oath - and higher duty as citizens of conscience - dictate support for truth tellers who summon the courage to blow the whistle. Edward Snowden's disclosures fit the classic definition of whistle blowing.

Former senior NSA executive Thomas Drake, who won the Sam Adams award in 2011, has called what Snowden did "an amazingly brave act of civil disobedience." Drake knows whereof he speaks. As a whistleblower he reported waste, fraud, and abuse - as well as serious violations of the Fourth Amendment - through official channels and, subsequently, to a reporter. He wound up indicted under the Espionage Act.

After a lengthy, grueling pre-trial proceeding, he was exonerated of all ten felony charges and pleaded out to the misdemeanor of "exceeding authorized use of a government computer." The presiding judge branded the four years of prosecutorial conduct against Drake "unconscionable."

The invective hurled at Snowden by the corporate and government influenced media reflects understandable embarrassment that he would dare expose the collusion of all three branches of government in perpetrating and then covering up their abuse of the Constitution. This same collusion has thwarted all attempts to pass laws that would protect genuine truth tellers like Snowden who see and wish to stop unconstitutional activities.

"These are the times that try men's souls," warned Thomas Paine in 1776, adding that "The summer soldier and the sunshine patriot will, in this crisis, shrink from the service of their country; but he that stands it now deserves the love and thanks of man and woman.

It is in this spirit that Sam Adams Associates for Integrity in Intelligence are proud to confer on Edward Snowden the Sam Adams Award for 2013.

The Sam Adams Award has been given in previous years to truth tellers Coleen Rowley of the FBI; Katharine Gun of British Intelligence; Sibel Edmonds of the FBI; Craig Murray, former UK ambassador to Uzbekistan; Sam Provance; former US Army Sgt. at Abu Ghraib; Maj. Frank Grevil of Danish Army Intelligence; Larry Wilkerson, Col., US Army (ret.), former chief of staff to Colin Powell at State; Julian Assange of WikiLeaks; Thomas Drake, former senior NSA official; Jesselyn Radack, Director of National Security and Human Rights, Government Accountability Project; and Thomas Fingar, former Assistant Secretary of State and Director, National Intelligence Council.
Daniel Ellsberg comments on the award:
What [Snowden] has given us is our best chance - if we respond to his information and his challenge - to rescue ourselves from out-of-control surveillance that shifts all practical power to the executive branch and its intelligence agencies: a United Stasi of America.
Veteran CIA analyst Ray McGovern has this to say:
There is a way out for President Barack Obama as he attempts to cope with Edward Snowden's disclosures about the National Security Agency's overreaching eavesdropping, the turbulent world reaction, and the lack of truthfulness shown by National Intelligence Director James Clapper and NSA Director Keith Alexander. The President should seize the initiative by suggesting to both that they spend more time with their families.
2013-08-21 Manning lawyer to address sentence
What: David Coombs to give statement and take questions
When: 3 hours after court closes following sentencing tomorrow, approximately 1:30 PM
Where: The Hotel at Arundel Preserve, 7795 Arundel Mills Blvd, Hanover, MD 21076
Notes: Free parking in the hotel's parking structure, 2nd Floor Conference Room
David Coombs, lead attorney for WikiLeaks whistleblower Pfc. Bradley Manning, will give a statement and answer questions from the press, three hours after military judge Colonel Denise Lind delivers Manning's sentence. Today, Judge Lind announced that she would deliver her sentence at 10:00 AM, so the press conference will start at approximately 1:30 PM.
At the Hotel at Arundel Preserve, just ten minutes away from Ft. Meade, Mr. Coombs will respond to the sentence and discuss upcoming legal avenues of redress for his client. This will be the first time since 2010 that Mr. Coombs has taken questions from the press regarding this case.
Pardon.BradleyManning.org
The Bradley Manning Support Network will also provide a brief overview of our efforts moving forward to free Manning, including financial backing for all legal efforts. Immediately, this includes a clemency appeal to the court martial Convening Authority Major General Jeffery Buchanan. During the press conference, Pardon.BradleyManning.org will launch, and will soon include a copy of Mr. Coombs' application for a Presidential Pardon. Additionally, a crowd-funded college trust fund is being established in order to assure Manning the means to attend college upon his release.
Supporters of Manning will hold a vigil at the Fort Meade gate from 7:30 AM to 9:00 AM, and will rally at the White House at 7:30 PM tomorrow evening, with a march to follow.
Background
Bradley Manning, a 22-year-old Army Specialist stationed in Baghdad at the time of his arrest in May 2010, released hundreds of thousands of classified military and diplomatic documents to the transparency website WikiLeaks. Manning explained to the court in a February 28, 2013, statement that he did so in order to spark debate and reforms regarding U.S. foreign policy, specifically the wars in Iraq and Afghanistan. He was acquitted of "Aiding the Enemy", but found guilty of several counts of Espionage, Computer Fraud, and Federal Theft. He faces a maximum potential sentence of 90 years in prison, but military justice requires no minimum.
Bradley Manning Support Network
www.bradleymanning.org
Contact: Nathan Fuller, 516-578-2628
press@bradleymanning.org
The Bradley Manning Support Network will continue to be responsible for 100% of Manning's legal fees, as well as international education efforts. Funded by over 22,000 individuals, the Support Network has mustered $1.4 million in Manning's defense.
2013-08-22 Bradley Manning sentenced to 35 years, defense moves for Presidential Pardon
FOR IMMEDIATE RELEASE

WikiLeaks whistleblower Pfc. Bradley Manning was sentenced to 35 years in prison today, an outrage that flies in the face of America's essential ideals of accountability in government, and which seeks to instill a chilling effect on those who'd dare to expose the United States' illegality.
A heroic soldier of conscience, Manning witnessed war crimes, rampant corruption, and covert abuse while stationed in Baghdad in 2009-10, and exposed what he saw by releasing hundreds of thousands of classified military and diplomatic files to the transparency website WikiLeaks. He has been nominated for the Nobel Peace Prize three years in a row. Earlier this month, more than 100,000 signatures in support of his 2013 nomination were delivered to the Nobel committee in Norway. Military judge Col. Denise Lind's sentence is an outright injustice that we cannot accept.
"The only person prosecuted for the crimes and abuses uncovered in the WikiLeaks releases is the person who exposed them", said Pentagon Papers whistleblower Daniel Ellsberg. "That alone proves the injustice of one more day in prison for Bradley Manning."
Manning can subtract more than three and one half years off of that sentence for the time he has already served and the mere 112 days he was credited for enduring torture while detained at the Quantico Marine brig. He will be eligible to reduce his sentence by 10% for good behavior.
The fight for Manning's freedom is far from over. Supporters and attorney David Coombs will demand Maj. Gen. Jeffrey Buchanan, Military of the District of Washington commander and Convening Authority of Manning's court martial, to reduce the sentence, which he has the legal authority to do. The Bradley Manning Support Network will collect and deliver thousands of letters in support of Manning's clemency to Maj. Gen. Buchanan.
"By successfully funding Bradley's legal efforts, and by mobilizing worldwide support, we won an acquittal on aiding the enemy", says Jeff Paterson, the Support Network's director. "We move forward today on every available front to win his freedom."
Mr. Coombs is applying for a Presidential Pardon, and the case will be brought to the Army Court of Criminal Appeals, to address several deprivations of Manning's due process rights. He was detained without trial for more than three years, in violation of his constitutional right to a speedy trial. He was only awarded four months off of his sentence for the psychological torture he suffered while in solitary confinement for more than nine months at Quantico, which fails to hold the marines accountable for that treatment. President Obama declared Manning guilty in April 2011, more than two years before his trial began, which constitutes unlawful command influence, in violation of the Uniform Code of Military Justice. Finally, Military Judge Col. Denise Lind allowed the prosecution to change its charge sheet at the 11th hour, after both the government and defense had questioned their witnesses and rested their cases.
Bradley Manning Support Network
www.bradleymanning.org
Contact: Nathan Fuller, 516-578-2628
press@bradleymanning.org
The Bradley Manning Support Network is responsible for 100% of Manning's legal fees, as well as international education efforts. Funded by 21,000 individuals, the Support Network has mustered $1.4 million in Manning's defense.
2013-08-22 Manning site launches: Pardon.BradleyManning.org
FOR IMMEDIATE RELEASE

David Coombs, chief attorney for WikiLeaks whistle-blower Pfc. Bradley Manning, announced at a press conference near Ft. Meade, MD, today that he is formally applying for a Presidential Pardon for Bradley Manning. Coombs is seeking Manning's immediate release, or at the very least a commutation to a sentence of time already served.
In conjunction with that announcement, the Bradley Manning Support Network has launched Pardon.BradleyManning.org which connects to a petition co-written by Amnesty International, as well as a video with testimony from veterans and civilians from Iraq and Afghanistan. This site will link to the defense's official application for pardon as soon as it's available.
"I'm hoping that the president does the right thing and pardons Bradley Manning", Coombs said upon the website's launch.
Manning was sentenced on Wednesday to 35 years in military confinement, after a conviction on several counts of espionage, computer fraud, and federal theft. None of those who perpetrated the torture and other war crimes he exposed have been prosecuted.
President Barack Obama campaigned in 2008 on a platform of transparency and accountability in government, and we are calling on him to uphold these values by freeing Bradley Manning today. The documents Manning released should not have been withheld from the American people, and he disclosed them in order to spark a national debate on the wars in Iraq and Afghanistan.
Bradley Manning Support Network
www.bradleymanning.org
Contact: Nathan Fuller, 516-578-2628
press@bradleymanning.org
The Bradley Manning Support Network is responsible for 100% of Manning's legal fees, as well as worldwide advocacy efforts.
2013-08-31 Manning: 35 years
Ft Meade: Colonel Denise Lind sentenced Bradley Manning to 35 years prison.
CCR Statement
The Center for Constitutional Rights immediately issued a statement condemning the sentence.
We are outraged that a whistleblower and a patriot has been sentenced on a conviction under the Espionage Act. The government has stretched this archaic and discredited law to send an unmistakable warning to potential whistleblowers and journalists willing to publish their information. We can only hope that Manning's courage will continue to inspire others who witness state crimes to speak up.

This show trial was a frontal assault on the First Amendment, from the way the prosecution twisted Manning's actions to blur the distinction between whistle-blowing and spying to the government's tireless efforts to obstruct media coverage of the proceedings. It is a travesty of justice that Manning, who helped bring to light the criminality of US forces in Iraq and Afghanistan, is being punished while the alleged perpetrators of the crimes he exposed are not even investigated. Every aspect of this case sets a dangerous precedent for future prosecutions of whistleblowers - who play an essential role in democratic government by telling us the truth about government wrongdoing - and we fear for the future of our country in the wake of this case.

We must channel our outrage and continue building political pressure for Manning's freedom. President Obama should pardon Bradley Manning, and if he refuses, a presidential pardon must be an election issue in 2016.
Amnesty Statements
Amnesty International issued the following statement calling for an investigation into the abuses Manning exposed.
President Obama should commute US Army Private Bradley Manning's sentence to time already served to allow his immediate release, Amnesty International said today.

Military judge Col Denise Lind today sentenced the Wikileaks source to 35 years in military prison - out of a possible 90 - for leaking reams of classified information. He has already served more than three years in pre-trial detention, including 11 months in conditions described by the UN Special Rapporteur on Torture as cruel and inhumane.
Widney Brown, Senior Director of International Law and Policy at Amnesty International, issued the following statement.
Bradley Manning acted on the belief that he could spark a meaningful public debate on the costs of war, and specifically on the conduct of the US military in Iraq and Afghanistan. His revelations included reports on battlefield detentions and previously unseen footage of journalists and other civilians being killed in US helicopter attacks, information which should always have been subject to public scrutiny.

Instead of fighting tooth and nail to lock him up for decades, the US government should turn its attention to investigating and delivering justice for the serious human rights abuses committed by its officials in the name of countering terror.
One third before parole
As reported by RT, Manning will be credited with the 1,294 days he spent in pre-trial confinement plus an additional 112 days. He was also dishonorably discharged, saw his rank reduced to private from private first class, and was forced to forfeit all pay and benefits. No additional fine, however, was levied against him. Manning will have to serve a third of his sentence before he is eligible for parole.