2013-02-02 Exclusive: CIA Drug Money Plot to Overthrow Ecuador's President Correa
UPDATE: Chilean journalist @PatricioMery advises ex-detective Ulloa has now left the Ecuadorean Embassy in Santiago, and confirms he is "safe and sound". He adds with a wink: "I don't know where he is. ;-)"
WL Central presents an exclusive interview with Chilean journalist Patricio Mery, who claims the CIA has been actively plotting to destabilise or even assassinate Ecuador's President Rafael Correa, after US anger over decisions such as the granting of political asylum to Julian Assange and the termination of the US lease on a military base in Manta.
Mery claims the CIA is running an Iran-Contra style drug operation in Chile, trafficking "about 200 kilos of cocaine per month" from Bolivia in order to fund anti-Correa operations. Early last year, Italian police discovered 40 kilos of cocaine in Ecuador's diplomatic mail. Mery alleges senior Chilean officials were involved, and he has a dossier of proof for the Ecuadorian government.
Meanwhile one of Mery's sources, a former detective who spent 16 years with Chile's PDI (Policia de Investigaciones), has emulated the plight of the WikiLeaks founder in London by seeking refuge in the Embassy of Ecuador. 36 year old Fernando Ulloa entered the Santiago embassy eight days ago, claiming he has received multiple death threats, has been followed by Chilean government agents, and his life is in grave danger.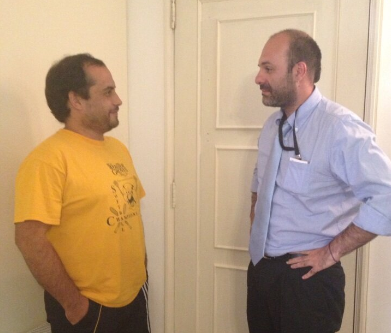 Photo: Chilean journalist Patricio Mery (right) with former detective Fernando Ulloa on his eighth day in the Ecuadorian Embassy, Chile.
In February 2012, Italian police opened the Ecuadorean government's diplomatic mail on arrival in Rome and found nearly 90 pounds (40 kilos) of cocaine. Five people were arrested, including one US citizen. Three have recently been sentenced: Luis Hurtado (8 years jail plus a USD$39,000 fine), Tulio Paso Toro (6 years plus $29,000) and John Flores (4 years plus $15,000). The cases for Christian Loor and Jorge Redrovan are still being processed.
Ecuador's Chancellor Ricardo Patiño said the diplomatic mail was inspected by police dogs before leaving Ecuador, and travelled to Italy through a "third country". Increased security measures have now been implemented.
Journalist Patricio Mery claims the drugs were placed inside Ecuador's diplomatic mail by people connected with the Chilean embassy in Quito. He says the bag which contained the drugs had a Chilean government seal, which he personally saw, and this seal is very difficult to obtain.
"This was a scene created to damage the image of Ecuador," Mery told WikiLeaks Central. "I saw the diplomatic seals and they were Chilean, so Ecuador could not re-examine the mail as it was from a third country. The plan was that the mail should leave with a Chilean seal but arrive in Italy with Ecuadorean seals."
"In addition, I confirmed this information directly in Quito when I met Chancellor Patiño, of whom I have a high opinion. I cannot help noticing that one of the detained is a US citizen. We are looking at a special operation co-ordinated by Chile."
Mery furthermore alleges that the CIA is running an Iran-Contra style drug operation, trafficking "about 200 kilos of cocaine per month" from Bolivia through Chile in order to fund such anti-Correa operations.
"The drugs reach Chile, they go to Europe and the USA, they generate money," Mery told the Agencia Andes news service last month. "Part of this money stays in Chile and my sources tell me it is used to destabilize the government of President Correa."
Mery's sources include Fernando Ulloa plus "Héctor Guzmán, another person in the Chilean Police, and a fourth person who is an agent of the ANI (Chilean Intelligence Agency)". Ulloa's lawyer has a dossier of evidence, including unrevealed details which he has been unable to verify independently, and Mery now wants to deliver this personally to the Ecuadorian government.
"We have valuable and concrete information," Mery told WikiLeaks Central. "We have collaborated with the Ecuadorian government but there are antecedents that I must deliver directly to Chancellor Patino, or if he is unavailable, to President Correa. To speak more of this is to put the lives of many people in danger and give a warning to traitors.
"If Mr Ulloa is not protected by Ecuador, it will be difficult for us to keep helping. There will be no guarantees for our security and we will have to look for another way. Nevertheless, my respect for Democracy and the people of Ecuador will remain intact."
The Chilean Embassy in Ecuador has denied Mery's claims, while the Ecuadorian government has issued a short statement but has said little else in public. Mery confirms that details are now being investigated.
"We cannot dismiss the idea that this information is verifiable, after everything the CIA has done in Chile and other Latin American countries," said Chancellor Ricardo Patiño.
For Mery too, this latest operation is part of a long history of US meddling in South America. Chile's current President Sebastián Piñera is the son of a former ambassador to the US, and his brother was a former minister of US-backed Chilean dictator Augusto Pinochet. And Mery points out that Pinochet only became Commander-in-Chief of the Chilean Army after his predecessor was killed when a US-backed plot to kidnap him went wrong.
Fernando Ulloa lost his job after presenting evidence of his investigations to Rodrigo Hinzpeter, who was Interior Minister at the time (he is now Defence Minister). Mery claims Hinzpeter has been involved in several other CIA "montage" operations, such as the bizarre case of a travelling Pakistani, Saif Khan, who was summoned to the US Embassy in Santiago, placed in a cell, ordered to strip naked, and then arrested when traces of TNT were found on his clothes.
Speaking with WikiLeaks Central, Mery dismissed speculation that a diplomatic solution to his latest allegations might be quietly negotiated behind the scenes.
"I don't think that the Ecuadorian government is negotiating with Piñera," said Mery. "This would be like believing the word of Pinochet."
"Piñera knew that cocaine was being trafficked from Chile to destabilize President Correa. The Minister of Defense, Rodrigo Hinzpeter, and the General Prefect of the PDI , Luis Carrreño, also knew about this, among others.
"If Piñera wants to give a clear signal, he should remove the head of the PDI, demand an apology from Hinzpeter and investigate the drug trafficking claims. Moreover, he knows that in Chile there are over 50 agents and informants who work for money from the CIA."
Given the evident dangers, why isn't Patricio Mery also seeking asylum?
"My life is at risk, but I assume that risk as a moral and ethical duty. I cannot live in fear and I am not going to exile myself. I will resist so that my example serves to show that there are still journalists who are ready to sacrifice everything to defend democracy, pluralism and human rights. We are the guardians of truth and social justice.
"Today the priority is the life of Mr Ulloa, who was only doing his job to dismantle a seditious group who want to assassinate President Rafael Correa, using Chile as the military and strategic base of the USA."
Some critics in the Ecuador press say the Correa government's attitude to Mery, Ulloa and Assange is wrong. So what does Mery think of Julian Assange and WikiLeaks?
"Assange is a true seeker of justice, a brave man who is ready to risk his life for the truth. He broke the siege of communications secrecy and the darkness of an era. I hope his situation is resolved promptly and justice triumphs.
"Latin America has always lived under the lies of the narrow interests of U.S. conservative forces. I am an ally of everyone who helps liberate information and brings us closer to the truth."
NOTE: President Rafael Correa remains the firm favourite to win Ecuador's national election on February 17th.