2012-12-14 Julian Assange to give Christmas speech from Ecuador's London embassy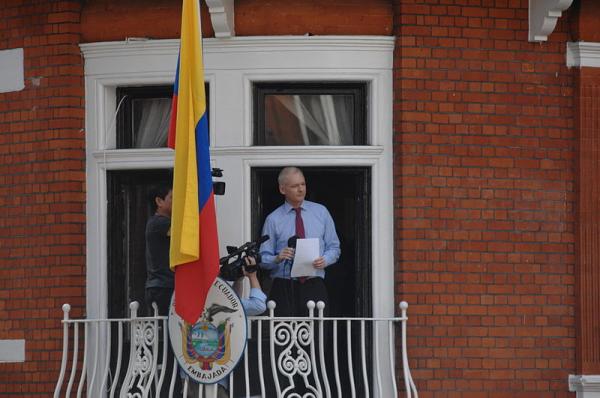 Sources have announced that on the evening of Thursday, December 20, 2012, WikiLeaks editor-in-chief and Australian Senate candidate Julian Assange will deliver a Christmas speech from the Ecuadorean embassy in London. The December 20 speech marks six months of Assange's stay at the embassy, where he has sought refuge since June in order to resist extradition to Sweden and to the U.S. This will also be Assange's first public address since he confirmed his candidacy for the Australian Senate earlier in the week.
Assange presented a speech from the embassy's balcony on August 19, 2012, just days after receiving Ecuador's formal grant of asylum. On September 27, he gave an address to the United Nations via Skype.
Wise Up Action, a solidarity network for Assange and alleged WikiLeaks source Bradley Manning, has asked Assange supporters to attend the event, to arrive at the embassy by 6:30 p.m. for songs of solidarity, and to bring candles and food.
The Ecuadorean embassy is located at 3 Hans Crescent, SW1X 0LS London, United Kingdom. Assange is scheduled to speak at 7 p.m. GMT.