News Archive - 2012-11 (November 2012)
2012-11-20 European Parliament votes to protect WikiLeaks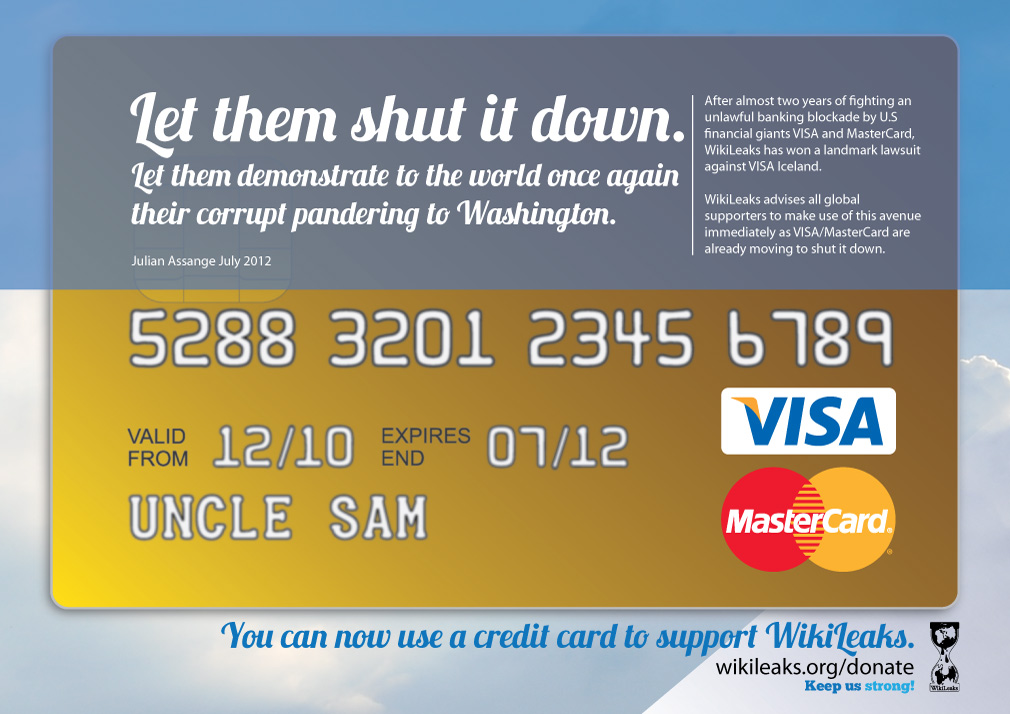 In a landmark decision today the European Parliament initiated the drafting of legislation that would stop the arbitrary banking blockades against WikiLeaks and other organizations facing economic censorship. This is an important signal from the European lawmakers. It is a recognition of the seriousness of the precedents set in December 2010, still in force, when Visa, MasterCard, PayPal, Western Union and Bank of America launched a unilateral, extrajudicial banking blockade against donations to WikiLeaks.
The blockade has cost the organization more than US$50 million. The US Treasury formally found last year that there is no lawful reason why WikiLeaks should be placed on the US embargo list, but the highly political blockade continues. WikiLeaks welcomes the support of MEPs on this important issue and agrees with the European Parliament, which "considers it likely that there will be a growing number of European companies whose activities are effectively dependent on being able to accept payments by card; [and] considers it to be in the public interest to define objective rules describing the circumstances and procedures under which card payment schemes may unilaterally refuse acceptance."
This underlines the claim by WikiLeaks that if the financial blockade against WikiLeaks is not stopped, US financial giants will be free to unilaterally decide which European companies and organizations live or die. As WikiLeaks has previously pointed out, this is an attack on fundamental rights that cannot be left unchallenged. The organization has already launched lawsuits in two European jurisdictions and is awaiting the final outcome in its complaint to the European Commission against the major credit card companies for violations of competition laws. The Commission's decision is expected before the end of the year. WikiLeaks has been victorious in all court hearings about this issue to date.
WikiLeaks founder Julian Assange said: "I welcome this response from EU lawmakers. European independence is important. But there is no sovereignty without economic sovereignty. Politicized US financial monopolies must not be able to censor European organizations with impunity."
2012-11-23 Rafael Correa's New South America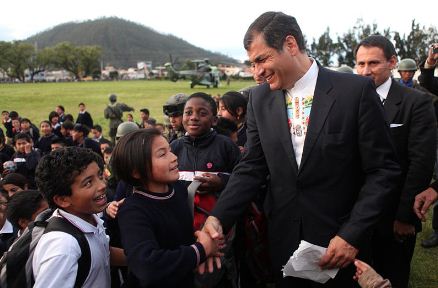 The South American media has reverberated lately with reports that the CIA has been using drug money in efforts to destabilize the government of Ecuador's President, Rafael Correa. If these stories are accurate, then the plan's exposure and apparent failure may illustrate the impotence of traditional U.S. interventionism in the new South America, which increasingly rejects traditional political and economic servitude to its northern and European neighbors.

Media reports on a recent U.S. effort to overthrow Rafael Correa state that - in a seeming reprise of the Iran-Contra scandal - outgoing Secretary of State Hillary Clinton has helmed a 300-kg-per month CIA/DEA cocaine smuggling operation in Chile, with the assistance of the Chilean army and security forces. Profits from this drug-running scheme are allegedly intended to bribe media and government officials and fund Correa's opposition, so as to ensure the incumbent President's defeat in Ecuador's February elections.
Although Julian Assange is purportedly not the only reason Clinton's itching to oust Correa, according to reports, madam Secretary hopes that Correa's replacement would revoke Ecuador's offer of asylum to Assange, whom Ecuador has hosted in its London Embassy since June. Without his South American protector, the WikiLeaks editor-in-chief would be vulnerable to extradition to Sweden - and from there to the U.S., to face prosecution for the work of his organization. Former UK diplomat Craig Murray, however, notes that the Obama adminstration has opted out of using the secret, Pentagon-controlled funds to instigate a military coup, because "Assange being expelled into the arms of the CIA by a newly installed military dictatorship ... might be a difficult sell."
If these reports are accurate, the public airing and apparent failure of Clinton's alleged plan may illustrate the impotence of traditional Cold War models in U.S. foreign relations; for contemporary South America increasingly rejects traditional political and economic servitude to its northern and European neighbors.
Generations of US intervention
Since at least 1960, Ecuador has reportedly endured CIA-backed assassinations and military coups that toppled popular presidents who defied Washington's agenda in the region. William Blum's book Killing Hope details generations of infiltration of Ecuador's government by the CIA and its collaborators since the Cold War era. Blum alleges that the Agency infiltrated or created most of Ecuador's political groups; bombed churches or other organizations, while framing leftists as the perpetrators; and engaged in other acts designed to incite military coups. Moreover, states Blum, the CIA disseminated anti-Communist propaganda by authoring public speeches, newspaper stories, or advertisements that were ostensibly placed by prominent citizens. Additionally, CIA agents claimed high-ranking places in government - including the office of the Vice President - and Ecuador's post office officials and employees regularly forwarded mail arriving from Cuba and the Soviet bloc to the Agency's Langley headquarters.
Blum states that, after Ecuador's President José María Velasco Ibarra antagonized the U.S. government during the early 1960s, the CIA backed a military coup. Velasco Ibarra's successor, Vice-President Carlos Julio Arosemana, was also allegedly deemed unacceptable by the Agency, which in turn ended Arosemana's reign by instigating another coup; the new junta jailed leftists listed on the CIA's "Subversive Control Watch List."
According to former National Security Agency (NSA) agent John Perkins, once Ecuador finally re-attained democracy in 1979, the U.S. government continued to undermine the country's government and economy, and may have assassinated Ecuador's president Jaime Roldós. Cycles of political instability ensued. After winning the presidency in 1996, Abdala Bucaram was deposed the following year. Elected in 1998, Jamil Mahuad lasted two years, until a military-backed junta ousted him. Mahuad's Vice President, Gustavo Noboa, took over, then in 2003 ceded the government to former army colonel Lucio Gutierrez - who was later stripped of the presidency by the Congress.
U.S. interventionism has allegedly continued. A 2008 report detailed the persistence of systematic corruption tactics targeting Ecuador's security services, and concluded that U.S. intelligence outfits had infiltrated Ecuador's police, intelligence, and military agencies. Bolstering Perkins' allegations of economic sabotage, reports have circulated lately regarding classified documents that expose North American and European plans to undermine South American economies while exploiting their resources.
Correa, the change agent
But things have changed since Rafael Correa became President in 2007. In contrast to his recent predecessors, Correa survived a 2010 coup attempt by factions of the police and military forces. Moreover, ever since assuming office, Correa has systematically decreased his country's economic reliance on North America, in some cases forging alliances with U.S. enemies. He has extended financial and oil diplomacy to Iran, and in January hosted Iranian President Mahmoud Ahmadinejad. Correa increased his country's petroleum exports to China, also opening up Ecuador to mining by the Chinese. Moreover, Ecuador has joined the Bolivarian Alliance of the Americas (ALBA), an initiative dedicated to bolstering regional alliances and to creating a new currency (the SUCRE) as an alternative to the U.S. dollar.
Correa - who holds a PhD in Economics from the University of Illinois - caused controversy over his moves toward economic autonomy in 2008, when he unilaterally declared that a portion of Ecuador's multi-billion-dollar debt was illegitimate and reduced payments to creditors. This bold move eventually led to a favorable renegotiation of Ecuador's repayment terms. However, the International Monetary Fund (IMF) removed Ecuador from its list of civilized countries; and U.S. President George W. Bush reportedly denounced Ecuador's "criminal decision," called for the country's expulsion from the United Nations, and even proposed a "military option to safeguard US interests." Bush was reportedly forced to abandon this line of attack after lawyers pointed out that the U.S. had done the same thing as Correa during the recent Iraq war: technically a U.S. possession at the time, Iraq carried a substantial debt, which the U.S. erased by asserting that the debt was "immoral." Correa, the economist, merely turned the tables on the U.S... and won.
Within Ecuador, President Correa has prioritized nationalization of his country's petroleum production and other strategic sectors of the economy, significantly boosting state revenues from natural resources. He's used part of the profits from high oil prices to dramatically increase government spending on infrastructure and social programs; his administration has spent billions of dollars on health, housing, education, and other social projects, and has doubled the cash allotted to the poor and elderly. Correa casts his political movement as a "Citizens' Revolution"; when accepting the presidential nomination, he declared, "We've done a lot but there's a lot more to be done, to turn this bourgeois state into a truly popular state that would serve everyone, especially the poor." His "Revolution" may be working. Between 2000 and 2010, Ecuador's per capita income increased from $1,324 to roughly $4,082; the poverty rate decreased from 51% to 33%.
Ecuador stands as one example among a handful of South American countries that have increasingly rejected traditional first-world interventionism and debt-mandated servitude, in favor of political and economic self-reliance. Clinton's alleged machinations may have proven futile. In fact, the exposure of madam Secretary's supposed plan lends credence to Craig Murray's warning that the obviousness of U.S. meddling could cause it to backfire: President Correa now enjoys an 80% approval rate among Ecuador's citizens and a reported 32% lead over his closest challenger. He appears poised to win re-election in February, 2013.
2012-11-26 "Cypherpunks", the new title by Julian Assange, published today by OR Books
Today OR Books released Cypherpunks: Freedom and the Future of the Internet, a new title by WikiLeaks editor-in-chief Julian Assange and fellow internet visionaries Jacob Appelbaum, Andy Müller-Maguhn, and Jérémie Zimmermann.
Cypherpunks comes roughly a year after the publication of Julian Assange: The Unauthorised Autobiography -- which erupted in controversy when the publishing company Canongate released a draft of the manuscript against Assange's wishes.
What are cypherpunks?
Cypherpunks are activists who promote the use of cryptography (writing in code) as a means of positive social change.
Julian Assange, the WikiLeaks editor-in-chief, has figured largely in the cypherpunk movement since the 1980s.
In Cypherpunks Assange characterizes cryptography as a high-tech extension of the 2nd Amendment right to bear arms in the U.S. Constitution. He states: "code-making, providing secret cryptographic codes that the government couldn't spy on, was in fact a munition ... The notion is that you cannot trust a government to implement the policies that it says that it is implementing, and so we must provide ... cryptographic tools that we control, as a sort of use of force, in that if the ciphers are good no matter how hard it tries a government cannot break into your communications directly."
About the Cypherpunks book
Cypherpunks evolved from a whiskey-and-cigar-fueled interview that Assange conducted with his three co-authors for the eighth and ninth episodes of his TV show, "The World Tomorrow," which aired on RT in early 2012. However, according to Colin Robinson, co-publisher of OR Books, although the "World Tomorrow" discussions shaped the format of Cypherpunks, more than half of the book consists of new material.
In Cypherpunks the WikiLeaks founder and his co-authors discuss whether electronic communications will enslave humanity, or whether the public can combine activism, tech skills, and the internet to help guarantee individual freedoms. In other words, as Robinson asks, "how do you create an internet where secrecy by governments and powerful institutions is minimised and privacy for ordinary people is guaranteed?"
While debating this question, the four cypherpunks discuss the pervasive surveillance of internet users by Google, Facebook, and other corporations that track the most personal details of our lives; the extent to which the general public willingly participates in this mass surveillance; whether surveillance has validity in the context of crimes like pornography and terrorism; and other topics.
Why does Cypherpunks matter?
Assange has stated that the new book constitutes a response to his concerns about government surveillance and control of the internet. Noting that three of the Cypherpunks authors have come under the scrutiny of law enforcement agencies due to their activism, Assange explains:
"CYPHERPUNKS is not a political manifesto. There isn't time for that. It is instead an attempt to raise the alarm. Few have noticed but we now live in the once-imagined futures of our darkest science fiction. Technology we do not understand surrounds us. Without understanding it we are vulnerable in ways we cannot predict. ... The latter threatens the fabric of liberal democracy and the rule of law."
During a decade that has spawned widespread corporate and government digital surveillance, the prosecution and persecution of internet activists, the SOPA and ACTA bills, and proposed cybersecurity legislation, the publication of Cypherpunks comes at a time when society must decide whether the future will hold an internet that helps protect personal privacy and demands greater accountability from governments and corporations -- or an internet that these governments and corporations wield as a weapon in a war against transparency and individual privacy.
About the authors
Since the 1980s WikiLeaks editor-in-chief Julian Assange has helped lead the cypherpunk movement; he has also written many encryption and other software projects. In the 1990s he and Suelette Dreyfus co-authored the book Underground, a history of hacktivism. The 2012 movie Underground: The Julian Assange Story depicts Assange's teen years as a hacker in Australia.
In addition to helping to develop the Tor Project - a web anonymity tool that allows users to combat internet surveillance and censorship - Cypherpunks co-author Jacob Appelbaum is a research scientist at the University of Washington. Surveillance specialist and Cypherpunks co-author Andy Müller-Maguhn heads the Cryptophone company, which sells secure voice communication devices; he also belongs to Germany's Chaos Computer Club. Cypherpunks co-author Jérémie Zimmermann is co-founder and spokesman for the internet freedom and anonymity-rights organization La Quadrature du Net.
Buy Cypherpunks
Cypherpunks is out NOW in paperback and electronic editions.
2012-11-26 Assange to give keynote speech at Hanover Internet conference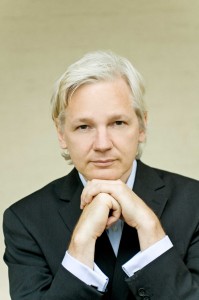 On November 27, 2012, Julian Assange will give a keynote speech regarding "A Vision of the Future Society" at ConventionCamp 2012, an Internet conference in Hanover, Germany.
Ingo Stoll, organizer and managing director of the agency neuwaerts, commented on the choice of Assange for the keynote speech:
"The internet and the digital revolution have initiated a fundamental change in our society. The established institutions have already been struggling for a long time for their retention of power in being the opinion and interpretation leaders. So far, nobody has challenged these institutions as much as WikliLeaks and in person Julian Assange. Who else could be more suitable for speaking about our key issue of ... 'real change' far away from Twitter, Facebook, etc.? We are interested in his vision of the future society. And we believe that with his ... views he will ... make the 1,500 attendees step out of the comfort zone of their own thoughts."
Assange is scheduled to appear via video stream at 9:45AM. An exclusive interview will follow the keynote.
2012-11-26 WikiLeaks donations now tax deductible EU wide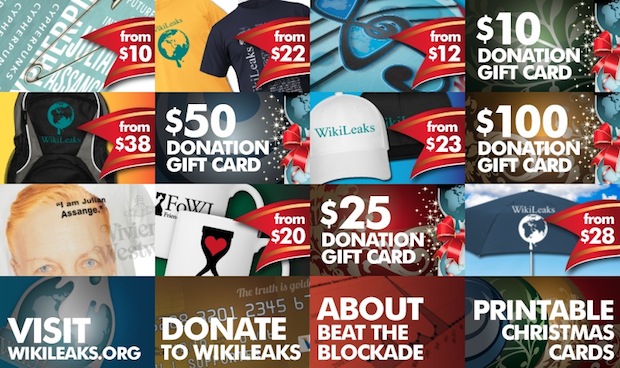 Wau-Holland-Stiftung (WHS), named in memory of the German philosopher and net activist Wau Holland, has been collecting donations for WikiLeaks since 2009. In the immediate aftermath of WikiLeaks publication of the US diplomatic cables in 2010, not only did PayPal arbitarily shut down the WHS donations account, but the tax-exempt status of the Foundation was challenged as well.
This situation has now been rectified.
It took almost two years of negotiations with German tax authorities to strike a deal: Tax exemption (charitable status) will be granted again going forwards and going back to 2011, but not for 2010. (See: "Taxing Transparency", Der Spiegel, 13 Nov 2012).
Therefore, citizens of EU member states will be able to donate to WikiLeaks operations through WHS and in addition, write the donation off from their income tax. This is because of a ruling of the European Court in 2009 (Decision C-318_07), which mandates that every member state must honor the tax exemption decision of any other member state.
And this is how you make a money transfer to support WikiLeaks:
Recipient: Wau Holland Stiftung
Bank: Commerzbank Kassel, Königsplatz 32-34, 34117 Kassel, Germany
IBAN: DE46 5204 0021 0277 2812 04
BIC/SWIFT: COBADEFF520
Reference: WikiLeaks or Project 04 if you prefer
add your e-mail or postal address to receive a tax-deductible donation receipt.
Hamburg, 26. Nov 2012 Wau-Holland-Stiftung www.wauland.de
Other methods of donation:
https://shop.wikileaks.org/donate
2012-11-27 European Commission enabling blockade of WikiLeaks by US hard-right Lieberman/King, contrary to European Parliament's wishes
European Commission documents released today by WikiLeaks show that hard-right U.S. politicians were directly behind the extrajudicial banking blockade against WikiLeaks. In the heavily redacted documents, MasterCard Europe admits that Senator Joseph Lieberman and Congressman Peter T. King both "had conversations" with MasterCard in the United States. Lieberman, the chair of the Senate Committee on Homeland Security and Government Affairs, boasted of instigating Amazon's cutting of service to WikiLeaks - an action condemned by the Council of Europe's Committee of Ministers on 7 December 2011.
Senator Lieberman tried to introduce the SHIELD Act into the Senate and advocated for prosecuting the New York Times for espionage in connection with WikiLeaks' releases. Rep. Peter King, current chair of the House Committee on Homeland Security, tried to formally designate WikiLeaks as a foreign terrorist organization, have its staff listed as 'enemy combatants', and have WikiLeaks put on a U.S. Treasury blacklist. On 13 January 2011 the U.S. Treasury announced it would not do so because there was no evidence that WikiLeaks should be on such a list. While Lieberman and King were unsuccessful in these methods of legally cutting WikiLeaks from its popular donor base, they were successful in doing so extra-legally via VISA and MasterCard, which together hold a monopoly of 97 per cent of the market of EU card payments.
VISA Europe is registered in London and is owned by a consortium of European banks. MasterCard Europe is registered in Belgium and has similar ownership, but the Commission papers show that European control of VISA Europe and MasterCard Europe is a fiction. The papers reveal that the instructions to blockade WikiLeaks' operations in Europe came directly from VISA and MasterCard in the United States. Ownership would normally imply control, but VISA and MasterCard Europe are essentially controlled by confidential contracts with their U.S. counterparts, a hidden organizational structure that the Commission calls an "association of undertakings".
On Tuesday, 19 November 2012, the European Parliament took an important step towards safeguarding the economic sovereignty of all Europeans. In Article 32 of its resolution, the European Parliament expressed the will that the Commission should prevent the arbitrary refusal of payments by credit card companies, which economically strangles businesses and organizations, notably ours. The resolution is an important step to putting an end to the Lieberman/King blockade, which has wiped out 95 per cent of WikiLeaks' revenues. The Lieberman/King blockade has been directly condemned by, among others, the UN Special Rapporteur of Freedom of Speech and the New York Times Editorial Board. The blockade is a direct infringement of the Article 19 right to receive and impart information, and threatens all donor-funded organizations and the freedom of the press.
It comes as a surprise, then, that the European Commission is taking the contrary view in its preliminary decision, of not opening a formal investigation into VISA, MasterCard and AmEx's violations against DataCell, the company that collected donations to the WikiLeaks project until the imposition of the blockade in 2010. The Commission's 16-page preliminary decision has been announced after 15 months of deliberations. The 'normal' waiting time is four months. Yesterday, DataCell and WikiLeaks submitted detailed counter-arguments to the Commission's preliminary decision.
Through the leaked documents we learn that VISA and MasterCard have used a false statement by the Australian Prime Minister, Julia Gillard, to mislead the European Commission. The Prime Minister's statement, which she later claimed was made in her "private capacity", was that the WikiLeaks publication of diplomatic cables was "illegal". This was declared to be false by a subsequent investigation by the Australian Federal Police, which declared that WikiLeaks had not broken any Australian law. Earlier this year, the Australian Senate passed a resolution demanding the retraction of the Prime Minister's false statement.
The leaked documents reveal MasterCard's political stance to our exposure of the crimes and horrors of military campaigns: "It is evident that any affiliation with an organisation causing damage to the national interests of several nations involved in the wars in Afghanistan and Iraq... will be extremely damaging for the public perception of MasterCard".
Julian Assange said: "There is no sovereignty without economic sovereignty. It is concerning that hard-right elements in the United States have been able to pressure VISA and MasterCard, who together hold monopoly over the European market, into introducing a blockade that the U.S. Treasury has rightly rejected. These unaccountable elements are directly interfering in the political and economic freedoms of EU consumers and are setting a precedent for political censorship of the world's media."
WikiLeaks will continue to fight the blockade, despite its limited resources, because it is fighting for its survival. Already there have been victories. In June 2012 WikiLeaks won its first court victory in Iceland against the Lieberman-King blockade. Last month WikiLeaks opened a new battle front by filing, together with its partner DataCell, a case against Teller A/S (VISA Denmark).
NOTE
The movement in Parliament and in the rest of Europe is to support WikiLeaks' publishing rights. The German foundation Wau Holland Stiftung (WHS), which collected donations for WikiLeaks via PayPal had their donations account arbitrarily shut down. The tax-exempt status of the Foundation was challenged as well, as a result of political interference which was exposed this month in Der Spiegel ("Taxing Transparency"). Yesterday, WHS announced that, after almost two years of negotiations with German tax authorities, its tax exemption (charitable status) has been reinstated. Citizens of all EU Member States will now be able to donate to WikiLeaks' operations through WHS and deduct the donation from their income tax.
Quotes from Visa and MasterCard Submissions to the European Commission
Visa's response to the European Central Bank:
"As you will no doubt be aware, in some jurisdictions, various stakeholders have questioned whether WikiLeaks is, in respect of some of the material it publishes, committing criminal acts. Our Operating Regulations prohibit the use of the Visa system for illegal purposes either in the jurisdiction of the merchant (in this case Iceland) or the jurisdiction of the cardholder (which could be anywhere in the world). It is possible that activities that are permitted in one jurisdiction may be illegal in others. Accordingly, the application of the relevant position under the Operating Regulations does not necessarily depend solely on Icelandic law."
"This position is appropriate and proportionate in light of the alleged unlawful conduct of WikiLeaks, which, among other sensitive material, in 2010 published and refuses to return large amounts of material stolen from classified US military databases. Further, according to recent press coverage, it appears that the leaking of sensitive information is continuing."
MasterCard's arguments to the European Commission:
"MasterCard does not hold a collective dominant position with Visa... It is also worth mentioning here that MasterCard does not constitute an 'essential facility', and therefore is under no obligation to provide its services to any particular undertakings."
"It is evident that any affiliation with an organisation causing damage to the national interests of several nations involved in the wars in Afghanistan and Iraq, and possibly putting lives needlessly at risk, will be damaging for the public perception of MasterCard and consequently damage MasterCard's goodwill or its [trade]Marks."
"By way of example, in 2004 MasterCard requested the Dutch acquirer, then 'Interpay Nederlands B.V.' (now 'Paysquare') to suspend the provision of acquiring services to merchants operating websites offering access to pornographic material including showing sexual acts with animals ('bestiality content')."
"...before taking its decision, MasterCard Incorporated did not have any contacts with public authorities, and therefore did not act upon request from any public authorities."
"MasterCard Incorporated had several conversations with the FBI, US Treasury and the Department of Homeland Security (DHS) about the possibility of such DDoS attacks."
"MasterCard Incorporated had conversations with certain Congressional staff (i.e. Chairman Lieberman and Chairman King's [Senate and House Homeland Security Chairs] staff)."
2012-11-29 Anonymous Operation Syria - Press Release
Anonymous Operation Syria - Press Release
Thursday - November 29, 2012 7:00 PM ET USA
Greetings World --
Today, at precisely 10:30 AM ET all Internet traffic into and out of Syria ceased. Within a half hour of this sudden shut down, the PBX land-lines were degraded by 90% and Mobile connectivity was degraded by 75%. The nation of Syria has gone dark. And Anonymous knows all to well what happens in the dark places.
http://localleaks.me/plf/images/SyriaInternet.png
Anonymous has done an exhaustive analysis of the Internet shut-down in Syria and we have concluded that the Syrian regime has physically severed the fiber-optic and coaxial cables coming into Syria. Essentially, they have physically "pulled the plug out of the wall". As we discovered in Egypt, where the dictator Mubarak did something similar - this is not damage that can be easily or quickly repaired.
Fortunately, Anonymous has been working with Syrian activists for well over a year in anticipation of this moment. We produced and disseminated the Syrian Care Package - http://bit.ly/Wxx0ev and there are emergency independent media centers already set up in every city of Syria. Activists and independent journalists in Syria will be able to utilize these media centers to get news and media out of Syria, and Anonymous will assist in propagating that media to the world. Anonymous will keep open the lines of telecommunication with the free Syrian people. We will be the voice of the voiceless in Syria.
"When your government shuts down the Internet, shut down your government."
~~ Anonymous Egypt
Anonymous will NOT allow this massive violation of the human rights of the free Syrian people go un-punished. We feel this is a desperate move by a dying regime, one that has slaughtered tens of thousands of innocent civilians. Beginning at 9:00 PM ET USA Anonymous will begin removing from the Internet all web assets belonging to the Assad regime that are NOT hosted in Syria. We will begin with the websites and servers belonging to ALL Syrian Embassies abroad, which we will begin systematically removing from the Internet tonight. Our first target will be the website of the Syrian Embassy of in China: syria.org.cn - we encourage the media to follow the Twitter account @OpSyriaIRC for announcements on take-downs, defacements, data dumps, E-Mail bombs and black fax attacks. By turning off the Internet in Syria, the butcher Assad has shown that the time has come for Anonymous to remove the last vestiges of his evil government from the Internet. Soon, his people will remove him from this world. Let the final battle for a free Syria begin....
We Are Anonymous
We Are Legion
We Do Not Forgive
We Do Not Forget
Bashar Assad, your turn has come - EXPECT US
--------------------------------------------
Press Release - http://bit.ly/V74nU1
Operation Syria Website - www.OperationSyria.tk
Anonymous Global - www.AnonymousGlobal.tk
2012-11-29 Quantico psychiatrist: Bradley Manning treated worse than death row inmates
*FOR IMMEDIATE RELEASE*
Ft. Meade, MD November 29, 2012 - Yesterday at Bradley Manning's Article 13 hearing, professional military psychiatrist Captain Kevin Moore testified that Bradley Manning's pretrial confinement conditions at Quantico military brig were worse than that of any other long-term pretrial prisoner he'd observed. He added that Bradley's restrictive conditions, including being held in a 6x8 foot cell, having access to only 20 minutes of sunshine and exercise per day, and being deprived of basic items such as clothing and toilet paper for periods of time, were most comparable to yet still more severe than conditions of prisoners he'd observed on death row.
Bradley Manning's case garnered considerable media buzz early in 2010 when it came to light that the UN and Amnesty International had initiated investigations into possibly illegal conditions of pretrial confinement at Quantico. Wednesday in court, two high-ranking military psychiatrists, Captain William Hoctor and Captain Moore, testified that the extent to which their recommendations were ignored by the Quantico Marine staff was unlike anything they had experienced elsewhere over a combined 30+ years of experience at various bases. Cpt. Hoctor went so far as to say that even at Guantanamo Bay his recommendations were implemented much faster than at Quantico. At Quantico, it would often take up to two weeks for the staff to implement his recommendations to change a prisoner's status, in contrast with the few days it would take elsewhere. In PFC Manning's case, the recommendations of both Cpt. Hoctor and Captain Moore to allow PFC Manning more exercise and downgrade him from Prevention-of-Injury (POI) status based on improved mental state was ignored over the course of many months.
Captain Hoctor said he became the angriest he'd been a long time when Quantico base commander Colonel Daniel Choike stated in a meeting that "Nothing's going to change. He won't be able to hurt himself. He's not going to be able to get away, and our way of ensuring this is that he will remain on this status indefinitely." During testimony on Tuesday, Col. Choike confirmed his position during that exchange. In reference to this statement, Bradley Manning Support Network Steering Committee member Jeff Paterson responded, "I think a reasonable person can see why PFC Manning was frustrated with these conditions. No matter what he did or how exemplary his behavior, the Col. had no intention of respecting his overall well-being and legal rights as a pretrial prisoner."
While base commanders Col. Choike and Col. Robert Oltman testified that they believed brig staff acted in interest of PFC Manning's safety, they both stated that the longest they had seen any other prisoner held at Quantico was 2 months. Additionally, they had both informed commanding officers that the Quantico brig was unsuitable for holding a prisoner longer than 90 days.
During his testimony, Psychiatrist Captain Moore indicated that he'd been trained in military interrogation, and that adverse mental side effects were to be expected in any prisoner held in such constrictive conditions for a long period of time. POI, the psychiatrists clarified, was typically a short-term status. In closing questions, defense attorney David Coombs asked Cpt. Hoctor how, in his professional psychiatric opinion, he would characterize an authority who chose to ignore or discount possible adverse effects when choosing a highly restrictive status such as POI for a long period of time. After a thoughtful look, Cpt. Hoctor replied the word he would choose is "callous."
Contact:
Emma Cape
Bradley Manning Support Network
emma@bradleymanning.org
Ph 618-841-4363
###