Extradition Hearing Coverage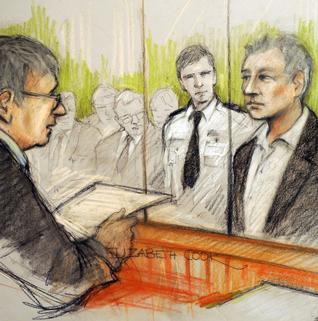 This is a compendium of important, interesting, or historical coverage of the extradition hearing of Julian Assange in other publications, Twitter, video, etc. For all WL Central coverage of the Julian Assange extradition hearings see this thread or in list form here. A summary of the arguments from the hearing under appeal is here. The arguments for this appeal and a great deal more is at Sweden vs Assange.
2011-07-12 Tweet Stream - @m_cetera LIVE from Hearing July 12 and 13
For previous coverage of Julian Assange extradition trials by Mirjam Eikelboom see here. Follow @m_cetera on Twitter for coverage on July 12 and 13.
Chirpstory of @m_cetera's coverage below.
2011-07-12 Tweet Stream - Julian #Assange's hearing on July 12 & 13 #wjul
Archive - Featured Tweets
Archive - Official Publications and Announcements
Archive - Press Coverage
Archive - Videos
2011-07-12: The Alyona Show: New Julian Assange Appeal
Kevin Zeese : fear of extradition to the U.S. is legitimate, Sweden and U.S. have close ties.
2011-06-08: European Parliament: European Arrest Warrant used for political purposes
Gerard Batten MEP states European Arrest Warrant is being used as instrument against political dissidence in the case of Julian Assange. Points out to many irregularities in the Swedish case against him.
How to send Wikileaks a short video message of support, concerning the extradition hearing, or the financial blockade for example.