2012-07-18 WIKILEAKS PRESS RELEASE: WikiLeaks opens path through banking siege. Donations open.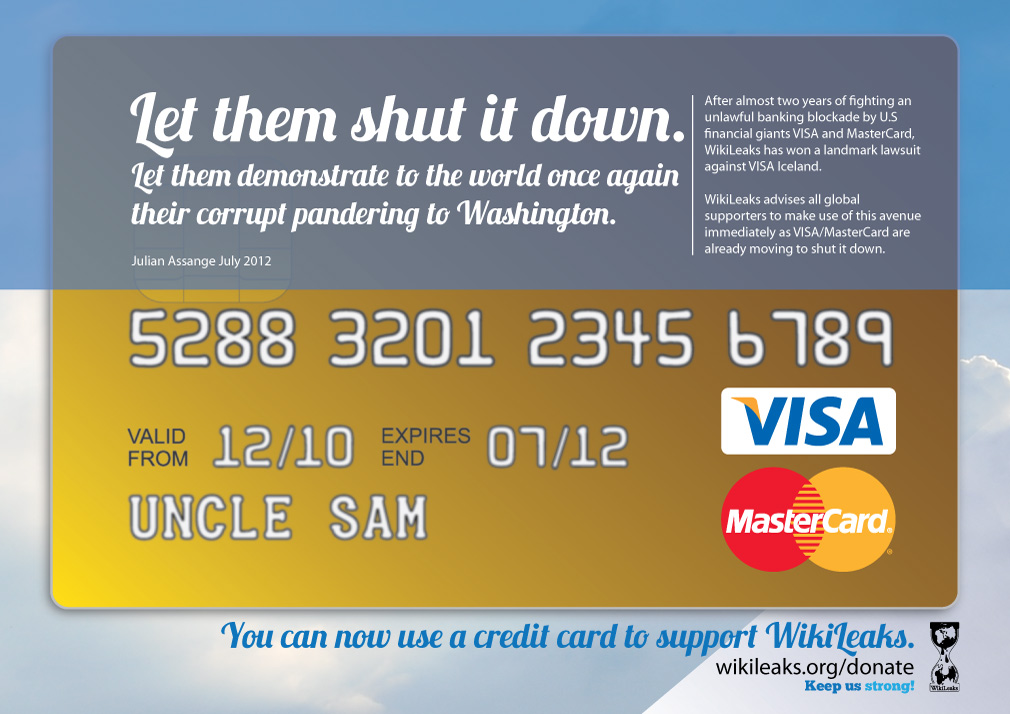 After almost two years of fighting an unlawful banking blockade by U.S financial giants VISA and MasterCard, WikiLeaks has announced it is back open for donations.
After WikiLeaks' publications revealing U.S. war crimes and statecraft in 2010, U.S. financial institutions erected a banking blockade against WikiLeaks wholly outside of any judicial or administrative process. The blockade came during a time of substantial economic growth for WikiLeaks but blocked over 95% of donations, costing the organization in excess of USD 20M.
The Wau Holland Transparency Reports for WikiLeaks' finances, released today, illustrate the financial consequences of 18 consecutive months of economic censorship. For the year 2011, the blockade resulted in WikiLeaks' income falling to just 21% of its operating costs.
WikiLeaks has been forced to run on its cash reserves at the Wau Holland Foundation, which have diminished from EUR 800K at the end of December 2010, to less than EUR 100K at the end of June 2012. As the graph shows, WikiLeaks' reserve funds will expire at the current austere rate of expenditure within a few months. In order to effectively continue its mission, WikiLeaks must raise a minimum of EUR 1M immediately.

Against this background, WikiLeaks is launching a new payment gateway designed to work around the blockade.
The French credit card system, Carte Bleue, is coupled with the VISA/Mastercard system globally. VISA and Mastercard are contractually barred from directly cutting off merchants through the Carte Bleue system. The French non-profit FDNN (Fund for the Defense of Net Neutrality- Fonds de Défense de la Net Neutralité), has set up a Carte Bleue fund for WikiLeaks.
WikiLeaks advises all global supporters to make use of this avenue immediately before VISA/MasterCard attempts to shut it down.
However, WikiLeaks and FDNN are ready for the fight. Julian Assange, WikiLeaks founder said "We beat them in Iceland and, by god, we'll beat them in France as well. Let them shut it down. Let them demonstrate to the world once again their corrupt pandering to Washington. We're waiting. Our lawyers are waiting. The whole world is waiting. Do it."
WikiLeaks is pursuing several actions against the blockade.
Last week, WikiLeaks won a landmark lawsuit against VISA Iceland (Valitor). In July 2011 WikiLeaks opened a path through the blockade, when VISA-Valitor agreed to process payments to WikiLeaks through the Icelandic payment gateway, Datacell. Soon afterwards, VISA-Valitor blocked donations and ended its relationship with Datacell, in violation of its contractual obligations. Delivering its judgment last week, the Icelandic court in Reykjavík ruled that the donation gateway should be reopened by July 26, otherwise VISA-Valitor will be penalized with a fine of 800 000 ISK daily.
A European Commission preliminary investigation into the blockade was started July 2011. A Commission decision on whether to pursue the financial services companies involved in the blockade is expected before the end of August.
The UN Special Rapporteur for Freedom of Expression, Frank La rue, the European Parliament, the New York Times editorial and many rights groups have condemned the blockade.
Australian Greens Senator Scott Ludlam last week called on the Australian government to take domestic actions against the banking blockade.
LINKS:
FDNN-WikiLeaks Payment Gateway (Donate Here): http://wikileaks.org/donate
Wau Holland Monthly Balance sheet for the years 2010, 2011 and 2012: http://wauland.de/files/2010-2012_Projekt04-Balance.pdf
Wau Holland Transparency Report for 2011: http://wauland.de/files/2011_Transparenzbericht-Projekt04_en.pdf
Auf Deutsch: http://wauland.de/files/2011_Transparenzbericht-Projekt04_de.pdf
Wau Holland Transparency Report for 2012: http://wauland.de/files/2012-1_Transparenzbericht-Projekt04_en.pdf
Auf Deutsch: http://wauland.de/files/2012-1_Transparenzbericht-Projekt04_de.pdf
For more information on the WikiLeaks banking blockade see http://wikileaks.org/Banking-Blockade
For WikiLeaks press contacts see http://wikileaks.org/Press