2012-06-29 What #JA41 means to me (m_cetera)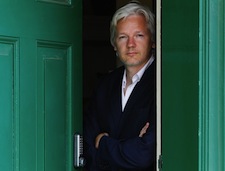 There is no greater gift than the opening of one's eyes, and that is precisely what Julian Assange and WikiLeaks have given to me. As a U.S. citizen and military veteran, I cannot fully express how important this has been in my life.
It is not easy to change someone, but I can say I became a very different person upon discovery of WikiLeaks. I was changed from someone with a rather nihilistic point of view on the world to someone increasingly interested in current events and the well-being of others. My interest in WikiLeaks quickly grew to the North African revolutions, the Occupy movement, privacy laws, due process, and so much more.
What Julian Assange has done with WikiLeaks is create a way people can make up their own minds. With the current state of news media, it is nearly impossible to find a source of information with clear facts and no bias. Julian's "scientific journalism" - releasing the full source material along with articles - is an incredible development in the journalistic world.
I spend a good bit of my free time covering WikiLeaks news, writing the occasional analysis, and generally involving myself in any project possible. This is because I love the idea of WikiLeaks, what WikiLeaks has done, and what WikiLeaks is capable of doing in the future. I think it is something to be shared and spread to others, and positive, factual coverage of it is important in a world full of smears and lies.
Many career paths have crossed my mind before - Japanese translator, author, artist, librarian - but this autumn I will be starting at University to study journalism and political science, and I have WikiLeaks to thank for that decision.
Julian deserves so much. He has fought the odds and continued his work despite vicious attacks, calls for his assassination, banking blockades, nearly 600 days detained without charge, and so on. His continued fight in the face of adversity shows how strong and unbreakable his dedication to his cause truly is.
I wish Julian the best of luck in his bid for political asylum. I wish him further freedom in the future. I wish him the ability to continue his work. And I wish him happiness in a long, good life.
Happy 41st birthday, Julian. Another year outliving those bastards.
WL Central are currently collecting tweets (#JA41) and email greetings to Julian Assange to be published 2 July, the day before his birthday.