2012-07-03 #JA41 Greets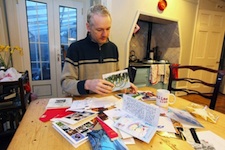 Julian Assange celebrates his 41st birthday Tuesday 3 July 2012. The celebration may be at 3 Hans Crescent in Knightsbridge, or in a Swedish remand prison, or in the custody of the United States, or in Ecuador. But we want him to know, wherever he'll be, how much we all appreciate what he's done for us. Send your birthday greets to Julian at ja41@wlcentral.org - or with the Twitter tag #JA41.
Greets currently from:
Alain, Amelia, Anna, Antonia, Beverly, Cheryl, Cristina, Dave, David, Dean, Debra, Diana, Douglas, Emmet, Enrica, Gena, George, Gretchen, Gus, Heather, Heather2, Holly, Ivan, Jac, Janet, Jaqi, Jason, Jenny, Joe, John, Jon, Judith, Karin, Kate, Kathlyn, Laura, Liz, Louisa, Lynda, Lynne, Maha, Marlene, Maysoon, Melanie, Michele, Nick, Nicola, Paola, Polly, Robyn, Rose, Sandy, Sara, Sergio, Sophie, Susanne, Sylke, Teclo, Trish, Tom, Victoria, 彭龙嘉.
---
Happy Birthday Mate,
Love many trust few & always paddle your own canoe, but remember there's a kaupapa behind you.
- Dean
---
Hey J,
Happy Birthday! Will party when you get home! Northern Rivers, Byron crew
send their love too.
- Love from Cheryl & family Gold Coast
---
Mendax:
You are the guiding light for my generation. Or at least the ones who pay attention.
I didn't believe it at first, but I agree now: courage really is contagious. Our generation has been lied to over and over again. None of our parents believe it and most of our friends don't care because they think that there's nothing they can do.
There are, however, a growing number of us with a burning desire for direct action despite the ignorance that surrounds us.
You have shown us all that constructive, ethical action is possible.
You give us hope.
You give me hope; I can't thank you enough.
I didn't bother celebrating my own birthday this year but I'm going to celebrate yours. The empowerment of others is the mark of a real hero, and of a man who's life ought to be celebrated. Did I mention that you F****** ROCK!?
Happy birthday!
- Tom
---
"Happy Birthday to You, Happy Birthday to You, Happy Birthday dear Jul-ian, Happy Birthday to YOU! Hip Hip Hooray, Hip Hip Hooray, Hip Hip Hooray!"
Hang in there our friend. Truth always wins in the end. Remember that. Wishing you love and continued strength (from Ballarat),
- Robyn and Brent :-)
---
Happy Birthday and many more free ones. You have made a tremendous impact in the world and have truly lived your days well. Courageous, intelligent, an inspiration to many. You have my whole hearted support!
Your friend in PA (state motto lol)
- Rose
---
Hello Julian,
A very happy birthday to you.
(Am now anticipating a knock at the door from a member of the CIA to change the batteries in my digital watch.)
- Dave
---
Happy Birthday Julian
One day there will be justice. We don't forget that!
Best wishes
- Karin
---
Julian you are an inspiration for all people who believe in freedom and that governments should work in the interest of those who they represent and whose taxes they are funded by.
Please keep on appealing to ECHR using the arguments that the Supreme Court here said your legal team had failed to produce. Your case raises vital questions of how the EAW is being used and interpreted.
Not only that but your voice and show on RT is very valuable and you must fight for your freedom and to keep out of the hands of your enemies.
May God bless you on your birthday and keep you from harm.
- Heather
---
It may be hard to think about having a happy birthday right now Julian. But please know you have many friends all over the world, like me, who believe in you, respect you, and care about you.
We will not give up fighting for you and supporting you. And we will continue speaking out and standing up for you.
Thank you for blazing the trail of truth and transparency.
- Michele
Support Whistleblowers Support WikiLeaks
All of us are at our best when we are pursuing an ideal that is important... I have made my days count. - Julian Assange
---
*Assange*
*
*
*happy birthday~~*
- 彭龙嘉
---
You have made every one of your days count. Now we will make them count even more.
Happy Birthday J. xx
- Debra
---
I wish you enjoy your birthday, despite your situation, you marked the beginning of a change you has shown that in addition to intelligence and technique it takes courage I have great respect for your work. You are great person. I appreciate that in this pathetic world there are people like you.
I hope you celebrate many more birthdays !!!
Saludos desde Costa Rica.
- Victoria
---
Thank you for all you have done in the name of Freedom.
Best
- Anna Ft Bragg CA
---
Wishing your truth-telling changes governments around the world...
- Jon & Kande
---
Happy Birthday Brother!
Keep up the good fight. The whole world is watching, and may you prevail in the end!
We love you!
- David Mendocino California US
---
Hi there Julian,
I'm some random woman in the US who is remarkably grateful for the work you've done to hold organizations and governments accountable for their actions. I've been lucky enough to participate in a friend's audio recording project around the work you've done toward publishing truth in electronic form. Thank you for making this world a more honest place. Thank you for standing in integrity against great evil by being willing to point out that these emperors have not only no clothes but kick the dogs too (so to speak). From one random person in CA, just know that you've empowered US citizens to continue in activism and that people the world over are glad for that. I really hope that in some small ways you are able to have an enriched existence. Throughout the coming year I wish you strength, affection, and health.
Have a brilliant birthday.
Cheers,
- Amelia
---
Thinking of you and thanking you for your work.
- Joe and Maggie
---
Dear Julian,
You are a modern day hero. I am so moved, in many dimensions, by the revolutionary work you have been doing. It changes the whole paradigm of politics as usual. Confronting truths you have revealed to the world is profound in so many ways. You have offered hope to millions, like me, who care about the truth, and we watching, wishing you justice, freedom and the place in history at a time when the truth arises from the shadows and becomes legitimate.
Happy Birthday!
- Liz, Caspar California
---
Best Wishes to you on your birthday.
- Nick
---
Happy Birthday Julian,
The world is better place because you are here, we are with you, you are not alone.
- Maysoon
---
Dear Julian,
We, who have observed the workings of both those operating with dark purposes and those working to shed and spread the light, know that what you have done, are doing, is noble and necessary. This is indeed the last ride at the end of the old world. May your bicycle tires be buoyed up with the many breaths of support offered by us who respect and love you.
- Jenny, fellow citizen of the world, Mendocino County, California
---
Dear Julian:
I'm sending birthday greetings on behalf of my publicist, Emma Goldstein.
Emma called her Great-Aunt Sophie to let her know that you had flown the coop. Aunt Sophie emailed her back.
Best wishes,
- Holly, Mendocino California
--
24 June 2012
Dear Emma:
I was distraught when you phoned to tell me that nice Mr Assange had fled to the Ecuadorian Embassy in London. I hope he brought his laptop and a change of clothes, and that there is decent broadband in Quito.
His timing was good, though, as Gertie and Maud had driven up for the midsummer bonfire. We carried a year's worth of burnables out onto Ilkley Moor, and at midnight we set them alight. There were fires all across the Calder Valley, and we hoped other crones were also doing workings for Mr Assange.
Maud opened a bottle of Bendover Oil she had purchased on a trip to New Orleans, and rubbed the foul-smelling stuff on James Ball's column in the Grauniad and upon the nether regions of a poppet with dark red hair and a triangular smile. "She mustn't be a country music fan", said Gertie, "Or she would have heeded Dolly Parton's advice, 'If you're gonna have your face done, have 'em take a nip here and a tuck there, so you don't end up lookin' like a banjo head'."
Maud also brought along her corgi, Little Fudgie, who did not stop yapping until I threatened to roast him over the fire. He ran under the Mini, and cowered, whimpering, until we finished the ritual and brought out the cakes and wine.
We imbibed quite a lot of Guinness and ate several of Maud's brownies, so the circle we cast was a bit lopsided. As at every Solstice, we sang old Steeleye Span songs about sheep, and Maud, who had perhaps eaten too many brownies, channeled Maddie Prior. She hoisted her petticoat a bit above her knee, and nimbly danced round the fire, until she tripped over Nigel the iguana. Once we bandaged her ankle she grew maudlin, and wept for the fate of an buachaill ban, the fair-haired boy. Soon we were all clinging to one another, moaning. It may not have been the strongest cone of power we ever raised, but it was the most heartfelt.
It looks as though we shall have to wait until next week to see if our protection spell worked. On Tuesday I'll take the bus down to London for my annual shopping trip. The Ecuadorian Embassy is behind Harrod's, where I plan to purchase bathing costumes for Nigel and myself.
I am worried that Mr Assange is not eating properly. Llamaburgers, potatoes, and fried guinea pig do not constitute a balanced diet for a man who needs to think clearly, so I hope to drop by the Embassy with a couple of strawberry-rhubarb pies. Little Fudgie, unfortunately, gobbled the last of the brownies. We yelled at him and he got sick on the Gillard doll.
I am also concerned that Mr Assange may be haunted by the ghost of Princess Diana, or worse, Dodi. If he starts writing thank-you notes, we may have to to do an exorcism.
Your doting Aunt,
Sophie
---
THE GEEK SHALL INHERIT THE EARTH
An Unofficial WikiLeaks Multinational Anthem
Words © Holly Rights Reserved
Tune: Brisbane Ladies, Queensland cattle drovers' song
You geeks and geekettes who toil for your wages
At the edge of the vast electronic frontier
Too long have we slaved in our cubicle cages
Too long have we all been imprisoned by fear.
When bankers get bonuses measured in millions
While midwives are jailed for assisting a birth
When generals lie about killing civilians
Then it's time for the geek to inherit the earth.
From Cairo to London, Beijing to Seattle
From Berkeley to Madison, Melbourne to Perth
We'll boot up our laptops and gear up for battle
And the day that the geek shall inherit the earth.
Though envious critics hold us in derision
And newspapers lie about what we have done
We'll network together and forge our new vision
And support one another until we have won.
In vain do they call for our death and damnation
In vain do they call us a terrorist threat
In vain do they lock us in cruel isolation
We'll still keep on spreading the truth on the net.
From Cairo to London, Beijing to Seattle
From Berkeley to Madison, Melbourne to Perth
We'll boot up our laptops and gear up for battle
And the day that the geek shall inherit the earth.
When down-trodden prisoners are freed and befriended
We'll crown our success with music and mirth
When the dreary Dork Ages have finally ended
Then the bold-hearted geek shall inherit the earth.
[Whatever decision you make, I'll continue to support you. Wish I could send you a pizza.]
Carrying on the fight for Internet freedom from the edge of the earth,
Your friend
- Holly, Mendocino California
--
Genius is not a gift. It is the way out one invents in desperate situations. - Jean-Paul Sartre
---
Dear Mr Assange,
So you're turning 41, let me tell you, you don't look like it. :-P
But seriously, what does one wish you? The strange white haired guy who has the courage to embarrass and challenge the most powerful governments and who gets ripped apart by the media all over the world, but is loved and supported by millions nevertheless. A tough one...
I celebrate my birthday two days before yours and everything I wish for my birthday is your freedom. Not only that Sweden/US/Australia/UK (choose your favourite) will give in, no. I mean the freedom that you can continue with your work, that you can travel wherever you want to and that you continue enriching this world with your passion, vision and courage, because this is the most precious thing you gave us. Honestly? I have no idea how you bear all that. I guess I got the plan, that the media attention is important, I understood it earlier as you confirmed it for the media, but still, your strength makes me speechless.
Oh and there's another birthday wish of mine... I wish I could stand in the rain in the front of the fence of the Ecuadorian Embassy in London as a sign of support for you. The young people nowadays have strange wishes, don't they? Crazy world. I guess partly you're to blame for this. And at the end of the day, you are guilty. Guilty, that you gave us the taste of salt, which made us long for... a better world... no, that quote was different... anyway. ;)
From the bottom of my heart (if there is one) I wish you a Happy Birthday and even more strength and determination to continue your path. You are not alone and you will never be, even if it may feel like it sometimes.
- Melanie
---
Dear Mr Assange
Thank you for being you. Bless the day you were born. Best to you and your family!
May you have a joyful, active, free and prosperous year.
Sincerely
- Antonia
---
Dear Julian
Happy Birthday
Love & best wishes
Thank you for all you have done for us all
- Nicola, Adelaide
---
Dear Julian,
Happy birthday and best wishes.
Cheers,
- Gena
---
Just a couple of days more, you don't really know what's next, we don't either.
You've been supporting us. Be sure we'll be supporting you, I wish I could be like you. but all I can be is an honest man, that's all.
You're the boss. Keep being yourself. And never surrender to the oppression. My best wishes for you.
Happy Birthday, Julian Assange!
- Ivan
---
Happy Birthday brother.
Love,
- Jason
---
Julian,
I'm sure around 15 years ago, your image of where your life would be today was nothing like what faces you now. And just as I'm sure you'll be getting a hundred thousand or so birthday wishes, and this one won't (and shouldn't) stand out, your efforts reflect exactly this sentiment of so many individuals blurred into a large, mass identity. It seems you've done what you've done for this: our collective well-being - this mass identity outside the few who hold power. I don't know the nuances of your charges, only the basics, or even a clue of the workings of how you've done what you've done. But, as an avid reader, I do see your intentions as good for the millions outside a realm of "mattering" in this world's governance. I've followed your story closely, and feel my lack of understanding is based in the reporting versus your transparency.
And for that, albeit the level of incarceration, I hope that your humanity isn't stripped of all that brings you joy. I hope that for no one on this earth. I hope on your birthday, you'll remember to dance, laugh, and know that wherever you are assigned to be, your ripple is so much larger than the charges against you. Please let it allow you to sleep well at night.
Happy Birthday, sir. I wish I could give some memories to you for your lost time, like when I got to spend time in Byron Bay a couple of years back, eating fresh catches and giggling at the fire dancers at dusk. Although, I have to say, the insipid Australian cliched phrase (and almost grammatical clitic) "no worries" isn't quite apropos here. So, I'll revert to American ones, "high five" for the past and "game on" for the future! And to many more birthdays better than this one...
Best,
- Gretchen
---
Happy Birthday M Julian Assange!
You can be proud of what you did!
And I will support you everywhere on this planet.
Hope you will have a good new for your birthday.
Cordialement
- Alain
---
Hello Julian,
Just want you to know that many people are rooting for you and hope for the outcome of your desires. We appreciate your bringing to light the dirty underside of government. Thank you for your bravery and dedication.
With admiration for your work,
- Judith, California
---
Keep Going J !!!
- Emmet
---
Dear Julian,
I admire and respect your work so far, but you still have a lot of work in the future. Hold on. Happy birthday. I wish you all the best. Greetings from Warsaw Poland.
- Jac
---
Mr Assange,
Your courage, motivation, and presence has helped me to understand the world I live in and how we can change it.
I'm forever grateful.
Happy birthday.
- Kate
---
Dear Mr Assange,
It was years ago that I read on WikiLeaks the documents on Trafigura. Because of the seriousness of what was going on, I assumed the media would be all over this matter. And then nothing happened. And I was confused.
I returned to a state of uneasy passiveness. WikiLeaks shook me awake in 2010. Thank you for that! And then I saw a video of your appearance in the European parliament. That's when I learned about gag orders.
As I watch how you are treated, I can't believe how malicious and bad the powers that be are.I wish our politicians would have your courage. You and your team are really amazing.
I wish you all the best. And, although not in the best of circumstances, have a happy birthday.
- Louisa
---
Happy birthday,
I wish you a happy birthday and hope you can be able to soon prove to the world that what you have done for this world is amazing and one day those who are against you now will understand your persistence for justice.
I am from Iraq and I can't but be very appreciative for the truth we already knew, but needed the world to know about.
Thank you and hope you have a nice day.
- Maha
---
Bob Dylan taught me a lot about freedom, and here's a song he wrote that teaches about life. My wish for you is to "stay forever young".
Best wishes,
- Janet in NH, USA
May God bless and keep you always
May your wishes all come true
May you always do for others
And let others do for you
May you build a ladder to the stars
And climb on every rung
May you stay forever young
Forever young forever young
May you stay forever young
May you grow up to be righteous
May you grow up to be true
May you always know the truth
And see the lights surrounding you
May you always be courageous
Stand upright and be strong
May you stay forever young
Forever young forever young
May you stay forever young
May your hands always be busy
May your feet always be swift
May you have a strong foundation
When the winds of changes shift
May your heart always be joyful
May your song always be sung
May you stay forever young
Forever young forever young
May you stay forever young
---
Happy Birthday Julian,
I hope that soon you can be in my beautiful country.
- Paola
---
Dear Julian,
You are a true hero who has inspired me and this entire generation in so many ways. We are no longer ignorant, thanks to brave people like you. You risked everything you ever had just to hand us the truth that we so rightfully deserve from our governments and we cannot thank you enough for it. No matter what happens, we will always continue to support you so please stay strong!
Happy birthday and may all your dreams come true. I pray for good health and a great year ahead for you. Thank you for changing the world, Julian.
Take care.
- Sara
---
Dear Julian,
Happy Birthday Julian Assange!
You should be able to spend it at home, not in an embassy asking for asylum! You have started a great action to bring awareness to all the world with WikiLeaks, and all the world can only thank you for this.
Changes can only start from awareness, and your efforts have made this possible.
Thank you Julian, I hope that this will be a happy birthday and that the many more to come will be only better.
- Enrica
---
Dear Julian,
It may be a bit strange to start my letter this way but I come from East Germany (born back in Soviet times) and I think that's the reason I grew up with people and family constantly telling me that being critical is not helpful and sometimes you should better not speak up, etc. Stupid advice, I know. Later at school I always got in trouble because I asked too many questions and always wanted to discuss stuff with the teachers instead of learning by heart what was set before us. I'm not sure if it's the same everywhere but I think a lot of us young people were raised that way and taught we shouldn't be active. That the world is bad, okay, but we can't change anything about this anyway, it's just too much trouble to fight for a better world, it doesn't "pay".
I think one reason why you are a hero to so many of us is that you taught us the exact opposite. And you are a person many of us would like to be like, but it turns out we were too afraid - or at least I was just. You have no idea how much hope you gave me, and I'm probably not the only person, and if I was able to, I actually would like to give you something back, but the only thing I have at the moment is all these stupid words here.
I read some of the other letters and yes it's true young people have strange wishes these days and I too wish I could be in London and stand in front of the embassy on your birthday. Crazy, eh? I wish I could bring you a cake or something, but above that, I wish I could tell you all this personally and give you a hug to say 'thank you'.
I wish you all the best for your next year and the strength to keep up the work you do - it is much appreciated. I hope that you will be granted asylum and I hope you have at least a bit of fun celebrating your birthday.
- Laura
---
Happy birthday to a complete human being.
Very few people fall in a category I call 'complete human beings'. People like Ernesto Guevara, Norman Finkelstein, Julian Assange, to name a few. These people have something in common: they are driven by pure love. Love is what drives the revolutionary, it compels him to act on injustice against enormous power, consciously endangering his own wellbeing. Power (having control over the mainstream forms of communication) distorts language, uses words like terrorist, national threat, etc to describe them, and that is key. When the people that have accumulated wealth and power through the exploitation of the masses target you as a threat.
To me that is the ultimate compliment a human being can receive.
Happy birthday To Julian Assange.
- Sergio
---
Dear Julian,
Such a privilege and an inspiration to have so closely followed this story since 2010.
Such a treat to have watched the functioning of your mind unfold.
Such distress to recognize the threats.
As an Aussie living in Europe for the last 12 years, following your story has not only reconnected me with Oz, but with the reality of our world which is only bearable through the filter of HOPE. I made the decision at the moment of 9/11 to turn off the MSM, having by accident heard the statement to the press from Bush and Blair, and I have never gone back. My overwhelming disgust at the hypocrisy at the time has only recently been calmed by the advent of WikiLeaks.
BRILLIANT. What an extraordinary concept and work you have brought to the world. Finding out that behind it was a barefoot boy from the Qld bush (and an AWESOME team) got me hooked even more. Then watching the elites of the Northern Hemisphere imploding and tripping over themselves as they came to realize not only who you were and where you were from, but how courageous, tenacious, and resolute you are and - goddam - how brilliant! They took a while to work that out, so comfortable are They in their Power.
I also feel that your spirit is quintessentially Australian and that is the first thing they didn't get. Hence the profuse filling in of their blank spaces by their Hacks, with suspicion, supposition, smear and slander stemming from hugely incorrect assumptions. All this can be observed from a distance, but what you really haven't deserved is the betrayal you've suffered, and this is where my heart has bled the most. And what a fucking waste that those people were so disappointing and felt so compromised or unable to keep up.
Some will regret their lack of courage and the damage they've done.
I believe you are also in the unique position of being the only man on the planet who has ever been wanted for questioning (SW) because he has been (is) pursued by SO many gorgeous young women. How they think they can credibly create the image of you as a predator is beyond me. The fact that you, a man with Integrity, Intelligence, and a Nurturing Mission is so attractive to women, leaves them in a very sorry place.
Whilst they need to 'buy' their women (women kept on low wages = vulnerability) through manifesting obscene wealth, power, and the associated 'right' to be predatory.
This is why so many women support you. We know what predators feel like and we know you are not a predator.
And as a mother (of a big boy) I just want to say that your Mum is adorable amazing formidable. If all mothers had half the intelligence, humanity, and backbone as Christine, the world would be in a better place. Her brave choice to be so public has given us all the opportunity to offer her our admiration and gratitude. I sincerely wish her joy and tranquility in the very near future.
You are quite a pair. In my thoughts every day, I take my hat off to you both and thank you profoundly for the huge sacrifices you have both made.
Julian, I keep my thoughts focused on an exciting future for you, with your freedom, your work, and your right to function fully in your unique brilliance!
STAY SAFE. STAY STRONG. YOU ARE NOT ALONE.
Probably a good thing you're not really available for your birthday - imagine how many people would turn up if they could!
With love and deep respect,
- Lynne xo
---
Hey J,
My best wishes are with you at this pivotal moment in your life, along with my deepest gratitude for what you and WikiLeaks have done for the cause of human freedom and wellbeing.
May you and WikiLeaks thrive and flourish.
- Gus
---
Dear Julian,
Happy Birthday to a truly remarkable man. Your work has enlightened many and dare I say 'changed the course of history'. Never forget that you have the backing and support of millions around the globe, including myself. You have championed the fight against censorship in an unprecedented way, while inspiring many to follow suit. You have instilled hope in the hearts and minds of a generation longing for change and for that, we will not turn a blind eye to your struggle. Thank you for your work, Julian.
Again, Happy Birthday Mr Assange and I sincerely wish you the best.
- Marlene Los Angeles
---
Julian, your shows on RT have been great, WL is a fantastic project, and you make many of the established media look like what they are: lipstick journalists grown fat on too many press trips, freebies, lunches, and bylines for crap and essentially meaningless articles.
You have made journalism important again and inspired a generation with the shocking reality of political criminality.
You have shone a spotlight on the world we live in. It is not a pretty place.
Thank you for your courage.
Stand firm. Don't let the bastard politicians get you down. And remember that while your false accusers have nothing to be proud of, many see you as a modern day hero.
Happy Birthday!
- Heather
---
Happy birthday Julian Assange: yours is a life that will never be silenced; in 41 years you have developed a moral integrity that has affected the world and its global historical narrative. The motivation, dedication, and courage that this has required is an inspiration.
The movement has started, it cannot be reversed. Thank you. And Christine: the ability of our parents to nurture is an important pillar in our abilities as adults to strive for greatness. Know that you are appreciated too.
- Teclo
---
Dear Julian,
I'd like to wish you a happy birthday on the third of July. I have always felt that what you and WikiLeaks have done is a great service to the world. It is only too predictable that established power would behave as it has towards you, Bradley Manning, and others.
I know there are countless other people of many backgrounds around the world who admire you and are so grateful to you and WikiLeaks for having the courage to speak out and challenge illegitimate authority. We are not subject to the pressures that you are of course, but I hope you will think of the support, esteem, and gratitude with which you are held by so many in so many places.
I have supported Bradley for some time and shall also support you: I am only too happy to be associated with you and what you have done in support of human dignity and worth.
I'll drink to you on the third. Happy birthday Julian!
Kind regards,
- John, Brussels
---
Happy birthday!
Keep the movement alive and going - we need you and we are rooting for you!
- George
---
Happy b'day, Julian!
I want you to know how much you are admired and appreciated by so very very many. Your courage and astute research work has done so much for the rest of us.
Wishing you truth and freedom forever!
Thank you!
- Lynda
---
You're smarter than they are. May you always stay at least one step ahead of the criminals.
Thank you.
- Kathlyn
---
Happy birthday dear Julian!
You are one brave man! Keep the good work!
It's horrible to see this endless US & UK media smear campaign against you! It just shows how corrupt most of the journalists and the politicians are (you haven't been charged and we hear all the time about your "charges" on the news) but don't worry - you are not alone! We support you! Be safe and be strong!
Best wishes from Brazil,
- Cristina
---
Hi Julian,
I just want to wish you great peace and happiness for your birthday. You are one of the great prophets of our age in the way you have created change for the better.
Thank you, thank you, thank you for your personal sacrifices and courage in the face of such powerful forces. I hope it helps give you strength and solace knowing that millions around the world are sending you love, light, gratitude, and prayer.
Much love,
- Jaqi
---
Julian,
Your courage and purity of conviction for the truth have given me a present on your birthday. You are our gift. May your heart and spirit soar on this day and always, knowing you and your work have made such a difference to this world. Thank you. Happy 41st! Please stay smart and live to a ripe old age!
With appreciation, admiration, and love,
- Trish
---
I'm proud to know that we share the same birthday, though I was 21 years old the day you were born. I wish you were God.
I also wish I had a 'get out of jail free' card that worked against insane governments. It would be yours.
Happy birthday!
- Beverly
---
Happy birthday!
Thanks for focusing us all on honesty and accuracy in journalism and in everything else. Know that whatever happens, your supporters are going to carry your ideals forward. They can't stop us; this is but the beginning of the beginning.
Best of luck and don't let the bastards get you down!
- Douglas
---
Dear Julian,
Happy birthday to you and thank you so much for fighting for all the world, for the planet.
With best wishes!
- Sylke from Germany
---
Happy birthday, Julian.
Thank you for opening our eyes and minds.
Wish you will be free soon. You have my wholehearted support.
- Susanne
---
Hi Julian Assange,
I'm sending you this little message to let you know I'm thinking of you.
I hope you don't feel too lonely today on your birthday. Keep on smiling! I love to see you smile! It gives me so much power - and makes me remember I have to fight, not to run. And I'll give it back in support of WikiLeaks and you. My heart is breaking to see what's going on. I wish you the best of luck!
Happy birthday!
- Diana, Germany
---
Happy birthday Julian,
And best wishes for your health and safety.
Look after yourself and keep strong and resolute. You are a bright and beautiful light in our sad and troubled world. Thank you for your work and your determination.
- Sandy, Brisbane Australia
---
Thank you Julian,
For all you have done and continue to do in the name of truth.
Though I do not know you personally, my thoughts are with you on your birthday, and like many 'ordinary' folks the world over, I will continue to do all in my power to support both you and the work you have begun.
Warmest blessings,
Polly, Salisbury UK
---
WL Central are currently collecting tweets (#JA41) and email greetings to Julian Assange to be published 2 July, the day before his birthday.