2012-05-12 [UPDATED 05-13] Nabeel Rajab's detention extended amid worldwide calls for his release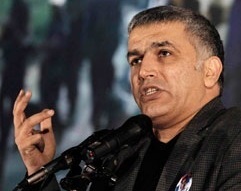 This is Part Three in WL Central's continued coverage of the arrest of Bahraini human rights activist Nabeel Rajab. He was arrested on May 5 at the Bahraini International Airport, following the announcement of his appearance on Julian Assange's talk show "The World Tomorrow." A representative of the public prosecution ordered that Rajab be detained for one week for "insulting a statutory body" via Twitter. Rajab denies the charges, saying they are aimed at hindering his human rights work and his right of expression. He was also charged unrelated to his current detention for "participating in illegal assembly."
Rajab's interview on "The World Tomorrow," alongside Egyptian activist Alaa Abd El-Fattah, aired May 8. The episode is available online in English, Spanish, Russian, Arabic, and Italian. Extended transcript of the entire 3 hour interview is also available.
Many organizations have been calling for Rajab's release as well as the release of other political prisoners in Bahrain. Major protests have broken out in Bahrain. Meanwhile, the U.S. has resumed some arms transfers to the Bahraini Government amid calls for harsher crackdowns on the uprising. See Part One and Part Two of our previous coverage for more information.
Nabeel Rajab was taken to the public prosecution today to be interrogated on additional charges of "illegal gathering." He will be held in detention for a week while these charges are investigated. This is the second time his detention has been extended; originally he was only to be held for a day, which was then extended to a week, and now this second week has been added. He was previously being held on charges of "insulting a statutory body" via Twitter. He also appeared in Bahrain's Minor Criminal Court to face charges of "participating in illegal assembly."
Front Line Defenders and Article 19 have condemned the arrest, detention, and trial of Nabeel Rajab, joining many other organizations including Amnesty International, the Electronic Frontier Foundation, and the International Federation for Human Rights.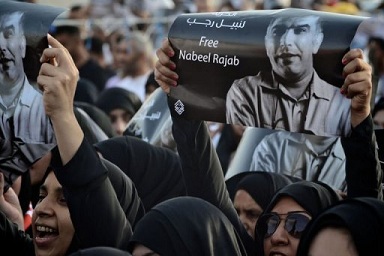 Human Rights First believes the United States lacks the "political will to exert pressure on the [Bahraini] dictatorship," after they resumed some arms transfers to the country last week, despite the Bahraini Government's calls for harsher crackdown on the uprising. The arms shipments, worth $53 million, were previously halted amid the protests and calls for reform.
Another large protest took place in Bahrain today, with citizens calling for the release of political prisoners, including Nabeel Rajab and Abdulhadi al-Khawaja. Bahraini security forces fired tear gas and birdshot to disperse the protests.
UPDATE 2012-05-13 20:50 BST: Nabeel Rajab has a hearing set for May 16 regarding the Twitter defamation case. His lawyer, Mohamed Al Jishi, says Rajab faces "many accusations and malicious charges" similar to those of other detained Bahraini human rights activist, Zainab al-Khawaja. He will also appear in court on May 22 regarding charges of triggering illegal gathering, which stem from a speech he made during a January demonstration.
Gulf Arab leaders are expected to announce a political union between Saudi Arabia and Bahrain when they meet on Monday. The Bahraini opposition movement has condemned the planned announcement. Last year, Saudi forces came into Bahrain to help suppress the uprising, which ended in the death of at least 40 protestors.
This comes just after the United States resumed some of its arms shipments to the Bahraini Government. Carlos Latuff created a political cartoon regarding the announcement.