2012-05-07 [UPDATED 05-11] Bahraini human rights activist Nabeel Rajab arrested, detained after meeting Assange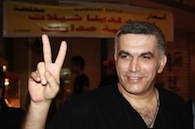 This is Part Two in WL Central's continued coverage of the arrest of Bahraini human rights activist Nabeel Rajab. He was arrested on May 5 at the Bahraini International Airport, following the announcement of his upcoming appearance on Julian Assange's talk show "The World Tomorrow." A representative of the public prosecution ordered that Rajab be detained for one week for "insulting a statutory body" via Twitter. Rajab denies the charges, saying they are aimed at hindering his human rights work and his right of expression. See Part One of our coverage here.
RT reported on the arrest of Nabeel Rajab, coming just days before his interview with Julian Assange on "The World Tomorrow" is set to air. Rajab is the "driving force" of the ongoing protests in Bahrain, even though the government has banned public protesting. A preview of Tuesday's episode is shown, where Rajab mentions his house being surrounded by nearly 100 armed policemen after he announced via Twitter that he was going to meet Julian Assange, although he was not at home at the time. Watch the full report below:
RT also interviewed author and journalist Afshin Rattansi about the arrest, who discussed the media's failure to cover the revolution in Bahrain and the arms sales by the US and UK to the Bahraini police.
Many organizations are now calling for the immediate release of Nabeel Rajab. This includes the Electronic Frontier Foundation, Bahrain Justice and Development Movement, the International Federation for Human Rights, and Freedom House. They see the arrest and detainment of Rajab as a crackdown on human rights activists by the Bahraini government.
Meanwhile, wikileaks.org was down about 24 hours ahead of the scheduled broadcast of "The World Tomorrow." WikiLeaks says they are investigating the cause. They have also been experiencing waves of bots spamming them on Twitter, calling Rajab a "terrorist."
"The World Tomorrow," featuring Nabeel Rajab and Egyptian activist Alaa Abd El-Fattah airs Tuesday, May 8 at 12:30PM London time in English, Spanish, Arabic, and Russian on RT. It will also be airing in Italian via L'Espresso. For more information on the upcoming episode, see the press release at the official website.
UPDATE 2012-05-08 13:15 BST: The fourth episode of "The World Tomorrow" aired which featured Nabeel Rajab, as well as Egyptian activist Alaa Abd El-Fattah. The episode is available in English, Spanish, Russian, Arabic, and Italian. Rajab discusses in-depth the revolution in Bahrain, the failure of media coverage, Saudi military involvement, being beaten, detained, and the effects on his family and children.
The full, unedited transcript (2 hours, 50 minutes) of the interview has also been released.
UPDATE 2012-05-10 22:00 BST: Nabeel Rajab appeared in Bahrain's Minor Criminal Court on Sunday for charges unrelated to his current detention. He faced the court on charges of "participating in illegal assembly and calling others to join." The trial has been postponed until May 22. Rajab is currently detained at al-Houra police station on charges of "insulting a statutory body" via Twitter.
The Government of Bahrain has vowed to crackdown harder on the pro-democracy uprising. There are reports within the Bahraini media of a new security plan to "restore order." A spokesman from the Government said they are looking into "people who use print, broadcast and social media to encourage illegal protest."
Meanwhile, Bahraini Crown Prince Salman bin Hamad al-Khalifa was visiting Washington D.C. for talks on a "wide range of important issues of mutual concern." He appeared at the State Department alongside Secretary of State Hillary Clinton, who discussed "internal issues" in Bahrain, but did not mention the protests specifically. Watch Democracy Now!'s coverage of the visit below.
Amnesty International has now joined the many organizations calling for the immediate and unconditional release of Nabeel Rajab, as well as many other Bahraini protestors, as they consider them to be prisoners of conscience.
The Australian Senate unanimously passed a resolution calling for immediate diplomatic contact between the Australian Government and the Government of Bahrain regarding the release of Nabeel Rajab and for democratic reforms in Bahrain. Greens Senator Scott Ludlam commented, "Mr Rajab is a prominent pro-democracy and human rights campaigner. He was arrested by Bahraini authorities on May 5 shortly after being interviewed by Australian journalist Julian Assange. We must now turn concern into action."
A protest to demand the release of all Bahraini political prisoners will be held in Bab Al Bahrain on Saturday, May 12, at 3PM. The call for this protest came from Nabeel Rajab as he remains in prison.
UPDATE 2012-05-11 21:50 BST: Tens of thousands of people took to the street in Karzakan, Bahrain to protest in support of Nabeel Rajab. Police fired teargas and birdshot at the protestors, wounding several. The wounded could not be taken to hospitals, for they feared they would be arrested. Another major protest is scheduled for Saturday at Bab Al Bahrain, 3PM.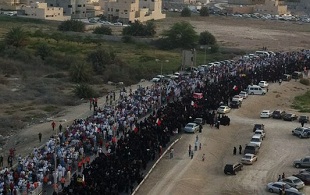 After the U.S. State Department's meeting with Bahraini Crown Prince Salman bin Hamad al-Khalifa, the Obama administration has resumed some arms shipments to Bahrain. The shipments had been suspended last year amid the crackdown on protestors. This comes after the Bahraini Government vowed to get tougher on the democratic uprising. Vice President Joe Biden said the military aid from the United States is necessary for Bahrain's defense.