2012-05-05 [UPDATED 2012-05-07] Bahraini human rights activist Nabeel Rajab arrested at airport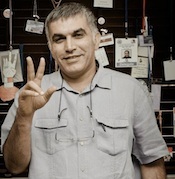 Bahraini human rights activist Nabeel Rajab was arrested today by the order of the Bahraini public prosecution. This comes the day after WikiLeaks' press release that he, along with Egyptian activist Alaa Abd El-Fattah, will be the guests on next week's episode of Julian Assange's talk show, "The World Tomorrow."
Rajab was arrested at the Bahraini International Airport upon his return from Lebanon. Authorities have yet to comment on the reason for his arrest. Maryam al-Khawaja, another Bahraini human rights defender, said she and Rajab were discussing the possibility of his arrest as they left Beirut, knowing that the government in Bahrain was escalating.
Shortly after the announcement of his arrest, the Bahrain Police website was brought down in protest.
RT reports that Rajab has not only been arrested, but also imprisoned.
WikiLeaks has offered journalists embargoed access to the transcript of Tuesday's interview with Nabeel Rajab. Contact information is available via "The World Tomorrow" official website.
The episode of "The World Tomorrow" featuring Nabeel Rajab and Alaa Abd El-Fattah will air on RT Tuesday, May 8, starting at 12:30PM London time. It will subsequently air every two hours for a 24 hour period.
More to follow as the story progresses.
UPDATE 20:30 BST: Maryam al-Khawaja says Nabeel Rajab called his wife to inform her that he will be held overnight. His hearing will take place tomorrow morning.
Meanwhile, two more Bahraini government websites have been taken down in protest: rap.gov.bh and interior.gov.bh.
UPDATE 20:55 BST: The Bahraini Center for Human Rights stated that Nabeel Rajab has been charged with "participating in illegal assembly and calling others to join." He could potentially face more charges since he was previously summoned for interrogation for "insulting the statutory bodies" on April 26.
UPDATE 22:16 BST: RT has updated their article on Rajab's arrest with information from his upcoming appearance on "The World Tomorrow." In the interview, Rajab discusses being detained, kidnapped, and beaten because of his criticism of the Bahraini regime. He also talks about his aims to attract international attention to the situation in Bahrain and the U.S. turning a blind eye.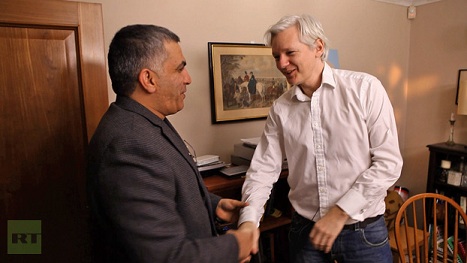 For further images and quotes from the upcoming episode, see RT's article.
Two more websites have been taken down in protests: gulfair.com and bna.bh.
UDPATE 22:52 BST: During his interview for "The World Tomorrow," Nabeel Rajab said that on the day he announced his intention to appear on RT, his house was "surrounded by almost 100 policemen armed with machine guns," though he was not there at the time.
Nabeel Rajab is mentioned in 34 of the U.S. diplomatic cables released by WikiLeaks. Bahrain is home to NSA Bahrain which is home to the US Fifth Fleet and the US Naval Forces Central Command.
UDPATE 2012-05-06 17:43 BST: The public prosecutor's office has extended Nabeel Rajab's detainment to 7 days. Originally he was to be held just overnight. According to the Bahraini Ministry of Interior, the reason for Rajab's arrest and detainment is "suspicion of committing several punishable crimes."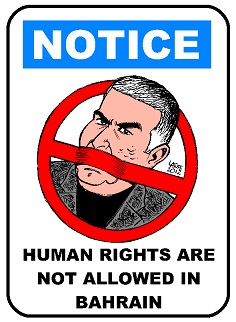 The International Federation for Human Rights (FIDH) is calling for the immediate and unconditional release of Nabeel Rajab, since it seems the judicial harassment against him is "solely aimed at sanctioning [his] human rights activities."
The FIDH says Rajab appeared before court this morning and denied the charges against him.
Index on Censorship condemned the arrest of Nabeel Rajab, who recently won their Freedom of Expression Advocacy award for his work as president of the Bahrain Center for Human Rights. While Rajab is detained, Maryam al-Khawaja will be acting president of the BCHR.
Cartoonist Carlos Latuff has created a political cartoon in both Arabic and English after the announcement of Rajab's arrest.
UPDATE 20:37 BST: Colleagues of Nabeel Rajab have began tweeting from his Twitter account (@NABEELRAJAB), calling on people to get out and demand their rights and reminding them that there's over 700 other political prisoners in Bahrain.
UPDATE 22:28 BST: RT interviewed Al Akhbar senior columnist Omar Nashabe about the arrest of Nabeel Rajab. Watch the interview below: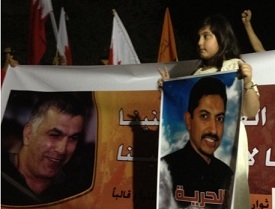 UPDATE 2012-05-07 02:05 BST: A representative of the public prosecutor ordered Nabeel Rajab to be detained for one week for "insulting a statutory body" via Twitter. Police are claiming that the Twitter comments "fuelled rioting, road blocking, arsons, acts of sabotage." Rajab denied the charge saying, "aims at hindering my rights work and my right of expression."
Rajab's young daughter Malak was out protesting for his release, as well as the release of human rights activist Abdulhadi al-Khawaja.
Nabeel Rajab gave a Q&A on the Bahraini revolution and Formula 1 Grand Prix while in Lebanon, where he was returning from at the time of his arrest at the Bahraini International Airport. Read the transcript of the interview via SBS.