2011-11-13 #WikiLeaks News: Appeal hearing for whistleblower Rudolf Elmer, Support Campaigns
The faster the US 'justice' system erodes its own legitimacy and independence the faster the ground will be set to replace it. - @wikileaks
This is a "WikiLeaks News Update", a news update of stories relating directly to WikiLeaks and also freedom of information, transparency, cybersecurity, and freedom of expression.


Upcoming Appeal Hearing for WikiLeaks whistleblower Rudolf Elmer


On November 17, whistleblower Rudolf Elmer's appeal hearing will take place. Prosecution requests 'convicted on all charges' verdict and increased sentence:
"Prosecution Office Winterthur/Unterland wants to make the case that Swiss Bank Secrecy protects the data in the Cayman Islands and that based on a former employment agreement Swiss Bank Secrecy applies also to Rudolf Elmer working in the Cayman Islands.
Prosecution Office wants to make the case that Swiss industrial secrecy laws also apply to the Cayman Islands in the case of Rudolf Elmer and accuses him of disclosing Julius Baer's secrets on how it uses the operation in the Cayman Islands providing Trust & Company, Mutual and Hedge Fund services as well as the administering of Special Purpose Vehicles e.g. offshore companies of Carlyle, Washington D.C. within the Julius Baer Cayman office.
Winterthur's head prosecutor Dr. iur. R. Jäger requests an increased imprisonment from 8 to 12 months on probation, and newly a prohibition period of 3 years even though some complaints have been dropped at the Bezirksgericht Zurich. Dr. iur. R. Jäger concluded that punishment must be drastically increased. Dr. iur. R. Jäger argues that Rudolf Elmer is only out for revenge."
Liberté info is accompanying the case and will post new developments on their website. Currently the appeal document is available for consultation.
Rudolf Elmer, a former employee of Swiss Bank Julius Bär provided, in 2008, information to WikiLeaks exposing tax evasion in the Cayman Islands.
............................................
U.S. State Department cable on IAEA director Yukiya Amano's strategic stance
"2. (C) In a meeting with Ambassador on the eve of the
two-week Board of Governors (BoG) and General Conference (GC)
marathon of mid-September, IAEA Director General-designate
Yukiya Amano thanked the U.S. for having supported his
candidacy and took pains to emphasize his support for U.S.
strategic objectives for the Agency. Amano reminded
Ambassador on several occasions that he would need to make
concessions to the G-77, which correctly required him to be
fair-minded and independent, but that he was solidly in the
U.S. court on every key strategic decision, from high-level
personnel appointments to the handling of Iran's alleged
nuclear weapons program.
3. (SBU) Amano shared with Ambassador Davies his public
stance on the role of the IAEA and the Agency's contribution
to the global issues of proliferation, security, power, human
health and water management. More candidly, Amano noted the
importance of maintaining a certain "constructive ambiguity"
about his plans, at least until he took over for DG ElBaradei
in December. With a bow to the G-77, Amano felt obliged to
emphasize the importance of "balance" regarding the Agency's
work in peaceful uses of nuclear technology. For staff
morale reasons, Amano planned to work on improving the
quality of management while publicly praising the current
standards and commending staff members for their dedication."
............................................
U.S. State Department cables published by WikiLeaks on display at Occupy London
[Image via
Ryan Gallagher
]
............................................
Christine Assange speaks to Green Left Weekly
In an
interview
to
Green Left Weekly
, Christine Assange spoke of the Australian government's subservience to the United States:
"In my opinion we have become nothing more than a franchise of the US and Julia Gillard has traded my son for her position as prime minister... I'm going right to where the buck stops, which is Canberra, and I'll be talking to people about this case.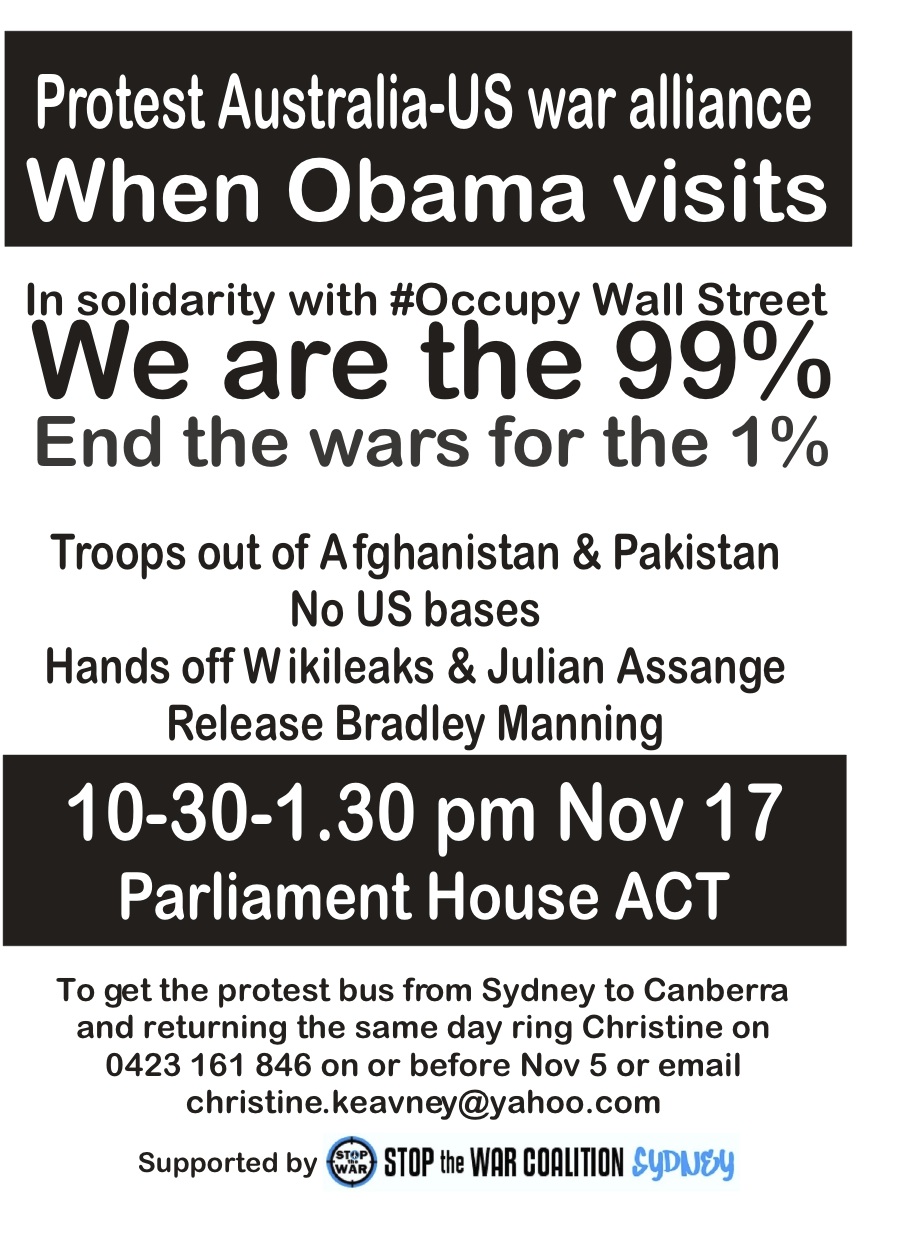 The only way we can get protection for our citizens — because if they won't protect Julian, they won't protect anyone else — is to let them know, so I'm asking the people to make November 17, not 'celebrate Obama day' but 'support Julian Assange day'.
(...) They've dragged us into so many wars that in hindsight were no good… There are many military and ex-military people [in the US and Australia] who are unhappy with the way the wars are being run… In fact, a veterans' organisation called Stand Fast will be protesting in Canberra."
Christine also brought attention to the political motivations behind the handling of Julian Assange's case, which she described as: "a political case, right from the word go. There are documented abuses all over his case, even Swedish judges have come out and said that. The banking blockade against WikiLeaks, the release of the US diplomatic cables and the 'red notice' [international arrest warrant] all came out within 10 days of each other. To say this case is not political is naive in the extreme."
............................................
WikiLeaks/Julian Assange Support Campaigns
*
Various call to action and petitioning letters addressed to European organizations and Members of the European Parliament requesting action over the unjust treatment of Julian Assange in the context of the
Swedish Prosecution Authority vs. Assange
case have been
compiled into a useful resource
.
Please take the time to read and send these letters, or to compose your own, and demand justice for Julian Assange and others affected by the same legislations and procedures.
* November 17: Led by Christine Assange, Julian Assange's mother, a protest against Julian's extradition and US government actions against WikiLeaks will occur in front of the Parliament House in Canberra on the occasion of US President Obama's visit to Australia. Please join.
Know more about this protest.
* Online Human Rights petition demanding Julian Assange be protected by the Australian Parliament from extradition to the United States.


Julian Assange has been under house arrest for 341 days without having being charged of a crime. Bradley Manning has spent 537 days detained without trial. A Fair Trials International campaign was launched to end pre-trial detention within the EU. Fair Trials International also advocate the reform of the European Arrest Warrant:
The EAW has removed many of the traditional safeguards in the extradition process. If a court in one country demands a person's arrest and extradition, courts and police in other countries must act on it. In 2009, this fast track extradition system was used to extradite over 4,000 people across the EU (700 people from the UK alone).
Although it was intended to deliver justice, the current system is actually resulting in cases of serious injustice. Our own casework repeatedly demonstrates the human cost of EU extradition. Fair Trials International will continue to press for an EU extradition system which is both fair and effective. Through our Justice in Europe campaign, we are succeeding in making the case for reform.


Campaigns in support of Bradley Manning



* Vigil for Bradley Manning on his 24th Birthday:
Saturday, December 17 · 12:00am - 11:30pm
On the 17th of December - his 24th birthday - Bradley Manning will have been incarcerated for 571 days.
On this day stand in solidarity with Bradley Manning whose only crime was revealing the truth - congregate at the White House, your city hall or town square, or your nearest US Embassy or Consulate - peacefully and solemnly.
[For more details, see Vigil for Bradley Manning on his 24th Birthday's facebook page.]
* Starting next Monday (November 14), a Call-in to The White House and Military to Demand UN Access to Bradley Manning will take place throughout the week. Additional information will be posted on the Bradley Manning Support Network website, bradleymanning.org.


* Bradley's 24th birthday will be on December 17th. This is the second birthday the alleged whistleblower will have spent detained in a military prison, without trial. Everyone is encouraged to gather support for Bradley Manning on this day and to send small gifts and birthday cards to the following address
Bradley Manning 89289
830 Sabalu Road
Fort Leavenworth, KS 6602