2011-08-05 Violent police repression of student protests in #Chile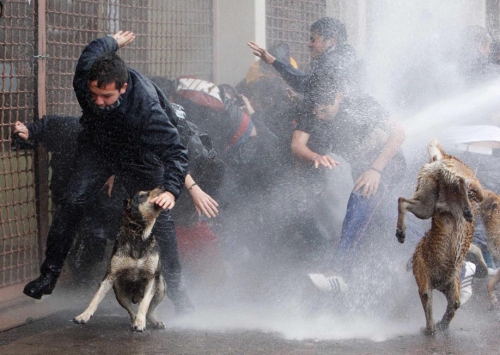 Over 800 arrested during running street battles, as student protesters defy official protest ban to demonstrate for equal access to education.
For two months now, young Chileans have been taking to the streets to protest against neoliberal reforms in education spearheaded by the country's right-wing government. Yesterday, the protracted youth uprising culminated in the public defiance by thousands of high school and university students of an official protest ban. Riot police responded with tear gas, water canons, baton charges and mass arrests.
The city's central square, Plaza Italia, was entirely blocked off by riot police and containment fences in an attempt to forestall a Tahrir or Sol-style occupation. According to El País, this move itself was an "unprecedented event since the advent of democracy, one which only occurred during the dictatorship." Furthermore, over a thousand riot police were concentrated around the Alameda, the city's main thoroughfare, to discourage demonstrations.
According to the same report, the students, who have been protesting with university occupations, mass rallies and hunger strikes for almost two months, used a strategy of "dispersion". From seven in the morning, they installed barricades of tires, poles and garbage bins in over a dozen crucial city avenues to block traffic at the peak of the rush hour. When police arrived, the students would run away and set up other blockades elsewhere.
The students were later joined in their mass rally by Professors and other university personnel. The president of the Student Federation of the University of Chile, the well-spoken Camila Vallejo (an anarchist friend of mine in Syntagma joked he wouldn't actually mind having her as his President), who leads the protests, has called on people to hold a cacerolazo (a typical Latin pot-and-pan-banging demonstration) to protest against the repression of the youth.
"This seems like a state of siege. I imagine it must have been like this 30 years ago," Al Jazeera quoted Vallejo as saying, in a reference to the country's 1973-90 military dictatorship. "Even the right to congregate in public places isn't assured." According to the same AJE report:
Students, teachers and other education workers have participated in huge street demonstrations in recent weeks, with as many as 100,000 people joining their call for more government funding and a fundamental change in a system set up under the dictatorship of General Augusto Pinochet that largely left public schools at the mercy of underfunded municipalities.
Chile is by far the richest and most-developed country in South America, and enjoys living standards on a par with many Western countries. The country's multi-billionaire right-wing President, Sebastián Piñera, has seen his ratings drop to 26 percent in recent months as a result of the unrest — the worst evaluation of any Chilean President since the return to democracy. This record low comes after a record high just a year ago, following the telegenic rescue of dozens of Chilean miners.
Over the past year, Piñera has presided over some Pinochet-style neoliberal reforms in the economy, including a series of wide-ranging spending cuts for higher education, despite the country having some of the highest growth rates in the region and a notoriously underfunded education sector (total spending is less than 5 percent of GDP, compared to the 7 percent minimum recommended by the OECD).
According to a report by the Guardian, "Piñera, who took power a year and a half ago and appointed a cabinet filled with technocrats in a perceived bid to make government run like a business, has alienated many Chileans with his policies." He further invoked the ire of students and the Chilean Left when he derogatorily referred to education as a "consumer good" and subsequently cracked down on the students' democratic right to protest his policies.
"I think the government has committed a grave mistake," Al Jazeera quoted Camilla Vallejo as saying. "They wanted to wipe out and make invisible this demonstration. With this the people will only come out in greater force because there's huge discontent."
A group of 20+ leading international intellectuals, including Noam Chomsky and Norman Finkelstein, has just signed a letter of support to Chile's protesting students.