2011-05-28 Kenyan cables provide critical material for 'evidence war' on extrajudicial killings
Cables released from WikiLeaks provide important material in the 'evidence war' between ICC prosecutor Luis Moreno-Ocampo and Kenyan politician William Ruto.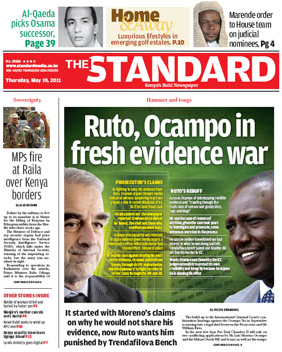 The cables support Moreno-Ocampo's arguments that exposing information about critical witnesses would be a severe threat to them and that allegations on Ruto's involvement in the extrajudicial killings in 2007-2008 post-election violence are recognized by the U.S. embassy, which is far from 'rubbish rumors picked up by rag blogs' as Ruto criticized the evidences the allegation is based on.
William Ruto, the Waki Commission, and the tragedy of extrajudicial killings during 2007-2008 post-election violence in Kenya
Extrajudicial killings during 2007-2008 post-election period in Kenya has been condemned internationally, mainly by the UN Special Rapporteur on extra-judicial killings, Alston. WikiLeaks received the Amnesty 2009 New Media Award due to its notable work on leaking and reporting about the hundreds of extrajudicial killings tacitly approved by the Kibaki government and widely conducted by Kenyan Police force working with armed militias.
Among the leaked material is a report titled The Cry of Blood: Report on Extra-Judicial Killings and Disappearances, which is written by the Kenya National Commission on Human Rights (KNCHR). The UN acknowledged the report's credibility after confirming that the information found in the report is backed by investigation results of other civil society organizations and that of the preliminary research done by UN Special Rapporteur team in 2009.
Below are photographs taken as evidences of extrajudicial killings in the report:
Blood-stained clothes of abandoned corpse of a victim killed by police squad (p.19).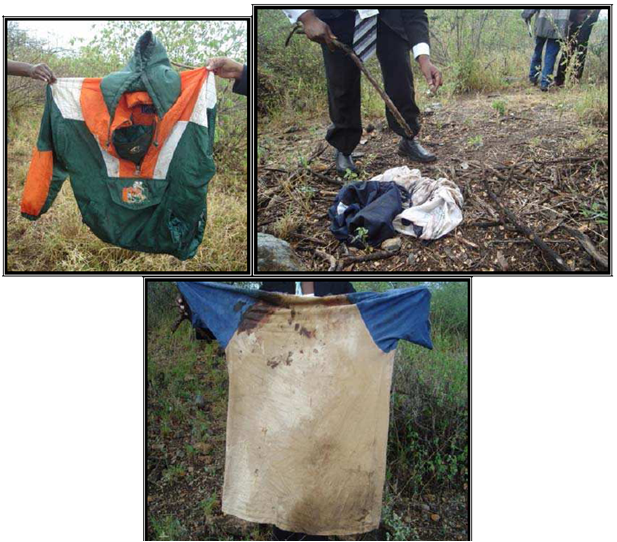 Kenyan police force set up death squads, of which the notorious Kwekwe Squad is one, originally to 'crackdown on the organized crime gang Mungiki'. Regardless of the original goal, however, a huge amount of witness testimony in the report suggest that the police arrested arbitrarily without any attempt to prove whether the suspect was Mungiki or an innocent victim. Police threatened the 'suspect' to bring ransom money to avoid being shot. In all cases, the police were extremely reluctant to record the arrested person on the OB(Occurrence Book), which is the sole evidence that the person was ever arrested. This allowed the killings to be safely 'extrajudicial' - killings without any public record.
Clothes of another abandoned corpse torn by wild animals which devoured the corpse(p.72).
Witnesses confessed to KNCHR that they feared to let their children go to school because when wild animals have 'tasted human flesh', they easily attack children(p.70). Witnesses also said that during the period, hearing gunshots and people screaming were common in the village(p.71).
Bones of killed victims.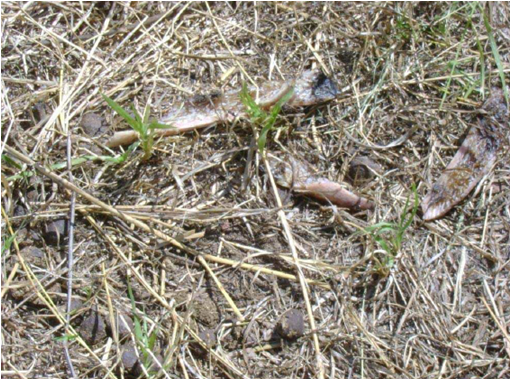 Despite the fact that the KNCHR report, The Cry of Blood, contained vivid photographs as a direct evidence of extrajudicial killings, Ruto and other politicians castigated them as not credible.
William Ruto is the Eldoret MP who is one of the 'Ocampo-Six', which refers to six high-level Kenyan politicians who are nominated by the CIPEV (Commission to Investigate Post-Election Violence), as a major mastermind behind the 2007-2008 post-election violence in Kenya. CIPEV, previously named the Waki Commission whose chief was Justice Phillip Waki, is an official commission set up by the Kibaki Government in an effort to conduct an investigation on the 2007-2008 post-election violence, mostly extrajudicial killings.
According to cable 08NAIROBI2551, in order to force trials of the alleged suspects behind the post-election violence, Justice Waki asserted in 2008 that he was planning to pass the list of 10 major organizers of the post-election violence to Kofi Annan, 'for referral to the ICC (International Criminal Court) if Kenya fails to establish the special tribunal'. He feared that the 'culture of impunity' palpable in Kenya would block the process of justice. Recently, Philip Waki reported, to 'break the silence' which was maintained since 2008, that the special local tribunal for trying the alleged criminals should be established. He 'described the ICC process as an 'insurance policy' that came into being after Kenya failed to form a local tribunal.'
Kenyan cables provide evidence showing why Moreno-Ocampo had to protect his witnesses as source of evidence
Pre-trial chamber II judge Ekaterina Trendafilova ruled that the prosecutor has to furnish all the evidence he plans to use at the confirmation of charges hearing in September, 2011.
Apart from the decision being a usual one in the point of previous similar judgments, Moreno-Ocampo argued, that the decision didn't take Kenya's special political environment into account; namely Kenya's long history of exploitation of witnesses, intimidation as a weapon for damaging legal efforts to seek justice by trying powerful figures' corruption or crimes against humanity. Moreno-Ocampo argued that the decision 'leaves him in the unfair position where he may have to sacrifice the probative force of his case in order to avert harm to his witnesses and their families.'
Witness evidence possesses critical power in determining the result of the suits regarding the post-election violence, and a recent report from the Standard suggests that Ruto tried hard for a long time to dismiss any credential witness evidence against him:
the CID(Criminal Investigations Department) boss confesses the reason the investigation into Ruto's case No 10/2008 in Nakuru has dragged on for the last three years was because of "unreliable and uncooperative witnesses".
And the prosecutor is not alone. Leaked Kenyan cables published from WikiLeaks provide rich evidence that his concern is of importance. U.S. ambassador Ranneberger provides specific cases which detail intimidation against witnesses, not from 'trash cans of rumor and gossip sites, rags and blogs' as Ruto said through his advocate, but from his first-hand experiences(10NAIROBI11):
After the Oscar Foundation murders, post helped four witnesses to relocate to Uganda after they were allegedly threatened by the police. Members of Parliament and their staff who have sought to advance legislation to establish a local tribunal to try suspects implicated in post-election violence have received death threats. One parliamentarian's aide received a text message stating "u better stop associating with him...do you want we start counting your days also" two days before three suspects attempted to kidnap the aide.
And he particularly points out William Ruto, along with Uhuru Kenyatta – the Deputy Prime Minister – as a main political figure who is 'directing a campaign of intimidation against witnesses':
As the ICC prepares for potential prosecution of key organizers of the violence, multiple sources indicate that implicated political leaders, notably cabinet ministers William Ruto and Uhuru Kenyatta, are directing a campaign of intimidation against potential witnesses. … Some NGOs have noted a clear connection between visits by Chief Prosecutor Moreno Ocampo and other ICC officials and subsequent intensifying pressure on witnesses.
Ruto's participation in post-election violence is also recognized by Assistant Secretary Frazer in cable 08ADDISABABA286, in which she discussed the issue with Ethiopian Prime Minister Meles. Under the category 'Kenya is in a dangerous position'(paragraph 2 – 11), she flatly told Meles that "William Ruto presents one face to the international community, but then turns and uses the radio to incite violence." And Prime Minister Meles doesn't express any surprise to that.
Cable 10NAIROBI11 further articulates the specific gravity of 'threats' posed to potential witnesses; the very Kenyan government. The ambassador details how one notable joint effort of NGOs to establish a 'witness protection network' failed because excessive monitoring of Kenyan intelligence service turned the witness away from seeking protection in the network:
In November 2007, Kenya human rights NGOs established a national human rights' defenders network, supported by and in partnership with post and other like-minded missions. … Organizations active with the HRD network report that they have been monitored and/or threatened by agents of the Kenyan intelligence service. As a result, member organizations often reject applicants whose bona fides are unknown to them and do not widely publicize the existence of the network. Extensive use of cell phones by the HRD network and individuals under protection further compromises their safety as calls can be monitored by the GOK.
Insiders' explanation: how the mass-murder conducted by the Kenyan Police force actually worked, from the high-end
Cables open the doors to critical explanations from government insiders which help in understanding how the notorious post-election extrajudicial killings had been conducted by Kenyan Police force, from the very high end.
In cable 09NAIROBI1077, Minister for Higher Education, Science and Technology Sally Kosgei told a lot about the incident in confidence, mainly how Kibaki allowed the then Police Commissioner Mohamed Hussein Ali such violence. According to her, Kibaki let Ali 'utilize extrajudicial killings' to 'control' Mungiki, a branch of ethnic Kikuyu movement, which 'threatens Kikuyu politics'. She also states that the president wanted to take control of the police force in general through controlling Ali, until the 2012 election:
A/S Carson raised our concerns regarding extrajudicial killings, in particular the Oscar Foundation murders. Kosgei responded by noting that all security organs remain under the control of Kibaki,s PNU party. Because PNU leaders believe that Police Commissioner Ali did them a favor during the past election by cordoning ODM strongholds, Kosgei expects that the PNU will block any substantial police reforms and will retain close control of the police, GSU (paramilitary), and military in advance of the 2012 elections. In this context, Ali is permitted to utilize extrajudicial killings to control organized gangs such as the Mungiki, which threaten to disrupt Kikuyu politics by operating in the heart of Central province. The police freelance in extorting money from the gangs and execute legitimate critics such as the Oscar Foundation principles. Noting that Ali does not take calls from ODM ministers, Kosgei wondered aloud why ODM has not forced the issue of his continued tenure during cabinet meetings.
Cable 08NAIROBI574 provides a rather specific view on how the orders of extrajudicial killings originate from high to low end:
… news last week from police sources that the Provincial Police Officer (PPO) issued a stunning directive to his Station Commanders telling them that during any future political protests in the region, deadly force is immediately authorized. He further assured the officers that any query as to the nature of the death or injury resulting from this order should be directed to him personally and that he would support the "victimized" officers.
Ocampo-Six's effort to prevent any tribunal that would try post-election violence: domestic and international
Among the Ocampo-Six, the most vehement denial and also the most aggressive counteraction came from William Ruto and Uhuru Kenyatta. Both are leading potential candidates for 2012 presidential election.
Cable 09NAIROBI1296 states two important points in terms of Uhuru Kenyatta's strong move toward hindering the ICC effort of trying him in special tribunal regarding the post-election violence; one is on the high tendency of formation of Ruto-Kenyatta alliance in defense of KNCHR and ICC effort to try them in court in post-election violence issues:
Ruto has made a number of private visits to State House in recent months, and he and Kenyatta are in close contact. They worked together behind the scenes to ensure defeat of the special tribunal bill.
The other one is on how he exploits his political position as a Finance Minister and 'bought the parliament' by pouring taxpayers money to parliamentarians in the form of the considerably expanded CDF (Constituency Development Fund), while the national economy suffers from global economic crisis and chaos triggered by post-election violence. These tactics helped him effectively in deterring the parliament from approving independent tribunals trying post-election violence:
The budget which he recently submitted to Parliament (septel) has virtually bought many parliamentarians as a result of vast expansion of the funds designated for the Constituency Development Fund (CDF). The CDF is used to fund projects in parliamentary constituencies. While use of CDF funds has become more transparent and accountable over the past couple of years, parliamentarians still wield enormous influence over use of the funds, and employ them to enhance their political standing and support. No budget presentation has ever been greeted with such enthusiasm by parliamentarians. It is important to note that expansion of the CDF, if used transparently (and therein lies the rub) can serve a legitimate purpose of helping stimulate the economy through infrastructure projects; the economy is suffering greatly due to the aftermath of the post-election violence and the world financial crisis. Through this tactic, Kenyatta also increases the support he is likely to receive in working behind the scenes to ensure that parliamentarians never approve an independent special tribunal to hold accountable those involved in post-election violence.
Ocampo-Six's effort to hinder any attempt to sue them 'locally' inside Kenya's judicial system doesn't stop there. The effort has widened to hinder international efforts, mainly that of the ICC. Ruto and Joshua Arap Sang, who is also one of the Ocampo-Six, jointly filed suit requesting the court to sanction Moreno-Ocampo, saying his suit filed against them is 'defamatory' and lacks proper evidence. They called mountains of evidence, comprised of testimonies from victims, witnesses and government officials full of graphic photos supporting the testimonies, 'rubbish'.
*** Special thanks to www.cablegatesearch.net, which is always the most powerful tool in finding connections between otherwise seemingly remote cables ***