2011-05-14 Profiles of the Targeted: FBI Wanted to Talk to Me About My Trip to Israel and Palestine #StopFBI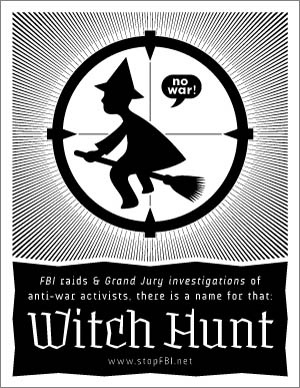 In the final week of January, twelve anti-war, labor and international solidarity activists were expected to appear before a grand jury in Chicago. They refused to go before the grand jury.
These activists from Chicago, the Twin Cities in Minnesota, and other areas have been subpoenaed over the past months. Several of the activists had their homes raided. Documents, cell phones, storage disks, computers, and children's artwork were seized from their home. The subpoenas indicated the FBI was looking for evidence that the activists had provided "material support for terrorism." And, it was discovered that the FBI had an informant, who went by the name of "Karen Sullivan," infiltrate an anti-war group in the Twin Cities.
This "witch-hunt" began on September 24th and, since then, U.S. Attorney Patrick Fitzgerald has been working to get activists to testify before a grand jury in Chicago. So far, all the activists have refused to participate in this "fishing expedition."
WL Central recently began posting coverage of this story. And, as the grand jury investigation into WikiLeaks and those who might be linked to WikiLeaks advances, it seems appropriate to provide context and shine a light on other stories of suppression of freedom and civil liberties in the United States.
Here is a profile of one of the activists (which I wrote and originally posted at OpEdNews.com in January):
Sarah Smith
Sarah Smith, a Jewish American woman and avid traveler who lives in Chicago, received a call from the FBI on December 3, 2010. The agent said his name was Robert Parker. He wanted to know if Smith had thirty minutes to sit down and answer some questions.
Smith asked what questions the agent had and the agent said he was not at liberty to discuss the questions. This made Smith think she needed a lawyer. The agent told Smith that it was not necessary to have a lawyer because she was not in trouble. He claimed he had some routine questions.
She asked again what the questions were and, when he refused to tell her again, she said she would have to call him back. The agent then told Smith what this was about. He had some questions on a trip Smith had taken. He said, "I think you know which trip I'm talking about."
Smith realized the agent wanted to talk to her about the trip she took to Israel and Palestine in August, just months ago. She reached out to a lawyer with the National Lawyers Guild, who said he would contact the FBI agent directly. She then contacted her two Palestinian American friends that went on the trip with her and informed them the FBI had contacted her. She suggested they both get in touch with a lawyer. Just as the two were on the phone with a lawyer, the same agent from the FBI pounded on their door and served them with subpoenas.
According to her profile on the Coalition to Stop FBI Repression website, Smith has been traveling ever since she was a teenager. She "spent her summer studying Spanish at the University of Havana in Cuba," when she was only 15. She went to Venezuela for the 16th World Youth Festival the summer after her freshman year at Grinnell College.
Also, her profile says, "By her senior year in high school, [Smith] was the President of the National Honor Society, the Student Representative to the Local School Council, and a volunteer at a low-income elementary school." This and more is what led Crain's Chicago Business to designate her as "one of the six most influential female students in Chicago."
Since being ensnared in the FBI's investigation of anti-war, labor, and international solidarity activists, Smith has been speaking publicly on her trip and what the FBI is doing to activists. She thinks this investigation is an attempt to "criminalize Palestinians and Jewish Americans from traveling to Israel and Palestine together. "
"We went on an educational trip in which we met with NGOs, teachers, nonviolent protesters," explains Smith. "We didn't meet with anyone who is on any terrorist list. We didn't give money to anyone that is on a terrorist list. We wanted to see what it was like for ourselves, to live in Israel and Palestinians in the occupied West Bank."
She says on the trip they "met with NGOs, teachers, nonviolent protesters" and others and got involved with some of the groups throughout Israel and Palestine working to bring legal rights, women's rights, farming rights, housing rights, etc to all people.
Suppressing the right of American groups to travel is not new to U.S. government policy. In 1992, the Center for Constitutional Rights (CCR) mounted a case on behalf of the American Friends Service Committee (AFSC), Geo-Vista Global Experiences and Veterans for Peace asserting regulations on group travel to Vietnam and Cambodia were "making it impossible to organize academic study groups, to travel with study groups, to travel with colleagues to assess humanitarian aid and to engage in group fact-finding trips." Secretary of State James Baker eventually lifted the regulations, making it permissible for groups to travel to the two countries.
Presumably, the restrictions had been in place to prevent Americans from seeing the truth of what happened with U.S. military operations in Vietnam or Cambodia decades ago. If the government was willing to restrict access to history then, it is probably not surprising that they are closely monitoring travel to countries like Israel or Palestine, where the U.S. has been helping Israel preserve a situation where Israel maintains dominance over Palestinians.
Smith discusses the reality that the FBI and the Grand Jury is expecting the subpoenaed activists to go in and testify on everyone they know who is involved in nonviolent resistance in Palestine. They want names. The activists don't know what will happen if they share that information. And, those who have relationships with activists in Colombia who are being targeted for their solidarity work don't know what will happen if they give up the names of individuals there.
The most frightening aspect is that the FBI has not been able to build a case. Months into targeting the activists, there is no evidence that any of these activists provided "material support for terrorism," as the subpoenas suggest they are suspected of doing. The FBI is going after Americans, wrecking people's lives, intimidating those who believe in their right to dissent and working to further develop justification for the investigation as it is carried out. And, the FBI intends to continue the investigation even if there is no evidence.
Smith's father, who took her to antiwar actions when she was a child, has provided her with much support. Other family and friends, however, have been frightened. Some wondered initially if some of the activists being investigated actually had provided "material support" to terrorists.
She thinks that the way the U.S. government uses fear as a way to get things done and get citizens to support wars is part of why her friends and family have been afraid. However, she adds many friends and family have begun to express how ludicrous it is that a Jewish woman and her two Palestinian American friends are being criminalized for taking a trip.
The outpouring of support for the activists from unions, colleges, religious groups, etc has been encouraging to Smith. She thinks the wide range of support has taken shape because this investigation demonstrates "anybody that has dissented" against "US political policies here or internationally" can be targeted. She never thought it imaginable that something like this could happen, but unfortunately, the U.S. government is giving a security apparatus, revitalized after 9/11, carte blanche to keep Americans "safe" by trampling over civil liberties.
For more, listen to Jim Fennerty, an attorney who is defending the targeted activists. He will be on "This Week in WikiLeaks" talking about the grand jury process in the United States -- how it works, providing some background history and helping those interested understand why the US government uses grand juries.