2011-04-19 #Syria government passes more meaningless reform, continues killing protesters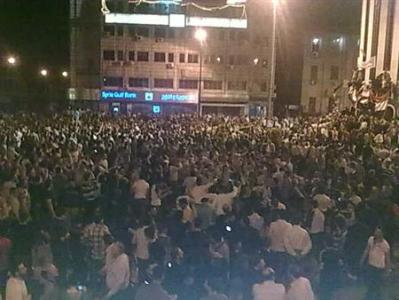 The Syrian government today passed a bill that lifted the country's 48 year old emergency law as well as abolished the state security court for political prisoners and approved a law allowing 'regulated' peaceful protests requiring Interior Ministry permission. In a country with 10,000 political prisoners, walking into the Interior Ministry to obtain permission for a protest does not seem risk free. Neither can a protest be peaceful when Syrian security are firing at it as has been the case in the current protests. There is also a total ban on political gatherings, and the Interior Ministry today called the current protests a mutiny by armed Salafi militants who it promised to 'punish with the strongest penalties.'
The Ministry said it will not be lenient with such terrorist acts and it will work strictly to enhance security and stability all over Syria and pursue terrorists everywhere to bring them to justice.The Ministry called on the citizens to tell about the whereabouts of terrorists and suspects and not allow them to exploit the freedom atmosphere to shed blood and corrupt public and private properties.
Assad's government has so far released political prisoners and detained many more, replaced the government while retaining the Assad family and friends who control all government, military, intelligence and economy, and lifted the emergency law while retaining all of the other laws that allow the Assad government to operate as it pleases, such as guaranteed immunity for crimes committed in the line of duty for the secret police. Protesters were once again unimpressed by the reforms and promised to continue protesting.
Protesters are asking for freedom and human dignity, the release of the rest of the political prisoners, freedom of speech, and legalized political opposition groups. Increasingly, they are also demanding regime change.
Hours before announcing the new bill, security forces killed a reported 17 people during an attack on protesters in Homs on Sunday night. Syrian police have also reportedly arrested opposition figure Mahmoud Issa. More protesters were killed today, according to SANA news agency and others. Amnesty reports at least 26 more protesters have died in recent days, bringing the total to some 220 over the past month. On Sunday, security forces reportedly killed 17 protesters in Homs and three mourners at a funeral in nearby Talbisah, with five more protesters reported killed in Latakia on Monday. A tribal leader, Muhammad al-'Aliwi, also died in custody on Monday, possibly as a result of torture.
Previous WL Central coverage on Syria.