2011-04-15 UPDATE Australian minister for immigration and citizenship responds to open letter regarding orphan from the Christmas Island boat tragedy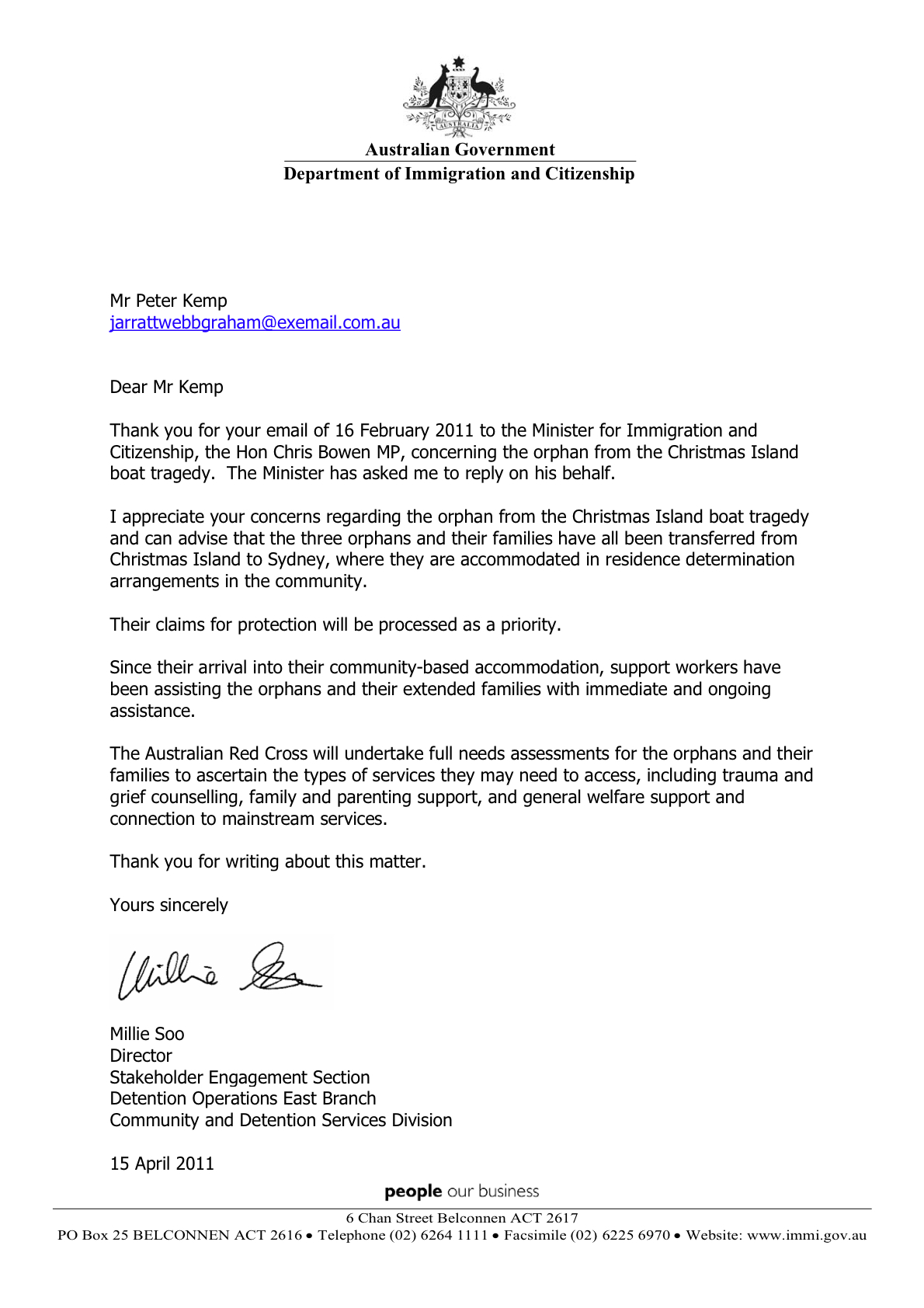 [2011-02-22 UPDATE The Catch 22 of Australian Immigration for child refugees like Seena]
The online investigative unit of ABC News Australia has obtained information of severe overcrowding at the refugee detention facility on Christmas Island. A planned capacity of 200 is now being utilised apparently now for some 522 inmates.
Almost half of the children currently held in immigration detention reached Australian shores without their parents.
In relation to those child refugees, it gets worse, as Immigration's internal decision making follows Joseph Heller's "Catch 22" logic almost to the letter:
A young applicant's prospects of being reunited with their parents is further limited by what is known as the 'time of decision rule'. This means that if a young person turns 18 prior to their own protection visa being approved, or their family members' visas being approved, their right to reunite with their parents under the split-family provision is lost.
Readers of "Catch 22" may recall that whenever those World War Two pilots got near the required number of missions to be sent home, Colonel Cathcart simply increased the number of missions required for all pilots.
The Immigration Department does not classify the parent of someone over 18 as 'a member of the immediate family' and therefore they are ineligible to apply under 'split-family' provisions.
Catch 22 Chapter 39 explains this rather well: "They have a right to do anything we can't stop them from doing." As the child refugee reaches 18 years of age, the "mission" parameters are changed. After 18, only a different visa can be applied for with a much reduced chance of success.
Springvale Monash Legal Service is part of a consortium which assists unaccompanied minors with visa applications. An as yet unreleased report it is preparing for the UN says:
"At present, we have visa applications lodged by refugee minors for family reunification that have been awaiting decisions for over 12 months. Given the current processing delays, it is envisaged that a majority of the refugee minors will be ineligible to be re-united with their families in Australia as they will have turned 18 by the time of the decision."
On 18th October 2010 Prime Minister Gillard and the Minister for Immigration made an announcement:
Prime Minister Julia Gillard and Minister for Immigration and Citizenship Chris Bowen today announced that the Australian Government had decided to expand its existing residence determination program and will begin moving significant numbers of children and vulnerable family groups out of immigration detention facilities and into community-based accommodation....
The Government intends to progressively move several hundred children and families into community-based accommodation - with the assistance of community organisations - by June 2011.
To date, the halfway point, the ABC reports that only 5% of the children in detention have been moved into community based accomodation.
It would seem that Seena Akhliqi Sheikhdost and many other refugee children in detention face the "Catch 22" provisions of the Department of Immigration and Citizenship and will be denied their rights contrary to the Convention on the Rights of the Child.
37(b) No child shall be deprived of his or her liberty unlawfully or arbitrarily. The arrest, detention or imprisonment of a child shall be in conformity with the law and shall be used only as a measure of last resort and for the shortest appropriate period of time;
While that provision was designed primarily for the application of criminal law, its application to wholly innocent and vulnerable children must increase its force.
The Prime Minister and Minister for Immigration meantime do not appear to be honouring their commitments. The practise of their obligations under the Convention on Rights of the Child are likewise, highly questionable.
Peter H. Kemp
Solicitor of the Supreme Court of NSW.
Again the Minister's contact details here.
2011-02-16 Open Letter to Australian Immigration Minister: Seena Akhliqi 8, sent back to Christmas Island.
To: Immigration Minister of Australia, The Honourable Chris Bowen
Dear Minister
An eight year old orphaned child named Seena Akhliqi Sheikhdost who was present when his father was buried on Tuesday, in Australia, (his mother, Samir Aram's body was never found), is being sent back to detention on Christmas Island under your authority.
This Iranian child has been traumatised from fleeing his homeland, then he watched both his parents die in front of him in the boat tragedy off Christmas Island recently, while nearly drowning himself.
As a matter of compassion and cognisant of the UN Convention on Refugees 1951, and the human rights owed to this vulnerable, orphaned child, we, many citizens of Australia and of other nations, ask you to release him into the care of his existing family in Sydney.
He is detained in the Construction camp on Christmas Island and is being cared for by his aunty Fatima.
Minister, this child slept alone in detention for more than six nights in Charlie compound after the tragedy, until some members of his extended family arrived. His Aunty Fatima, one of those members, said she was on Christmas island for two days before she was told of the tragedy and reunited with Seena. Fatima now says the boy is self harming and banging his head and kicking his legs.
Seena apparently is not allowed to attend school while in detention on Christmas Island, this was reported by the Australian newspaper on 15th February, a decision based on so called "competing priorities."
Other detained children have reported that Seena ran to the fence whenever new boat arrivals came to the camp in buses. He told the other children that his mother and father would be on that bus. When they did not get off the bus, he said that they would be on the next bus. Prior to the funeral in Australia, he waited for his parents to turn up on every bus that arrived.
Minister your decision to return Seena to Christmas Island detention (of which the Human Rights Commissioner and Commonwealth Ombudsman have apparently remarked negatively) reminds us of the history of one of your predecessors, Philip Ruddock who repeatedly returned Shayan Badraie to his Villawood detention centre so many years ago.
As you are aware, our legal system finally acted in the Supreme Court of NSW, and awarded a compensation payment of $400,000 to Shayan Badraie, also an Iranian boy, in 2006.
Minister, how could such an eight year old boy and his carers ever be a threat or great burden to our nation? He has other family in Sydney and we ask you again, to release him along with his current caregivers, on grounds of compassion and in the spirit of the Convention on Refugees.
Does history have to repeat itself in Australia with these vulnerable children?
Yours Faithfully
Peter Kemp
Solicitor of the Supreme Court of NSW
(The minister's contact details here.)