2011-04-12 Strongarm Businessman & #Yemen Opposition Leader Hamid al-Ahmar: The Next US Puppet?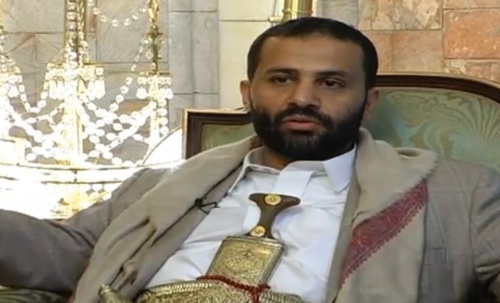 The Washington Post published a cable days ago on Hamid al-Ahmar, Islah Party leader, well-known businessman and de facto leader of Hashid, Yemen's largest tribal confederation. The cable suggests that al-Ahmar aimed to remove President Ali Abdullah Saleh from power unless he "guaranteed" there would be "fairness" in the 2011 parliamentary elections, a unity government formed with movement leaders from South Yemen, and removed his relatives from power by December 2009.
The cable from August 31, 2009, indicates Ahmar had plans for demonstrations that would rock Saleh's regime:
Absent this fundamental shift in Saleh's governance of the country, Ahmar will begin organizing anti-regime demonstrations in "every single governorate," modeled after the 1998 protests that helped topple Indonesian President Suharto. "We cannot copy the Indonesians exactly, but the idea is controlled chaos." Ahmar said he had conveyed his ultimatum to Saleh through Ahmar's brothers (NFI) in early August, but had not yet received a response from the president or his inner circle.
Ahmar believes the country would be thrown into "complete chaos" without the support of the Saudi leadership and elements of Yemeni military particularly MG Ali Muhsin. Muhsin has joined the opposition and recently indicated support for a Gulf Cooperation Council initiative that would transfer power to the vice president. And, Saudi Arabia is playing a role as a key mediator in the conflict that continues to intensify in Yemen.
In the cable, Ahmar makes a prediction and shares his plan for pushing the military to no longer back President Saleh. It centers around the conflict in Sa'ada against the Houthis:
Ahmar predicted that the failure of the current military campaign in Sa'ada, along with the continued presence of Saleh's relatives in positions of leadership, would eventually cause Saleh to lose the military's loyalty. Deriding Saleh's son, Special Operations Forces Commander Ahmed Ali, and his nephews Tariq, Yahya, and Ammar, as "clowns" who keep the loyalty of their men only by providing opportunities for corruption, Ahmar said the military would not stay in the barracks indefinitely if it saw fighting in Sa'ada as a futile enterprise under Saleh's command. Ahmar compared the ROYG forces currently in Sa'ada to the various Ahmar-allied Hashid confederation tribes that had fought against the Houthis during previous campaigns. (Note: GPC Member of Parliament and Hashid leader Hussein al-Ahmar, Hamid's brother, recently met with members of the "Hashid Popular Army" that fought on behalf of the ROYG in the last round of fighting in Sa'ada, according to an August 30 press report. End Note.) "A lot of blood was shed to make Sa'ada Yemeni and now Saleh is close to wasting it all. Saleh has lost the tribes and, this time, he will lose the military." The only solution in Sa'ada is to arrest Houthi leader Abdulmalik al-Houthi, according to Ahmar.
Ahmar appeared on BBC News at the end of March. He calls on President Saleh to leave the country. He also reiterates a belief noted in the cable that the next president should come from South Yemen because that will make unity possible.
Furthermore, the cable indicates Ahmar would like to see the Islah Party rule Yemen. Ahmar describes what a society ruled by the Islah Party would like:
Repeating comments he has made to EmbOffs in the past, Ahmar described the Islah Party as a moderate force within Yemeni society and described himself as a moderating element within Islah's leadership. Islah will govern like the Turkish Welfare Party and "nobody fears extremism from Turkey," Ahmar said. The only things Islah would impose upon Yemeni society are a ban on the sale of alcohol and on prostitution and escort services. "No one will be forced to wear the headscarf and Yemenis will be allowed to do whatever they want in their own homes )- bring your girlfriend home and drink -- but just don't do it public," Ahmar said. (Note: Alcohol sales outside Western hotels are already banned in Yemen. Islah regularly pushes the ROYG, with some success, to shut down massage parlors in Sana'a that are widely regarded as prostitution sites. End Note.) Ahmar asked what concerns, if any, the U.S. has with Islah's platform and offered to make any changes that would ensure U.S. support for Islah.
Women with Islah Party affiliations have been, as Amnesty International reports, at the forefront of opposition protests for months now.
For years, Ahmar has been outspoken. He appeared on al Jazeera on May 8, 2009 and explicitly blamed President Saleh for the country's failure. He said many of the things that the Stephen Seche notes in the cable; he called for President Saleh to step down and accused President Saleh of defying the constitution by giving all government and military posts to sons and relatives.
Michelle Shepherd, a reporter who is one of a handful of reporters that have been producing regular coverage of Yemen, profiled Ahmar in February forToronto Star. She reports Ahmar comes from "Yemeni bluebloods." His family heads the tribal confederation Hashed. He and his brothers have ruled a "family empire" in Yemen since the family patriarch died in 2007.
Ahmar owns Sabafone, a cellular telecom that, as of December 2007, had more than a million and a half subscribers, the Islamic Bank of Saba, a newspaper, a satellite channel, and is the "proprietor" of a Kentucky Fried Chicken and a Baskin Robbins.
He speaks English fluently and, "as a youth, [he traveled] to the U.S to spend summers where he would stay with an American family in order to learn English." He attended Sana'a University and has a bachelor degree in economics with honors. He has a new home is in an "upscale neighborhood" that is "filled with marble, columns and decorated rich reds and gold." His "business tycoon" in Yemen owns nearly half the city making it possible for him to influence community reaction to Saleh.
The youth reject the Gulf Cooperation Council initiative that is being circulated as a legitimate solution for transferring power from President Saleh to the vice president. At this point, Ahmar does not appear to hold a public position on the initiative. But, he did tell Shepherd in his interview with her in February the youth are not the "most influential." He said, "The most important players in such a conservative society are the religious leaders and the tribal leaders."
This is what many following the Yemen conflict closely have asserted.
Since the US is such a key player in Yemen, having mounted counterterrorism operations in the country as part of the US' "global war on terror," is it possible Ahmar is the next strongman the US would like to see take control of the country? Is he who diplomats and military leaders believe could bring the necessary stability to a country so business as usual can resume?
It certainly seems possible, especially since he is willing to fund the youth but has indicated he does not believe they are on the level of a tribal leader in Yemen. A possible scenario that could unfold appears to be one where a faction of tribal leaders, who make a deal with Western powers and Saudi Arabia, suffocate the youth movement that has been growing preventing them from having a voice in the power structure that is rejuvenated after President Saleh leaves.
The movement against President Saleh has mostly been peaceful. But, once President Saleh is gone, the country will have to find direction and will likely struggle like Egypt and Tunisia.
Photo is a screen shot from a BBC News interview with Hamid al-Ahmar.