2011-04-11 Ivory Coast: Laurent Gbagbo arrested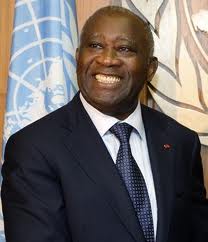 France24 is reporting that former Ivory Coast president Laurent Gbagbo, who refused to acknowledge defeat in the election last November, has been captured and taken to the Abidjan headquarters of rival president Alassane Ouattara, according to "diplomatic sources". Early reports said he was arrested by French troops, there as part of a UN mission approved in March after UN Secretary General Ban Ki-moon and French President Nicolas Sarkozy accused Gbagbo of using heavy weapons against civilians.
It is now being reported that Ouattara troops arrested him. Youssoufou Bamba, the U.N. envoy of president-elect Ouattara stated that Gbagbo has been arrested, is alive, and will be brought to justice, according to the Washington Post. They quote Bamba as saying, "That's the Republican Forces of Cote d'Ivoire who have conducted the operation. Gbagbo is arrested. He is under our custody. . . . Right now, he is being brought to a safe location for the next course of action." Bamba is also quoted as saying that he was confident that as "the news will spread" of Gbagbo's arrest, his forces "will stop fighting and they will lay down their weapons." He added: "Those fighting are fighting for nothing, because this man is over, this era is over. We will address the serious problem of the humanitarian situation and the security situation . . . and restore public order."
Reuters reports that Farhan Haq, spokesman for the U.N. mission in Ivory Coast said they have "confirmed that former president Laurent Gbagbo has surrendered to the forces of Alassane Ouattara and is currently in their custody." and that the U.N. mission was "providing protection and security in accordance with its mandate."
Gbagbo supporters deny that Ouattara forces captured Gbagbo, saying UN and French forces who have been attacking the presidential residence by helicopter were the ones that carried out the operation and the capture, and Ouattara forces, if present, were negligible. They promise deep future resentment at the foreign "colonial" interference in this case.