2011-04-10 Gadhafi accepts African Union ceasefire guidelines #Libya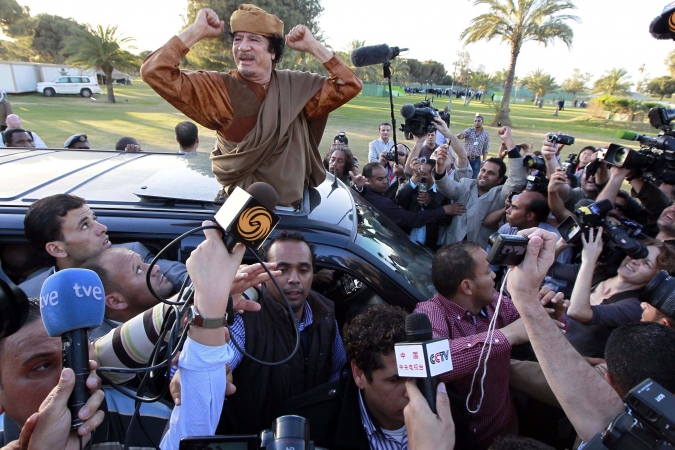 Image from Reuters
A delegation of the African Union met today with Muammar Gadhafi and South African president Jacob Zuma announced "We have completed our mission with the brother leader, and the brother leader's delegation has accepted the road map as presented by us." The AU mission, is headed by Mauritanian president Mohamed Ould Abdel Aziz and also includes, according to Al Jazeera, "Amadou Toumani Toure, Denis Sassou Nguessou and Yoweri Museveni - respectively the presidents of Mali, the Democratic Republic of Congo and Uganda." Since Denis Sassou Nguessou is the president of the Republic of Congo and the president of the Democratic Republic of Congo is Joseph Kabila, and both are members of the AU, it is unclear who the fifth country is. As reported on WL Central on March 20, the same delegation had earlier condemned the violence in Libya, but at that point the AFP unhelpfully referred to the fifth country as "the Congo". The Guardian says it is the Republic of Congo (Congo-Brazzaville), and further says Uganda's foreign minister attended, not the president.
The agreement apparently calls for: a ceasefire and protection of civilians, humanitarian aid for Libyans and foreign workers - "especially Africans", dialogue between the two sides, an inclusive transitional period, and political reforms which "meet the aspirations of the Libyan people". The delegation will meet the anti-Gaddafi forces tomorrow and if they also agree, it will remain to be seen whether this cease fire is obeyed more than the one imposed by the United Nations was.
Anti-Gadhafi forces do not seem able to win a revolution with only a no fly zone and they have been condemning the NATO intervention as insufficient, demanding heavy artillery and more air strikes against Gadhafi forces. NATO has instead accidentally attacked tanks and fighters from the anti-Gadhafi side, and brought down an attempt by anti-Gadhafi forces to use a plane themselves. In a statement from NATO: As an example of NATO impartiality, a fighter aircraft (MiG 23) flown by TNC forces was intercepted and forced to land within minutes of taking off from the Benina Airfield near Bengazi yesterday. Under the UN mandated No-Fly-Zone no unauthorized aircraft is permitted to fly in Libyan airspace.
Al Jazeera reported today: Gaddafi's soldiers occupied Ajdabiya for just 24 hours. In that time doctors here say 13 civilians were killed and more than a dozen injured. "We have no coordination. We have no organisation. We really have no strategy. We have no commander," Nasir Faraj, an irrigation engineer-turned fighter told Reuters. "Whenever Gaddafi starts bombarding us we just discuss what to do among ourselves and move. Some people run in one direction, and others go another way."