2011-04-12 Devout Catholic Robert Mugabe continues to detain 13 for prayer meeting #Zimbabwe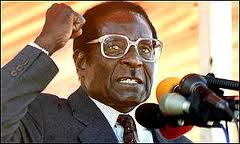 In anticipation of the upcoming election in Zimbabwe, president Robert Mugabe and his ZANU PF party have, in the words of Human Rights Watch's Africa director Daniel Bekele, "resorted to its old campaign tactics of suppressing political opponents by harassment and intimidation." Human Rights Watch has called for them to end their harassment and arbitrary arrests of civil society activists and political opponents, as reported recently on WL Central.
This Saturday, police lobbed tear gas canisters into church windows at St Peters Kubatana in Highfield, reportedly sending parishioners jumping out through windows, and baton-charged the service. Mugabe is a devout Catholic who attended the Pope's funeral in 2005 despite an EU travel ban. Pius Ncube, the Catholic Archbishop of Bulawayo, and an outspoken critic of Mugabe, said of the trip, "That man will use any opportunity to fly to Europe to promote himself. ... The secretary of state might be rather too busy right now to talk to him, but when someone in the family has died, you appreciate all the sympathy you can get from all people, even murderers, crooks and thieves like Mugabe." Pius Ncube was exposed in 2007 as having a relationship with a married woman, and subsequently forbidden by the Vatican from speaking out about the Mugabe government. Mugabe, a violent anti-homosexual, has enjoyed a high level of cooperation from the Vatican, who also allowed his marriage to his second wife Grace, who was not a Catholic.
The prayer meeting was called to remember the assault on Mugabe political opponent Morgan Tsvangirai and other civic leaders by Mugabe supporters on March 11, 2007. After the police attack, the meeting was taken to Glen Norah church where dozens of people were injured by riot police during a turnout of thousands, including Tsvangirai. Police threw more than thirty teargas canisters to disperse the people, assaulted some people who attended the prayer service including children and made Glen Norah impassable with the chaos.
Nelson Chamisa, spokesman for Tsvangirai's political party the Movement for Democratic Change, told reporters, "Shakespeare Mukoyi, the MDC Harare Province Vice Chairperson has been kidnapped by suspected Zanu PF thugs at the prayer meeting when it was moved to Glen Norah from Highfield. His whereabouts are still unknown." He was located Monday at the Harare Remand Prison, and MDC officials said he had been badly beaten. Officials with the Christian Alliance said some of the other 13 still held in prison, including two pastors, were also beaten. The Christian Alliance officials said police intend to charge those held with causing violence.
Many reports say the Zanu PF party has been forced to hold the election now due to the supposed failing health of 87 year old Mugabe. Reports of Mugabe's health failing have been a constant staple in the news since he took power in 1987. His mother lived to be 100, but that has not stopped speculation and fear and hope of what will happen in the event of his death from dominating discussion of Zimbabwe politics for years.
Recent events have added more obstacles to Mugabe's hold on power. ZANU PF had a recent row with South Africa's President Jacob Zuma, who brokered the Southern African Development Community (SADC) backed unity government in Zimbabwe with Tsvangirai as prime minister. ZANU PF accused him of interfering in Zimbabwe's internal affairs and attacked him for voting for a no-fly zone over Libya at the UN Security Council. ZANU PF are themselves refusing funding and supervision from the South African Development Community and the United Nations for the upcoming elections, accusing the UN of having used its supervisory role in Ivory Coast to oust the incumbent president, Laurent Gbagbo. Yesterday, Central Intelligence Organisation (CIO) boss, Menard Muzariri died, leaving a power imbalance in the party at a crucial moment.
Meanwhile, the international community continues to express its disapproval. The International Monetary Fund is refusing to lend to Zimbabwe after a strong critique of government policies. Amnesty International is demanding that hundreds of bodies found in a mass grave in northern Zimbabwe be exhumed by professional forensic experts to "enable adequate identification, determination of cause of death and criminal investigations." Zimbabwe Lawyers for Human Rights (ZLHR) have attacked Minister of Justice and Legal Affairs Patrick Chinamasa and the police for saying suspects could be detained in prisons without being brought to court while magistrates were on strike last week. Previous WL Central coverage of recent events in Zimbabwe tells of much more strife affecting the party and attempts to bring change.
But as shown in US State cable 07HARARE638, dated July 2007 and discussing the Mugabe government under the title 'The End Is Nigh', Mugabe has shown a resilience beyond all predictions, and even at the age of 87, he cannot be counted out yet at all. The discussion in this cable found "the idea of a South African-brokered transitional arrangement or government of national unity ... a ZANU-PF-led GNU, with perhaps a few MDC additions" was more likely to prolong than resolve the crisis, and indeed the following paragraph could still be written today:
Robert Mugabe has survived for so long because he is more clever and more ruthless than any other politician in Zimbabwe. To give the devil his due, he is a brilliant tactitian and has long thrived on his ability to abruptly change the rules of the game, radicalize the political dynamic and force everyone else to react to his agenda. However, he is fundamentally hampered by several factors: his ego and belief in his own infallibility; his obsessive focus on the past as a justification for everything in the present and future; his deep ignorance on economic issues (coupled with the belief that his 18 doctorates give him the authority to suspend the laws of economics, including supply and demand); and his essentially short-term, tactical style.
The US attitude in the cable does much to illustrate why Mugabe's policy of "playing the old colonial/race/imperialist themes to buy himself breathing room regionally and internationally" still works, as Ambassador Christopher W. Dell accepts noblesse oblige here:
Equally important is an active U.S. leadership role in the international community. The UK is ham-strung by its colonial past and domestic politics, thus, letting them set the pace alone merely limits our effectiveness. The EU is divided between the hard north and its soft southern underbelly. The Africans are only now beginning to find their voice. Rock solid partners like Australia don't pack enough punch to step out front and the UN is a non-player. Thus it falls to the U.S., once again, to take the lead, to say and do the hard things and to set the agenda.
The cable's conclusion reads much like the concluding paragraphs of most articles being written today, almost four years later:
All this in view, I'm convinced the end is not far off for the Mugabe regime. Of course, my predecessors and many other observers have all said the same thing, and yet Mugabe is still with us.