2011-04-08 Another bloody Friday in #Syria [Updated]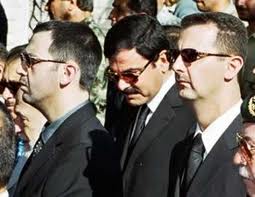 Bashar al-Assad (right) with his brother Maher al-Assad (left) and brother-in-law Assef Shawkat (center) in 2000.
Update:Syrian state TV has aired footage of masked gunmen firing on protesters and police. There are many similar videos in different situations on the internet, and different ideas of who the snipers are, Syrian security forces, protesters, or outside forces.
Today protesters in Dara'a destroyed a statue of president Bashar al-Assad's older brother Basil al-Assad and reportedly burnt down the State TV building in Dara'a and set fire to a Baath Party outpost. Al Jazeera's correspondent Cal Perry reports that the army has now been deployed in large numbers to Dara'a. The government's earlier decision to arm the police force with electric batons instead of live ammunition was reversed today.
Syrian state TV (translated by Al Jazeera) said repeatedly today: Over the past Fridays there were a lot of demonstrations in which armed groups used weapons to kill people and security forces - and though we understand that protesting is a right of the population, we can no longer allow chaos to take place and official buildings to be destroyed. So we will use all the means to stop the chaos from taking place.
Protesters are calling for people to come out tonight in great numbers in other cities to take the pressure off of Dara'a.
Video of snipers from AP
---
Amnesty is now putting the death toll in Syria over the last three weeks at 171, with the majority killed by security forces firing live ammunition at protesters. This list detailing all people people imprisoned, missing and killed since the protests began, has now reached 770. Amnesty confirmed another eight people killed today, six from Dara'a and two in Homs, but they say the confirmations from today could rise significantly. A doctor in Dara'a told CNN that 22 unarmed civilians were shot dead in just Dara'a today. The Syrian government said it was nineteen of the security force. From AllVoices, Amar Qurabi, president of the Syrian NGO National Human Rights Organization, reported a total of 22 people dead in three cities. "We have a list of names of 17 protesters killed in Deraa (south) and we have been informed of the death of two protesters in Homs and three in Harasta." Reuters also puts the death toll in Dara'a at 17, from a "hospital source and activist." NewsTsar has graphic videos from a mosque in Dara'a.
President Bashar al-Assad signed a decree yesterday to finally (after a fifty year wait) give Syrian citizenship to tens of thousands of Kurds in Syria. There was still a huge protest today in the Kurdish city of Amouda, which does not seem appeased. There is no indication that Assad plans to stop or curb the violence directed at the protesters and open a real dialogue or implement the changes wanted by the protesters, particularly the scaling back and reform of the security and intelligence forces run by his brother Maher and brother in law Assef Shawket. Syrian protesters have vowed to come out and protest every Friday until the government meets their demands for meaningful change.
Previous WL Central coverage on Syria here.
Lataika today: