2011-04-08 Vote for Bradley Manning in The 2011 TIME 100 Poll, closes April 14
Vote for Bradley Manning in The 2011 TIME 100 Poll, here!
As of today, April 8, 2011, Bradley Manning is ranked at No. 39 out of 203 nominees for TIME Magazine's 2011 100 Poll. Julian Assange is ranked at No. 8.
The popular mag invites readers to: "Cast your votes for the leaders, artists, innovators, icons and heroes that you think are the most influential people in the world. The winner will be included in the TIME 100. Voting closes on April 14" (Source: TIME Magazine).
Bradley Manning is a prisoner of the United States, incarcerated in the marine brig at Quantico, Virginia. He has been imprisoned under cruel and inhumane conditions, classified as torture by Amnesty International, and the subject of an investigation by the UN Special Rapporteur on Torture. Human Rights Watch has asked the US government to "publicly explain the precise reasons behind extremely restrictive and possibly punitive and degrading treatment."
Some TIME commenters expressed suspicions over voting difficulties they experienced: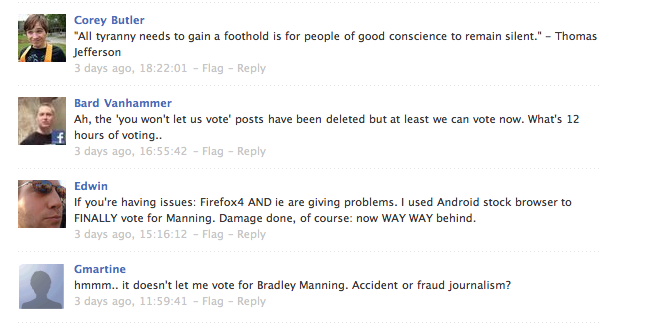 See more WL action for Bradley Manning, here.