2011-04-04 US Policy on Yemen Shifts as Tear Gas, Bullets Fired on Protesters in #Taiz and #Hudaydah
By now, those following the story closely are aware that the position of the US on President Ali Abdullah Saleh's regime has shifted greatly. A near-180 has taken place.
As announced last evening, the New York Times reported the "United States, which long supported Yemen's president, even in the face of recent widespread protests, has now quietly shifted positions and has concluded that he is unlikely to bring about the required reforms and must be eased out of office, according to American and Yemeni officials."
A news alert from the newspaper continued, "The American position began to shift in the past week, administration officials said. While American officials have not publicly pressed President Ali Abdullah Saleh to go, they have told allies and some reporters that they now view his hold on office as untenable, and they believe he should leave."
Since the announcement, suggestions are now floating around that Saleh is buckling down. Well aware that he has lost much of the US' support, his regime's police and security forces are stepping in to suppress protests that are, in addition to the increased violence and instability, largely to blame for the US shift.
CriticalThreats.org reported on violence in Yemen, "At least 12 people were shot dead and over 500 injured when security forces opened fire on protestors. The protestors had left the main square and were marching on government buildings. Witnesses report that gunmen, some on rooftops, fired directly into the crowd. Tanks and military vehicles have surrounded government buildings in the city (AP, CNN). Protests have sprung up elsewhere in Yemen, including in Hudaydah and Mukalla, in solidarity with the people of Taiz."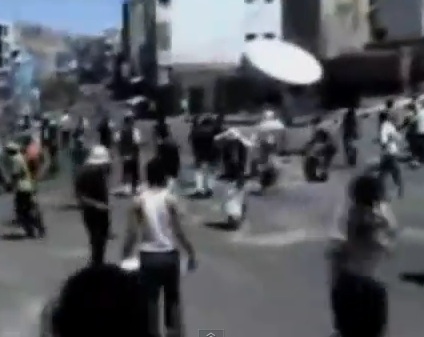 Abdulkader Alguneid on Twitter has been giving rolling updates on what has been unfolding in Hudaydah and Taiz.
He reported that shops in downtown Taiz were closed as youth in the sit-in square had asked for this in response to Saleh's brutality. Then an hour later he reported tens of thousands heading downtown to Gamal Street to demonstrate their anger at the regime's use of tear gas and bullets.
Hours after demonstrations erupted, three major demonstrations, tear gas and live bullets were used at a demonstration outside of Alhayah hospital. Alguneid reported the demonstrators at Gamal Street were marching to the Governorate building, which the regime was likely to suppress.
Near the Governorate and Central Security barracks, the two demonstrations turned extremely violent as snipers fired from roofs at the presidential palace demonstrators. The toll from the violence was reported six hundred wounded and at least ten dead (later the numbers were updated to sixteen dead, one hundred and sixteen wounded and twelve hundred victims of tear gas.)
A standoff continued at Hawd Alashraf with Central Security. Villagers came to support the protest. Alguneid sent out a message suggesting Central Security took the dead with them to possibly keep the official death toll count down. Alguneid also noted the Brigadier Qairan, Security Chief, is brother in-law of #Saleh son Ahmed.
A dispatch from Laura Kasinof and J. David Goodman reported on the violence from security forces and plainclothes government supporters:
Witnesses said Monday's clashes began when protesters tried to march on a presidential palace in Taiz, about two miles from the neighborhood where demonstrators have staged the sit-in.
Security forces confronted the crowds and tried to prevent them from continuing to the palace, using tear gas before firing bullets into the air and then at protesters as others fired from rooftops around the protest route, witnesses said.
The Associated Press, citing witnesses reached by telephone, said some protesters had been trampled by fleeing crowds.
"There were people dressed in both soldier uniforms and civilian clothes shooting live bullets from rooftops," said Abdul Habib al-Qadasy, 47, an engineer who was at the protest in Taiz.
The description of the violence resembled a violent crackdown in the capital, Sana, two weeks ago, when snipers linked to the government fired from buildings in an effort to prevent protesters from marching. More than 50 people were killed.
The state news agency in Yemen suggested what happened was government supporters had clashed with protesters. This had affected 4 policemen. They also claimed protesters tried to enter the governorate after throwing stones, which forced police to open fire.
President Saleh met with people in the Ans district and Dhamar city the day of the violence. Those he gathered are likely members of a dwindling group of loyal supporters. They renewed their commitment to constitutional legitimacy and expressed their rejection of sabotage and chaos in Yemen. And those meeting Saleh also called on the Joint Meeting Parties (JMP) calling for a transition from power to return to dialogue to end the crises in the country.
It's hard to discern exactly how long Saleh has before he falls, whether he can maneuver security and military forces in some manner and preserve power, if the US will step up its intervention in the situation beyond shifting policy, and how this will impact the US global war on terror operations that Saleh has been providing political cover to for years now.
Gregory Johnsen, top Yemen expert, writes:
We should be clear, both scenarios - Salih leaving or staying - are potentially dangerous for US national security, which is one of the reasons the Obama administration is so hesitant to withdraw its support from Salih.
If Salih leaves the US is worried that the next government won't be as willing to meet US requests in fighting al-Qaeda as Salih has been in the past 14 months (because when journalists talk about Salih being an ally of the US in the war against AQAP this is the period they are referring to).
If, on the other hand, Salih stays, in the current environment it would likely take him several months to reassert control over much of the country that he has lost in recent weeks if he ever could, meaning that AQAP would not be as opposed as it has been. Salih has often been mocked as the "mayor of Sanaa," a snide journalistic and diplomatic remark that often betrays more about the speaker's lack of knowledge about Yemen than it does Salih's authority.
But if he stays, this description could very well turn out to be true, and for a US that worries that if AQAP isn't under any pressure it will be free to plan and launch attacks on the US such a scenario is rightly frightening. (Personally, I don't believe that even if Salih remains throughout this term - an outcome I believe is unlikely - he will ever be able to reassert control over the whole of Yemen).
So that is where the US is at in Yemen: two bad options.
There will be real limits to what the US can push for in Yemen. (Shouldn't there be?)
What role should the US play moving forward? Or is stepping out of the way by making this shift public and then letting the Yemeni people confront the regime best for the people of Yemen?
That may be impossible to answer right now. And, unfortunately, if Yemenis want the US to help topple Saleh, that is likely out of the question given the Libyan intervention that was just launched.