A nation on hunger strike. Alkhawaja's daughter joined by others to protest ex-judicial arrests, torture, and killings in Bahrain
Calls for a nationwide hunger strike have appeared on twitter. The nationwide hunger strike is meant to show solidarity with the hundreds of Bahraini caught in ex-judicial detainments, who are now under grave threat of torture and death.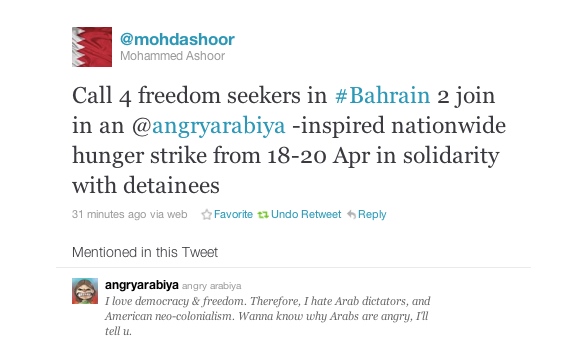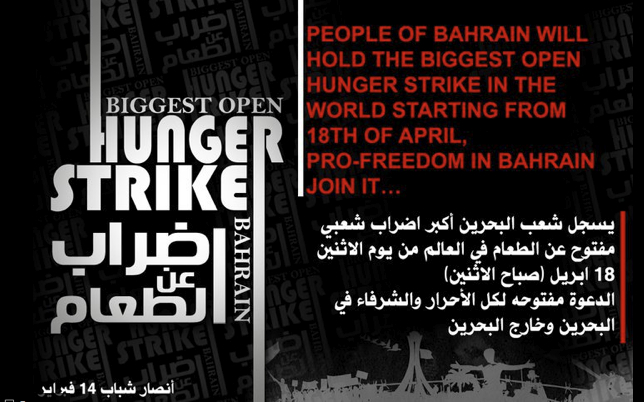 Zainab Al Khawajah (@angryarabiya), the daughter of prominent human rights activist, Abdulhadi Alkhawajahas now been joined by Mohammed Al Daaysi (@MDaaysi) in a hunger strike. Al Daaysi (@MDaaysi) is the cousin of a missing female pediatrician from Salmaniya Hospital, Dr. Khulood. He is in his fifth day without food.

See also, Mohammed Al Daaysi' blog As I deprive myself from food.
Dr. Khulood was detained by police forces on or around the 5th of April. According to a Facebook advocacy Fan Page: "She disappeared from Salmaniya hospital following what was told to her was a doctors meeting and it was eventually found out that she is being held for an undisclosed reason" (Source: Facebook Fan Page: Free Khulood AlSayyad).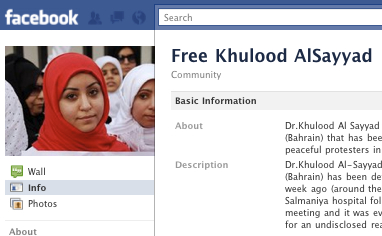 Her arrest came after a crackdown by the Bahraini and Saudi forces on peaceful protesters at the pearl roundabout. Dr.Khulood and many other doctors are being detained for protesting, providing aid to those injured during the crackdown (which is part of their Job), and for speaking to the media.

Doctors at Salmaniya hospital evidenced the brutality of the attacks by the police forces and the regime is trying to slience them and accusing them of being disloyal to the Country and Ruling Family. (Source: Facebook Fan Page: Free Khulood AlSayyad)
One person I spoke with said that, Dr. Khulood was one of the medical personnel targeted on the now defunct Facebook Fan 'Terror' Page: Together to detect traitors Bahrain.
[Scroll down for previous coverage and today's update on Bahraini use of Facebook to crowdsource threats and targeting of demonstrators].
Ms. Al Khawaja, as reported previously (scroll down), commenced a hunger strike 5 days ago after Bahraini security forces severely beat and arrested Alkhawaja's father, Human Rights activist Abdulhadi Alkhawaja, her husband, Wafi Almajed, and her brother-in-law, Hussain Ahmed Hussain.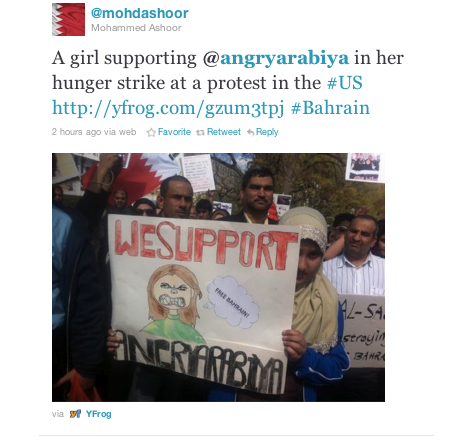 Her uncle was also arrested three weeks ago, with no further information available. Human Rghts Watch has called for his immediate release, as have Physicians for Human Rights. Frontline defenders has released a report about the concern that Abdulhadi Alkhawaja may be at high risk of torture while in incommunicado detention.
On April 13, Human Rights Watch called on the Bahraini government to disclose the whereabouts of detainees, and to permit them contact with their families and lawyers. They also called on the Bahraini government to open detention centers to independent inspection. The action came after the torture and death of three of detainees in custody: Ali Isa Ibrahim Saqer, Zakaria Rashid Hassan al-Asherri, and Hassan Jassim Mohammed Maki. (Source: Human Rights Watch):
With the death of a fourth person, Kareem Fakhrawi, Joe Stork, deputy Middle East director at Human Rights Watch said, "Four detainee deaths in nine days is a crime, not a coincidence. The government tells families of detainees nothing about their whereabouts or well-being while they are alive or about the circumstances of their deaths." (Source: Human Rights Watch)
The Committee to Protect Journalists reports that, "Fakhrawi is one of numerous investors in Al-Wasat, local journalists told CPJ. He is also a book publisher, the owner of one of Bahrain's biggest bookstores, and a member of Al-Wefaq, Bahrain's chief opposition party" (Source:The Committee to Protect Journalists)
According to the same CPJ report, "Bahrain's official news agency said on its Twitter feed that Fakhrawi died of kidney failure. Photographs published online, however, show a body identified as that of Fakhrawi with extensive cuts and bruises." (Source:The Committee to Protect Journalists)
Wifaq National Islamic Society had collected names of 430 people who relatives say have been arrested since demonstrations began on February 14. (Source: Human Rights Watch)
Attached to this entry, below (scroll to the bottom), are the lists of those detained, killed, targeted, and missing as of March 31, (from 15 days) ago via the Bahrain Center for Human Rights.