2011-04-01 WikiLeaks Cable Vindicates Struggle Against Dow Chemical in India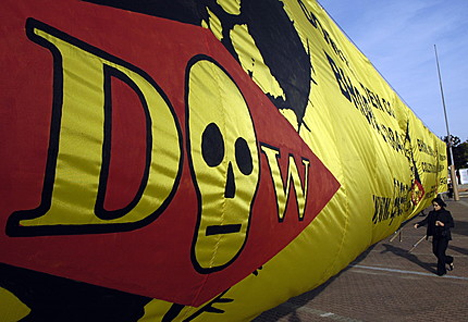 Those in India who have fought Dow Chemical are finding themselves vindicated as a cable released from WikiLeaks and covered by The Hindu on the political maneuvering capabilities of Dow Chemical Company surfaces. The cable illuminates a corporation hampered by its connection to Union Carbide, a company it acquired about a decade ago that was responsible for one of the worst industrial disasters in world history in Bhopal.
The cable sent out on October 15, 2008, from the US Consulate in Mumbai reports on Maharashta Chief Minister (CM) Vilasrao Deshmukh's decision to halt construction of a Dow Chemical Research and Development facility until a commission can further review Dow's plans. The decision is made in an attempt to diffuse growing protests coming from Indians, particularly Warkari villagers, who are concerned about the facility's construction in Pune.
Deshmukh travels to London to make the announcement that construction will be halted for at least thirty days. He announces the formation of a committee to be headed by a former High Court judge who can look into the Warkaris' contentions. The committee is tasked with producing a report on what Maharashtra state officials should do next in regards to the Dow facility.
Dow informs the US Consulate that "three major groups" are responsible for hampering the corporation's planned operations. NGOs and activists involved in a campaign for justice on behalf of victims of the Bhopal tragedy (that have targeted Dow since it purchased Union Carbide), a faction led by local Shiv Sena Member of Parliament Shivajirao Adilrao Patil (who has met with Dow several times but continues to "stir up trouble" and lead protests), and a religious sect, the Warkaris, who worship at a river shrine not far from the site and believe Dow will dispose of chemicals that will pollute the groundwater and river they "revere."
Warkari religious leaders have met with Union Minister of Agriculture Sharad Pawar, who is from Maharashtra. Pawar dismissed their complaints saying "Dow is a good company" and the Warkaris "should not interfere in the industrial policies of the state." The Warkaris publicly denounced Pawar's connection to Dow and threatened to protest during the Commonwealth Youth Games planned for Pune in October. Pawar then asked Deskmukh to stop construction and review "charges" from villagers with a "second state-appointed commission."
Political opportunism is on display as Patil postures himself as someone who can help Dow handle the protests. Patil met Dow's CEO in July 2008 and stressed the need for Dow to use a public relations agency to explain the project to the villagers. However, Patil states the company didn't listen, relied on police, began work on the site in spite of a growing backlash and that's why Warkaris started to protest and then burned a Dow vehicle.
In October, according to the US diplomat who wrote the cable, Patil's attitude is for the most part unchanged:
Patil reassured the CG that the safety of any American or Indian working for Dow will not be compromised. However, the strong police presence is focusing anger at Dow, and the situation could get out of control. He advised that Dow should go slow for now and reduce the police presence, and work harder to convince villagers that the facility is truly a research and development facility. He still thought that Dow should hire a public relations agency like the one that the local company Bharat Forge hired when it ran into problems, and give donations to local villagers to resolve the situation.
Patil is an operator. "Three months ago" he recommended a person to Dow, who could work as a "public relations specialist" for $20,000 USD per month. Dow's Head of Corporate Affairs, Rakesh Chitkara, tells Folmsbee about this development and also describes hiring "a number of local villagers for construction projects." Dow has also helped to "refurbish" a local school, expand water services and a number of other public works projects requested by the local village council with the hope that they can buy support of village leaders and further diffuse protest.
Charges the "public relations specialist" has to overcome include a belief that holes being drilled in the ground will contaminate the water. This, according to Chitkara, is "standard construction practice." The corporation also has to address charges it will manufacture chemicals at the R&D plant. As Chitkara explains, it was "mistakenly labeled a manufacturing facility."
Dow's PR problem is coupled with individuals like Union Chemical and Fertilizer Minister Ram Vilas Paswan, who would like to exploit the company's unpopularity for monetary gain. Not only is Dow struggling with the R&D plant in Pune but its plans to invest in a state-owned company in Gujarat that requires approval from the Foreign Investment Promotion Board (FIPB) hits a major speed bump. Paswan puts a hold on the project through the Ministry of Chemicals and Fertilizers. He then demands "a large sum of money from the company" if they want the project approved. Dow refuses to pay. The hold on the investment project remains in place.
The cable on Dow appears to be nothing more than a report on what is happening on the ground with Dow. It is possible Dow expected some kind of diplomatic assistance from the State Department but the diplomat does not indicate the US government has any intention to intervene on behalf of Dow. However, in August 2010, ahead of President Barack Obama's visit to India in November, the Times of India reported that the US government was pushing India to drop a Rs 1,500 crore demand that Dow compensate victims of the 1984 Bhopal industrial disaster.
For those unfamiliar, toxic gas leaked from a pesticide plant owned by Union Carbide. According to Amnesty International, over thirty-five tons of gas leaked out. At least twenty-four tons consisted of poisonous Methyl Isocyanate (MIC) and possibly other toxins like hydrogen cyanide, nitrous oxide and carbon monoxide.
In the days following the disaster, over seven thousand people died and, during the past fifteen years, more than 15,000 people have died from illnesses related to gas exposure. More than 100,000 have chronic and debilitating illnesses that cannot be treated as a result of the disaster.
Dow has operated in a limited capacity since the disaster and persisted in its refusal to properly address the impact the Bhopal disaster had on people. Dow Chemical is, of course, notable for its role in creating and producing Agent Orange, which was used in the Vietnam War. Veterans that have suffered health problems from Agent Orange continue to suffer as Dow Chemical asserts Agent Orange never posed a health risk.
On June 7, 2010, a Bhopal court sentenced eight people to two years in jail over the disaster. The eight Indians sentenced were former employees of the plant and were convicted of "death by negligence." [Warren Anderson, American then-chairman of US-based Union Carbide, managed to escape accountability and was not mentioned in the verdict.]
A couple years later, the Maharashtra government is still "collaborating" with Dow Chemical. In March, Dow was invited to a business conference. Survivors of the Bhopal disaster protested. One member of the group Children Against Dow Carbide reacted, "It is shameful that the Indian Government is promoting Dow Chemical's business rather than holding it accountable."
The Hindu asked for Dow's reaction to the released cable. Dow replied:
"Like all global companies, it is common for Dow leaders to meet with government leaders and officials wherever we do business and have plans to grow. It is also common for companies to discuss challenges and opportunities related to investment. This is an important part of doing business in any geography. The questions raised by you pertain to US Government's internal correspondence and should be directed to them."
The reply was not surprising to The Hindu journalists covering the India Cables.