2011-03-29 WikiLeaks in today's media: Cablegate coverage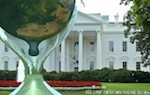 La Jornada: Las armas más letales llegan al narco mexicano desde Centroamérica: EU (The Mexican drug cartels's most lethal weapons come from Central America: United States)
"Según el gobierno de Estados Unidos, las armas más letales y poderosas compradas ilegalmente por el crimen organizado en México, entre ellas equipo tipo militar de grueso calibre, no entran por la línea divisoria entre ambos países, sino provienen de los arsenales de los ejércitos de Centroamérica y son contrabandeadas por la frontera sur, a través de los cruces mal protegidos y peor vigilados por las autoridades mexicanas locales y federales. (According to the U.S. government, the most lethal weapons bought illegally by organized crime in Mexico, including team-caliber military-style, are not from the border line between the the US and Mexico, but from the arsenals of armies in Central America and are smuggled through the south border, poorly protected and poorly monitored by local and federal Mexican authorities.)"
Read more (Spanish) Google Translate
La Jornada: Armamento importado por Sedena "se desvía" hacia grupos criminales (Weapons seized by Sedena "deviates" to criminal groups)
"Los narcotraficantes y las pandillas criminales de México no se surten únicamente con armamento contrabandeado desde Estados Unidos. También usan armas importadas con todos los permisos y verificaciones por la Secretaría de la Defensa y que en algún punto de su ruta se desvían y caen en manos indebidas. (Drug traffickers and criminal gangs in Mexico are filled not only with weapons smuggled from the United States. They also use imported weapons with all permits and inspections by the Ministry of Defence and that at some point in its path is deflected and fall into the wrong hands.)"
Read more (Spanish) Google Translate
La Jornada: Lanzagranadas, proyectiles antitanque, misiles antiaéreos... (Grenade launchers, antitank missiles, antiaircraft missiles...)
"Los decomisos de armas a la delincuencia organizada efectuados en años recientes refieren de manera inequívoca un salto cualitativo en el poder de fuego de la criminalidad en México. (Seizures of weapons to combat organized crime in recent years made unequivocally relate a quantum leap in firepower of crime in Mexico.)"
Read more (Spanish) Google Translate
La Jornada: Militares se quejan de la injerencia estadunidense (Mexican Military complain about American interference)
"Los cables de Wikileaks en los que la embajada de Estados Unidos en México descalifica la labor de los militares en el combate al narcotráfico evidenciaron la acción injerencista de las agencias estadunidenses de seguridad y contra el tráfico de drogas y armas. (Wikileaks cables in which the U.S. Embassy in Mexico criticize the work of the military in combating drug trafficking showed the interventionist action that the U.S. security agencies and against the smuggling of drugs and weapons.)"
Read more (Spanish) Google Translate
(Image Credit: Dali Rău)