2011-03-14 WikiLeaks in today's media: Cablegate coverage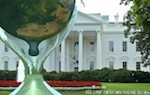 Next: Ojo Maduekwe, an opportunist, says American official
"A former minister of foreign affairs, Ojo Maduekwe, is an opportunist who is willing to serve any administration in power irrespective of how it gets to office, according to a leaked United States diplomatic cable made available to NEXT.
In the October 19, 2007 cable to Washington, Lisa Piascik, the Charge d'Affairs of the US embassy in Nigeria, analysed the different contending groups pulling and pushing for the soul of the ruling People's Democratic Party."
Next: NIGERIA'S PDP - WHEN IS A PARTY NOT A PARTY?
"Obasanjo network:
-- David Mark (former Minister of Communications under Obasanjo, current Senate President)
-- Patricia Etteh (former hairdresser, romantic interest of Obasanjo, current Speaker of the House of Representatives)
-- Aliko Dangote (owner of the Dangote Group with substantial business interests in food processing, cement and freight, prominent funder of Obasanjo's 2003 re-election campaign)
-- Chris Uba (godfather of Anambra State, criminal ties)
..."
Next: KADUNA GOVERNOR BULLISH ABOUT PRESIDENTIAL PROSPECTS
"During a late July conversation with the Consul General, Kaduna State Governor Ahmed Makarfi predicted the presidency would return to the north. Among the Northern governors, Makarfi thought he had the inside track to getting President Obasanjo's approval and clinching the PDP nomination. Makarfi claims a majority of the PDP governors favor a return to the north. Of the contending northern PDP governors -- Adamu of Nassarawa, Mu'azu of Bauchi, Turaki of Jigawa, and Yar'Adua of Katsina -- all have significant handicaps except him. To strengthen his position, Makarfi has been assiduously traversing the country, consulting with key figures in all six of Nigeria's political zones. He has also been careful to consult regularly with President Obasanjo. However, recently Makarfi has gotten a little too comfortable with the media about his presidential ambitions.
Attracting too much of the political spotlight could cause the usually cautious Makarfi to run afoul of an irascible President."
(Image Credit: Dali Rău)