2011-03-11 WikiLeaks in today's media: Cablegate coverage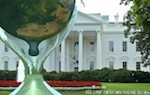 Next: Ibori offers to set up fund with stolen billions
"In a desperate bid to save himself from arrest and prosecution, former Delta State governor, James Ibori, offered to surrender a huge chunk of his stolen billions to a trust fund that could finance development projects, according to a leaked U.S. diplomatic cable made available to NEXT.
The September 24, 2009 dispatch reported that Mr. Ibori, shortly before escaping to the United Arab Emirates after the Economic and Financial Crimes Commission closed in on him, approached the United States embassy in Abuja for a deal that would have him give up between 20 and 50 percent of his loot in return for promises by foreign governments not to prosecute him. The former governor, the cable said, approached the embassy through a U.S. businessman and reputed lobbyist in the Washington, DC area, who estimated Mr. Ibori's stolen wealth to be about $3billion (N450 billion)."
Next: Etteh is Obasanjo's romantic interest, say American officials
"That former President Olusegun Obasanjo and the previous and first female Speaker of the House of Representatives, Patricia Etteh, have had more than a passing relationship has been popular street gossip in Nigeria for a long time.
But the Americans took the matter beyond chatter. In an October 19, 2007 cable to Washington, Lisa Piascik, the Charge d'Affairs of the US embassy in Nigeria, stated that both politicians were sweethearts."
(Image Credit: Dali Rău)