2011-03-22 Ghosts of Allende & Pinochet Haunt Obama During Visit to Chile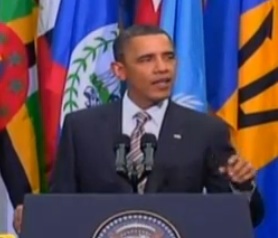 US President Barack Obama, currently on a trip through Latin America, visited Chile yesterday to further expand trade relations and military and security cooperation between the two countries. He did not intend for his visit to be about the US' history of interfering in Chile's domestic affairs or, for that matter, human rights. But, the first question President Obama was asked was the following: Is the United States "willing to ask for forgiveness for what it did in those very difficult years in the '70s in Chile?"
President Obama answered, "I think it's very important for all of us to know our history. And obviously the history of relations between the United States and Latin America have at times been extremely rocky and have at times been difficult." But, "I think it's important, though, for us, even as we understand our history and gain clarity about our history, that we're not trapped by our history."
Furthermore, President Obama said he could not "speak to all of the policies of the past" but could "speak certainly to the policies of the present and the future." As he noted that the US has supported democratic reform in Chile for two decades, President Obama refused to acknowledge the true history of US relations with Chile, a history that involved supporting Gen. Augusto Pinochet in a CIA-backed coup in 1973.
President Obama may not want to get "trapped" in a discussion that leads him to have to take responsibility for the country, which he currently presides over, but files released between 1998 and 2003 show, according to investigative reporter Peter Kornbluh, "The US created a climate of a coup in Chile, a situation of chaos and agitation."
Worried the Chilean military was not ready for a coup, the CIA mounted a policy that would eventually lead to a coup that would topple Latin America's first democratically-elected Marxist president President Salvador Allende. The CIA clandestinely armed forces with tear gas canisters, gas masks, and arms to ensure the success of a coup. Some members of the CIA even went so far as to propose a "terror campaign to stun the Chilean people into accepting a military regime." Dropping bombs and using low-level fly overs of airplanes to psychologically influence the Chilean people was considered.
The US bribed and massively funded non-left wing political leaders in an effort to de-stabilize the country. Declassified documents prove all of this, yet, as evidenced by President Obama's answer, it is not possible for America to acknowledge historical reality.
Many of the documents, however, were redacted so that people would remain unidentified. And, many more documents on Pinochet and Chile remain classified. That's why Obama was also asked if he would release more documents to help those who had been victim of human rights abuses committed by Pinochet's military regime.
As Greg Grandin of The Nation writes, "Last month, in anticipation of Obama's trip to Chile, Carmen Frei, the daughter of Eduardo Frei Montalva, Chile's president prior to Salvador Allende and believed poisoned by Pinochet in 1982, said that 'precisely because there has been such a radical change in the politics of the United States that we believe in the human rights [policies] of President Obama, this is the moment—if he's coming to Chile he can receive the official requests and petitions.' And just before his arrival, Chile's entire center-left congressional cohort signed an open letter urging the US president to declassify the documents."
Sen. Isabel Allende, said of the coup prior to President Obama's visit that the coup "represents an unpaid debt for the justice system, to acknowledge the numerous crimes committed that day, identify those who participated, establishing their criminal responsibilities and knowing the entire truth of that day." She, along with others, prepared themselves to push President Obama to not only declassify documents but push the Chilean government to "deal more forcefully with the darkest period in Chile's political history."
President Obama, however, chose the path of least resistance. He opted to not take the moment to boldly stand up for accountability, human rights and justice and he would only be able to commit to "reviewing" a request for declassification of information. He said Washington would cooperate "in principle," but that was as far as he was willing to go. And, he chose to ignore the fact that "Chile's Supreme Court recently ordered investigative judge Mario Carroza to probe Allende's death along with 725 others whose cases were never prosecuted," and "another judge, Alejandro Madrid began probing Frei Montalva's death in 2002, and has charged six people, including doctors and former Pinochet spies, with poisoning him and covering up his death by removing his bodily fluids and organs."
The response is not all that surprising when one looks at how US diplomat Paul E. Simons framed news that a judge had decided Eduardo Frei Montalva was killed by figures linked to Pinochet.
A cable released by WikiLeaks from December 2009 begins with this summary, "On December 7, Judge Alejandro Madrid charged six individuals with assassinating former President Eduardo Frei Montalva in 1982. Frei, who is the father of the current presidential candidate Eduardo Frei Ruiz-Tagle, died ostensibly of a bacterial infection after undergoing routine surgery. USG laboratory tests conducted to date have found no evidence of the poisoning that Judge Madrid alleges, though some of the substances alleged to have been used cannot be detected via laboratory tests."
On an autopsy performed on Frei's body without the consent of Frei's family less than one hour after his death, Simons adds, "The highly unusual autopsy was allegedly performed in the hospital room where Frei died, using a ladder to hang the body upside down in order to drain bodily fluids into the bathtub. Some organs, and in particular those whose chemical compositions might indicate poisoning, were removed and destroyed, and the body was embalmed."
But, Simons ultimately concludes, "Even when a judicial decision is eventually reached in the case, Frei's death--like many other events surrounding the Allende and Pinochet governments--is likely to remain controversial, with Chilean opinions about the matter based more on ideology than fact."
Simons comments:
…It is easy to see why his family and supporters suspect that he was murdered. And Judge Madrid may have additional evidence which post is not aware of to support this conclusion.
On the other hand, at present the Embassy is not aware of any direct evidence indicating foul play. Official tests conducted by AFIP and unofficial tests by Dr. Centeno have not shown toxic levels for any of the elements tested. Given the extremely long time since Frei's death and the destruction of some key organs, forensic science may not be able to provide definitive evidence whether Frei was murdered. Chile's tragic recent history continues to divide its people, and the death of this emblematic president seems destined to be yet one more area in which the full truth may never be known.
The "direct evidence" could be in the classified documents that have not been released. But, Chileans may never get to see the entirety of what happened from 1970-1990 and how involved the US was in backing and steering the Pinochet military regime. They may never get to see because free trade agreements and security cooperation deals appear to be more important than truth and justice for the Chilean people. And, if information on US involvement was revealed, it could significantly complicate relations with Chile that are especially important to the US.
Unfortunately, it is not all that surprising that President Obama would promote this idea about not getting trapped by history. This meme is essentially a remix of a regular assertion he has made—that "America needs to move forward, not look back." In the US, Obama has refused to push the Department of Justice to investigate and prosecute former Bush Administration officials for torture. The Obama Administration has opted to not have any kind of a commission to review how the Bush Administration lied and manipulated the country into supporting a war in Iraq. The Administration has chosen to not look into the use of illegal wiretapping by the NSA and, instead, has chosen to prosecute an NSA whistleblower for providing classified information to a newspaper reporter in email messages from 2006 and 2007.
It should be said, then, WikiLeaks, through its release of cables, war logs, a US military video of a helicopter attack, and other documents, has forced the US to look back as it tries to move forward. That may be one of the chief reasons why it is regarded as such a potent enemy.
Photo a screenshot of C-SPAN broadcast of Obama's Chile speech