BLOW THE WHISTLE! on TWITTER
"BLOW THE WHISTLE! on TWITTER"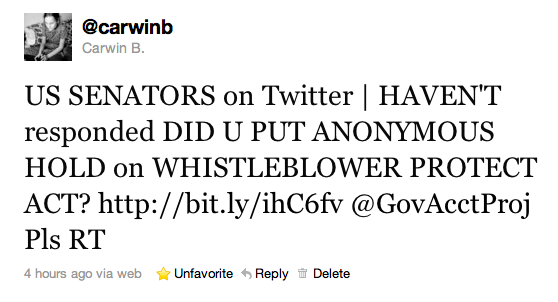 @Carwinb has compiled a list of Senators, who are on Twitter, and who have not yet responded to: "Did you place an anonymous hold on the Whistleblower Protection Act?" Now you can tweet them, and ask them yourself.
On December 22, 2010, the Whistleblower Protection Enhancement Act Bill S.372) was killed by an unknown United States Senator, who placed an anonymous hold on the bill (reported here on WL Central).
WNYC, On the Media and the Government Accountability Project have joined forces to uncover the identity of the mystery senator.
WNYC has posted a table, "containing the names, states, and contact information for the 87 [United States] Senators still serving that could have put the anonymous hold on this bill." You can find it here.
They are asking the American public to "call, write, [or] email their Senators and ask them 'did you kill this bill?'" Then, regardless of the Senator's reply, they request you email blowthewhistle@wnyc.org with an update.
Here are some tips about "How To Track Down Anonymous Holds" from Tom Devine, legal director of the Government Accountability Project
Source: WNYC: Blow the Whistle