2011-03-17 US Coal Giant Accused of Trade Unionist Killings Asked Diplomat for Help Combating Bad Publicity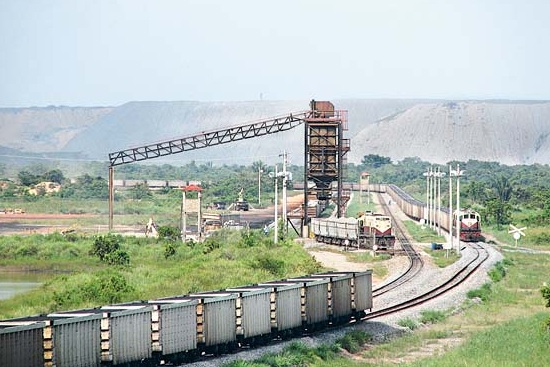 On March 12, 2001, in Colombia, then-president and vice president of Sintramienergetica, were both picked up by men of the the United Self-Defense Forces of Colombia (AUC), a terrorist paramilitary force in Colombia that has at this point been mostly dissolved. According to El Espectador, a Colombian newspaper (that has partnered with WikiLeaks), the trade unionist leaders were murdered in Locarno and transported in a van to Orcasita where they were found dead hours after being killed.
Sintramienergetica is a trade union that has workers that do labor for a US company based in Alabama, Drummond Coal. The history between the trade union and the coal giant has been tumultuous. Paramilitary leaders alleged to be responsible for the murders of the two trade unionists have gone on trial with Drummond being accused of handing over a suitcase of money to leader Rodrigo Tovar Pupo asking him to help "remove barriers" the union was creating for the company.
Plaintiffs, children of those killed, have been pursuing a civil suit against Drummond that goes after the company for "paying the right-wing United Self Defense Forces of Colombia (AUC) to protect their business interests in the Cesar and Magdalena provinces of Colombia, and to terrorize and murder innocent residents in the region who they perceived as sympathetic to leftist guerilla groups and supportive of local union organizations." The plaintiffs also contend Colombia military (funded by US taxpayers) and paramilitary forces" have been supporting Drummond.
Cables from WikiLeaks show the president of Drummond, Augusto Jimenez, sought help in October 2009 from the US in combating "publicity" linking the company to the murders of the two trade unionists. Jimenez emphasizes the fact that those charging Drummond was involved had lost their civil suit in the US.
While there is no comment from the diplomat to indicate sympathy, the diplomat does not diminish the concerns of Jimenez about "publicity":
Commercial and Economic Counselors met with the President of Drummond in Colombia, Augusto Jimenez, to discuss recent allegations made against the company -- the largest U.S. investor in Colombia. The U.S. coal firm directly employs an estimated 4,200 workers and provides indirect employment to another 12,000 people. Jimenez expressed frustration over publicity given to recent testimony by a convicted mastermind in the 2001 murders of two labor leaders in SINTRAMIENERGETICA at Drummond. Jimenez noted the testimony raised the same allegations of which the company was absolved in a 2007 U.S. federal court decision in Alabama. The testimony was presented in Alabama on September 22, 2009, in an effort to reopen the U.S. case.
While there is no comment from the diplomat to indicate sympathy, the diplomat does not diminish the concerns of Jimenez.
Jimenez describes how "company executives are distraught over repeated allegations of Drummond's involvement in the murders" and notes this is not the first time the company has been linked. He attempts to debunk what he considers to be rumors by highlighting "the sworn testimony in the United States by Jim Atkins and Drummond executives, including Jimenez, indicating that the company did not have any agreement or involvement with paramilitaries in Colombia, nor any involvement in the murder of the two labor leaders."
Specifically, the Drummond president is upset with a Los Angeles Times editorial, "Murder in Colombia and a US multinational," that more than implies a connection between the death of the two men in Colombia and the coal giant. The editorial explains:
Colombia is the most dangerous place in the world to be a union organizer. In the last 17 years, more than 2,700 teachers, farmworkers, coal miners and other laborers have paid with their lives for seeking rights that Americans have long taken for granted, such as safe working conditions. During that same period, there were more than 4,000 reported death threats against labor leaders, 350 disappearances and kidnappings, and 75 cases of torture.
The editorial goes on to laud the significance of the suit:
… it is significant that a judge in Colombia has asked the attorney general to launch a criminal investigation of top executives at Alabama-based Drummond Co., a multinational coal company. At issue is whether Drummond executives collaborated with the United Self-Defense Forces of Colombia (AUC in Spanish), a U.S.-designated terrorist organization, to murder union leaders organizing the Drummond coal mine in La Loma in 2001. Relatives of three slain men, Valmore Locarno, Victor Orcasita and Gustavo Soler, sued Drummond in Birmingham and lost -- proof, the company says, of its innocence. But new evidence has emerged: In sworn affidavits, ex-paramilitary soldiers are naming top Drummond executives as having requisitioned and paid for two of the murders. The company says those allegations are false.
On the basis of the new information, another wrongful-death suit was brought against the company in May in Birmingham. But a civil action in the United States is no substitute for a criminal investigation in Colombia. The perilous environment for workers there exists not only because of the violence they face but the historical impunity of their attackers…
Jimenez talks about some of the individuals that have been suggesting Drummond is guilty of involvement in the killings. He mentions Rafael Garcia, a former Administrative Security Department (DAS) employee who has claimed publicly that he met with a paramilitary leader and handed over a suitcase of money asking for "labor problems" to be eliminated. According to Jimenez, Garcia changed his story later so is story should be doubted.
Garcia, according to a story written by Forbes reporter Frank Bajak published in July 2007, "pleaded guilty to charges including money laundering and erasing the records of wanted drug traffickers." He has claimed to "have engineered a massive vote fraud in 2002 that favored Uribe and congressional candidates also supported by the paramilitaries." [Garcia has also spoken out about Colombian intelligence involvement in working to engineer a coup in Venezuela.]
The diplomat notes two other individuals involved in the case surrounding the murders of two trade unionists: Jairo de Jesus Charris Castro "whose testimony was presented to the court in Alabama," and Jaime Blanco, who at the time was chief for a cafeteria contract service at Drummond.
Castro was sentenced in August 2009 to thirty years in prison for being the one who led the paramilitaries responsible for committing the murders. Jimenez contends that Castro "demanded in an email that Drummond provide him money in exchange for not accusing Drummond of being involved in the murders; Charris stated that he had been offered money by the union to tell his story to "La Semana" magazine. Jimenez said he notified Colombian authorities, who tapped Jimenez's phone and computer and traced the communications to Charris. In one email, Charris admits to coordinating the operation against the labor leaders."
In November of 2009, according to Platts Coal Outlook, Drummond essentially won its seven-year court battle when Judge R. David Proctor of the US District Court for the Northern District of Alabama "dismissed one lawsuit against the coal company over its alleged connection to the deaths of union leaders in Colombia because the suit lacked standing." While Judge Proctor gave the plaintiffs the ability to introduce more evidence and file a second lawsuit that would return Drummond to court, the court did not seem to think the plaintiffs desire to collect "equitable relief and damage" under the Torture Victims Protection Act, the Alien Tort Claims Act and Colombian wrongful death law had much merit.
That the case was heard in court was significant. As noted by the International Labor Rights Forum, the case marked "the first time an American company [had] gone before a jury in a U.S. court for alleged abuses committed abroad."
A US diplomatic visit to the Port of Santa Marta on February 18 and 19 in 2009, detailed in a cable, includes a stop at Drummond's coal shipping port. The diplomat that visits expresses no concern then over the possibility that Drummond is cooperating with paramilitary forces, even though a case has been in the news for the past few years. Instead, port expansion and increased production that would lead to the addition of rail line from Drummond's mine to the port is discussed.
The diplomat notes:
…Since 1996, Drummond has invested USD 1 billion and increased production from 8 million tons to 22 million tons in 2008, expecting production to reach 25 million tons in 2009. Norman noted Drummond transportation -- responsible for moving coal 192km from the mine to the port -- has 1,000 direct and 4,500 indirect employees and 35 locomotives and 1,500 gondolas, while Drummond mining has 3,000 direct and 5,000 indirect employees. Norman said that at upon his arrival in 2003, Drummond coal transport trains were attacked weekly; however, cooperation with the military, President's office, and the improving security situation has resulted in no attacks since 2004…
Drummond plans to expand production significantly with the opening of its new El Descanso field, targeted to start production in 2009. This field would enable Drummond to eventually increase annual production to 40 million tons per year. The expansion, Norman added, should increase employment by 2.3 percent in mining and 1.8 percent in transportation this year alone. Norman said price fluctuations should not be a factor in their expansion plans, as Drummond is profitable with world prices at USD 35 per ton (the current price is USD 65). Drummond also has premium coal, with a sulfur content of 0.37 percent vs. the 0.57 percent average, leading to high demand from its EU and U.S. customers.
The diplomat predicts Drummond's expansion will turn Colombia, which is already "the world's fifth largest coal exporter," into the third largest exporter by 2012. It is noted that Drummond exports a third of the country's coal.
A motive certainly exists for Drummond to turn to paramilitary forces (or at least the Colombia military) to help preserve profits. Colombia is widely regarded as one of the most dangerous places for a trade unionist. On May 22, 2006, four thousand coal workers from Drummond, Inc. began a strike. The Deputy Chief of Mission, who was leading Drummond's Colombian operations, did not find the union's demands to reasonable. In a May 2006 cable detailing Drummond's handling of the strike, the diplomat writes:
Although XXXXXXXXXXXX said Drummond was not yet "deeply concerned" over the strike, the company, its contractors, and the national economy are facing significant financial losses. He doubted that the company would be able to make up for lost production as the company was already operating at 100 percent capacity, and estimated that the company is suffering daily coal production losses of approximately 70,000 tons, with lost revenue to be about 3.5 million USD daily. According to the company, its domestic and international suppliers are losing approximately 2.8 million USD daily and the GOC is suffering over 250,000 USD daily losses in sales, income, and import tax revenue.
ColombiaReports.com reported in September 2010 on a paramilitary member that testified in court that Drummond had "congratulated members" on murder of the trade unionists. It noted that five paramilitary members had been convicted and that "Samario," a paramilitary on trial for involvement in the killings, was thanked for helping with the double homicide.
The AUC was declared a terrorist organization in 2002.
Chiquita has also been implicated in the killings of trade unionists by paramilitary members. So, it's not unreasonable to suggest that Drummond has asked paramilitary forces to help protect business.
To date, no executives from Drummond have been convicted for involvement in the killings.
Photo a screenshot of photo from El Espectador.