2011-03-16 Japan's Growing Nuclear Calamity Compounded By History of Neglecting Safety, Downplaying Accidents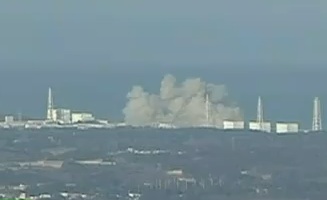 Russian nuclear accident specialist Iouli Andreyev, who helped with cleanup in the aftermath of Chernobyl, said on March 16, "The Japanese were very greedy, and they used every square inch of the space. But when you have a dense placing of spent fuel in the basin, you have a high possibility of fire if the water is removed from the basin." His comments came as Japan faces a growing nuclear disaster with nuclear reactors leaking and radiation plumes discharging into the atmosphere.
Andreyev put the blame on corporations and United Nations' International Atomic Energy Agency, saying they had "willfully ignor[ed] lessons from the world's worst nuclear accident 25 years ago to protect the industry's expansion." He condemned the nuclear industry for ensuring Chernobyl was not studied properly.
Japan has been scrambling to contain a nuclear catastrophe ever since an 8.9 earthquake struck last week. As of Wednesday, March 16, a helicopter was unable to drop water on "the most troubled reactor" in the country. Workers left the power plant briefly as radiation levels increased.
In 2007, twelve power companies "admitted to thousands of irregularities in reporting past problems." Japanese citizens began to resist the building of new nuclear reactors. They pushed for legal actions to suspend operations. Now, US State Cables released by WikiLeaks, which are being published by the Telegraph and The Guardian, further affirm that some sort of coverup has been going on.
A cable from 2006 details:
On March 24, the Kanazawa District Court ordered the Hokuriku Electric Power Company (Rikuden) to shut down operations at Unit Two of its Shika Nuclear Power Plant (NPP) due to safety concerns over its ability to withstand powerful earthquakes. A group of 135 plaintiffs from across the country filed the suit against Rikuden in May 2005, after the operator began trial operations, arguing that its anti-seismic design was insufficient and the advanced boiling water reactor (ABWR) design was inherently dangerous. The suit followed up on an earlier unsuccessful attempt to halt the construction of the new reactor. The plaintiffs pointed to a study commissioned by the GOJ's Earthquake Research Committee that concluded there was a two percent chance that an earthquake with a magnitude of 7.6 or higher could occur along the 44-kilometer long Ochigata fault, which runs near the NPP. The unit was built to withstand a magnitude 6.5 earthquake. The plaintiffs claimed that Unit Two was built to seismic specifications established more than two decades earlier and therefore posed a direct threat to their safety.
The judge believed, "if there was an accident at the plant due to a large earthquake," there was a possibility of a radiation accident occurring. The judge also said, "Rikuden had not taken into consideration an earthquake that may occur along the Ochigata Fault when building the new reactor." And, "the court argued that Rikuden's estimates of potential earthquakes in the area were too conservative" (although the court did not buy that the design was unsafe "citing lack of evidence").
Appearing to take the order seriously, Nuclear and Industrial Safety Agency (NISA) Director-General Kenkichi Hirose said, "I've never thought that a court would order the cessation of the plant's operation." However, NISA's International Affairs Office Director Michio Hashimoto said "NISA believes the reactor is safe and that all safety analyses were appropriately conducted. Thus, NISA did not move to shut down the reactor in question.
As a result, NISA saw no reason why Rikuden should shutdown Unit Two. NISA emphasized the fact that the court order was a result of a civil suit and did not "question the validity of the national regulations themselves through an administrative lawsuit." Rikuden continued to operate the reactor.
This isn't really a huge revelation, as many Japanese citizens are aware of the corruption between the nuclear industry and the government. The court order was covered in Japan media. The world has wondered why Japan was so intent on using nuclear power even though it is so susceptible to seismic disasters.
Key events that have plagued the nuclear industry are as follows:
1999 - Two workers killed in explosion at Tokaimura plant
2003 - 17 Tepco plants shut down over falsified safety records
2004 - Five workers killed by steam from corroded pipe at Mihama
2007 - Damage inflicted on Kashiwazaki plant from earthquake
Despite those incidents and disasters in the past, the country has been pushed to rely on nuclear due to a "lack of indigenous energy resources." A BBC report from July 17, 2007, shows the country has a few geothermal projects but no oil and very little coal.
On March 18, 2009, the high court overturned the order to have the plant shut down. The Japan Economic Newswire reported, "Presiding Judge Nobuaki Watanabe said, 'We cannot recognize the specific dangers to residents being exposed to radiation due to an accident, as the assessments of active fault and seismic shaking are appropriate.'"
The judge added, "Safety measures taken by Hokuriku Electric Power Co. [Rikuden] against the No. 2 reactor of its nuclear power plant in the town of Shika in Ishikawa Prefecture are in line with the government's quake resistance guidelines, which were revised after the lower court ruling."
The plaintiffs pushing for the shut down reacted, "The court simply believed what Hokuriku Electric Power said and we can't accept it," and, "the ruling gives little consideration to the dangers of having nuclear plants in Japan, a seismically active country." A professor of science and history at Kyushu University stated, "The reliability of the new guidelines was called into question by the (Niigata) earthquake and it should have been assessed more skeptically…The ruling conforms to the recent trend of power suppliers underestimating fault plane activity. People won't be convinced that nuclear power plants are safe by this ruling." [And, on February 28 of this year, the plant in Shika was shut down for unplanned repair.]
A cable from October 27, 2008, echoes the charge that Japan's government has been neglecting the safety of its nuclear reactors. Lower House Diet Member Taro Kono criticized Japanese ministries, particularly the Ministry of Economy, Trade and Industry (METI) saying they were "trapped in their policies, as officials inherited policies from people more senior to them, which they could then not challenge." For example, following the Chernobyl incident, Kono said "Japanese radiation standards for imported food had been set" but "had not changed since then, despite other nations having reduced their levels of allowable radiation."
Furthermore, Kono claimed METI was covering up nuclear accidents and obscuring costs and problems being created by then nuclear industry:
He claimed MPs have a difficult time hearing the whole of the U.S. message on nuclear energy because METI picks and chooses those portions of the message that it likes. Only information in agreement with METI policies is passed through to the MPs. Elaborating on his frustrations with the ministries, Kono noted that the Diet committee staffs are made up of professional bureaucrats, and are often headed by detailees from the ministries. He said he had no authority to hire or fire committee staff, and that any inquiries he made to them quickly found their way back to the ministries.
When considering that charge, it is no surprise that BBC reported years ago, "A pervasive culture of secrecy that is commonplace in corporate Japan, and traditional hostility to whistleblowers, make it hard for the industry to change." It seems like it was going to take a disaster of this magnitude to shock Japan into changing or maybe an international diplomatic crisis brought on by WikiLeaks to alter how the industry functioned in Japan.
In another report, the BBC expounded on accidents & secrecy in Japan. Satoshi Fujino, public relations officer at the Citizens' Nuclear Information Centre in Tokyo, mentions an "extremely lax" safety appraisal process and "very haphazard" inspections carried out after the process all make the industry prone to accidents.
Kono, in the cable, also raised the issue of "nuclear waste." He suggested Japan had "no permanent high-level waste storage, and thus no solution to the problem of storage," and, citing "Japan's extensive seismic activity, and abundant groundwater," asked 'if there really was a safe place to store nuclear waste in the "land of volcanoes.'" [And, it's interesting that Kono expressed surprise that there is pushback in the US on storing waste at Yucca Mountain. Kono believed Japan needed such a facility to store waste and stop the process of "reprocessing" or recycling nuclear waste.]
Finally, a cable, from 2008, shows the IAEA was aware of the inner workings of Japan's nuclear industry and how it was handling safety:
"On earthquakes and nuclear safety, the IAEA presenter noted the Agency has officials in Japan to learn from Japan's recent experience dealing with earthquakes and described several areas of IAEA focus. First, he explained that safety guides for seismic safety have only been revised three times in the last 35 years and that the IAEA is now reexamining them. Also, the presenter noted recent earthquakes in some cases have exceeded the design basis for some nuclear plants, and that this a serious problem that is now driving seismic safety work. The IAEA is issuing a new guide on seismic evaluation to accompany existing guidelines on seismic hazard and design. Finally, the IAEA noted it had launched an International Seismic Safety Center at its September general conference to enhance safety, develop standards, pool and share knowledge."
Fault lines have been discovered and the likelihood of seismic activity appears to have increased in the past decades. But, as the cables prove (and as news has previously reported), Japan has taken the path of least resistance, continuing to expand its nuclear industry instead of seriously considering alternative energies that would not compound a disastrous tsunami or earthquake.