2011-03-11 Cable: Gbagbo exclusively funds Ble Goude with Ivorian taxpayers' money for years
Gbagbo's dictatorial grip of Ivory Coast has allowed him to dispose of the country's budget at his will. This includes heavily funding Charles Ble Goude, the head of Young Patriots(COJEP), a focal point of young supporters of Gbagbo. A cable 08ABIDJAN396 reveals how Ble Goude was effectively 'converted' from a boss of an armed militia to a wealthy businessman and 'serious politician', by Gbagbo's limitless economic support out of Ivorian taxpayers' money.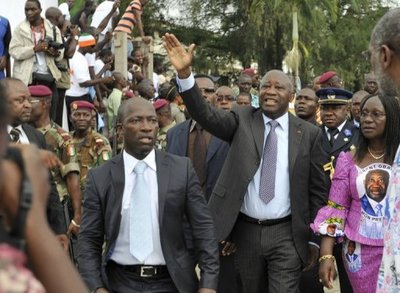 Charles Ble Goude and Laurent Gbagbo in 9th October, 2010 in Abidjan. Ble Goude is standing left to the president.
AFP/Archives/Sia Kambou
All actions of Ble Goude have been heavily paid by the taxpayers money
Ble Goude has drawn support from youths of Ivory Coast's minor ethnic group Bebe tribe, the tribe where Gbagbo is from and representing the southern and western parts of the country loyal to Gbagbo.
He has been able to conduct his costly, large-scale works by means which an officially sworn in government could never dream to use formally; violent looting and strong incitement of terror against its political rivals and personnel from international societies.
He has been under UN sanction since 2006 for this notorious violence; actively participating in looting, rape, extra-judicial killings against UN and other international personnel. The sanction includes banning him from traveling abroad and freezing of assets. His nickname had been Gbagbo's "Street General" because of his ability to draw storms of young Ivorians within hours by television speeches
However, quotes from French Embassy in the cable suggest that he is not just an alleged 'Street General' fervent in supporting Gbagbo. Rather, he had been a real de facto 'Hidden General', directly and secretly 'paid' by the incumbent president, long before he finally wore some formal title by getting appointed as Gbagbo's youth minister. The quotes inform that Ble Goude is profiting from "substantial holdings in hotels, nightclubs, restaurants, gas stations, and real estate in Cote d'Ivoire" handed to him by Gbagbo. It also states that he "requires payment for all activities he undertakes on behalf of the presidency and the FPI (current ruling party headed by Gbagbo)".
"Life is impossible" in the larger and poorer northern part of Ivory Coast, bombarded by organized discrimination from the government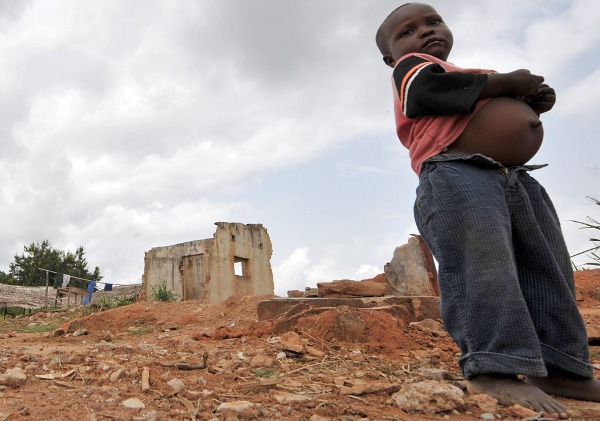 The larger part of the country, the poorer northern region, has been virtually isolated from all political, economical and social supports they must be given from the government for decades, due to its extreme discrimination, reaching the level of xenophobia. The northern part supports Alassane Ouattara, an internationally recognized winner of the November 2010 presidential election. Alassane Ouattara had been banned from running for presidential election because of his parents' background; they are from Burkina Faso.
UN personnel and other West African nations have provided urgent help in many critical moments. One example out of many is providing emergency aid for the 2006 breakout of a water crisis and preventing rapidly spreading infection of cholera and yellow fever, which was running toward a 'humanitarian crisis' at an appalling rate.
Ble Goude's political stance, aggressively propagated through government-controlled national media, is that the French peacekeeping troops and UN personnel in Ivory Coast are concocting conspiracy plans to establish a government – namely the one led by Alassane Ouattara – 'against the Ivorian's will'. He bluntly refuses to admit the northerners as 'true Ivorians', due to them lacking nationality documentation. The documentation process became controversial after years of delay from the Gbagbo government, which effectively avoided it and exploited it as a 'legal' and systematic weapon to marginalize the north.
Ble Goude exploits the anger of southern-western Ivorians caused by a deteriorating economy to fuel the xenophobia against the north. He urges that those living in the northern part, are 'not Ivorians' and thus their political choice cannot and should not be valued.
Reality: Massive public debt and poverty in Ivory Coast
While the government squanders the national budget in financing its supporters and corrupt officials, Ivory Coast has suffered from widespread poverty; 42% of the population live below the poverty line. The government debt has been huge, taking up 63.3% of GDP in 2010.
The economic problems have piled higher every year with few signs of recovery due to political unrest caused by questioning Gbagbo's legitimacy after the 2005 election. There have been numerous presidential speeches containing 'promises' to tackle public debt and poverty, all without any concrete action.
In an attempt to press the Gbagbo government to conform to the result of the election, international donors including World Bank and African Union Bank temporarily stopped their joint support on the country's projects to reduce poverty rates. Various sanctions from the UN and EU also have struggled to deter the flow of money funding violence.