2011-02-28 Army allows protesters to remain at #Tahrir #Egypt
WL Central will be updating news on Egypt, with new items added at the top. You can contact us on twitter @wikileaks_world and by email at wikileaksworld@wikileaksworld.org or @clayclai.
Current time and date in Cairo: -
MONDAY, February 28
Army allows protesters to remain at #Tahrir #Egypt
Protesters have continued to gather in Tahrir Square. Yesterday, they were told by Army Officers that they could not stay out after curfew, however, after insistence on their behalf they have been allowed to stay, given that they do not disturb traffic.
The people there demand the release of all political prisoners, the lifting of the Emergency Law, the dismantling of the state security apparatus and the prosecution of those guilty of corruption.
@FatmaNaib said around 17.00 (GMT):
#Tahrir right now. Never seen it this full! Thousands of ppl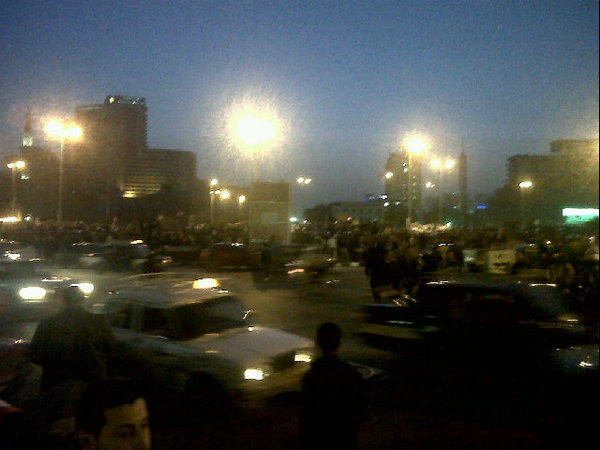 MONDAY, February 28 (Early morning)
Tahrir Square cools down
The situation in Tahrir square has calmed down. In the end Army officials acted as they had promised yesterday in their formal apology and opened up to negotiations with the protesters. Some sources say there are more people in Tahrir than yesterday, and that there could be up to 2000 people in the makeshift camp.
Army officers told protesters in #tahrir we would like 10 of you in the morning to tell us what are your demands #jan25 #newegypt #egypt
#Tahrir now is calm, army joining for discussions
SUNDAY, February 27
Conflict in Tahrir Square
The latest reports coming from Tahrir square in Cairo hint to possible conflicts after curfew. Twitter users have recently stated that people are growing in number and the army has announced that it will be forced to evacuate people after midnight.They have begun gathering around the camp at the square and the situation is tense.
@1Seabiscuit says

#EGYPT: Army soldiers in quantities gathering around #Tahrir protesters NOW! Please RT! #jan25 #Tahrir v @omarkamel v @gebluemte_tapet
@MagButter says

RT @ElFoulio: More ppl in #tahrir tonite than yesterday #jan25 still its before curfew though
@waelabbas says

T : Ok, got a phone call from #tahrir square now saying 777 forces intend to use violence on protesters, AGAIN. #jan25
ough
@ElFoulio says

Army thru megaphone: pls clear square by midnite, ppl shout him down, mesh hanemshi #jan25 #tahrir
Moussa and Presidential Candidacy
Amr Moussa, Secretary-General of the Arab League and ex-Minister of Foreign Affairs for Mubarak´s governement, expressed his desire to run in the next presidential elections in Egypt, which are to be held in the next months. According to Reuters, ¨State news agency MENA quoted Moussa as saying he had "the intention" to run. "The decision will come at the appropriate time," he said.
His intentions may stem from the proposal of constitutional amendments made by the judicial committee of the country's military rulers on Saturday, changes which allow independent candidates to run in political elections.
Amr Moussa in 2009, Al Masry Al Youm newspaper: "How will I garner the support of 250 members of parliament if I am to participate as an independent? The answer is the way is blocked."
According to cable 9CAIRO23950, ¨In a December 23 interview, Arab League Secretary General Amr Moussa said that despite calls from Egyptian political commentators that he consider a presidential campaign in 2011, constitutional "obstacles" preclude his candidacy¨.
Article 76 of Egypt's Constitution stipulates that a candidate for the presidency must receive the "support of at least 250 elected members of the People's Assembly, 25 members of the Shura Council, and ten members of every local council in at least 14 governorates¨ and according to the same cable, ex-president Mubarak was not considering to ¨support constitutional reform in advance of the upcoming elections¨.
According to leak analysis, Amr Mussa also counts with the support of U.S.
SATURDAY, February 26
Army apologizes
After crakdown at Tahir Square and Parliament on protesters in Cairo, the Egyptian Army published an apology on its official Facebook Page.The following is a transcript from the original text in Arabic.
Message 22 from the army to the 25 jan revolutionary youth

An apology and we have credit for it:
The High Council of the Armed Forces assures the youth that we are keen on achieving the nobel goals of the revolution, and that what happened in yesterday's protest were unintentional clashes between the military police and the sons of the revolution.
And there was never and will never be any kind of orders to assault the sons of this great nation, and all the necessary actions will be taken to assure these actions dont happen in the future.

The High Council for Armed Forces
FRIDAY, 25 (NIGHT) - SATURDAY, February 26
Military and masked man crackdown on protesters
Shortly after midnight, local time, the Egyptian Army started removing peaceful protestants from Tahrir Square with tasers and sticks. Masked men, machine guns and snipers were also reported to make part of the operation. "Army was brutal", quoted some protesters via Twitter. Near 100 people were arrested, according to witnesses. The Army also attacked protesters gathered at the Egyptian Parliament.@Cer Mohamed A. says "When I was beaten by #police, I was furious. Today, when I was beaten by army, I feel very very humiliated".
@jamesdoleman sent a photo.
Latest Twitter feeds related (GMT time):
Via @Maswad tasered some1 as he was running,fell shaking on ground then went motionless,heard them say get him,dont know where he is #Jan25
@teecrash They were the military police and the military. No thugs
Salmajalabi Salma Jalabi 0.45 by la_morkina @AJEnglish @CNN @cnnbrk @BBCWorld the army are attacking ppl at #tahrir square!!! #jan25 #Egypt
AymanBasheer Ayman S. Basheer 0.30 It's dangerous situation in #Tahrir square: Snipers, heavy beating, stun guns use by military units. #Egypt #Jan25
ReemAO8 Reem 0.28 by SarmounSufi Caller on #AlJazeera: Military police beating people in #Tahrir, beat a female activist with several blows & kicks from behind #Egypt #Jan25
AhmadFahmy A Crazy One 23.43 by eggeny And now the army is violently dispersing the other protest near the parliament after issuing warnings #egypt #jan25 #tahrir
coraandaluz Rita Gonzalez 0.41 PLZ SPREAD: Masked ppl wt walkie talkies@machine guns along wt military police inTahrirSquare trying toShutDown the strike #Jan25 #tahrir
adamakary Adam Makary 0.38 by melborizzle after army's violent crackdown on peaceful protest in #tahrir, protesters chanting "are we in libya" "the army and the police are one"
dictatorhunt Masrawy 0.35 Reportedly they arrested 100's of peaceful protesters for nothing but they voiced their demands NOTHING HAS CHANGED in #egypt #jan25 #tahrir
khalidabdalla Khalid Abdalla 0.35 When clearing the square the army kept claiming they were moving us to protect us from thieves and the women from rape. #Tahrir
ticklerton ticklerton 0.33 @monaeltahawy "@Gsquare86: The army was brutal, they beat and arrested protesters both in Tahrir and parliament" #Tahrir #Egypt #jan25
Mamoudinijad Mahmoud M. Khattab 0.31 by LaraAasem So much 4 freedom of speech & a new dawn? The army in #Tahrir is using tasers, beating protesters and arresting some of them! #Egypt #Jan25
@RamyYaacoub: 0.19 cameras, recording device, etc. grabbed by military and masked/armed men. Protesters being arrested. #Tahrir #Egypt #Jan25
Mamoudinijad Mahmoud M. Khattab 0.37 @tololy Army is beating and arresting protesters from in both #tahrir and in front of the parliament
The Al Jazeera English just posted this to their website:
Egypt's protest dispersed by force
Rowan El Shimi has posted this to his blog:
Egyptian army shows its true colours
At exactly midnight on Feburary 25th, exactly one month since the revolution started, the Egyptian army cordoned then attacked people in Tahrir with sticks, electric shocks and by detaining people. Not to mention the thugs that were fighting the protesters. The army was chasing people down the street and beating them up, claiming that they were doing this because they were out after curfew.
Human rights activist Ramy Raoof, was there during the attacks and he streamed a few minutes live on bambuzer here.