2011-02-21 #Djibouti release opposition, promise "severe measures" for future protests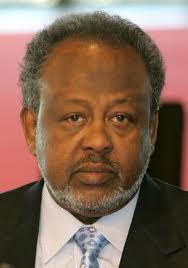 Sunday, February 20
Afrol News is reporting that the government has freed the country's three main opposition leaders, Ismaël Guedi Hared, the leader of Djibouti's main opposition coalition Union for a Democratic Alternative (UAD), Aden Robleh Awalleh and Mohamed Daoud Chehem, leaders of the minor opposition parties PND and UJD. The government is also warning against further protests.
Protesters were able to keep control of the Balbala neighbourhood during the night from Friday to Saturday. Protests on Saturday were concentrated in Balbala, as armed security forces stopped the protesters from reaching the city centre.
National Security chief Hassan Said Khaireh said that "authorities will have to take severe measures to punish those responsible for these troubles and senseless act of violence."
---
Saturday, February 19
Protesters returned for a second day, prompting Interior Minister Yacin Elmi Bouh to speak to Reuters. He said at least one policeman had been killed on Friday and "The opposition wants to take power by force." Reuters says other sources said one protester had also been killed. Afrol News says the small suburb of Balbala, where the minister claimed the protests were taking place, was nothing to the "tens of thousands of protesters dominating central Djibouti City yesterday, with the marches starting in Abdl Nasr Avenue and moving close to the presidential palace." The opposition group estimates that about 60,000 people were protesting in central Djibouti at 3 PM, when the manifestation reached its heights.
At around 6 PM "police began attacking protesters camping in the centre, resulting in at least 24 persons being wounded," The opposition parties claim one protester was killed and two protesters were "seriously injured" following the use of "sharp ammunition".
Yesterday, at least 20 protest leaders, including Mohamed Daoud Chehem, leader of the minor opposition Djibouti Development Party (PDD), were arrested. Today, the arrests continue, with confirmed reports that UAD leader Hared - the country's main opposition leader - this afternoon was arrested in his home by police.
---
Friday, February 18
Afrol News is reporting a much bigger crowd "Around 30,000 out of the capital's 600,000 population" and all reports have the size increasing rapidly. Reports of shooting seem so far to be restricted to sounds, so the police seem to be firing in the air at present.
Dijibouti had protested earlier, on January 28, leading Ismaël Guedi Hared, President of Djibouti's UAD opposition alliance, to call for a massive protest today. "According to UDDESC activists, this evening even international calls have been blocked in Djibouti in an attempt to restrict reporting from the events."
---
via @inkermangroup "20,000 strong opposition protest in #Djibouti to demand President Ismael Omar Guellah step down; Nasser Avenue = epicentre; heavy policing."
Twitter, Al Arabiya and Bloomberg are reporting as many as 20,000 demonstrators, mainly students, calling for president Ismail Omar Guelleh to step down. Guellah, who succeeded his uncle in 1999, had the constitution amended last year to allow himself to run for two more six-year terms.
The demonstrators gathered at a stadium with the stated intention of remaining until their needs are met, but there are reports that the police have opened fire on them. Opposition groups under the umbrella of the Union for Democratic Change, are supporting the demonstration.