2011-03-01 Next big protest in #Iraq on #Mar4 #Kurdistan #Iraq4c #Feb25
WL Central will be updating news on Iraq, with new items added at the top. You can contact me on twitter @GeorgieBC or by email at admin@wlcentral.org.
Current time and date in Baghdad:
TUESDAY, March 1
The next protest in Iraq has been set for Friday, March 4. Prime Minister Nuri Al Maliki and Baghdad Operations Command have apologized today for restricting freedom of press during the February 25 protest and released all detained reporters. Maliki has also proposed a reduction in retirement age from 63 to 61 and called to dissolve the municipal council and to hold early provincial elections.
An account of the fourteenth day in Sulaymaniyah from The Moving Silent. MONDAY, February 28 An account of the thirteenth day in Sulaymaniyah from The Moving Silent.
"100s of civlians r held by #KDP in #Erbil 4 protestin, claims pro-democracy Australian doc (who was abducted by KDP) PLS RT WE NEED UR HELP" via @GorranGuy
"@BayanRahman @BarhamSalih @qubadjt Any comments on the kidnapping and torture claims by Australian doc Dr. Reben Renwar in #Erbil?" via @GorranGuy
"Australian doctor was kidnapped , tortured and beaten by #KDP in #Erbil #Kurdistan for wearing a pro-democracy t-shirt" via @GorranGuy
"protest spread to Jalal Talabani's birthplace today in #Koya. Security forces halted a protest and forced shops to close down" via @GorranGuy
"Al-Qaeda in #Kurdistan releases statement saying they won't harm protesters in #Slemani , accusing #KRG of using scare tactics vs ppl" via @GorranGuy
"KDP TV: #Kurdistan might declare independence in near future. #Iraq Other channels: images of Kurdish tanks going to #Kirkuk" via @marius_vh
"Mullah Kamaran, who gave speech yesterday calling for soldiers to join the protests, has been arrested, according to KNN." via @marius_vh
"Protest continuing in #Sulaymaniya. Couldn't go yesterday. Today "Peace Wall" and military both absent. Ended w/o incident." via @marius_vh
SUNDAY, February 27 An

href="http://themovingsilent.wordpress.com/2011/02/27/sulaimany-twelfth-day-of-protest-they-keep-going/">account

of the twelfth day in Sulaymaniyah from The Moving Silent. The first major incident of today took place around 5:00 PM of last night, heavy gun fire, it went on for a while. Some people began to gather in front of the City Morgue which is close to University of Sulaimany in the morning. There were news that the anti-terror forces had killed some terrorist. Later, Kurdsat TV showed Anti-Terror and Security forces in an empty building, shooting, later, about 4 dead bodies is shown, looked as if they were dressed in military cloth with Kalashenkov beside them. At one point. there is a sound of an explosion and one the Forces shout "He blow up himself". The Mayor of city and the head of Security hold a tense press conference later, one reporter asked them if they knew the name or IDs of the terrorist, "They didn't have any on them", "then how did they get into the city?" another one asked them that some people think that it was staged to scare people "We well show the footage and you will see it yourself", they said that if the terrorist had not been stopped, there might have been a terrorist attack tonight in Sulaimany, "If it were not for the Protest, they would not be in the city". The head of the security mentioned at the press conference that the intelligence leading to the killing was a collaboration between the Army, Security Forces in Sulaimany and the American forces. There were also sound of gunfire around 10:00 PM.
"Protesters were upbeat today that #Barzani will not be ruling #Kurdistan come this summer. Our protest is as strong as that of #Egypt" via @GorranGuy
"If Al-Qaeda want to kill protesters in #Slemani, that means they support KRG. Ppl r protesting vs KRG +AlQaeda now want to kill us?Hilarious" via @GorranGuy
"Really disgusting the way PUK/KDP try to divert attention from the ppl's uprising in #Slemani -news of terrorists bust up is fake " via @GorranGuy
"General feeling is that PUK has lost the grip over #Slemani. We will not see the same leaders in this city in 2 months time." via @GorranGuy
"Today we as doctors in #Slemani protested against the killing of innocent people in our city. We are with the protesters" via @GorranGuy
"Heavy gunfire last night in #Slemani , PUK claims they have killed 4 Arabs and arrested 1 - No one believes them" via @GorranGuy
SATURDAY, February 26
The Kurdish child, Garmian Ahmed گەرمیان ئەحمەد , aged 12 who was shot yesterday in Chamchamal (graphic video).
Protest videos of today
Untitled from San Saravan on Vimeo.
Saturday: Another Bloody Saturday from San Saravan on Vimeo.
An account of the eleventh day in Sulaymaniyah from The Moving Silent. My friend is calling me, "You got to see this, lots of Protesters carrying rocks went toward the Peshmerga Force, fight broke out again, but now they are making peace, some members of the Peshmerga Force are putting down their weapons and kissing the protesters, "We are brothers, we Won't shoot at you", some are crying", "How big is the crowd?", "It is large, very large". Emotion comes and goes, nothing is predictable. KNN TV and Speda TV on their lower third report "One dead and 11 wounded in today's protest in Sulaimany."
"RIP to the 12 year old who was killed in #Chamchamal the 14 yr old who was killed in #Kalar by #Barzani gunfire #Kurdistan" via @GorranGuy
"Shocking news from Fryakawtn Hospital:12 wounded and 2 killed in #Slemani today. I saw both of the deads - multiple bullet wounds " via @GorranGuy
"Loyalists to #KRG carry out a Scare Bomb in #Slemani Meydani Azadi (Freedom Sq) - ppl attack militia - as a result 2 dead and 12 wounded" via @GorranGuy
"the wounded people says Asaysh + Anti Terror Forces (headed by Talabani's nephew) fired on protesters" via @GorranGuy
"Asaish forces at my end of demo did not raise their weapons when protesters stormed at them after explosion." via @marius_vh
"Reports of Iranian Kurds that joined #Sulaymaniya protest being deported from KRG. Death penalty in Iran feared." via @marius_vh
"4 protest organizers reportedly disappeared overnight." via @marius_vh
FRIDAY, February 25
France24 reports that security forces used water cannons and tear gas on protesters in Baghdad, and at least 15 protesters were killed. Four government buildings were set on fire and a provincial governor resigned. Like the Gaddafis in Libya, Prime Minister Nuri al-Maliki called the protesters "terrorists". Around 5,000 people thronged Baghdad's Tahrir Square, with angry crowds throwing stones, shoes and plastic bottles at riot police and soldiers blocking off a bridge connecting the site to Baghdad's heavily fortified Green Zone, home to the US embassy and parliament. The protest was the biggest of at least 17 separate demonstrations across the country, some sparking clashes in which more than 130 people were wounded, according to an AFP tally based on accounts by officials.
Kurdistan reported the biggest crowds yet, with around 7,000, as many as 35,000 to 40,000 just at Maidany Azady or 60,000 - 100,000 in Sulaymaniya. While those crowds were reportedly peaceful, in Kalar one person died and 27 were wounded, according to Arkan Mohammed, a spokesman for Kalar's hospital and a child, aged 10 to 12 years old, was killed, and five were injured in Chamchamal.
"Protest in #Sulaymaniya today ended peacefully after "white group" volunteers intervened to prevent a riot." via @marius_vh
Videos of today's protests.
A much needed website has been created called Alive in Iraq posting audio and video from the protests.
The Committee to Protect Journalists reported that security forces prohibited cameras from entering Baghdad's Tahrir Square, where there were thousands of people protesting, and police confiscated tapes that reporters managed to shoot in the square, according to Al-Jazeera. Al-Jazeera reported that dozens of journalists were detained in central Baghdad today.
THURSDAY, February 24
An account of the ninth day in Sulaymaniyah from The Moving Silent. For the first time, the balance of power seem to be shifting toward the Protesters as their number grew and some Religious Leaders join in the Protest. ... At Maidany Azady, as one of the Speaker mentioned that thousands in the town of Chwarqurna (Close to Rania and Iranian Border) are protesting, the crowds went into euphoric chant. Today, many of the shop-owners closed their shops and joined the protest. ... in Halabja for the third day on a row fight broke out between Protesters and Security Services. KNN report that unknown Militants are arresting the Protesters (not listening to Kurdistan Parliament). The head of Police in Halabja told KNN that he didn't know who were those Militants and why they were arresting the Protesters.
Despite the fact that this WL Central report has lumped the semi-autonomous region of Iraqi Kurdistan in with Iraq, and they are both holding their "official" protest day tomorrow, most Kurdistan protesters would like it clear that the demands are different.
10:30 PM "Just came back from city center & Iskan street in #Erbil,its calm.Calm before the storm?maybe & maybe just calm with no storm :)" via @ShivanSito
10:30 PM "students in hewler threatened ahead of protests tomorrow." via @Shkow
10:30 PM "all of Kurdistan has eyes on irbil tomorrow! Will the people of irbil protest or will they stay silent." via @Shkow
10:30 PM "Less than 24 hrs ago parliament asked for transparency, & guess what! # KRG r banning TV coverage of future protests. Welcome to #Kurdistan" via @HaremKarem
10:30 PM "all major Kurdish parties refuse to support protests in Kirkuk as arab plan is uncovered to attack Kurdish interests in the city" via @Shkow
10:30 PM "Just to be clear, Kurdish demands are different from the demands of Iraqies in the south." via @RuwaydaMustafah
10:30 PM "8 days on and here I am wondering when will the Western media start to cover the #Kurdistan Uprising! we have #Dictators and #Oil too." via @HaremKarem
10:30 PM Pictures of today's protest in Sulaymaniyah via @marius_vh
10:30 PM "Reports that #Sulaymaniya governor resigned and that students from Suli are sent home from universities in Duhok and Erbil" via @marius_vh
10:30 PM "Demonstration in #Sulaymaniya ended peacefully w/o incident. I would say 6,000 protesters in Freedom Square (Sara Square)" via @marius_vh
The Associated Press reports that the Iraqi reporter arrested for throwing his shoes at former President George W. Bush has returned to the country for his first public visit since being freed from prison, and was forcibly detained for questioning Thursday by the Iraqi army. Muntadhar al-Zeidi had returned to join anti-government protests, according to the AP report.
Iraq's parliament has suspended work for a week according to a report from Reuters which they chose to publish with the extraordinary title "Parliament stops work to listen to Iraqis' gripes". "We asked all members to head to all Iraqi provinces ... They will be working for more than a week," speaker Osama al-Nujaifi told a news conference. They will be in their provinces "until they receive all complaints and see the weaknesses and problems ... to look for solutions in partnership with non-governmental organisations, local governments (and other parties)."
The Babil Investment Commission says Iraq's investment law has been "paralyzed" by the state's failure to implement it effectively in ministries and government departments citing lengthy bureaucratic procedures and long time periods required to attain administrative approval. Although Iraq lacks many basic commodities such as housing, sewerage systems and electricity, the government's delay in adopting the investment law has left foreign investors reluctant to implement projects in the country. "Investment is the best solution to address the deteriorating economic situation in Iraq and radically resolve the problem of unemployment" said the Vice Chairman of the commission. "The Kawthar housing project was obstructed by all government departments in the province," and the Ministry of Municipalities "gave itself the right to decide about investment projects although the Investment Authority is the only party in the country authorized in this matter according to law. The Ministry of Municipalities has hindered our projects completely."
WEDNESDAY, February 23
Report on the Baghdad death on Monday from "about 60 knife wielding individuals who attacked demonstrators who are camping at Tahrir (Liberation) Square in the center of Baghdad." Also reports that the protesters have received support from Grand Ayatollah Ali al-Sistani as well as from Sunni clerics, labor unions, tribal chiefs and civil societies. Al-Sistani confirmed the rights of Iraqis to demonstrate against corruption and the lack of public services, provided that the demonstrations remain peaceful and avoid harming public or private property. Sheikh Assaf al-Duleimi, a Sunni cleric, hailed al-Sistani's position which, al-Duleimi said, is consistent with the national and popular position.
An account of the eighth day in Sulaymaniyah from The Moving Silent. "As we all know and I have been reminded by Friends, there are also Protest in Diyarbakir and many other cities in Kurdistan, Turkey. There are not many media coverage, please don't forget them. ... The wounded from yesterday's Protest in Halabja has reached 29, there are many wounded from the Security Service also, most of them from rocks. ... Footage is shown of the Protest in Koya, their numbers are at thousands, very peaceful, flowers is given to the Security Services. ... KNN show footage of Rania Protest, the number is big, peaceful also.
Footage is shown from Halabja, the street is a battle zone, rock throwing, shooting, tire burring in the middle of the street, there are even big barrel, the Protester push it toward the police as they run away. So far, one Police is dead and 5 wounded. The crowd is large, it started peacefully and when the crowd tried to got toward the City Municipality, the shooting started. The head of Police claim that all the leaders of the protesters will be arrested. Kurdsat TV claim that some Protesters had weapon with them and shot the Police.
Around 9:30 PM, on its lower third, KNN report that students in Koya are going into the street and protesting. At 10:00 PM, Speda TV also report the same news.
On it's lower third, Al Jazeera Arabic report that 2 are dead in Halabja.
The White Group protects civilians from security forces in Sulaymaniyah.
More pictures of today's protest in Sulaymaniyah via @marius_vh.
10:00 AM "Violence was averted towards end of protest as protesters form human chain between rioters and military." via @marius_vh
10:00 AM "Another day of protest in #Sulaymaniya ends without casualties. About 5,000 people in Sara ("Azadi") Square." via @marius_vh
As reported on WL Central, the attacks on non-state media in Iraq have been continuing throughout the country all week. Suppression of information has reportedly included preventing hospital staff from reporting accurate numbers of dead and wounded, and preventing certain doctors from even speaking to victims of security violence. There are gross discrepancies between the numbers of dead and wounded in official and unofficial reports in Kurdistan.
The type of coverage being suppressed by the attacks on Sana:
Iraq Freedom Congress satellite TV (Sana) announce: At around 2:30 am Baghdad time a group of anti riot police raided the headquarter of Iraq Freedom Congress satellite TV (Sana) in Baghdad and destroyed every single piece of equipment in the office as well as confiscating a number of documents.
These attacks occurred following broadcasting segments of events took place in Tahrir Square in Baghdad by a number of TV Channels via Sana TV who filmed and documented a particular segments in which protesters clashed with the police on the night of February 20th, 2011 and one protestor was killed as a result, as well as the active participation of Sana TV in assisting of organizing the forthcoming demonstrations in Tahrir Square.
This is the Maliki government and its repressive practices; this is the democracy and freedom of expression which Maliki's is bragging about. He continues sending his militias to silence his opponents and critics. He is no different than Ben Ali, Mubarak and Gaddafi in acts of torture. Iraq Freedom Congress assert that it will carry on the fight and will not bow to the practices of Maliki and his mercenaries and vow that the demonstrations on February 25th, 2011 will continue the pace no matter how brutal this government practices is.
IFC pledges that it will continue organize and fight with full force in the million people march on February 25th, 2011. Iraq Freedom Congress February 23, 2011
Burhan Aydin writes that Hadi JLo Mari, the head of the Journalistic Freedoms Observatory reported a joint military force, led by four officers of various ranks raided the headquarters of the Observatory in central Baghdad, broke doors, and confiscated the contents of the Observatory and the computers and property staff.
Abdus-Samad reports the arrest of two people who made an official request to the government of the province Salah ad Din in order to demonstrate this Friday against the deterioration of services and the growing corruption. The sources said that two people were taken to an unknown destination. The governor of Salah al-Din warned in previous statements by the protesters to leave and said he would deal with them as "terrorists."
Burhan Aydin writes that in Baghdad, one man died and other eight others were injured after an attack Monday by an alleged pro-government militia on a group of demonstrators trying to spend the night at Baghdad's Tahrir square."They came an hour after the midnight curfew. It was a group of around 60, most of them teenagers, armed with knives and clubs. They all jumped of from hummers belonging to the Interior Ministry," said a witness. Bassam Abdul Sattar, another witness, added that Ministry of Defence vehicles cordoning off the area "had left a few minutes before" the attackers arrived. Bassam Abdul Sattar, another witness, added that Ministry of Defence vehicles cordoning off the area "had left a few minutes before" the attackers arrived.
Galal Lawrani, secretary of the Iraqi Parliament's deputy spokesman, pleaded for patience and understanding. "We fight against corruption although we do admit that much of the money is lost in the hands of subcontractors. However, people do not understand that there's very little we can do as these companies are often linked to senior politicians. An intervention could lead to a government crisis almost immediately." "We fight against corruption although we do admit that much of the money is lost in the hands of subcontractors. However, people do not understand that there's very little we can do as these companies are often linked to senior politicians. An intervention could lead to a government crisis almost immediately."
Protest videos via via kchasha کچهشا
TUESDAY, February 22
Pictures of today's protest in Sulaymaniyah via @marius_vh.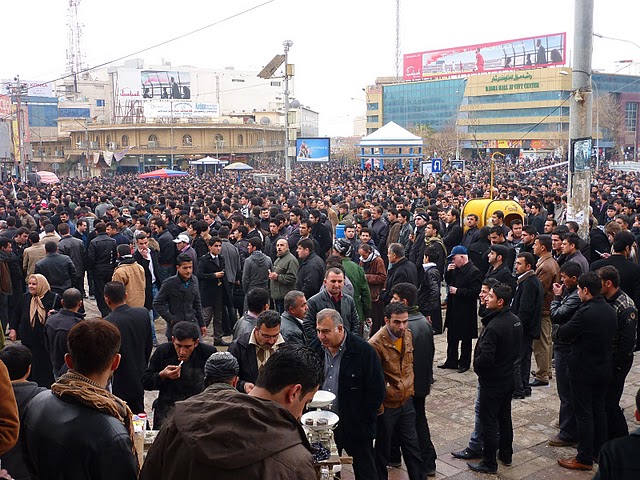 AFP reports around 4000 protesters in the city square of Sulaymaniyah today as well as a total now of three young protesters have been killed and more than 100 wounded since Thursday (see below for very different numbers). "In a bid to prevent further violence, several of the demonstrators wore white shirts emblazoned with the words "Wall of Peace" and stood between the bulk of the protesters and security forces."
An account of the seventh day in Sulaymaniyah from The Moving Silent. He also reports a tense but peaceful protest, with many pictures of militia with narcissus placed in their gun barrels, and Kurdistan flags given to them by the protesters. Small children were among the protesters and a young man holds up a sign reading "Don't Kill Me, My Mom is Waiting for Me". "There are reports (on KNN TV) of at least 15 wounded in Halabja as fight broke out between the Protesters and Police, the Militias started shooting into the crowds."
Reporters Without Borders has documented attacks in journalists during the Kurdistan protests and in particular: Reporters Without Borders is outraged by the destructive attack that 50 masked gunmen carried out at 2:30 a.m. on 20 February on the headquarters of Naliya Radio and Television (NRT) in the compound known as "German Village" in Sulaymaniyah, in northern Iraq's autonomous Kurdistan region, to prevent it from continuing to cover unrest in the city.
After opening fire on NRT's guards, wounding one of them, the gunmen smashed all the broadcasting equipment and then set fire to the building. Launched on 17 February by the company Naliya, it was Iraqi Kurdistan's first independent satellite TV station. It had existed for 72 hours and had provided a total of just 17 hours of broadcasting when the attack took place. In this short space of time, it had distinguished itself by its live coverage of the protests against the Kurdistan Regional Government that had erupted on 17 February and it had broadcast footage of police firing on demonstrators and the resulting bloodshed. NRT's executive had been receiving threats since the day it was launched.
Channel 10 coverage.MONDAY, February 21 Amnesty urges "restraint" and reports two of the deaths, 17-year-old Serkho Mohammed, who was shot dead yesterday and a second protester who died in hospital today after being shot during the protests, which also left at least 30 people injured. Later they state the KDP militia have killed three people in Sulaimaniya, including a 15-year-old boy. "The two political parties that jointly rule Iraq's three Kurdish provinces continue to operate armed militia which act almost as a law unto themselves and have been permitted to commit human rights abuses with impunity," said Malcolm Smart, Amnesty International's director for the Middle East and North Africa.
An account of the sixth day in Sulaymaniyah from The Moving Silent. "I would say that more than 20,000 people were taking part in the protest in Bardarky Sara and surrounding area." The president and teachers of the University of Sulaymaniyah along with almost all the students held a demonstration today from 12:00 to 2:30 PM at the center of the University and promise to do so every day until their demands are met. If their demands are not met they will join the protesters. Their demands were: 1. All the forces must leave the streets and Sulaymaniyah. 2. KDP and Kurdistan Regional Government must apologize to the people of Sulaymaniyah. 3. The Television and Media that called the protesters "Troublemakers" "ئاژاوە گێر" must apologize. 4. Answer to the demands of Protesters. Lawyers and law students protested in front of the Justice Building, demanding justice and an inquiry into the killings. Masud Barzani, the president of Kurdistan and the KDP, is blaming Iran for the protests. It is the sixth day of the protest neither Masud Barzani nor Iraqi president, Jalal Talabnai have spoken to the people. Tear gas is reported used. Some protesters are targeting the KDP's media, Kurdistan TV, Zagroz TV and PUK, while the security forces are targeting KNN (Goran), Nali (independent) and Speda (Islamist). Some independent reporters were also targeted by the Security Forces. KNN report that as of now, there are 3 dead and 123 wounded. "Speda TV shows footage of protest in Rania, there must be thousands of then, most are Young Men. Unbelievable, the Young Men are throwing rocks at the Forces, one footage show a Militia being hit with rocks coming from every direction, he start to shoot into the people and then into the air. Also footage of streets full of trash, tires on fire and protesters running as they are being shot at. For each Security Force it seems like there are 10 Protester. The city is shut down as of now, shops closed. Also, Speda TV report that their reporter was beaten by Security Service."
From @GorranGuy, a doctor at the hospital:
5th day of protests continue in #Slemani and surrounding cities today. More than 15 protests today in #Kurdistan So far it has been peaceful
Doctors in Fryakawtn Hospital have been warned from using Facebk or Twitter by KRG Depart of Health officials loyal to PUK - hav 2 b careful
Word among doctors at Fryakawtn (Emergency) Hospital is many of the victims are dead - they r put on LifeSupport 2 reduce no. of casualties
Todays Protest was diff - 1 member of Peshmerga joined the protest- many teachers/docs/women present and very peaceful
Photos of Day 5 of Protests in Freedom Square (Maydani Seray Azady)
yes there was a meeting between opposition and ruling parties - news says that the KRG did not commit to change- no agreements
Hospital in Sulaymaniyah.
---
SUNDAY, February 20
An account of the fifth day in Sulaymaniyah from The Moving Silent. "Last night they burn down the Nalia (NTV) Satellite channel, according to Twana Osman who is the president of NTV "50 militia men, all dressed similar and in military cloth, attacked the building, went into every room and shot every single equipment, the with hand grenade and other explosive, they set fire into the building, bullets into computers screens." They report around 20,000 troops spread out in and around the city but it is unknown who they are. Thousands protest again in Sulaymaniyah, trying to get to Salim street to KDP's headquarters. At least 2 thousand protesters from Saholaka (South of KDP's headquarter), tried to go to KDP HQ, and were shot at security forces. KNN report a heavy presence of Security Guards and Police spread out around and inside Erbil, protests starting in Chamchamal, mentions of students protesting at Rania, close to Iranian border and students at Koya close to Ebil. SpedaTV is reporting that in Rania, they are shooting at people and the protesters are throwing stones at the police. Today's protest in Rania started peacefully but soon turned violent after they Security Service started to attack them with water and then electrocuted them. About 70 Young Men who were arrested yesterday were released today, they talk about been treated badly and beaten. KNN report of 1 dead and 48 wounded.
From @GorranGuy, a doctor at the hospital:
New protests will take place today in #Slemani #Kurdistan - We need
Foreign reporters to be present in Berderki Sera 1pm PLS PLS PLS
This morning in Berderki Sera (tahrir square) in #Slemani #Kurdistan http://on.fb.me/igBZmg Heavy presence of the army HELP HELP HELP
Presence of Peshmerga in Freedom Square (Berderki Sera) in Slemani Kurdistan
Thousands of ppl of all kinds gather in Freedom Square in #Slemani #Kurdistan chanting anti-Barzani slogans #Kurdistan #Slemani NOW
Protests extend to Ranya, Germyan and Koya as well as #Slemani #Kurdistan - biggest protest today
from my contacts in Ranya & Koya they are civilians no political motivation. Gorran is no longer popular after bein silent 4 long
No injuries or wounded reported to #Slemani Hospital today - very peaceful protest bt large strong crowd
Peshmerga fire live ammunition on protesters in #Slemani #Kurdistan that is because u watch KRG media - Nalia TV is the voice of the ppl - and it was burnt down last night by Peshmerga
Peshmerga fire on protesters - reports of 1 dead and 1 injured reports that casualty have gone to 5 wounded and 1 dead
reporter for KNN TV (opposition media) is among the wounded today local radio says Barzani's forces were firing at protesters #Slemani #Kurdistan reports of 5 wounded 1 dead
Journalists & media reporters have been under attack today by Peshmerga in #Slemani #Kurdistan NO respect for free press by KRG
No deads have been received by my hospital yet - but 3-5 wounded #Slemani #Kurdistan 2 of them are journalists
casualties re: #Slemani protests today: 18 wounded - 1 dead #Kurdistan
Hospital sources barr some doctors from speaking to/help wounded just back from a ward round - 33 injured from today's protest
WORLD WE NEED UR HELP - Protesters camped out in Azady (Freedom) Square in #Slemani #Kurdistan were all arrested and removed by bullets number of today's wounded 48! 1-2 are seriously injured
News from Fryakawtn Hospital : One protester was beaten to death today - he is in intensive care - He is brain-dead
Surkew 16, is now pronounced dead - he was shot in his chest this afternoon by Peshmerga
Sunday: words or bullets? from San Saravan on Vimeo.
---
SATURDAY, February 19
Another eyewitness account of the day in Sulaymaniyah from The Moving Silent. They report two or three thousand people, not just young men, but girls from colleges and high schools, older men, women and children protesting, demanding the KDP's Zerivan Force leave the streets of Sulaymaniyah. Police in the crowds attacked protesters with knives, some buildings were set on fire, the streets were full of rocks, trash, and burning tires. Rumours of US soldiers and humvees protecting the streets leading to PDK's headquarters, secret service beating protesters with baseball bats, police shooting and arresting people and attacking reporters. "Horrifying footage shown on KNN, after they spry people with water, they chase them and use electricity on them with a stick. A Young Man was shivering after he was electrocuted. More horrifying footage shown on KNN: Security Service dressed in Civilian cloth are chasing down protesters and shooting at them with hand-guns and Pistols, like they are hunting animals."
Photos from today here and here.
From @GorranGuy, a doctor at the hospital:
Video of KDP Peshmerga firing live bullets into the running crowd. [Reportedly the boy in red is Zmnako Rzgar, about 13 or 15 years old, now in a very critical condition.]
1000s of protesters are in Barderki Serah in #Slemani to condemn the killings of civilians on 17/2 by #Barzani peshmerga
Photo of the #Slemani protests NOW in #Kurdistan - ppl demand removal of Barzani army- resignation of Barzani
PUK forces open fire on protesters in #Slemani 's Berderki Serah (tahrir square) - many wounded
many youngsters arrested in Berderki Serah - at least 1 wounded by gunfire - many are wounded by beating
Many wounded in central #Slemani #Kurdistan #NOW as PUK forces attack peaceful protesters in Bardarki Serah
We have just received 8-10 wounded in Fryakawtn Hospital - some of them are Asaysh #Slemani #Kurdistan - We need BLOOD donations
Today's wounded raise to 12 - 3 of them r journalists - 2 r bullet wounds and the rest are beating / stone wounds
Main opposition Gorran declares its support to the protesters in #Slemani - ppl now await to see whether they join protests #Kurdistan it is on sbeiy.com It is not as strong as people wanted it to be. Gorran needs to join the people - not just stand by
KDP and PUK men burn newly-broadcastin Independent Nalia NRT TV station in #Slemani #Kurdistan just minutes ago..Tv station is ablaze the TV station warned tonight that KDP/PUK Ministers have warned them to stop reporting the protests - appealed for help. It'll be ugly 2mro
Saturday: Bleeding injuries from San Saravan on Vimeo.
---
FRIDAY, February 18
10:00AM "Figures from yesterday's casualties. - 30 gun wound victims have had surgeries - 20 of them are in Intensive Care" via @GorranGuy
10:00AM "Today we were told by hospital directors NOT TO TELL ANYONE about the figure of deads - I CAN TELL U IT IS 10" via @GorranGuy
7:00 AM Facebook page for Iraq protests, with 11,450 likes.
3:00 AM The Belfast Telegraph reports a protest of about 1000 people has blocked a bridge in Basra after repeated protests this week across the country.
3:00 AM A statement from Iraqi Streets 4 Change.
3:00 AM Another video of the Sulaymaniyah atrocity and pictures from the funeral of one of the slain teenagers, Rijwan Ali.
3:00 AM "The #Iraq crackdown continues support #iq4c #Feb25 "@alisaadi: Police prevent journalists documenting demo in Tikrit, Salah Al Din province"" via @MoustafaAyad The Scene At Sulaymania Hospital on the 17th of Feb via Arab Revolution.
5:30 AM Excellent eyewitness account from Kurdistan massacre, also stating 10 dead.
3:00 AM "video of the woudned in Fryakawtn Hospital in #Slemani #Kurdistan http://on.fb.me/gUUckV" via @GorranGuy
3:00 AM "http://on.fb.me/eAEFEi another video of peaceful protesters being shot at by KDP" via @GorranGuy
3:00 AM "100s/1000s of ppl are heading towards the #Gorran HQ (Grdaka) in #Slemani #Kurdistan amid reports that KDP r about 2 attack it" via @GorranGuy
3:00 AM "Video of Kurdish 15 yr old being killed by KDP http://www.youtube.com/watch?v=qIzWqY4j9X0 RIP - We NEED YOUR HELP WORLD" via @GorranGuy
3:00 AM "i work @ Fryakawtn Hosp, the wounded protesters were all shot in the back. deathcount would go to up2 10. Can u justify that?" via @GorranGuy
2:00 AM "WORLD & FREEDOM LOVING PPL @BBCBreaking #Slemani in #Kurdistan NEED your HELP! Barzani has sent his army to the city. We need ur protection" via @GorranGuy
2:00 AM"Main electricity goes in #Slemani #Kurdistan News that KDP has sent its "Barzani Guards" for revenge, ppl are scared of a bloodpath HELP" via @GorranGuy
2:00 AM "I am a doctor in Slemani hospital - the KDP guards who were wounded had NO bullets inside them - They had stone wounds" via @GorranGuy
12:00 AM "video of the uprising in #Slemani #Kurdistan taken by an American girl http://on.fb.me/i2x7gw" via @GorranGuy
10:00 PM "protesters are still camping out KDP HQs in #Slemani #Kurdistan - many woundeds r held prisoners by KDP" via @GorranGuy
10:00 PM "This is how a KDP armed guard kills a 16 year old. He smashes his AK47 on the youngster's head. http://yfrog.com/h2qy86j" via @GorranGuy
9:00 PM "Protesters FORCE KDP HQ (Lqy 4) to leave ...Asaysh take over the control of KDP HQ in #Slemani #Kurdistan!! Jubilation by protesters by fone" via @GorranGuy
8:00 PM "we have run out of blood - we had 9 people who needed double operations -they all have 10% chance - 57 wounded before my break" via @GorranGuy
8:00 PM "sorry I can not give u my name. i am a doctor at Tawarreka we need O-/O+ for some of the wounded." via @GorranGuy
8:00 PM "This video was taken after the massacre - protesters shouting AZADI (FREEDOM) #kurdistan http://on.fb.me/gy5np7" via @GorranGuy
8:00 PM "More videos of the uprising in #Kurdistan #Slemani - KDP firing on demonstrators http://on.fb.me/fr20j7" via @GorranGuy
8:00 PM "photos of the martyrs in #Kurdistan #Slemani through Facebook http://on.fb.me/geMotG" via @GorranGuy
8:00 PM "I was lucky enough 2 escape the bullets- most of the injured r passers by. PLS PLS WE NEED BLOOD O- O+ type at Fryakawtn Hospital" via @GorranGuy
8:00 PM "more like 10 martyred - not dead - they are martyrs - most of the martyrs are between 14-19 years of age" via @GorranGuy
8:00 PM "video of the uprising in Slemani #Kurdistan , KDP forces kill 10 and wound 50 @BBCBreaking on http://alturl.com/4mrqm through facebook" via @GorranGuy "10 killed in Kurdistan 50 wounded (sources in Slemani hospital)" via @GorranGuy
---
THURSDAY, February 17
Hundreds of protesters stormed political headquarters in Iraqi Kurdistan and were fired on by police. Reports have two dead and 40-53 others injured. The office of the president issued a statement which said, "Enemies of Kurdish people still continue destabilize Kurdistan, but we will not allow that will happen. People of Kurdistan should be aware of what are at stake and calmly and wisely deal with the situation." The people were protesting against corruption and unemployment and attacked KDP and PUK, the two major political parties who have controlled power since 1991.
---
WEDNESDAY, February 16
---
Other Related News Sources:
Previous coverage of the Iraq protests on WL Central.