2011-02-16 A Forum in South Korea: "WikiLeaks, Revolutionary Media or a Threat to Nation States"
A Forum entitled 'WikiLeaks, Revolutionary Media or a Threat to Nation States' opened in South Korea on January 6th, hosted by an NGO 'Institute for Public Media' discussing various issues including what WikiLeaks means to South Korea and the world, current state of freedom of expression and the right to know in South Korea, and the future of all of them.
Pending 'Korean Fox News Effect' and the age of WikiLeaks
"What would have happened if the cablegate coverage had first leaked by the New York Times?" The forum started with the interesting question asked by Choi Jinbong, a professor in Texas University and one of public participants of the forum. "Then it might have not been possible for the U.S. government to criminalize the Times under the Espionage Act," he assumed. Choi pointed out the fact that "although it's clear that what WikiLeaks does are standard works of a general media organization", 68% of the U.S. citizens replied in the Washington Post-ABC News poll(http://wapo.st/eR9dfO) that its works are against public interest. He attributed this 'strange bias' to the media effects of the Fox News, and remarked on how the Fox News framed the leaks as causes of damage to the U.S. diplomacy, which led to the negative public view toward WikiLeaks.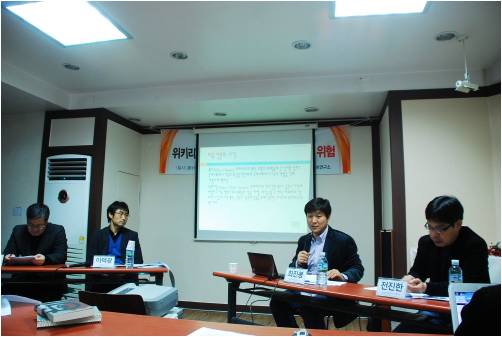 Choi suggested a worrisome view that controversial new media laws allowing the three mainstream media and corporations to take 50% of the stake of IPTV, which was rushed through the South Korean parliament by the ruling party in 2009 in the swirl of denouncement, can be the driving force of 'Korean Fox News', which throws journalism to be consumed as 'entertainment' and sway public opinions by low-quality news lacking proper fact-checking. Enactment of the media laws aroused wide apprehension among the South Korean press during the process of specifying the laws in the direction of giving huge incentives to major corporations like Samsung and granting preferential treatment to three mainstream media.
WikiLeaks initiated "full-scale battles between civil rights and government powers"
"We need to emphasize the fact that what WikiLeaks publishes are civil voices free from corporate power, voices with maximized volumes," spoke Lee Tackgwang, a professor of Kyunghee University. "What government presents is often merely a veneer of public voices, neatly gathered which make it a lot easier to silence the real diverse opinions without much defiance. What WikiLeaks does is exactly the opposite of that."
Lee recalled the time when Kim Yongcheol, one of major lawyers working for Samsung, became a high-profile whistleblower by writing a book exposing infamous business management practices of the multinational corporation publically. "Although he was praised for his courage, a lot of media and 'intellectuals' steered clear of him," he said. He insisted the importance of independent voices that can withstand the abusive pressure of major corporations.
Samsung, a world-leading provider of semiconductors and famous for its mobile phone brand 'Anycall', has been under tremendous criticism for illegally blocking the formation of any labor union, lobbying the justice department for the trials of its alleged crimes, declining the submission of official reports of its workplace conditions regarding various chemical materials which have been strongly pointed out as main causes of the mass occurrence of rare diseases to its workers, e.g. brain tumor, breast cancer, lymphoma, leukemia ∙∙∙ etc. Source.
South Korea with full potential to create its own 'WikiLeaks Effect'
"Any kind of governmental power has the tendency to control sensitive information, regardless of its political stance," said Jeon Jinhan, a secretary-general of an NGO 'Freedom of Information Center for Transparent Society'. His organization is renowned for working actively to activate the right to know, by constantly proposing public petitions to various governmental institutions to make important information open to the public. "This is all true with us, too." He presented one of his experiences, an answer he got from the Seoul Metropolitan Government. "We petitioned it continuously for the release of information of the ad rates it assigned to each media, and it replied later in written form that our organization frequently 'exploits public information in condemning government institutions', which it regards as a 'misuse of the right to know'." With this case as an example, Jeon agreed the point of view that actualizing the right to know is a process littered with 'battles' between civil liberty and governmental power.
The forum ended full of hope. "South Korea is prevalent with internet public spheres which have the capacity to form influential public opinions." Lee said. "It is a much more dynamic country that defies what our commonsense can predict now. There's no proof that the 'WikiLeaks effect' cannot break out in this country. In this respect, the message WikiLeaks gives us is very important in its nature; the real live spirit of democracy."
Source: "세계권력에 대항한 위키리크스, 혁명의 언론"
Source:위키리크스가 아닌 뉴욕타임즈가 기밀문건을 폭로했다면? 공공미디어연구소 포럼, 위키리크스 사태 진단 "시민권력vs국가권력"