2011-02-27 Pro-Saleh Demonstrations Seek to Curb Impact of #Yemen Opposition's 'Day of Wrath'
WL Central will be updating news on Yemen, with new items added at the top. All times are based off of Sanaa time in Yemen. You can contact me on Twitter @kgosztola or by email at kgosztola@hotmail.com.
Current time and date in Sanaa:
FRIDAY, March 4
Video of protesters out in Yemen demonstrating The number of people protesting swelled and was larger than previous days in the uprising.
Jane Novak has posted a statement of solidarity from people in Saada, Amran, and al Jawf, an organization that intends to move to overthrow Saleh The statement makes clear how the people plan to continue to push for Saleh to step down:
We affirm our support and solidarity with members of the Yemeni people to overthrow the corrupt regime, and we stress the following: http://armiesofliberation.com/archives/2011/03/04/saada-amran-al-jawf-or...

* Moved that this move is within the broad popular marches and this is the cohesion and harmony with the position of people in all governorates of Yemen.

* Deplore and strongly condemn what the power of the brutal assaults against the protesters and demonstrators in the arena of freedom in all the governorates of Yemen, and as we express our Isthjanna of these criminal practices by the Authority against the people hold the power, led by Ali Abdullah Saleh and the symbols of corruption responsibility for what is happening bloodshed and the confiscation of the rights and freedoms and demand to bring them to trial before a fair judicial and independent participation of all political groups to receive their penalty kicks their crimes.

* We condemn and denounce the suspicious movements of some personalities and political parties are trying to circumvent the revolution of the people to be aborted and the nip and call upon our people to identify those conspiracies and suspicious movements and warning and danger.

* We affirm that this authority is against all unjust and must act to address them all and drop away from the small and narrow suspicious, logos, and it will not change a people-only regime change.

* Affirm that we are heading for an escalation in our positions and continuing to move and effectively and the momentum of a large rally in order to ensure the necessary pressure to bring down the regime, and we invite all members of the Yemeni people to come out in mass marches in the coming days, God willing, and continue until the overthrow of the regime.

* Announce to all our public events to organize mass rallies and protest activities are diverse and continuing until the overthrow of the regime's corrupt and oppressive and tyrannical, and we invite everyone to attend those events and to participate effectively.
Jane Novak, again, reports on protesters being shot in Amran. A CNN report is quoted and it says, "Security forces opened fire on anti-government protesters in northern Yemen on Friday morning, killing two people and injuring nine others." Forces apparently shot at the protesters to disperse them. Three army planes flying overhead also attacked protesters.
Novak writes in reaction to the unfolding violence: "Saada was carpet bombed during the six Saada wars, beginning in 2005. Civilian areas including villages and cities were destroyed and thousands were arbitrarily arrested. A strong case exists against President Saleh for war crimes and crimes against humanity from the conduct of the military over the last several years, including blocking food and medicine to the entire region in a deliberate attempt at starving the people into submission. http://armiesofliberation.com/archives/2011/03/04/yemen-shoots-protester...
Financial Times posts this report on students in Yemen, who have been inspired by Egypt and Tunisia, and asks what they've accomplished so far in their attempts to persuade President Saleh to step down.
http://podcast.ft.com/index.php?pid=1079
Reuters reports on Yemen rallies growing in strength and President Saleh's rejection of a transition plan
Yemeni President Ali Abdullah Saleh rejected an opposition plan for him to transfer power this year, as demonstrations against his three-decade rule over the impoverished nation swelled into hundreds of thousands.

Saleh, who has ruled the poverty-stricken Arab country for 32 years, is sticking to his earlier offer to step down only when his term ends in 2013. However, he agreed to a reform plan proposed by religious leaders earlier this week which would revamp elections, parliament and the judicial system.

"The president rejected the proposal and is holding on to his previous offer," the opposition's rotating president Mohammed al-Mutawakil said on Friday. There was no direct word from the government.
http://www.reuters.com/article/2011/03/04/us-yemen-idUSTRE72338020110304
Al Jazeera English reports on Yemeni soldiers firing rockets at protesters.
Soldiers fired rockets and artillery at protesters in Semla, a village in the northern province of Amran on Friday, sources said. The area, about 170km from the capital Sanaa, is a Houthi stronghold.

"During a peaceful protest this Friday morning ... demanding the fall of the regime, an end to corruption and political
change, a military site fired rockets at a group of protesters and hit dozens of people," Houthi rebels, named after their leader Abdel Malek al-Houthi, said in a statement.
Al Jazeera's Hashem Ahelbarra, reporting from Sanaa, said local security forces dismissed the Houthi's account of events, saying armed tribesmen tried to enter one of the city's security checkpoints by force, after which "clashes ensued, three tribesmen and four policemen were injured".
http://english.aljazeera.net/news/middleeast/2011/03/20113494623209124.html
TUESDAY, March 1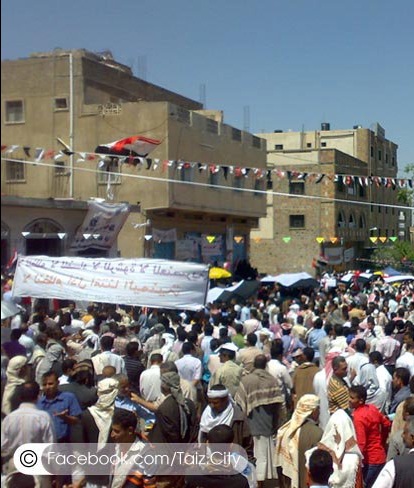 Photo by Taiz City Facebook
4:16 PM Reports thus far focus on President Saleh's assertion today that Israel and the US are somehow fueling the unrest and tension in the country. A report on the Monitoring the Yemen revolution Facebook page suggests some members of the Yemeni military, possibly higher ranking, have joined the protesters. There are unconfirmed reports of plainclothes security mingling with the protests.
Saba News here has a report on hundreds of thousands of people in Tahrir Square today to support President Saleh.
No real violence to report. The protests are not being broken up by security forces yet. There are a number of pro-government actions going on. It seems like along with this protest there are also pockets of small pro-government protests going on around areas of Sana'a.
Will have more soon.
12:50 PM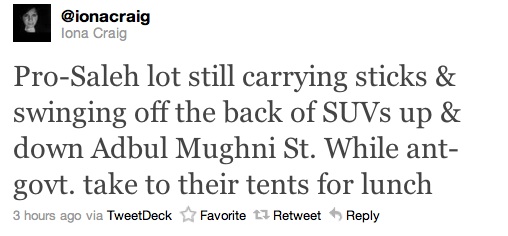 12:30 PM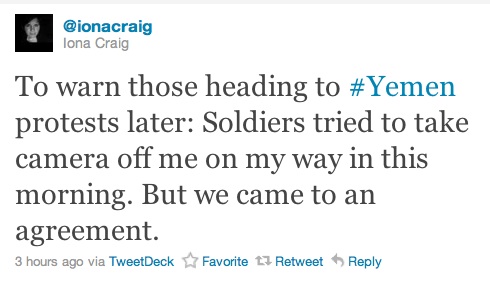 11:30 AM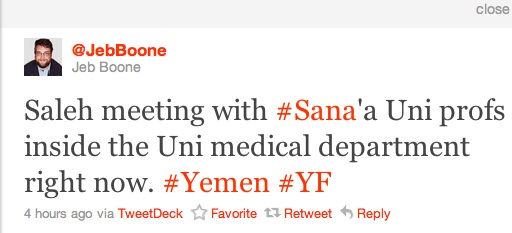 10:30 AM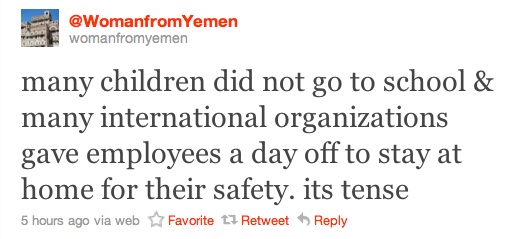 Video posted in last few hours allegedly from Aden in the past 24 hours. Shows protesters running as shots are fired.
Raw footage allegedly from February 23 in Aden showing police firing live ammunition and beating citizens: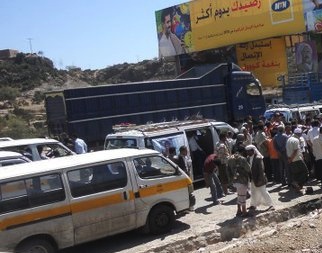 Photo by Sadek Maktery
A recap of February 28 developments: A caravan took off toward Aden to deliver aid to support the youth there. The caravan consisted of about three hundred people, according to a Yemen revolution Facebook page. Security forces prevented entry citing a ban from higher ups.
And, Yemen political opposition rejected an overture from President Saleh to form a unity government. This likely means the point of no return has been reached. Tomorrow is a major "day of rage." Security checkpoints are going up around cities like Aden to prevent movement and keep the demonstrations small. Violence will likely occur and escalate. Stay tuned here for the latest from WL Central.
Video of security forces blocking the caravan
Good post from an anonymous individual in Yemen. The individual has posted a few bulletins from Sana'a. This post digs in to the mechanics of the youth revolution.
Laura Kosinof writes about Yemen's political opposition backing the protesters. She details how President Saleh moved to form a national unity government and was thwarted as the political opposition rejected the offer:
The proposal — and its immediate rejection — came ahead of what organizers have dubbed a "day of rage" on Tuesday, a title chosen for its resonance with protests in Egypt that lead to the ouster of President Hosni Mubarak.

"I stress that this invitation comes too late and is no longer feasible," said Mohammed al-Qubati, spokesman for the Joint Meetings Parties, a umbrella coalition of opposition parties. "What is required now to meet the people's demands is the regime leaving and for authority to meet the will of the people."

President Saleh floated the idea of including opposition party members in key leadership positions in an effort to quell weeks of sustained protest in several major cities, but the details were left vague and open to negotiation.

Directly calling for Mr. Saleh to step down is a shift in the official rhetoric of the opposition, which had focused on extracting concessions and reforms. Mr. Saleh has promised not to run for president again when his term expires in 2013, but the protesters who have taken to the streets day after day — mostly students and other young Yemenis — have continued to demand his immediate departure.

If opposition parties join the street protests on Tuesday, as they have indicated, it would indicate a more permanent shift in the nature of the protests.
Foreign workers in Aden fleeing, Yemen Times http://www.yementimes.com/defaultdet.aspx?SUB_ID=35656
">reports The article notes most foreigners have now left and says, "Roadblocks are currently in place across the city. In addition many schools and shops are closed, and public transport is severely disrupted."
Tweets from earlier in the day on February 28: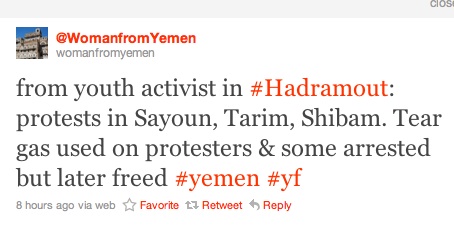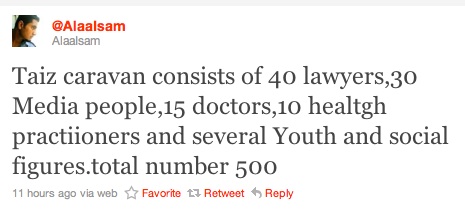 SUNDAY, February 27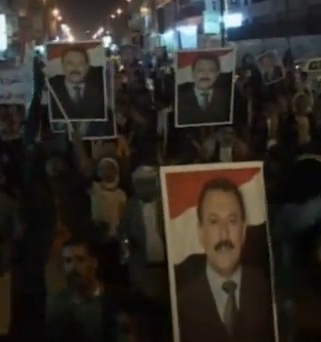 7:00 PM @WomanfromYemen received a message from state security in Yemen: "I just received a threatening message from state security on my youtube account from "ahamed132" that said: "state security is warning you from creating chaos and havoc, it is better that you look after the interests of your country, thank you."
WL Central has used a number of WomanfromYemen's tweets to inform our updates on Yemen.
Screen shot of security threat to @womanfromyemen
President Saleh contends escalating protests are aimed at splitting the country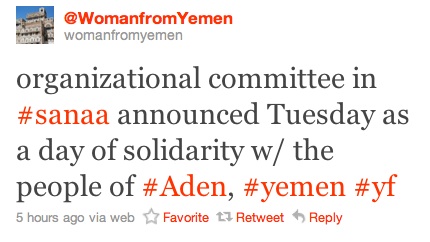 Al Arabiya posts this report on Yemenis buying guns in preparation for a possible civil war. Tribalism and tribal loyalties are believed to be fueling fears. Yemenis are purchasing arms even though the Interior Ministry has launched campaign to get citizens to give up their weapons. The price of a Kalashnikov has, according to one arms dealer, doubled.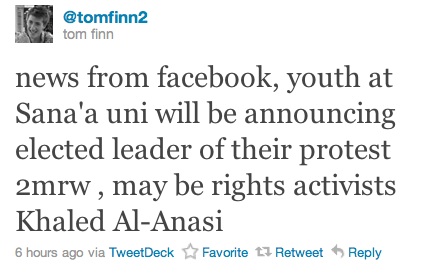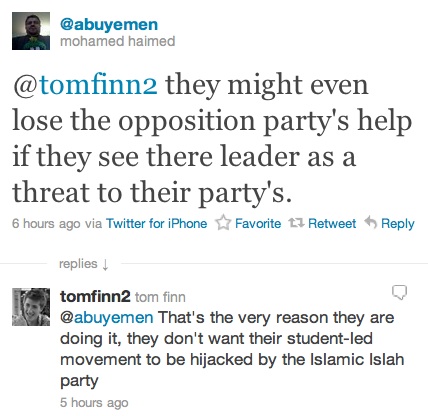 List of all the dead and wounded from the February 25 massacre in Aden.
Video of protest in Aden yesterday
Al Jazeera English report on tribal leader Hussein Abdallah al Ahmar from President Saleh's own party joining the anti-regime protests
Amnesty International press release on access being blocked to hospitals in Yemen by security forces
SATURDAY, February 26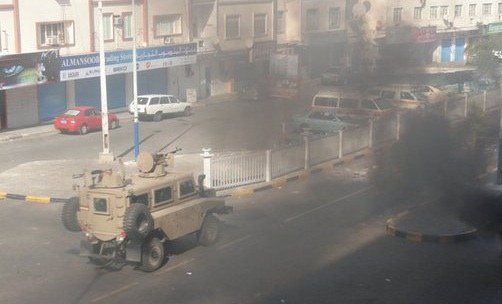 7:00 PM Photo by snuraddin of Al Maalla yesterday afternoon
Tweets fom @al_masani: "More than 5,000 people from #Taiz are on their way 2 #Aden. Will b joined w/10,000 people coming from Lahj & Al-Dali provinces #Yemen" and "half a million protesting today right now in #Yemen. Protesters from Northern Taiz r joining Southern Lahj, #Aden to protest Feb25 massacres."
Tweets WomanfromYemen: "eyewitness: today protesters in #sanaa shouting "shame shame" & "murderer murderer" for yesterday's attacks on peaceful protesters in #aden."
From woonii82:"#Saleh slaughtering the people of #Aden, is similar to #Gaddafi 's bloodshed in #Libya http://on.fb.me/f8zQLI. Yesterday: 39 injured,1 dead."
Yemen security in the Aden government denies it shot protesters in al-Mu'alla in the city of Aden. Saba News reports a security member alleges an "armed group of separatists" that claim to be part of "the movement" fired aimlessly at building, protesters, security men, electricity offices and citizens. This led to the killing of the electricity office director general, a soldier and a citizen. It was not a result of Yemeni gov't forces.
Below is video of the attacks on people in Aden yesterday. The past few days give a lot of reason to doubt what security is saying. Twitter users in Yemen, whose reports can be found below, would have reported on this "movement" or "separatist" group if that was who had been behind what happened.
Report on young people demanding the system be brought down. Students of Hadramout University in Mukalla set up tents demanding Director of Education resign.
More video from Aden last night
The blog Armies of Liberation has posted a statement from Human Rights Watch on the shootings of peaceful protesters in Aden yesterday by government security forces. Here is an excerpt from the statement:
The security forces opened fire in the afternoon in the al-Mu'alla district as more than 1,000 protesters chanting "peaceful, peaceful," and carrying posters reading "peaceful" stopped about 100 meters from a line of approximately 100 military, police, and other security forces, the witness said. President Ali Abdullah Saleh had two days earlier promised to prevent clashes at anti-government demonstrations and protect the rights of protesters to assemble peacefully.

"Two days after President Saleh promised to halt all attacks on peaceful protesters, there is more bloodshed," said Joe Stork, deputy Middle East and North Africa director at Human Rights Watch. "Other countries, including The United States, the United Kingdom, and Saudi Arabia, need to press Yemen to stop these senseless and illegal attacks."

At least one security officer stepped out and opened fire with a military assault weapon without giving a warning, the witness told Human Rights Watch. He said the gunman wore the gray uniform of the National Security Bureau. Police then immediately opened fire, shooting both into the air and straight at the crowd, and also fired teargas at the protesters, the witness said.
The Committee to Protect Journalists has documented attacks on the press in Yemen, which took place February 25. It reports, "In Yemen, at least four journalists were detained" and Al Jazeera reported its crew was "prevented from covering demonstrations in Sana'a.
In Yemen, security forces attacked an unidentified cameraman for Suhail opposition TV channel and detained at least four journalists while they were covering demonstrations in Al-Mansoura in Aden Governorate, local journalists told CPJ. Security forces detained freelance journalists Marzouq Yasin, Abdel Rahman Anis, Bassim al-Shaabi, and Fares al-Jalal, while they were covering protests in Mansoura for various websites. Security forces also prevented an Al-Jazeera crew from reaching the demonstrations near Sana'a University, the Qatar-based station reported.
Big news as two of Yemen's most powerful tribes move to support the anti-Saleh uprising. The Hashed and Baqil tribal confederations, mostly in response to the "repression of peaceful demonstrations in Sanaa, Taiz and Aden" plan to support the anti-regime demonstrators now.
Tomwfinn on Flickr has posted this photo from February 25
Story about Walid Al-Saqaf's Alkasir, which means "circumventor." The tool has made it possible for citizens to get around government blocks and access Facebook and Twitter and share information about what is happening in their country.
@AhlamS tweets show that the real story of the Yemen revolution is in Aden. She has sent out these tweets in the past hours.
"PL RT: government used tanks & heavy ammunition to disperse crowds. several were killed they r isolated & very horrified in #aden #yemen #yf"

"PL: Sana'a & Taiz, Don't forget about Aden! Our brothers and sisters need us!! #Yemen #YF"

"Sources From Aden Reported : 10 killed and 19 wounded so far the number can be more in the coming hours #yemen #yf"

"Urgent : News about gun firing directed at houses, and huge panic among citizens of #Aden, news of dead bodies Scattered in the streets.."
Additionally, @Alaalsam tweets, "Last confirmed and trusted info, 2 killed,21 wounded and hundreds surrounding Crater Police station to free the arrested people #Yemen #Aden" and "URGENT: Clashes in Crater district, peaceful people want to free their counterparts that been arrested from Army in Police Station #Aden."
@virtualactivism tweets, "Yemenis calling for help. Snipers on top of gov building firing on peaceful demonstrators in alMaala #yemen"
ionacraig, a journalist, tweets the last journalist to be in Aden had to sign letter saying he wouldn't do any journalistic work That is in response to this tweet: "@azelin Why are all the journalists sitting in Sanaa when the story is in Taizz and Aden - thankfully @kasinof filed from Taizz today."
Link to photos from yesterday's protest in Aden
And, here's a post worth reading on a "wary alliance between students and tribes" in Yemen from Tom Finn, who has been reporting from Yemen.
Video of protesters running from security forces
FRIDAY, February 25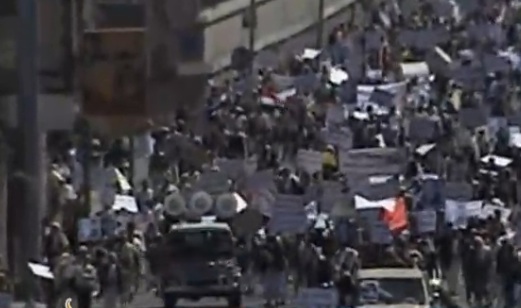 3:55 PM Photo of Saleh loyalists marching, which appeared on Yemen State TV.
Reports coming from Al Jazeera and CNN indicate hundreds of thousands and pro- and anti-government protests have converged on squares in Sanaa in Yemen and have been protesting throughout the day. Facebook pages for Taiz City and Aden indicate that thousands of people are protesting in those cities as well. We'll have more on major developments. For now, here is an account of what's happened so far from CNN International Correspondent Mohammed Jamjoom is in Sanaa, Yemen at the pro- and anti-government protests that thousands of people are at today.
He has been tweeting at @JamjooomCNN has been tweeting:
"At least ten thousand anti-govt demonstrators have already gathered -sitting - lining streets around Sana'a University"

"We passed through 3 different checkpoints. First it was security forces, then two more checkpoints manned by students"
»
"Anti-govt student demonstrators also acting as security here - checking those coming in for weapons and assuring journos safe passage"

"Prayers just finished - as soon as they were done entire crowd rose up chanting 'People are calling for the fall of the regime'"

"Banners up reading 'the peaceful youth student revolution'"

"Very organized protest today - several tents have been put up for people to camp out in #Yemen"

"Crowd chanting "go, go, go" directed at Saleh - demanding he step down"

"Seeing many protesters holding up Yemeni flags and waving peace signs"

"Few minutes ago, crowd was being told to march, now they're being told to stay here"
"Protest has taken on a festive atmosphere now -- Hearing music being played"

"One student : 'President Saleh is stubborn but our movement is a peaceful one and we'll keep coming day after day in greater numbers.'"

"Seeing several anti-govt demonstrators now dancing"

"Chanting in the streets has become a deafening roar"

"One sign reads: "No to dialogue, no to negotiation" This crowd has one demand... That Saleh step down"
President Saleh has formed a committee to start a "dialogue" with protesters who are demanding he step down
AhlamS tweets these remarks on the protests today:
Had the most inpsiring conversation with a young yemeni organizer in #Sana'a, Yemen. The shabab in #Yemen have given us our identity...

Protesters in the "Square of change" in #Sanaa warn the government of using "Al-Qaeda card" to be used against them.

Just got off the phone with one of the youth organizers. I was in tears... Egypt passed on the torch to the #Yemeni youth...

When Tunisia's revolution happened, we were so jealous! So we knew we had to make it happen in #Yemen - Alaa Jabran, young yemeni organizer

They've been communicating w/ tunisian & egyptian youth, learning abt strategy and adapting it to yemeni culture

The crowds are mixed in socio-economic backgrounds. all the "pro-saleh" demonstrators are thugs who all come from the same class & just...

… the thugs are camped out in Tahrir square where they're provided food and a tent to keep the protestors away.

Sad, but its similiar to the Egyptian thugs that were paid 9 bucks and a chicken to kill their people. Shows u how poverty...

We are already embracing the new yemen. never have I felt this much love in my heart for Yemen and my people. Its on a whole...

Which is why they have gathered in front of sana'a university - even the JMP has joined the youth! just weeks ago the jmp...

But the youth have redefined the movement and now own it. the whole place is full of tents, businesses are open around the...

Alaa told me "Yemen now belongs to us, I used to feel it belong to only Saleh and his family."
Photos of today's actions--the prayer and the demonstrations--from Al3ini
And in Taiz, this photo comes from dia_assada:
THURSDAY, February 24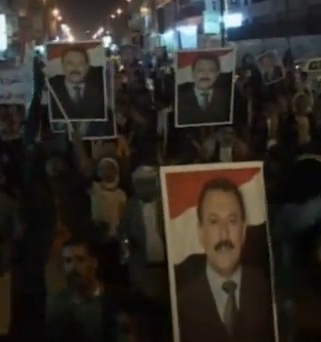 7:00 PM The Guardian's live blog on the Middle East is reporting a dispatch on Yemen that there may be one million protesting in Yemen tomorrow. The protests, however, will not be anti-Saleh protests. They are expected to be pro-government. And, according to this dispatch, "there are fears that government supporters gathering in the centre of the city will clash with the anti-government protesters outside Sana'a University in the west."
Another report on The Guardian's live blog: Rowenna spoke to a journalist in Sanaa, that said the following:
There are already 1,000 or so pro-government protesters in Tahrir Square, Sana'a. They have been there for about 10 days and are receiving food, water and supplies from the government.

• There are rumours that some government officers are dressed in plain clothes carrying arms and inciting violence amongst the pro-government protesters, but they have not been confirmed. Protesters from both sides have been filmed on local TV carrying kalashnikovs and automatic guns.

• The Yemeni army is headed by relatives of the president, and they are more likely to remain loyal than those army members in Egypt and Libya.

• The journalist said that if the president is forced out, there is likely to be violence on the streets because there is no consensus against the ruling party: "There will be unwanted war in the streets if control is lost by the regime and the opposition forces the president steps down. There will be counter attacks from locals. Yemenis are armed, and many of them have guns in their houses."
JNovak_Yemen tweets this cautionary messsage: "Be alert 4 #Yemen intell stooges w/ bogus FB protest groups, twitterers. Yem govt luvs 2 clone newsprs, pol parties, NGO's #YF usual tactic."
3:35 PM Yemen protesters demand Libyan ambassador resigns At the Libyan Embassy in Sanaa, protesters gathered urging Libya's ambassador to Yemen to step down. Around 50 protested saying, "Gaddafi is killing people in Libya. We want him out now. The ambassador should resign in protest to such violence."
Human Rights Watch (HRW) on two protesters that were attacked by provacateurs February 23, 2011 HRW says demonstratiors reported, despite government claims, the two dead were not government supporters. Al-Soraihi, a 32-year-old justice ministry employee and father of one who was killed, was a member of the opposition Islah Party.
HRW also reports on a high school student who says police detained and beat him intermittently for about 45 minutes as he was trying to deliver medical supplies to injured demonstrators.
Yemen Times story on Sanaa having "the worst violence" in anti-government protests throughout past week Points worth noting:
-Anti-government protesters have been cordoning off area near Sanaa University to prevent weapons from being carried into protest
-Tuesday night pro-government protesters tried to camp 1000 meters approximately away from the anti-government camp and brought arms; they started clashes, according to an eyewitness
-University square is now called Al-Tagheer (Change) Square
-Government security forces are preventing people from entering Al-Jumhuri hospital to check on those who have been injured
Rumors reported by @ginnyuk on Twitter that Saleh might be training "Somali mercenaries at May 22 stadium for impending crackdown on protests in Aden & Taiz" She also tweets nearly 24 hours ago, "Update from Aden: no minibuses and no taxis on roads, streets very quiet, city under curfew at night with no access in/out."
Al Qaeda planning an attack in South Yemen?
Bomb explodes during protest march in Aden on Thursday. One killed, two wounded.
Fresh report on President Saleh ordering 'protection' of demonstrators He has supposedly ordered forces to offer "full protection to anti-regime protesters and loyalists alike, as fifteen have died in the protests over the last days. Security services have been urged to "remain vigilant" against infiltrators seeking to ignite violence.
Houthi rebels have been invited to the negotiating table The government is beginning to recognize entities that have not been "legitimate" as it moves to quell a growing uprising.
Yemeni minister calls for Saleh to leave power Gulf News reports the Minister of Tourism Nabil Al Faki said "early presidential elections should take place in the country to coincide with the parliamentary elections that are scheduled for later this year." The report clarifies Al Faki doesn't want Saleh ousted, just guarantees he will leave at end of his term.
CNN report on 8 lawmakers from Yemen's ruling party resigning
Video on lawmakers resigning over government violence, from EuroNews
WEDNESDAY, February 23
2:55 PM Photo from Taiz City
Facebook Taiz City page, two hours ago, reports – "\ \ Taiz Youth Strike enters day 13 and a significant increase in the census of protesters in Freedom Square, and the expectations Bmilonip on Friday, \ \ ~"
Killings of students from last night reportedly work of National Security Organization
Video put together of protest action on February 22
Mohammed Nazeeh on Aden City Facebook page – "Invitation to raise the flags of Yemen in the demonstrations and marches, especially in Aden on Friday as well ... Through this we will confirm to all that comes out of is out for the sake of the homeland and its liberation from Alvesaaaaaaaaaaaad and not an advocate of secession, as some claim ... Flags will be a blow to the system first and then each of trying to tarnish the image of the real revolution."
#YF or YemenisforJustice post a map of uprising in Yemen http://ht.ly/41AfP
Euronews provides this report on fresh violence in Yemen
Committee to Protect Journalists has a round-up on attacks on journalists in the Middle East In Yemen, the Committee writes:
…On Sunday, Abdel Karim Salam, a correspondent for Swiss Info, a Bern-based news website, was hospitalized after pro-government supporters beat him while he was covering anti-government protests in front of Sana'a University. On Saturday, security forces confiscated Al-Yaqin newspaper. The independent weekly contained a list of those injured and killed during Yemeni protests, and provided extensive coverage of recent demonstrations.
Those following and reporting on Yemen have launched a public Google document to keep track of deaths in Yemen.
Debbie Almontaser on WNYC radio. She's an educator and board chair of the Muslim Consultative Network and has been following Yemen, helping others stay informed by working to curate a Yemenis4Justice website that can be a clearinghouse for sources on the uprising.
Tom Finn, whom we covered yesterday when violence broke out late in the night, adds to the story, "2 people died after being shot at last night by plain clothed pro-Saleh supporters at Sana'a uni, one of them was a 34 year old teacher #yf"

Armies of Liberation blog, following Yemen closely (an a site that the Yemeni government has blocked inside Yemen since 2007), links to statistics on Yemen, like how Yemen has second highest rate of child stunting.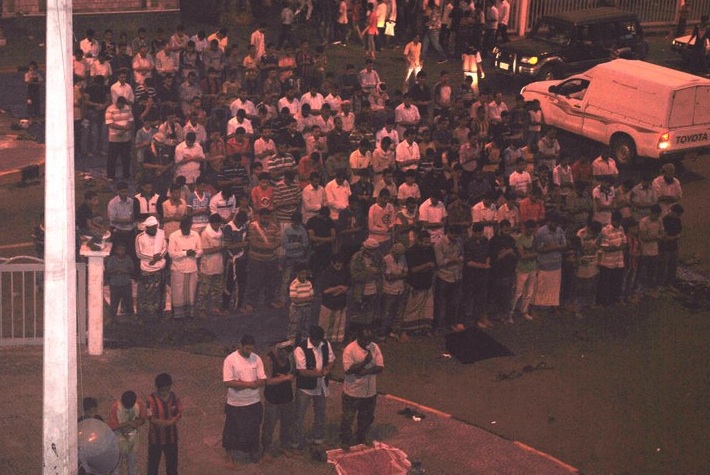 12:37 AM Tom Finn, stringer for The Guardian in Yemen, reports that students were attacked by men carrying pistols, knives and guns. One student was shot dead on the spot. Another was shot in the head and is in critical condition. At least 20 people were injured at Sanaa University where the violence took place.
Reuters provides an analysis on the protests in Yemen and concludes that President Saleh will have to make good on promised reforms if he hopes to stem nationwide tide of protests
Shooting on sit-in
Mareb Press claims to have arrested al Qaeda leader
CNN reports on a car that was burned by students after they supposedly discovered it had weapons Tough in this situation to discern what really happened and whether students got violent or pro-Saleh forces engaged in action to provoke students
Yemen Observer with this post on how youth action in Yemen is creating solutions and change.
A report from the Yemen Observer on pro-government supporters gathering in Taiz
Telegraph newspaper in the UK covers the clashes that occurred on Tuesday in Yemen between Saleh supporters and anti-government protesters The supporters of Saleh are described as being armed with daggers and batons. They are said to have clashed violently with students before police managed to intervene.
Video of recent protests and violence in Yemen
Armies of Liberation blog with a round-up on Yemen
- Iranian vessel seized in Yemen: The Yemeni Defense Ministry reported that the Iranian vessel and its crew of 13 people have been arrested in the Aden Gulf as it was illegally sailing in the Yemeni waters. Happened before many times. Yemen govt will likely say Iran smuggling weapons to Houthis but much more likely Sudan. A few days ago, an Egyptian fishing vessel was captured.

- Yemeni youth demand Sheikhs who receive monthly stipend from Libya denounce violence against Libyan people. There is a LOT of Qadaffi's money floating around Yemen through direct monthly payments and via his charitable fund. Daughter came in oh 2006 or so and spread oodles.

- Sanaa protesters find weapons, torch car (Tuesday) News Yemen: ten injured by rent-a-thugs at Sanna Univ, CNN: Student protesters in Sanaa, Yemen, overturned a car and set it on fire Tuesday after discovering weapons inside apparently brought to a demonstration by government loyalists, a protester said…The sit-in at Sanaa University is one of at least five protests going on Tuesday in Yemen. There were others in Aden and Taiz, and in the provinces of Ibb and Lahj.

- Dhalie teachers protest broken up by tear gas, batons and live fire News Yemen & reports, journo harrassed, Teachers have had periodic strikes to demand the implementation of the 2005 Wages Strategy. HOOD one serious injury, 16 wounded total, one LC member arrested. (Tuesday)

- People beaten in Hodeidah (Monday?)

- Protests in Hadramout, Yemen Post: About 5,000 anti-government protesters gathered in eastern Yemen calling for the ouster of President Ali Abdullah Saleh's regime. Demonstrators marched on Tuesday in the eastern town of Al-Shiher, chanting "Down, down with Saleh."

- Shoot-out in Marib with al Qaeda (Monday) ( SABA) Marib province have arrested the al-Qaeda leader Abdullah Maodhah ,while he was heading for Shabwa province with a group of terrorists. Governor of Mareb Naji al-Zayidi said that three soldiers were killed in a fire exchange between policemen and gunmen came to support Maodhah. The accident caused the killing of two civilians and one injured, in addition to wounding six soldiers

- Security intimidates, shoots protesters in Taiz (Sunday) Youtube vid here: military car drives into crowd, shooting. Vid gunshot victim here.

- Clerics back Saleh, mixed messages from al Zindani, JMP and Hamid al Ahmar, great article, overview of groupings & positions Nassar Arabyee, worth full read, here's part:

Nasser Arrabyee The association of the Yemeni clerics held an exceptional meeting on Monday February 21st, 2011, and said in a statement President Saleh should remove all corrupts around him and take "serious steps" for reforms.

One of the most influential Yemeni cleric said the opposition must take to streets only if President Saleh has not accepted their conditions for a guaranteed peaceful transfer of power.

"A national unity government must be formed, with the most important ministries shared between the opposition and the ruling party, to prepare for elections within six month," said Sheik Abdul Majid Al Zandani, a leader in the largest Islamist opposition party, and chairman of the religious university of Al Eyman.

MONDAY, February 21

10:56 PM

Photo on left is a cartoon of a pro-Saleh thug.

Thousands still protesting out in front of Sana'a University Tom Finn reports, "This will be our Tahrir Square."

Al Tagheer reports on the thousands of citizens and students engaging in a sit-in in front of the University of Sana'a The sit in is open-ended and sheikhs and dignitaries are joining in solidarity. Many of the unions, including the trade union with members of the faculty at the University of Sana'a Teachers Association and the secretariat of the capital and the Bar Association are all believed to be joining the students.

Students have been facing attacks from government "bullies." A "security committee" was set up and now when forces try to storm the students or approach them with guns there are measures being taken to try and prevent violence from taking place.

Here is a report that seems to say the opposite so maybe the Google Translation is leading to a poor read of this news. Here, Almotamar.net reports the trade unions and those who run Sana'a University deplore the current protests going on and believe they are hurting the "progress of performance in the university and deviate from" the university's mission. They have urged the authorities to prevent the protests and remove them from spaces on campus to "preserve the continued role of the Enlightenment of hte Unversity."

Video of President Saleh indicating he will not be leaving power

Horrifying story from a blog on Amnesty International's website condemning violence in Yemen. An activist tells Amnesty:

...security blocked every corner, then allowed the thugs to enter, people had no where to run… while running we came across two very young girls around the age of 7 or 8 who were selling books but got caught in the crowd. We took them into the house with us, but then the security wanted to enter. We informed the security that we have children and a woman with us but instead of protecting us, they called the thugs to come in and attack us but the doors were locked. We tried to go up on the roof, and then wanted to run down to the other side, but thugs saw us and started throwing rocks at us. Me and one of the girls got hit by a rock but very mildly, the girls were terrified.

The Yemeni American Anti-Terrorism Center (YAATC) reports thirty thousand in Liberty Square in Taiz.

Almotamar.net reports the Interior Ministry of Yemen denies 11 deaths occurred during demonstrations that have taken place in Yemen cities over the past few days

Video of the protests from today

Almadaronline.com with this report on Yemen scientists calling for protection for peaceful demonstrations and to hold perpetatros of murder and attacks on demonstrators and journalists accountable The scientists urged Yemeni tribes and national parties to hold a national conference to come together and develop an agreement on forming an interim government that could operate on a new consensus for how to proceed forward.

UK House of Lords Baroness Emma Nicholson declares that "Yemen is one of the best countries practicing democracy." She contends that what happened in Tunisia and Egypt is not what is happening in Yemen and emphasizes that Yemen has a democratic constitution. She also says the presidential elections held in 2006 were "fair and successful."

Nicholson headed the EU's mission to monitor presidential elections in Yemen in 2006. This is quite a statement that now means anyone from the EU that says something different is going to be challenging someone who monitored Yemeni elections.

President Saleh refuses to quit, appeals for talks with opposition He says yes to reforms but "no to coups and seizing power through anarchy and killing." He adds, "You are calling for the regime to go—then come and get rid of it through the ballot boxes, not through violence."

In the midst of the uprising, news that the US and Yemen will be improving energy cooperation. The US ambassador to Sana'a will work with Yemen to develop gas operating electricity plants.

Nine arrested over Taiz grenade attack

On violence in Aden and Taiz, from February 20:: The demonstrations continue despite a curfew. Security forces tried to prevent a gathering Saturday night but were unable. Opposition leaders are accusing the regime of using "excessive violence to prevent peaceful demonstrations in the country."

Al Jazeera "Inside Story" report on Yemen's 'days of rage' posted February 20

SUNDAY, February 20

9:23 PM The Truth Network is posting great photos from Yemen. The photo on the left comes from this user. It is of a "pro-Saleh thug."

Recent photo from Yemen of many protesters demonstrating in the night.

Tom Finn tweets at 8:40 Sanaa time: "Brief panic as some1 caught smuggling gun into crowd.He was caught n ran away."

Video from Yemen of police keeping opposition and Saleh loyalists separated to prevent clashes

Al-Tagheer reports academics and police are joining protesters.

On a Facebook page, video of the Yemen protests.

Al-Marsd.com with this report: President Saleh threatens to "resort to cutting the genitals of the entire leadership of the Joint Meeting and the southern movement in the event that these leaders" do not stop opposing his regime. Saleh described what leaders are doing as "racism against the homeland."

Twitphoto -- The "Rat Pack" of Dictators [two former]

Southern Observatory on Human Rights issues a statement on violence in Aden. Part of it reads:

Sirs and madams in the international organizations for human rights
The Southern Observatory for Human Rights (SOHR) presents its compliments to you and informs you of horrible crimes against citizens staging peaceful demonstrations in the city of Aden during the last three days, raising banners demand freedom, democracy and the departure of the regime of the Yemeni President.

A number of demonstrators were demonstrating in al-Rwishan Square for more than a weak, led by young people who were launching a sit-in peacefully for more than a week in al-Rwishan Square in al-Mansoura city – Aden, until Wednesday 16.02.2011, after the noon prayer, when Yemeni security forces came unexpectedly using tear gas grenades which led to dispersing them to residential neighborhoods, but the security forces continued to chase them using live bullets against them, which resulted in the murdering of a number of people and wounding many others, amounted to 4 dead and 32 wounded.

As a result of the people's anger at that, the demonstrators set fire to the headquarters of the Local Council, the municipality and burned vehicles belong to the municipality, and they also burned the headquarters of the General People's Congress / Mansoura Branch, after that they went to besiege the police station in al-Mansoura city. Everyone was in hit and run with the armed forces that went in using live ammunition to disperse and chase the protesters.

Tom Finn, stringer for The Guardian, who has been posting many updates on Twitter on what is happening in Yemen, reports on the ninth day of protests in Yemen. In this article he writes:

...After three decades in power, Saleh faces widespread complaints of corruption and the concentration of power within his tribal sub-group, the Sanhan clan.

Large areas of the country are already in open revolt against his regime, with a breakaway movement in the south, attacks on the security services by Al Qaeda in the Arabian Peninsula (AQAP) and a de-facto semi-autonomous area under the control of northern rebels.

The mainstream media has focused largely on the political objectives of the protesters — some of whom are calling on Saleh, who has ruled Yemen for 32 years, to step down. But many protestors are calling for changes in their livelihood as well as political reform.

"Together we fight against poverty, corruption and injustice," protesters at Sanaa University chanted Thursday, minutes before they were set upon by a swarm of pro-Saleh supporters, mainly middle-aged men wielding batons and cattle prodders.

"They are here because of poverty," said Hani Al-Maydsma, a 30-year-old employee at Yemen's financial ministry, beckoning towards the students. "People are dying, the economy is dying. Everything is damaged."

Ali Tayman, a tribal sheikh from Marib province, said he had travelled to Sana'a to call for the president to step down. He said he refused to accept bribes of allegiance from the government. "Our authority has stolen all the money from our people," he said.

One banner hanging on the university gates reads simply: "Look at the gap between rich and poor."

For the average young Yemeni, daily grievances are far more important than politics. Graduates hope to find a job. Young men struggle to accumulate enough money to be able to get married. New couples battle with price hikes. Nearly half of the population lives on less than $2 a day and social development indicators — such as child malnutrition, maternal mortality and education — remain extremely poor, according to the United Nation's World Food Program.

Yemen is ranked 138 in a list of 179 states on the United Nations' Human Development Index (HDI).

Many of those taking to the streets are young unemployed men who, despite making up a large proportion of Yemen's population, find themselves economically and socially marginalised and living at the fringes of society...

9:09 PM YemenOnline.com with this on students being shot on day nine of Yemen protests. The article features Tawakul Karman, a human rights activist whom Yemen Online says has become a sort of celebrity. Karman is quoted, "Yes it is very dangerous for us, and soon it could explode." It describes journalists from being able to get into the Kuwait University hospital to see those wounded by government loyalists.

The danger to press, especially Al Jazeera correspondents, is described:

The attacks on demonstrators and journalists have intensified in the last couple days. Pro-Saleh supporters are increasingly focusing on local photographers and journalists with the Qatar-based Al Jazeera television network.

Ever since the New York Times dubbed the uprisings in the Arab world as "Al Jazeera's moment," government loyalists have targeted the network's journalists, who they believe are stoking the flames of revolutions.

"It has been very difficult, extraordinary," said Hashem Ahelbarra, who has covered Yemen extensively throughout his reporting career. "I am stunned to see this wave of anti-Al Jazeera sentiment."

Inside the station's 10th floor newsroom, more than one cameraman described how he had been chased over the last two days and showed bruises from attacks.

"You're a hired stooge and we will respond to your channel imminently," reads one of many text messages on reporter Ahmed al Shalafi's phone.

A group of 30 men waving signs supporting Saleh protested outside Al Jazeera's office Saturday morning.

They shouted "pigs," and other Arabic words that rhyme with Al Jazeera to make their chants catchy. During the brief demonstration they attempted to burn a banner of an Al Jazeera logo, but instead stamped out the smoldering edges when they couldn't seem to get a fire going.

Al Jazeera English with coverage of shots being fired at a Yemen demonstration today. The coverage has a video report. AJE reports that a leader from a separatist group, Hasan Baoum, was "arrested in the southern port city by an "armed military group" in a hospital where he was receiving treatment and was taken to an unknown location, his youngest son Fadi Hasan Baoum told the Reuters news agency."

Baoum organized "illegal demonstrations" in November last year and was arrested then as well.

AFP on Yemen opposition http://www.lefigaro.fr/flash-actu/2011/02/20/97001-20110220FILWWW00126-y...
">joining protest movement: The Joint Forum, an alliance of the parliamentary opposition, called its components to "join the ranks of young people who demonstrate against the repression, tyranny and corruption."

La Jornada posts this from the AFP wire It reports "several hundred Yemeni students demonstrated Sunday at the campus of the University of Sana'a." The campus has been a regular site for demonstrations over the past six days. It says that police cordoned off the area to separate "loyalists" from the student demonstrators.

CNN with a report on Yemeni youth using social media to fuel protest

7:53 PM

4:02 PM

11:58 PM

SATURDAY, February 19

-Unconfirmed reports on Twitter that at 8 pm Sanaa time university students will resume demonstrations

Facebook page "Monitoring network of the Yemeni revolution" with many updates on what is unfolding. Here is some of what the page reports:

-Governor of Aden to resign http://www.almasdaronline.com/index.php?page=news&article-section=1&news...

-Al-Manar hospital security allegedly limiting access to the hospital to prevent photography of those wounded

-At least six wounded at the University of Sana'a today. One person killed as security personnel in civilian clothing attacked students engaging in a sit-in to disperse them.

-Ten parliamentarians that resigned, some alleged to have resigned are the following:

Abdulaziz Jabbari
Abdu Bishr
Ali Mamari
Khaled Mjod Alsaadi
Abdullah Saad Al-Numani
Abdel-Hamid Hariz
Khalid Al Masar
Bari Dgesh
Salam Hishol

-List of wounded in demonstrations

1. Mohamed Fouad Ahahve 23 years old shot in the abdomen
2. Akram Arashi bullet in the right foot
3. EA-orbital bullet in the right leg
4. Bashir Abdel Hakim Ma'amari throw a stone on the head
5. Mukhtar Ahmed Mutawakkil called cultivation
6. Adnan Alhadji
7. Bassam Yassin Abdu Saeed, 21, seriously shot by a sniper in the neck.

-Michigan-Americans demonstrate in solidarity with Yemeni people

-A report: "Heavy fire and great monsters of the new mosque in the university- Eyewitness: "We saw with our own eyes one of the soldiers opened fire in a mosque and Takby University and then Krjoh demonstrators and beat him..."

-An eyewitness report on day's demonstration: "Central Security was heavily involved in the suppression of demonstrations in Sanaa, and the presence of a striking of snipers roaming the streets, alleys and certain prey on demonstrators, and the confiscation of foreign press camera."

Mareb Press video of bullies attacking student demonstrators

Al Tagheer reports on ten parliamentarians from ruling party withdrawing in protest of meeting of the Council to ignore conditions of the streets

Saba News on President Saleh's statement that foreign agendas are plotting against Yemen and its security and stability. Saleh says, "Every body has the right to express his views peacefully and has the right to have a say through media as there are many democratic means for the expression of opinion." And wonders, "What happened in Aden in the past two days which goes against the law," does this go in line with democracy?"

He expressed a need for Yemenis to not be "outlaws" and use the ballot box instead to create change instead.

Saba News with report, "Security source in Aden province said on Saturday that two people were killed and 19 others injured including five policemen during vandalism acts in Aden province."
http://www.sabanews.net/ar/news236021.htm

Al Tagheer with story on demonstrators being attacked by security men in civilian clothes, people demonstrator are referring to as "bullies."

When translated with Google to English, the story reads:


"Witnesses said that the so-called "Blatjip" assaulted the demonstrators, some carrying sticks, stones and guns, killing two people, one man was twenty years old. They also tried to enter the yard of Sana'a University young people, but protesters prevented them and forced them to flee to the streets.

Witnesses said that security men were unable to prevent "Albulatjip" of the attack on the demonstrators. Cars were seen as the leaders of the ruling party distributing sticks and stones, and money for the so-called "Blatjip," according to witnesses.

Clashes are still ongoing as of this writing after the rally students from the University of Sana'a to the front of the university and their numbers are growing steadily.
The Economist on President Saleh not being safe from protests. The post concludes:
The protests are still far smaller than those in Tunis or Cairo. Moreover, only a third of Yemenis live in towns; few have access to the internet or own mobile telephones. The president is a wily manipulator of the tribal politics that still dominates Yemen. But as the protests spread, he is far from safe.
Saba News on "the Security services in Marib province have captured 44 African infiltrators, most of them are Ethiopians, after they entered illegally into the Yemeni territories. It adds, "Infiltrators were referred to the Immigration and Passport Authority in order to take the legal actions."
A Yemen government http://www.sabanews.net/ar/news236037.htm">concession to quell protests? —"Ministry of Civil Service and Insurances to start this week procedures to employ 60 thousand graduates of job seekers enrolled in the offices of the Ministry."
Video of huge protests in Taiz, Yemen on what was called the "Friday of Fury"
Friday, February 18
"Minstate For Defense On Fmf And Gsd," a cable from December 15, 2009 released at 5:35 AM Sanaa Time. The summary reads, "Bahrain's Minister of State for Defense Affairs said Bahrain cannot afford the needed upgrades to its existing fleet of F-16s, and expressed a desire for a second Perry-class frigate under the Excess Defense Articles (EDA) program. He said that he believed social problems were fueling the current conflict in Yemen, and praised the planned troop surge in Afghanistan. The MinState also welcomed renewed Gulf Security Dialogue (GSD) talks in early 2010."
In a later section, the cable reads, "The MinState praised the USG's 'Friends of Yemen' diplomatic strategy. He asserted that social problems in Yemen contributed to the Houthi conflict, saying that there currently was, "No beginning of hope." Sheikh Mohammed praised President Obama's decision to send more troops, emphasizing the importance of strengthening the security situation in that country. However, he stressed that an effective political and economic plan was also critical to achieving stability stating, 'The Afghanis need hope. If they have it, the security situation will calm down.'"
Another cable: "Bahraini Shia Party Denies Links to Yemeni Houthis"
1.(C) Summary: Bahrain's mainstream Shia Wifaq party denied claims that it was supporting Yemeni Houthis. End summary. 2.(SBU) A Salafist member of Bahrain's parliament, known for anti-Shia incitement, recently made public claims that Bahrain's mainstream Shia opposition party Wifaq had met with and "supports" Yemen's Houthis. The Salafist, MP Jassim Saeedi, has a history of sensationalist charges against Bahraini Shia. 3.(C) Wifaq MP Jassim Hussain told DCM that Wifaq officials had met in late August with a Yemeni parliamentary delegation that included at least one Yemeni Zaidi MP, but asserted Wifaq would not consider contacts with Houthi rebels. Wifaq's foreign affairs specialist Saeed Al Majid, in a separate conversation with Poloff, denounced Saeedi as a liar who was seeking to incite his Sunni base with tales of Shia conspiracies. Al Majid added that Wifaq maintains contacts with "legitimate political parties" and governments around the world but did not view relations with the Houthis as likely to serve the interests of Wifaq or Bahrain.
AlmasdaraOnline.com reports on at least 44 people injured, one in critical condition, after a hand grenade was thrown at demonstrators in the city of Taiz. Report mentions "Freedom Square" as a site where youth and others are being invited to gather and demonstrate against the regime.
Saba News reports arrest of "protest bomber" in Yemen The report says a "security source said the police rushed to the protest site in Oseifra district after the incident and arrested suspect Muhammad Muqbil, the main suspect, along with six others." Police did not consider the suspect to be a saboteur seeking to "inflame violence to divert the attention from the million-people protest in favor of the regime."
Supreme Council of the JMP condemns bloody massacre in Aden.
Mareb Press news report on opposition leaders apparently suggesting those in government will likely not be "serious in dialogue" or "sincere in its promises" if they try to negotiate a way forward. Leader Hamid Al-Ahmar says opposition leaders will be in the streets with rest of the people because there cannot be change with the regime's survival.
Reuters video of Yemeni security forces clashing with those calling for president to quit
Anti-government protesters killed in Yemen. EuroNews reports on skirmishes on the eight straight day of protests calling for end to Saleh's 32-year rule.
Video of what looks to be a protester physically removing Saleh's face from a billboard
Committee to Protect Journalists report on the targeting of journalists in Middle East and North Africa. In Yemen:

Yemen
• Today pro-government supporters attacked the bureau chief for Al-Arabiya in Yemen, Hamoud Munser, and the station's unidentified cameraman, who was taken to a hospital, according to local journalists. A correspondent for the Iranian station Al-Aalam TV, Awsan al-Qaatabi, was also attacked and beaten along with Qatar TV cameraman, Yaser al-Maamari. Wadah al-Yemen Abdel Qader, a reporter for Hadith Al-Madina, was detained today in Taiz governorate in central Yemen, local journalists told CPJ.
• On Thursday, Tom Finn, the U.K. Guardian's correspondent in Sana'a, was attacked by a group of men who tried to confiscate his camera.
Waq al Waq with thoughts on the Friday Protests Gregory Johnsen writes, "The coming few days leading into the period Feb. 24-28 should be key in Yemen, there may be some lulls at times but it looks like the protests are picking up steam. I know President Salih is incredibly worried at the moment. According to al-Tagheer he even took a helicopter ride over the protests in Taizz.
More video of protesters in Yemen
Aden News Agency TV with this video of Shikh Othman Police Station on fire
'
NBC Sports report on soccer match being postponed due to protests
Al Jazeera English report on "Friday of Fury"
THURSDAY, February 17
Video allegedly of Saudis torturing Yemenis.
Reuters with a FACTBOX on Yemen.
Reuters with background on events unfolding in Yemen
President Ali Abdullah Saleh is a U.S. ally against a resurgent al Qaeda wing that has launched attacks on foreign and regional targets from Yemen, a failing state that is one of the Arab world's poorest countries.

Yemen, where a third of the population faces chronic hunger and 40 percent live on less than $2 a day, is also struggling to cement a truce with north Shi'ite rebels in the north and stifle an increasingly violent southern separatist movement.

He may prove harder to topple than Egyptian President Hosni Mubarak, said Khaled Fattah, a Yemen scholar at Scotland's St. Andrews University, contrasting the centralisation of state power in Egypt with the fragmented nature of authority in Yemen.

Yemen lacks Egypt's big urban middle class, with about 70 percent of its 23 million people still living in rural areas.

"The continuity of protests, however, may put pressure on Saleh's government to offer more political concessions to the southern (secessionist) movement. Such concessions might lead to the adoption of a federal system," Fattah added.
Tom Finn with The Guardian files this audio report from Sana'a
RTE News reports "around 40 people have been wounded in fierce clashes between protestors and government loyalists." It adds, "Fighting broke out in the capital Sanaa after around 800 government loyalists armed with daggers and clubs confronted about 1,500 protestors, who responded by hurling rocks."
Yemen forces dispersing protesters.
Russia Today reports that Ali Abdullah Saleh contacted Libyan Leader Muammar Gaddafi and King Abdullah II of Jordan today. Saleh said:
Gaddafi that Yemen's leadership, government and people stand by Libya so to maintain security and stability of Libya.
The Yemeni leader pointed to chaos and violence acts witnessed by the region, which he said aimed at destabilizing security and stability of the countries in the region and would only serve the enemies of the nation. The two leaders discussed bilateral relations and areas of joint cooperation and means to enhance them to serve the common interests of the two countries, as well as the current Arab developments of concern to both countries and the Arab nation.

Meanwhile, Saleh contacted King Abdullah II of Jordan, during which he was briefed on the situations in Jordan in light of the current events there.
Saleh told him that Yemen's leadership, government and people stand by Jordan's King, government and people so as to maintain security and stability of Jordan.

During the phone call, both leaders considered bilateral relations and joint cooperation between the two countries, in addition to the current regional developments of concern to the Arab world.
The Guardian has posted this video of thousands of protesters clashing with government loyalists in the Yemeni Capital of Sana'a
Security forces shooting peaceful demonstrators in Mansoorah district, Aden
Euro News interviews Abdullah Al Fakih, a political science professor at Sanaa University, who suggests the anti-government protesters could topple President Saleh
WEDNESDAY, February 16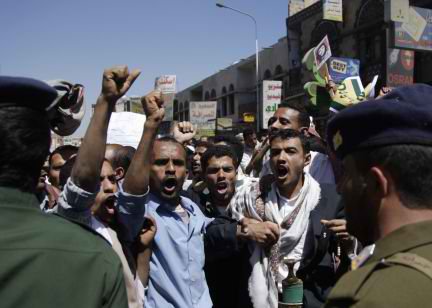 Photo by Cambio 51 Diario Digital, Edición Internacional
Al Jazeera reports on clashes between pro-government and anti-government Yemenis, attacks on students by President Ali Abdullah Saleh loyalists, sit-ins by judges demanding greater independence for the judiciary and the "sacking of the entire Supreme Judicial Council, and Saleh postponing visit to U.S.
The Lede blog on NYTimes.com has posted a video shot by someone in Yemen, which shows police officers have been taking positions in the capital of Yemen to disperse protesters and prevent "running street battles between small groups of pro- and antigovernment protesters."
The Economist has posted what they are calling the "Shoe Thrower's Index." It shows Yemen is the most unstable, most susceptible to unrest right now.
The Lede blog, mentioned above, also has two more videos from Yemen. One shows security forces driving at a crowd of protesters:



Another shows a protester shot during protests in Yemen:


BBC report on the protester that died in Aden.
The Guardian's Middle East protests blog with an update on Saleh contacting the King in Bahrain:

The Yemeni president, Ali Abdullah Saleh, has been on the phone to Bahrain's king to express support for the king, as both countries face protests. Saleh blamed people with "foreign agendas" for trying to spread chaos across the region, Reuters reports, citing Yemen's state news agency. Saleh reportedly said to King Hamad:

"There are plans to try and sink the region into a fervour of chaos and violence, and they have targeted the security of the region and stability of our countries. The people creating these works of chaos and sabotage are only implementing suspicious foreign agendas."