2011-02-16 Eyes on Algeria as Protests Continue [UPDATE:1]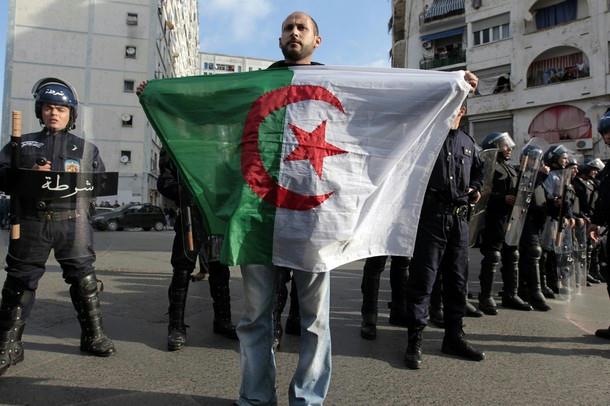 (update below)
Algerians that participated in a "Day of Rage" on February 12 continue to come out and protest. The news site Bikya Masr reports "Algerians pledge to continue to demonstrate until President Abdelaziz Bouteflika has been removed from power." The protesters inspired by Egypt intend to begin to engage in sit-ins that can hopefully bring the country to the brink like Egyptians brought their country to the brink and forced President Hosni Mubarak from power.
Demonstrators chant, "Bouteflika out," but not all of them. Some just want democratic reforms. Those demonstrating have mostly been Islamists or pro-democracy activists.
They talk about the fear being gone after what unfolded in Egypt and Tunisia.
On Twitter, tweets like this are circulating: "#Yemen and #Algeria not getting the media coverage they need to be successful, push int'l media to report more #Feb12 #Feb11 #Feb17," indicating many understand that what helped fuel momentum in Egypt was media coverage from news organizations like Al Jazeera.
There are currently reports that Facebook has been shut down. However, there are no credible reports posted to prove that this is the case.
The government is playing down the protests. Train service has been suspended. People who try to organize marches are being detained and immediately released to prevent the uprising from gaining any momentum. And, the government has agreed to lift a State of Emergency law that has been in effect for nearly 20 years. The regime hopes lifting the Emergency law might help curb the impact of the protests.
For an article posted on CNN, David Pollock, senior fellow at the Washington Institute for Near East Policy, was quoted talking about what might be driving people to action. He said they want "freedom in the sense of not national independence -- they have that -- but freedom from oppressive internal security, authoritarian political controls and the freedom to participate in a more democratic government." And also said they are upset about poverty and unemployment.
Specifically, he highlighted the similarities between Algeria and Egypt saying that it too has "high numbers of young people, unemployment, corruption and a leadership that has been in power for a while."
A post by Mohammed Ayoob, a distinguished professor of international relations at Michigan State University, also compares Egypt to Algeria. He warns, "The Algerian military by aborting the 1992 elections let loose a reign of terror in that country from which it has not recovered until this day," and notes the country has a military-dominated power structure like Egypt. Therefore, in order for the uprising to succeed and usher in a new era of democracy in Algeria, the military must be made to completely withdraw from the political arena. (That's also the case in Egypt too.)
The protests in Algeria are causing tension between Algerian leaders and the country of Morocco. Self-immolation protests have, according to Democracy Now!, spread to Morocco. Four Algerians have died from self-immolation since January. A man, who self-immolated in December, spurred much of the uprising in Tunisia. The act has helped to influence people to take action.
And, Morocco is worried that Algeria and the Polisario Front that "wants independence for Western Sahara," might use the unrest to create a disturbance in the region that could be used to push forward an agenda of independence for Western Sahara.
Moroccans plan to have their own "Day of Rage" on February 20.
The following is a video of protests that took place on February 12. It is from Al Jazeera.
Photo from batch of Algerian photos posted on Cryptome.
Update
The above is a video report that aired on Democracy Now! on February 16. The report features Algerian blogger and activist Elias Filali, who says he has never seen a heavier police presence in my entire life," and adds, "The regime is running scared."
Also, here are two viewpoints on the protests in Algeria – one is a Q&A posted by Reuters Africa on whether North African states will go the way of Egypt and Tunisia. Christian Lowe and Souhail Karam suggest the Algerian protests, although they come after Algeria was "rocked by food riots at the start of the year" and after "small political protests," will probably not have the same impact as the Egypt uprising:
Ordinary Algerians are wary of any relapse into political turmoil after a political opening in the early 1990s degenerated into a brutal conflict between security forces and Islamist militants that killed an estimated 200,000 people. "Algeria effectively already had its revolution," said Geoff Porter, an independent U.S. analyst on North Africa. "Few want to risk descending into another decade of chaos."

Even if mass unrest breaks out, most analysts believe the risk of disruption to oil and gas exports is minimal. Nearly all the energy activity is deep in the Sahara desert and the biggest oilfield town, Hassi Messaoud, is relatively well-off and heavily policed. Since the conflict with Islamist rebels started, there have been no confirmed cases of energy infrastructure being hit.
An article posted by TIME Magazine on February 14 offers a slightly different perspective suggesting there are more parallels to Egypt than one might think:
…Just as Mubarak forged close ties with the U.S. — and was rewarded with billions of dollars in U.S. military aid — so too has Bouteflika cultivated relationships with European and American officials by waging a battle against Islamic militants and arguing that Algerian-based terrorist groups would be far more dangerous in his absence. The terrorism threat is real enough. Al-Qaeda's North African offshoot, al-Qaeda in the Islamic Maghreb (AQIM), was founded in Algeria in 2007 as an outgrowth of the Salafist Group for Preaching and Combat, which has long fought against Bouteflika's secular policies. AQIM has kidnapped numerous foreigners around the region…