2011-02-09 February 17 A Day of Rage to protest against 'The Revolution'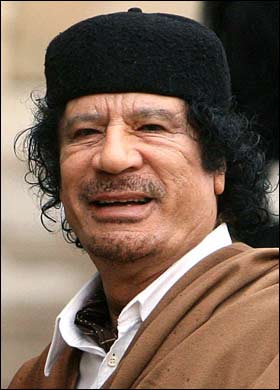 In Libya, the Revolution (Al-Thawra) refers not to the protests happening today, but to the revolution over 41 years ago which installed Brotherly Leader and Guide of the Revolution Muammar al-Gaddafi in power. The National Conference for the Libyan Opposition (NCLO) and Libyan activists are calling for a Libyan Day of Rage on February 17 against the abuses of 'the Revolution'. The NCLO has called for mass protests both in and outside of Libya to fall on the anniversary of the February 17, 2006 mass demonstrations in Benghazi against Gaddafi and his regime, which resulted in the deaths of dozens of protestors and the injury of many more.
Gaddafi issued the first official response in private meetings over the last few days with Libyan political activists, journalists, and media figures. He issued severe warnings that they and their professions would be held responsible should they participate in any way in "disturbing the peace or creating chaos" in Libya. WL Central coverage of recent protests told of the fears which were sparked in Gaddafi by the Tunisian revolution. Gaddafi has spoken out against the revolution in Tunisia, and blamed the internet and Al Jazeera news for spreading 'lies' against former Tunisian president Ben Ali. He has also defended Egyptian president Mubarak, saying that the Mubarak family, estimated to be worth US$70 billion, is poor and cannot afford their clothes. He said that Libya is providing the Mubarak family with financial support and accused Israeli intelligence of instigating the Egyptian revolution.
The website Enough! (Khalas!), started by second generation Libyan expatriates in the US, is a home for all who support the "overwhelming need for change in Libya", while bloggers continue to speak out within the country. Human Rights Watch compiled a 78 page report on Libya in 2009 entitled "Truth and Justice Can't Wait" which details repressive laws which continue to stifle speech and abuses by the Internal Security Agency which remain the norm. Amnesty International's 2010 report on Libya states "Freedom of expression, association and assembly continued to be severely curtailed and the authorities showed little tolerance of dissent. Critics of the government's human rights record were punished. ... Hundreds of cases of enforced disappearance and other serious human rights violations committed in the 1970s, 1980s and 1990s remained unresolved, and the Internal Security Agency (ISA), implicated in those violations, continued to operate with impunity."
Recently, Libyan activists have claimed that the Libyan intelligence service has been carrying out a large-scale campaign to shut down Libyan websites based outside of the country due to their ongoing coverage of the situation in Libya. According to a recent statement from Amnesty International, it is their belief that Jamal al-Hajji, a former prisoner of conscience who was detained on February 1 and accused of hitting a man with his car, is being detained for his political activity. His arrest came shortly after he made a call on the internet for demonstrations for greater freedoms in Libya.
Libyan Law No. 71 of 1972 on the Criminalization of Parties bans any form of group activity that is based on a political ideology deemed contrary to the principles of the al-Fateh Revolution of September 1, 1969, and there are many legal restrictions to freedom of speech and political dissent. Speech which is "insulting public officials" or "opposing the goals of the Revolution" is criminal.
In December, Libya Press announced that it has closed its Tripoli office and will resume work from several foreign capitals. Libya Press is a part of al-Ghad Media Group, owned by Muammar Qaddafi's son Saif al-Islam Qaddafi. Saif al-Islam has some reformist views and has disagreed with the governing power repeatedly. Until Libya Press was established, the government owned Jamahiriya News Agency enjoyed a 40 year monopoly on the news in Libya. Libya Press began reporting in July 2010, after six months of delays in obtaining licenses, and was in operation just five months. Two other newspapers Oae and Quryna, both also part of al-Ghad Media Group, were earlier suspended after publishing articles critical of the government. Both newspapers returned to the newsstands in July. Oae was suspended again in November. "Libya Press' decision to leave the country because of arrests and harassment illustrates the difficulties of conducting reporting that is not in lockstep with the government's official positions," said the Committee to Protect Journalists Middle East and North Africa program coordinator.